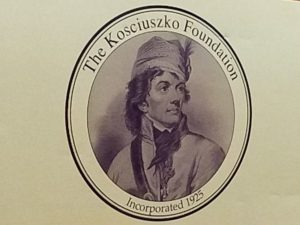 On the evening of Friday, November 3rd, The Gerda Lissner Foundation in Association with The Liederkranz Foundation presented its Lieder/Song Vocal Competition Winners Concert of 2017. It showcased its retinue of young and talented singers which allowed the distinguished and discerning audience an opportunity that was both enticing and gratifying. The presence of Stephen De Maio, industrious President of the Gerda Lissner Foundation, with Michael Fornabaio, the formidable Vice President and Treasurer, Cornelia Beigel, the effervescent and valued Secretary and Trustee, Karl Michaelis vibrant and urbane Trustee, and soprano, the devoted Barbara Ann Testa, treasured Trustee and chic auditions announcer Joyce Greenberg added to this esteemed and cordial group of Lissnerites!
President Stephen De Maio introduced our hostess for the evening by just mentioning her illustrious places of employment: WQXR radio and PBS Channel 13 where her eager speaking voice, love of music and personal charm have made her name synonymous with all things good for the soul and spirit. Midge Woolsey mentioned that madness was the recurring theme of the evening (like Sir Noël Coward's song Mad About the Boy). Love madness dominated the performance. She also thanked her beaming economist husband, Dr. Juergen "Jerry" Stolt for perfecting her German in the proceedings. She then introduced the piano accompanist, Arlene Shrut and singled out this gifted accompanist as an artist whose versatility and passion for 25 years are a source of veneration and inspiration.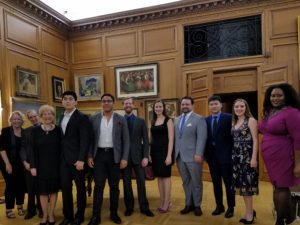 In the elegant auditorium of The Kosciuszko Foundation on East 65th Street in New York City, the concert began. We saw the great soprano Metropolitan Opera legend Elinor Ross, the extraordinary pioneer conductor Eve Queler, the radiant Gloria Gari from the Giulio Gari Foundation and the suave Glenn Morton from Classic Lyric Arts, whose evening the night before with his Italian and French trained singers, also gave a happy look toward the future of opera. It was nice to greet music lover Mario Cesar Romero who seemed to be quite happy with the prospects of this special evening.
The concert began with Brian Vu, baritone who sang "Le manoir de Rosemonde" by Henri Duparc. Duparc who passed away at age 37 had many moments of madness both medical and musical. Brian Vu sang with passion, his high baritone on the threshold of heaven leading us on a quest that reaches the door. A brief journey made plangent and pleasant by this fine newcomer!
Baritone Justin Austin sang "Chanson èpique" from Don Quichotte a Dulcinee by Maurice Ravel.The great Russian basso Feodor Chaliapin sang in the 1930's film with music by Jacques Ibert since Ravel's music was not entirely used. Mr. Austin sang with expression and strong lyrical thrust. This prayer to St. Michael and St. George had the outburst of the heart that makes one whole, a subtle and intimate revelation.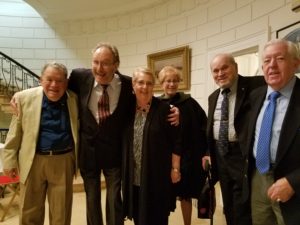 Bass baritone Nathan Milholin sang "Die Mainacht" by Johannes Brahms. This expanding, increasing and unceasing run of terror made for heart grasping nightmarish fears! Mr. Milholin's summation was unforgettable. His powerful declamations were truly chilling. His utterances of "Mein Fatha" were indelible.
Emile Pogorelc sang "Wasserrose" by Richard Strauss. Ms. Pogorelc has a truly lovely soprano that carries strong and well. Richard Strauss wrote this "intimate" piece with some magical high notes, yet draws one in by its singular emotion. Ms. Pogorelc's versatile and expressive singing was compelling and unifying.
Next was Leo Radosavljevic, bass baritone in "Fühlt meine Seele" by Hugo Wolf. An impassioned, all out selection in caressing tone, fine diction and many moments of the voice and piano being passionately united in urgency, conviction and harmony.
Baritone Jacob Scharfman sang "Nachts" by Erich Wolfgang Korngold, proving himself to be a captivating performer of great concentration. He is an architect of sound and builds a song very effectively, each vocal brick properly paced and placed. His baritone is warm and strong and it won't be long before his "song" takes him far and wide in the universe of singing!
John Chong Yoon Noh had the unique standing of being the only tenor of the evening. He sang "Heimliche Aufforderung" by Richard Strauss in a fervent and inspired interpretation. Noh has a fine, embracing tenor that has a special quality and warmth.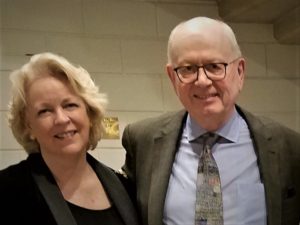 Soprano Alexandra Nowakowski sang "Villanelle" by Eva Dell'Acqua. Midge Woolsey told the audience how much she admired the recording by Beverly Sills as a youngster, but had never, until now, actually heard it sung "live." I think Madama Marcella Sembrich would also have admired the magical way it was sung that night. Ms. Nowakowski, a 2014 Marcella Sembrich award winner, sang with high angelic lovely scales, an instrument fueled by Sembrich and Sills. We got "high on highs" and were heaven bound. Marcella Sembrich's charming house and museum in Bolton Landing is on the banks of Lake George in upstate New York.
Bass William Guanbo Su sang" Erlkönig" by Franz Schubert, in a bass that was both intimate and cavernous. He was the first prize winner but knew that his prize was easily shared by this illustrious group of fine, promising young artists, all of whom radiated charm and talent.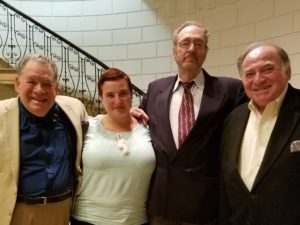 We then all went to the delicious reception where we partook in some splendid "finger food" and delicious wines and pastries managed by the ingenious Philipp Haberbauer. It was great to vocally spar with basso Gary Kendall, find a comfy table and chat with Alfred Palladino from the Columbus Citizens Foundation, greet Met mezzo soprano Jane Shaulis, Joseph Gasperec and Janet Stovin from Opera Index, opera manger Ken Benson, Jane Marsh from the Opera Guild, vibrant patron Betty Cooper Wallerstein, Father John Kamas, pastor of St. Jean Baptiste Church and event manager Iwona Juszczyk from The Kosciuszko Foundation.
Here's to the "same time next year!" Thank you President Stephen De Maio, The Gerda Lissner Foundation and The Liederkranz Foundation for a feast for the palate and the ears showing the good that still remains to uplift and inspire.