The Licia Albanese-Puccini Foundation had its annual holiday concert and dinner on Tuesday, December 6th at the New York Athletic Club's beautifully decorated President's room, overlooking Central Park, in New York City. Stephen De Maio one of the original founders introduced Sachi Liebergesell who serves as President of the foundation.
Ms. Liebergesell has been President for eight years and with her late husband, the much-loved Rolf Liebergesell, has been a vital force in the Licia Albanese-Puccini Foundation. Special persons in the audience were singled out and presented with crystal apples: Stephen De Maio, Administrative/Artistic Director, Brian O'Connor Esq. who serves as Vice President and General Counsel and Michael Fornabaio, Treasurer. Mary Lichtman, Secretary was honorably mentioned and Midge Woolsey who could not attend was thanked for her support.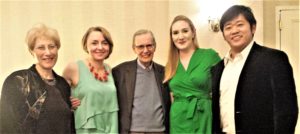 Arlene Shrut, who has served as accompanist to the singers for many years as well as this evening was singled out for her brilliant pianistic wizardry. It was nice to chat with her much loved spouse basso Gary Kendall.
The singers then were called and the concert began. Antonina Chehovska, sang "Si,mi chiamano Mimi" from Puccini's La Boheme. Her soprano, strong in sound, sweet in quality with impeccable diction brought us into that garret in Paris. It revealed the essence and soul of that seamstress as she described her life in this touching aria. Ms. Chehovska beautifully tapered and shaded her soaring and poignant voice and warmed our hearts, that chilly rainy evening. It should be noted that in the place where the tenor sings the word "si" many in the audience sang Rodolfo's word! We look forward to hearing Ms. Chehovska sing this entire coveted role.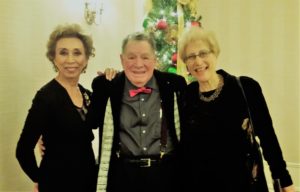 Samantha Hankey, mezzo, regaled us with "Non piu mesta" from Rossini's Cenerentola with flawless coloratura, fioritura and creamy sound. Her ascents and descents were as smooth as a Christmas peppermint stick and her whimsical instincts were secure. Ms. Hankey's lower register showed her mezzo menthol as easy as Santa sliding down a chimney! With much to do musically, Ms. Hankey was like a dog walker with a dozen dogs and she held the leash knowing how much leeway to give each one. A thrilling virtuoso performance and I am certain Rossini smiled proudly!
Tenor and former ice skater Fanyong Du sang "Una furtiva lagrima" from Donizetti's" L'elisir d'amore." Mr. Du is the possessor of a pure, penetrating Italianate tenor voice that evoked memories of such legends as Tito Schipa and Cesare Valletti. He was truly a "love struck" Nemorino with some elegant diminuendos, an excellent cadenza and strong finale to this well loved aria. Steve De Maio mentioned that Fanyong Du studied with Arthur Levy at the Mannes School of Music.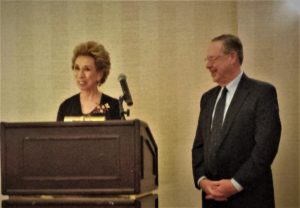 It was now time for encores. Antonina Chehovska sang a Negro spiritual "Sweet Little Jesus Boy" by MacGimsey, a capella. (No musical accompaniment) Its climbing passages were heavenly and her pure sound entered the heart as the Christ child did the spirit. Ms. Chehovska's higher vocal outpourings were like plucking beautiful blossoms from a high-branched tree. She maintained perfect pitch throughout and it was a most touching encore.
Samantha Hankey sang Irving Berlin's masterpiece "White Christmas" and asked the audience to join in. The introduction to this classic song was also done with the proper sense of longing and remembrance. Her vocal delivery was as warm as a perfect cup of cocoa on a cold night. A beautiful job!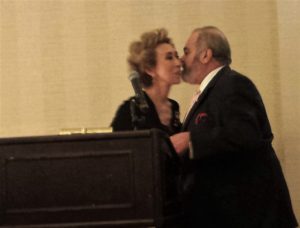 The final musical outpouring was "O Holy Night" by Adolphe Adam and was sung by Fanyong Du. Du's radiant tenor was gentle, caressing and lyrically perfect. The first verse was sung in English and the second in Italian. The final verse was again in English with an impassioned Bjoerling like "O Night Divine" near the end that was thrilling. This was the perfect end to the concert and truly made us reflect on the beauty of the season and the beauty of Du's voice. Recommended listening is Enrico Caruso's stentorian recording of "O Holy Night" made in 1916 available on YouTube and sung in French.
Steve De Maio, who also is President of the Gerda Lissner Foundation, was singled out for his creating the Licia Albanese-Puccini Foundation with the immortal soprano Licia Albanese (1909-1914) and served as the first President. He said that helping young and talented singers "succeed and move on is the most important thing."
The pumpkin filled ravioli was superb, the rack of lamb succulent, the chocolate mousse cake was truly a diet breaker. At our table were Denise and Angelo Vivolo, whose popular restaurant "Vivolo's" is in Manhattan but was a Bensonhurst fixture in Brooklyn for many years. Angelo is the President of the Columbus Citizens Foundation and wife Denise was a professional dancer. Alfred and Christine Palladino are also from the Columbus Citizens Foundation which is the location of the Albanese-Puccini Foundation. Alfred, a former football hero, is a board member. Christine attended Lincoln High School in Brooklyn with my wife Judy. Kudos to Michael Fornabaio treasurer and Father John Kamas, from St. Jean Baptiste Church, longtime supporter who gave the heartfelt benediction before dinner.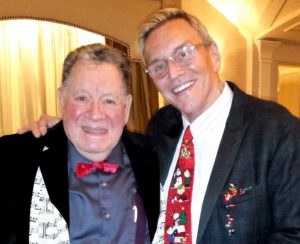 It was so nice to see the vibrant Cornelia Beigel, Secretary of the Gerda Lissner Foundation, Karl Michaelis patron, Marjan and Jane Kiepura as always a sparkling duo. Marjan is a Chopin specialist and the son of Polish tenor Jan Kiepura and soubrette soprano The Merry Widow Marta Eggerth. The ebullient Brian O'Connor, Vice President and General Counsel, patron presenter the vivacious Betty Cooper Wallerstein, the ever young Maestro Eve Queler from Opera Orchestra of New York, opera agent Robert Lombardo, the ever chic Joyce Greenberg, competition assistant for several foundations, opera coach and writer Scott Barnes wearing a blinking Christmas tree button in his lapel almost rivaling the one at Rockefeller Center, all involved in the quest of assisting young talent find its place in the operatic firmament.
Judy and I were pleasantly surprised to have been mentioned by Sachi Liebergesell for our contributions and coverage of the singers and events in The Brooklyn Eagle. It is a labor of love to praise the efforts of so many talented young people and to help spread the word.
It was nice to see Vincent Fiorentino from the Board of Directors and all who aided the noble efforts of the Albanese-Puccini Foundation throughout the years. We stand with Sachi Liebergesell, Stephen De Maio and all who are present in spirit or smiling down from the heavens. Ms. Liebergesell stated that the present Board of Directors is the best ever!
That was the mission of the wonderful Licia Albanese (1909-2014) and her husband, the late Joseph Gimma Sr. whose spirits were so deeply felt this evening. Sachi Liebergesell who currently sits in the "chair of the mighty" has reigned so wisely. As we approach 2017, we pray that the generosity and loving care of the members, patrons, and supporters will allow us to go forward with the confidence that these young awardees will keep opera thriving and fulfill that beautiful, still thriving distant dream of 42 years ago!
Buon Natale, Happy Holidays and Happy New Year!