Opera Index, Inc. held its Annual Distinguished Achievement Award Dinner honoring legendary soprano Diana Soviero on Sunday, January 20th. Despite the cold and threatening weather, this event, held at the JW Marriott Essex House in New York City had a huge turnout. It also presented the 2018 Opera Index Award Winners. The effervescent Jane Shaulis, beloved Metropolitan Opera mezzo and President of Opera Index spoke of the special award singers. Their hard work and dedication to their craft and the patrons of Opera Index whose heartfelt support gives the young artists room to breathe and grow.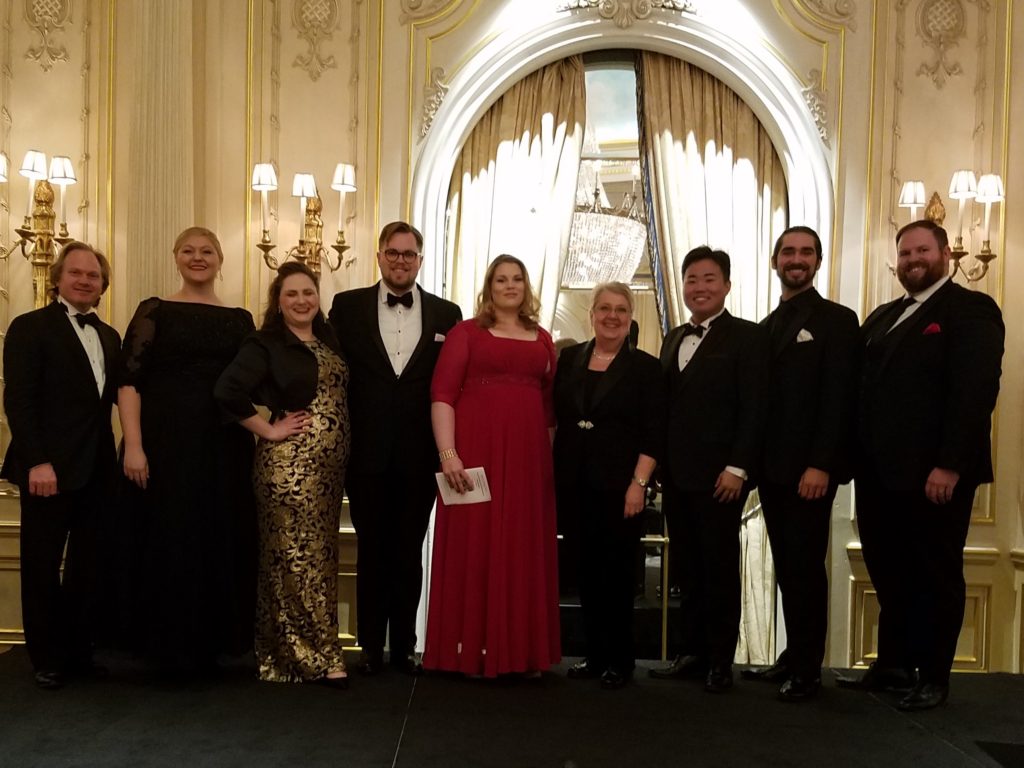 The rain was ending, the sun came out, the clouds parted, the temperatures dropped as the wind picked up but we were all safe and warm in the JW Marriott Essex House Hotel and a torrent of award winning voices were about to envelope us in a storm of emotions as the Opera Index concert began.

"Dich, teure Halle" from Wagner's Tannhauser began the concert with dazzling perfection by soprano Jessica Faselt. Ms. Faselt had a strong yet tempered soprano that beguiled rather than bull horned the audience with shimmering and vibrant tone. Ms. Faselt's voice was even in quality from top to bottom with bursts of beauty in the upper reaches. Ms. Faselt was the proud recipient of the Tito Capobianco award sponsored by Joseph Gasperec and Jane Shaulis.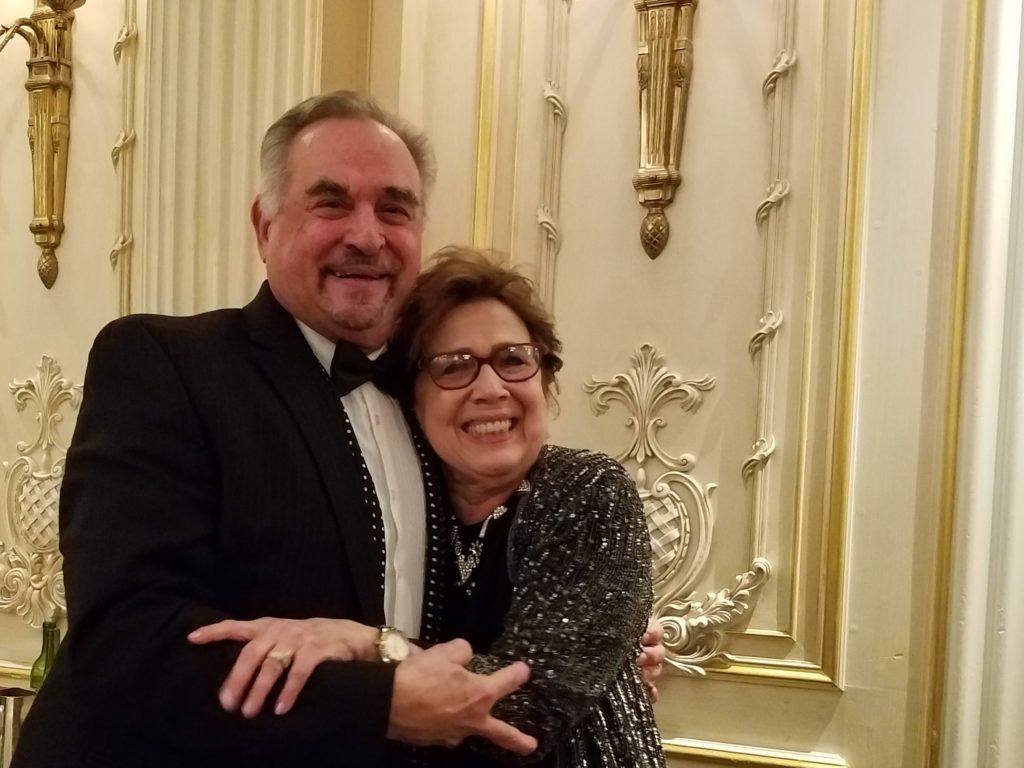 Baritone Jeff Byrnes sang "Hai gia vinta la causa" from Mozart's Le nozze di Figaro. Mr. Byrnes is the possessor of a large, round resonant, warm, expressive baritone, many subtle Mozartian gestures, grand of manner and Astaire like on his feet. (no mean feat) He truly was a messenger of Mozartian joy. Jeff Byrnes received an Encouragement Award.

"Sein wir wieder gut" from Richard Strauss, Ariadne auf Naxos was illuminated by mezzo-soprano Megan Esther Grey. Her pleasing, plangent phrasing, was Bellinian in its upper and lower register displays from hopeful to mournful were like a veritable Casbah of color and daring duress and casual excess. It was a beautifully framed picture of vocal abundance and elegance. Ms. Grey appeared by permission of the Metropolitan Opera Lindemann Young Artist Development Program. Megan Esther Grey received The Marjory and Arthur E. Walters Memorial Award.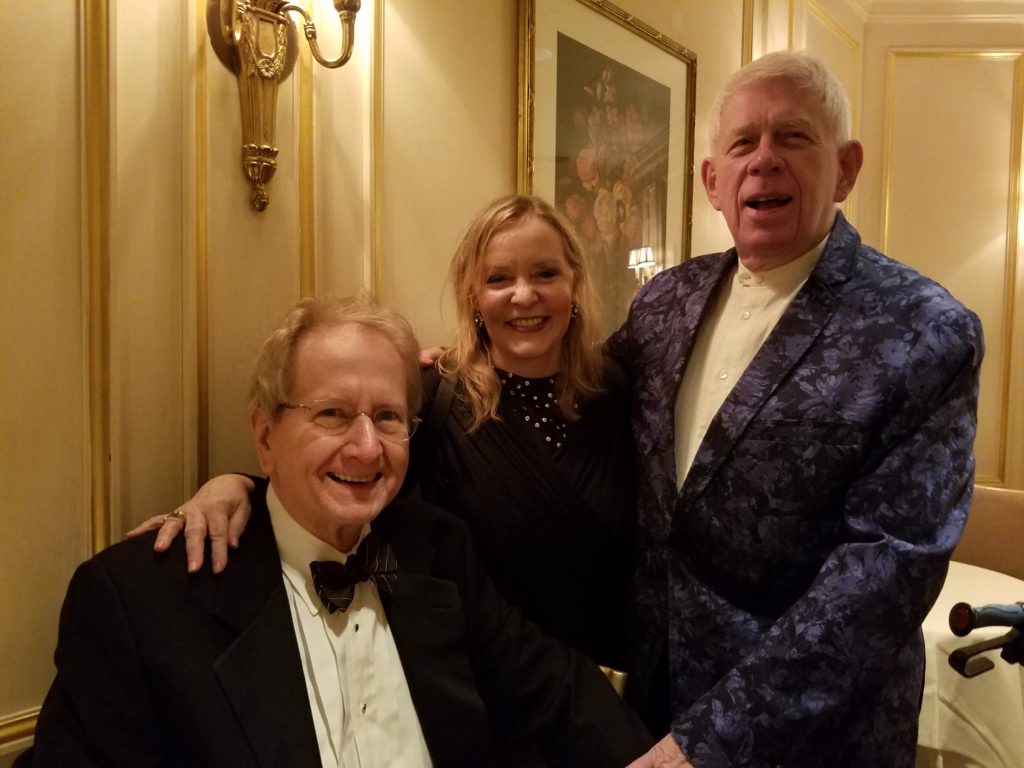 Tenor James Ley added tuneful romance to the program with "Dein ist mein ganzes Herz" from Das Land des Lächelns by Franz Lehar. Mr. Ley prefered to keep it as a seductive whisper rather than an "all out" display. The late immortal tenor Richard Tauber had color and superb pianissimi that were the essence of his career. Mr. Ley did not attempt a more drastic approach. He did walk through the crowd to attempt a sense of intimacy which is always nice but I thought his approach was a bit too subtle and needed more thrust. This iconic piece is often overdone and Mr. Ley was a bit underdone. He is going in the right direction but a bit more color and flamboyance would surely have won the ladies heart.The appreciative audience bathed him in warm applause and to many, Franz Lehar can do no wrong. James Ley received The Dr. Robert Campbell/Cesare Santeramo Award.

"Stridono lassù" from I Pagliacci by Leoncavallo was sung by soprano Rebecca Pedersen. Ms. Pedersen has a lovely open soprano, a strong flexible coloratura, a charming upper register leading to a climactic high. One must feel the desperation underneath the bird filled horizon, the heaving breasts, the longing to be free as a  bird. The story is of this peasant girl rescued from poverty by an older man who is a clown. Rebecca Pedersen received an Emerging Artist Award.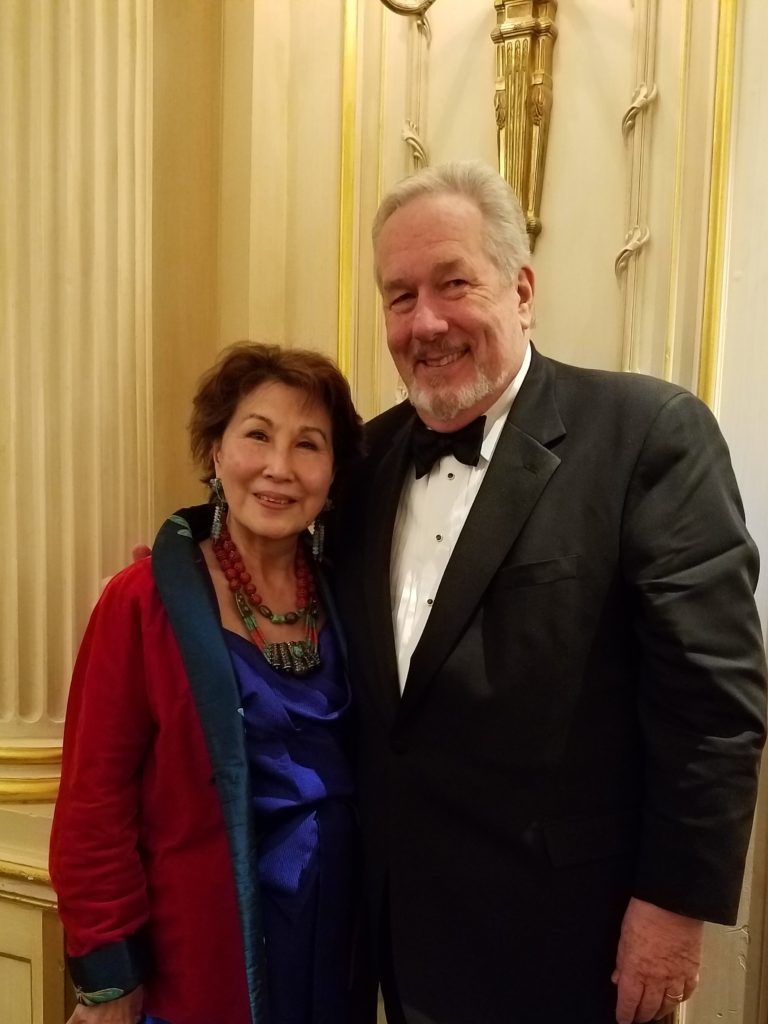 The 1948 Italian film Pagliacci (Bel Canto Society) starred baritone Tito Gobbi as Tonio and Silvio and the thrilling voice of Galliano Masini as Canio. Gina Lollobrigida was Nedda. (Voice of soprano Onelia Fineschi) Fineschi put her heart into Nedda, adept at lip syncing. "La Lollobrigida" also made it clear why every man was dripping with lust for "Nedda" (Stefan Zucker) I recall my Sicilian Uncle Ignazio, then in his early twenties and not an opera lover coming home from the Benson Theatre in Bensonhurst, Brooklyn in a daze because of Nedda's (Gina Lollobrigida's) beauty and her wanderlust! He is 92 now, was a champion ballroom dancer and still remembers! My grandparents, Antonio and Rosalia, took me to the same theatre to see the film Pagliacci with tenor Beniamino Gigli. Gigli played Canio released from prison years after, seeing a stranger in his hometown who was in reality his daughter, who he never knew and he says the word "Nedda," because of her resemblance. In real life, the composer Leoncavallo's father was the magistrate who ruled over the actual trial and sentenced Canio to prison. Grandma Rosalia and her friends would loudly curse the villain or the whore from the audience. In the popular series Seinfeld, "Crazy Joe" Devola calls Elaine Benes "Nedda" after seeing a performance of Pagliacci. She looked unnerved and apprehensive about that to put it simply. Look for your inner Nedda. Hit the high notes but remember Nedda's burning with passion for her young lover Silvio! High and low is where to go! Enrico Caruso's Vesti la Giubba 1907 recording was the first million selling record of the immortal and incomparable Caruso. (1873-1921) Caruso sang Canio to soprano Bella Alten – Nedda on January 24, 1914 at the Brooklyn Academy of Music.(BAM)The Met opera had the Brooklyn Academy of Music as part of its tour until 1937. On January 3,1911, Enrico Caruso appeared in Pagliacci at BAM with luminaries such as Alma Gluck and baritone Pasquale Amato. Caruso's many appearances at BAM included several Pagliacci's. How lucky Brooklyn was.

"Arise Ye Subterranean Winds" in The Tempest from Purcell was basso Brent Michael Smith. Lovers of dark voices rejoice! Brent Michael Smith with his robust and versatile instrument truly dominate this rare realm today. Like an exotic blue diamond, we all feel like recipients of his vocal love with its sexy depth and sudden cliff like leaps into basso darkness. The Tempest by Purcell was what we had witnessed earlier this very day.The furies that swept the snowstorm and rain afterward away, resounded in Mr. Smith's cavernous voice. It was fun to revel in its mighty tone, roller coaster versatility and dominant radiance. I recalled George London's dark vocal treasure in The Flying Dutchman, Ezio Pinza's "Le Cor" and Chaliapin's "Ochi chornya." I was in dark voice glory. Brent Michael Smith was the recipient of the Sachi Liebergesell Award.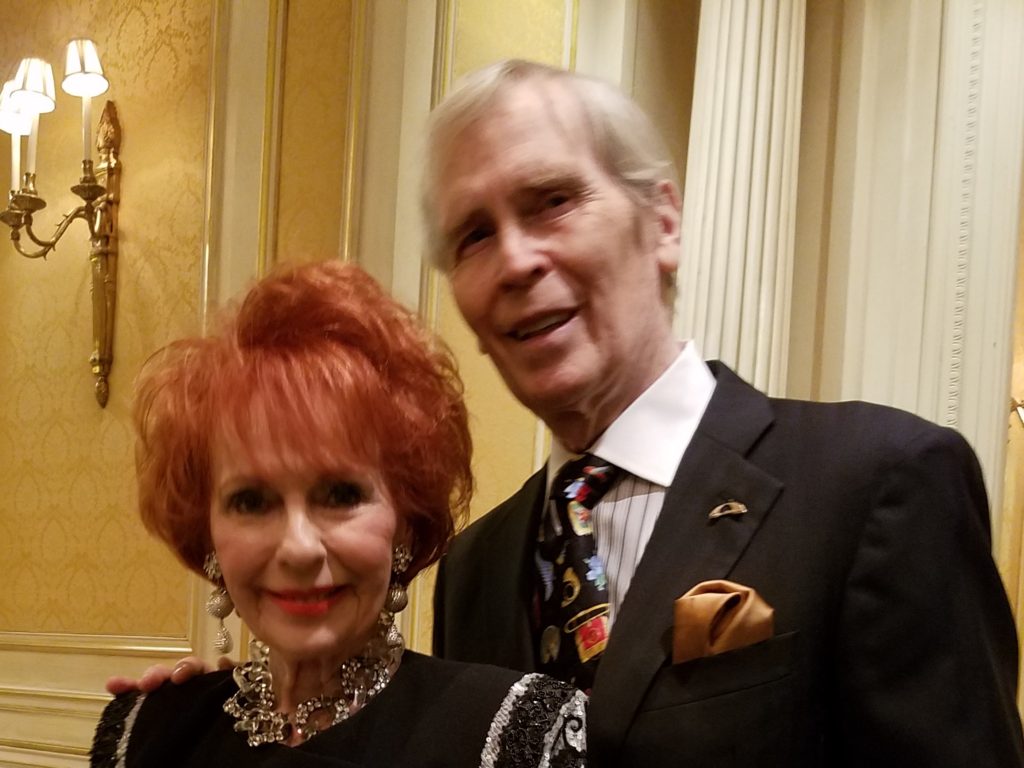 The last singer was Chinese tenor Dashuai Chen who sang "La donna è mobile" from Verdi's masterpiece Rigoletto. Mr. Chen revealed himself to possess a lyrico spinto tenor voice that had some exciting dimineundos, fortissimos, pianissimos all of which he used to be a boastful, flamboyant Duke. He is a great admirer of the late Spanish tenor Alfredo Kraus. He strolled up and down the aisle, held diminishing notes with vocal trickery, flexibility while maintaining Verdi's rhythm and indicating the Duke's powers of seduction. On April 17, 1955, the great tenor Beniamino Gigli (1890-1957) sang "La donna è mobile" at his return to America's three farewell concerts at Carnegie Hall in New York City. Gigli sang about a dozen arias and more than a dozen songs. His "La donna è mobile" was a showpiece. He sang it (age 65) in much the same manner as Mr. Chen and tore the house down. Mr. Chen sang Mattinata (Leoncavallo) at a Gerda Lissner Lieder Concert at Liederkranz Hall in such an Italianate manner and scored a sensational hit. Host Midge Woolsey said most tenors have sung this song and even Joan Sutherland sang it magnificently. A note of coincidence, the great tenors Lauritz Melchior and Beniamino Gigli were both born the same day and the same year March 20, 1890. WQXR radio's George Jellinek (The Vocal Scene) always assured us birthday tributes to these great tenors of opera and film fame. Dashuai Chen won The Lissner Charitable Fund Award.

The deliciously durable accompanist was Michael Fennelly whose incredible talent makes the performers shine and triumph as if with a full orchestra.

Jane Shaulis spoke of her deep respect and devotion to Diana Soviero during the years they both sang with the New York City Opera. Jane also spoke of Diana's beautiful voice and great big kind and generous heart.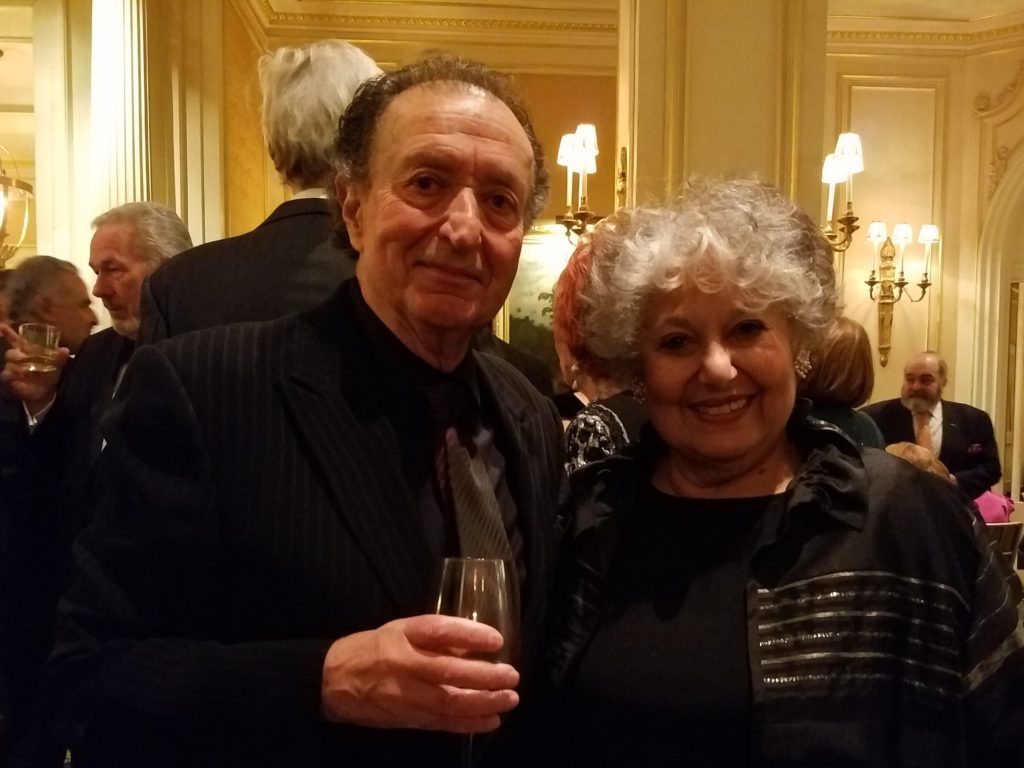 The awards ceremony was presided over by Nimet Habachy, the overnight host of WQXR singing the praises of Diana Soviero. For many years, Ms. Habachy was the erudite and charming host of the Metropolitan Opera broadcasts. Jennifer Rowley, Opera Index winner and now rising Metropolitan Opera star, spoke deeply of Opera Index and her unforgettable teacher Diana Soviero.

I will never forget seeing Diana replace Teresa Stratas in Suor Angelica at the Met. A dear friend, Cuban cabaret baritone Alfredo Villoldo attended the performance. When the opera was over we both said we don't know how Stratas would have sounded but Diana's performance was sheer, tragic perfection framed with love and is now forever in memory. Thank you dear Diana.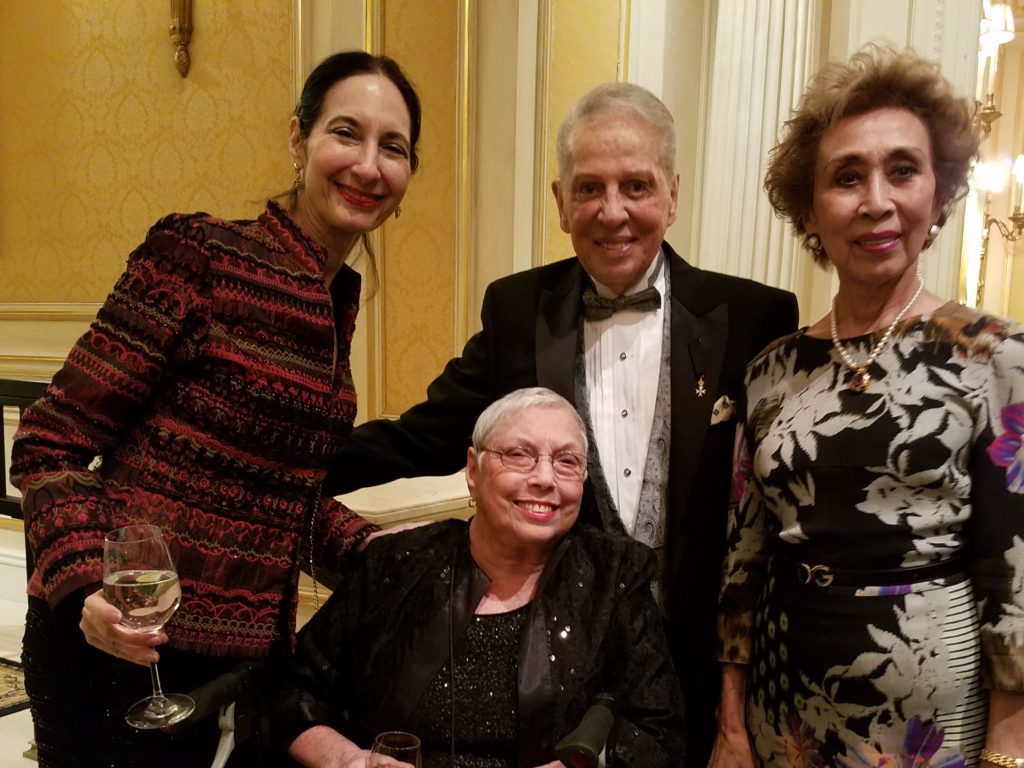 Alina Zamir wrote a new book on Diana Soviero without ever having interviewed her but researching and gathering second hand information. The book is entitled "Diana Soviero – The Artistry and Beyond" (Euro-Stampa" which is an eloquent testament to this sublime and incomparable artist, humanitarian and teacher."

Ms. Soviero, a passionate American Sicilian and husband famed impresario Bernard Uzan (Montreal Opera) spoke of her love for singing, her wonderful comrades at the Met, New York City Opera and worldwide and her friends in New Jersey. She loves teaching and the future looms large and happy with her stepdaughter Vanessa Uzan's baby to come making her a Nonna (grandmother). She graciously accepted the beautiful Tiffany glass apple to bravas and applause.

At the sumptuous filet mignon dinner, we chatted with Opera Index couple President Jane Shaulis and Executive Director Joseph Gasperec, Vice President Janet Stovin, (celebrating a birthday) patrons Cesare Santeramo, Jesse Walters and Meche Kroop, board members Ellen Godfrey, John David Metcalfe, Robert Steiner and Faith Pleasanton, the great Met Opera basso James Morris, Met legendary soprano Elinor Ross, opera managers Ken Benson and Robert Lombardo, Maestro Stephen Phebus and Linda Howes, Maestro Eve Queler, Sicilian American tenor Anthony Laciura from Encompass Arts and his wife Joel, gregarious Michael Fornabaio from the Gerda Lissner Foundation, soprano opera lecturer Jane Marsh, opera lecturer Lou Barrella, vocal school's Joy Ferro, author Luna Kaufman, Jolana Blau from "Elysium between two continents," Sachi Liebergesell from the Liebergesell Foundation, Career Bridges sparkling Barbara and David Bender, baritone Mark Watson, planning consultant Connie Chen, Cavaliere poet Dr. Edwardo Jackson and from Opera Exposure, Edna Greenwich and Dwight Otley.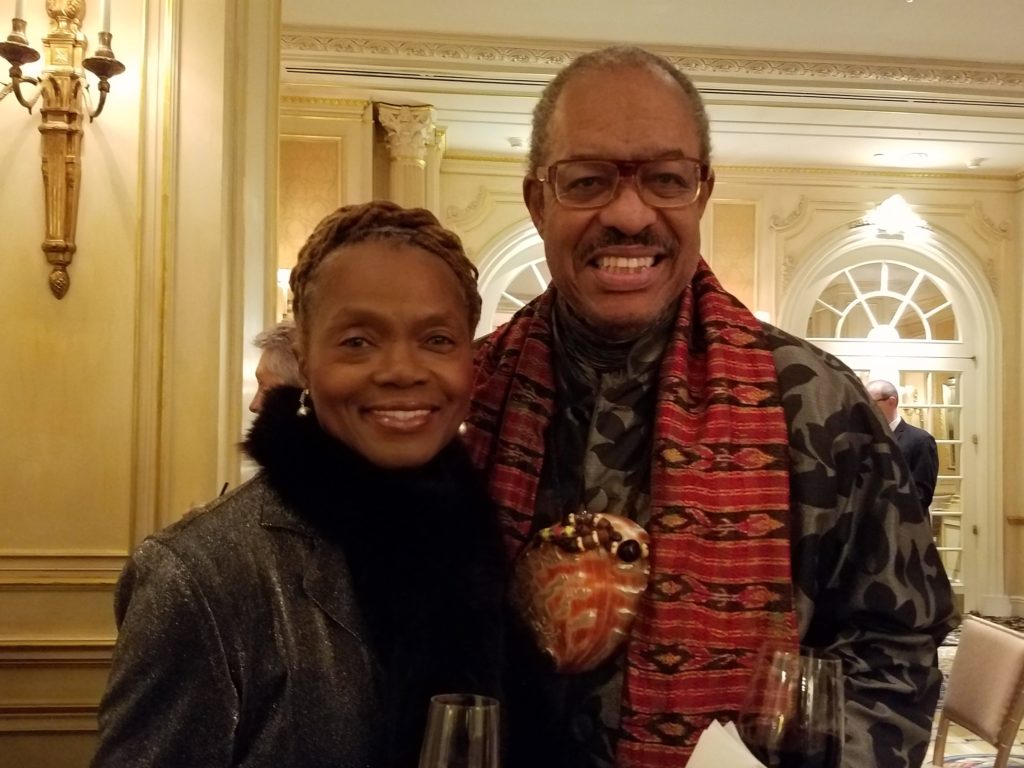 Judy and I are thrilled to be the honorees at the Spring luncheon this coming April. The late much missed author and television host Lina Del Tinto and Harry Demarsky introduced us to Murray Rosenthal and Philip Hagemann. Opera Index gave us a great gift of much music, friends and joy. A kiss to the heavens and a hug to all of our opera friends.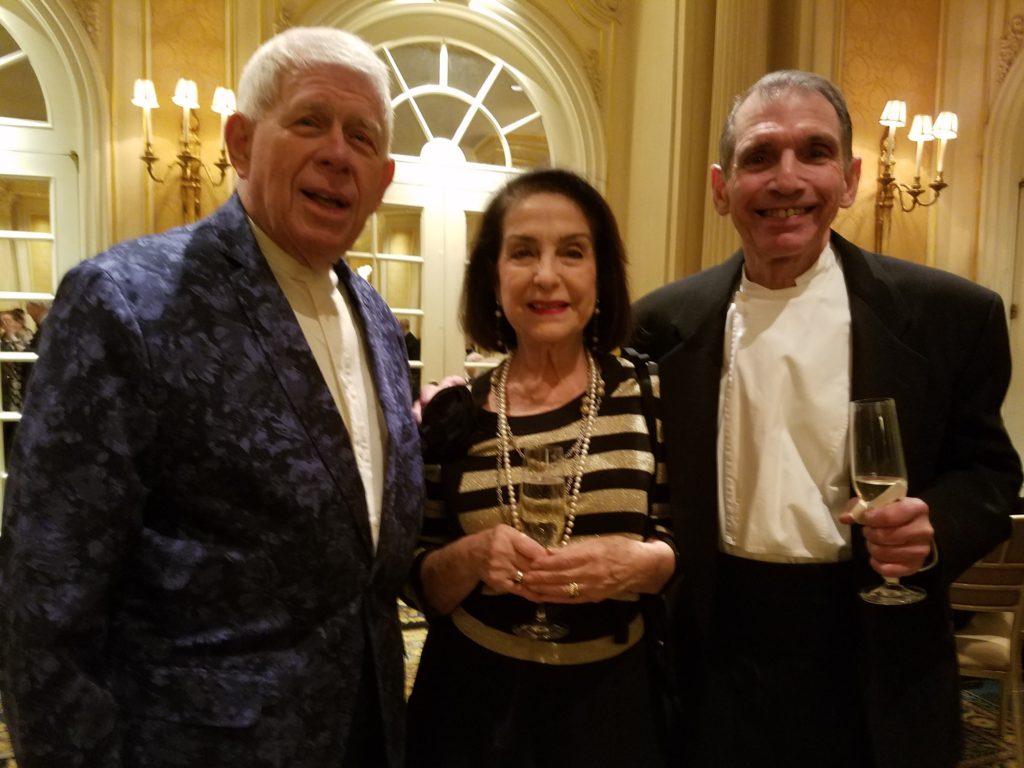 Special thanks to Jane Shaulis, ever glowing and leading Opera Index to greater glory and continued success to all the singers. Diana Soviero, is a beacon and inspiration, who has the discipline, talent and love that have been given to the precious few.