On the evening of Friday, July 8th at the Sylvia & Danny Kaye Playhouse at Hunter College in New York City, the Martina Arroyo Foundation presented Johann Strauss Jr.'s (1825-1899) opera Die Fledermaus with a libretto by Karl Haffner and Richard Genee. The name of the Playhouse honors the actors and talented husband and wife team of Brooklynites Sylvia Fine and Danny Kaye and is located at 68th Street between Park and Lexington Avenues.
Die Fledermaus premiered in Vienna in 1874 and has been delighting audiences ever since. Like Franz Lehar's The Merry Widow, the work is a comfortable fit in the opera house because it's arias and ensembles are captivating and vocally adroit as well. The young promising singers who are chosen, undergo six weeks of intense study plus a stipend and get a chance to perform with full orchestra and chorus in a staged and costumed production before a live audience. This year is the 12th season of this acclaimed series and includes two performances each of Puccini's tragic La Boheme and the delightful Die Fledermaus by Johann Strauss, Jr. A bit of trivia-Famed tenor Enrico Caruso appeared in the party scene of Die Fledermaus at the Met on February 16, 1905. Famed "diva" Florence Foster Jenkins loved to sing Adele's "Laughing Song" in recital and recorded it for posterity.
The opera is also called The Revenge of the Bat recalling an incident after a masquerade party when Dr. Falke placed Eisenstein on a park bench to sleep it off, in a full bat costume, holding him up to public ridicule. Dr Blind, Eisenstein's bumbling lawyer got Eisenstein an eight day jail term instead of the original five days for an altercation with a policeman. Falke invites his friend Eisenstein disguised as Marquis Renard to a lavish party thrown by the bored Russian Prince Orlofsky, where Eisenstein's wife Rosalinde, disguised as a Hungarian Countess will attend. Adele, their maid, as Fraulein Olga, will also be there as an aspiring actress. Frank the prison warden is Chevalier Chagrin and will take Eisenstein to the party since Alfred, Rosalinde's suitor, was mistaken for Gabriel von Eisenstein and taken to prison. All's well that ends well as this time it is the Champagne who is the culprit.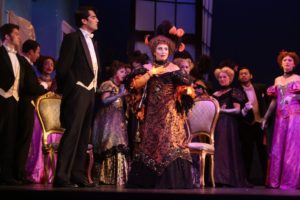 Alfred, the pompous testosterone pressed tenor was played by gifted tenor Spencer Hamlin whose impressive singing of "Drink my darling" plus a snippet of "La donna e mobile" from Rigoletto and a thunderous "Vincero" from Turandot dazzled the ear. His comedic flair was right on the mark and he did not "overplay" his part as the"Italian" tenor.
The Adele of Shana Grossman was enchanting. Her singing of "The laughing song" ("Look at how I look") and "Oh for the life of an actress" in the final act showed a radiant coloratura soprano of piquant quality, fine trills and a effortless "upper extension" to her voice.
The Rosalinde of Haley Sicking was a delight. Her generous and ample soprano and ironic touch was well used in the first act trio "Oh goodness me, what calamity, catastrophe" and her duet with Alfred "Here we are just you and I." Ms. Sicking was truly compelling in "I hunger for my Hungary" in the aria "Echoes of Hungary" in the second act. Her vocal pyrotechnics rivaled Grucci's 4th of July fireworks with cadenzas, strong coloratura and a held final note that stirred whatever gypsy is in my DNA. A truly bravura performance.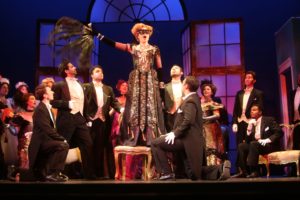 Gabriel von Eisenstein was in the dashing persona of Jonathan Tetelman whose vibrant tenor kept peeking through as the sun behind a baritone cloud. His stroll in this tenorial terrain was perfectly negotiated and he shined in duet and ensemble."O goodness me, oh gracious me what calamity" and his disguising himself as Dr. Blind was adroitly done. He has a robust sound, dark hued and baritonal but a free top which dominated in duet. He suited the part like an elegant glove that fit perfectly!
Dr. Blind was in the hands of tenor Joseph Sacchi. Despite the comedic wavering and posturing of the character one could hear a fine tenor and a singing actor of real quality. As Hamlet said, "do not saw the air with your hand too much." Sacchi was not the stuttering overwrought frustrated character that is the usually Dr. Blind. In this instance, less was more.
Dr. Falke was brought to mischievous life by Thaddaeus Bourne whose rich baritone was exciting in the duet with Eisenstein. Bourne's sentimental and beautiful singing with the artfully blending chorus of the brotherhood song telling one and all to love and address each other using the familiar "du" rather than the formal sie form. The melody accelerates and the mood becomes poignant and powerful.
Frank the jail warden, was in the charming hands of Paul Grosvenor who not only is the possessor of a warm ingratiating basso but has a sense of the debonair that proved exhilarating. His singing of "Jail can be a pleasant place to spend a little time" was deliciously droll.
Ida was in the perky persona of Chelsea Bonagura whose sensual mezzo and buoyant ballerina lit up the stage.
Prince Orlofsky was sung by Hongni Wu whose mezzo sparkled like the Champagne she advocated. Her powerful singing of "Chacun a son gout" with its leaps and jumps showed how fearless and flawless her dark mezzo was. Her sparkling singing of "Here's to Champagne – the king of all wines" ended the operetta on a brilliant note.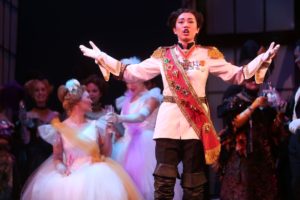 Frosch the jailer was played by Steven Mo Hanan who as guest artist proved himself to be a very unusual character. He was a funny drunk-never vulgar and his Harpo Marx, Jack Gilford quality made him an eternal innocent even as a skirt chasing imbiber. His monologue and dialogue (in English) to the audience was intimate and amusing.
The conductor was Maestro Steven M. Crawford. The overture was a wonderful appetizer for the musical feast to follow. Crawford's brisk tempi and understanding of the Viennese style assured us of an evening of immense pleasure. The 30 excellent musicians were the best. The sets were evocative of more opulent and fun loving times. The chorus under Assistant Conductor Noby Ishida was excellent, especially in the Brotherhood singing in the second act. Charles R. Caine's costumes were colorful and evoked the Viennese era brilliantly.
The final mood this production left one with was twilight. Like the end of an era so what can sometimes be played out as broad comedy can also be interpreted as a more subtle end of innocence. One left the theater nostalgic for the fun and escapades but remembering always the song of brotherhood at party's end.
The performance in three acts was flawlessly sung and spoken in German. Plaudits to German Coach Vera Junkers. Gina Lapinski's stage direction was clever and precise, while April Joy Vester, Set Designer gave us glitter and sparkle. The English super title operator by Lisa Jablow and titles by Brett Findley were most helpful.
Our host for the evening was Stephen De Maio, President of the generous Gerda Lissner Foundation along with Karl Michaelis trustee and patron and opera lovers Mario Cesar Romero and soprano-agent Eva de la O. We also greeted the effervescent Rebecca Paller from the Paley Center for Media.
We were happy to meet and greet such movers and shakers as Met baritone Mark Rucker who coaches and assists the awardees and his wife Sadie who is in charge of publicity and is coach and accompanist to her husband. A page in the program is "In honor of Dolarita and Olney K. Rucker and all parents who help young artists realize their dreams."
It is always a joy to greet the great lady herself, the founder of the feast and Earth mother to so many, Kennedy Center awardee and legendary Met opera soprano Martina Arroyo. We are aware that Martina's parents Demetrio and Lucille were so supportive of their talented daughter. Her Dad Demetrio worked as an engineer at the Brooklyn Navy Yard to support their family and pay for her musical education. Mme. Arroyo always has gentle humor, a ready smile and "high hopes" for talented opera singers in the future. Indeed famed tenor Richard Leech told the audience requesting support quoting playwright Moliere "Of all the voices extant-opera is the most expensive!"
We left the Sylvia & Danny Kaye Playhouse with memories of the tuneful score and visions of the magnificent waltzes of Johann Strauss, Jr. and dancing by choreographer Abdul Latif and we thank the Martina Arroyo Foundation Prelude to Performance and its splendid young singers and staff for giving us a respite from all the worlds problems with the healing power of the music, melody and mayhem of Die Fledermaus! Bravo to all!