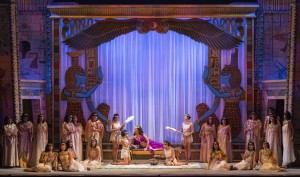 The Sarasota Opera is one of the finest venues for opera. The 1100 seat auditorium of this splendidly renovated William E. Schmidt Opera Theatre, is acoustically perfect and visually stunning. Pineapple Street in front of the opera house is now named "Verdi Way." Conductor and Artistic Director Victor DeRenzi completed his 28 year Verdi cycle with a magnificent Aida.
The world premiere of Giuseppe Verdi's (1813-1901) spectacular masterpiece Aida was December 24, 1871 in Cairo, Egypt supposedly to celebrate the opening of the Suez Canal. After its Italian premiere at La Scala in Milan, shortly afterwards, Aida swept the world. It should be noted that tenor immortal Enrico Caruso sang Radames in Aida at the Brooklyn Academy of Music (BAM) with the Metropolitan Opera (Met) on tour on January 17, 1910 with Arturo Toscanini conducting. Caruso sang in Aida several times at BAM until 1917.
On the evening of Saturday, March 19th, before the performance, it was nice to meet and greet the staff, many of whom are or were Brooklyn residents. Executive Director Richard Russell once resided in Park Slope, Director of Artistic Administration Greg Trupiano is a Cobble Hill resident and Director of Audience Development Samuel Lowry, introduced us to his vivacious parents Bob and Becky Lowry from Eugene, Oregon. Recalling fondly Sam's six years of living in Park Slope, they queried if the Blue Apron Foods store still existed and it does!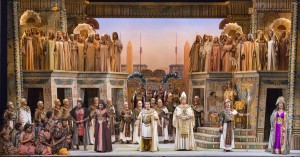 We also chatted with August Ventura, Verdi filmmaker (Film "27") and lecturer with his Mother Romola who resides part time in Sarasota with his Dad Eustacio. Visiting from New York, we met the effervescent Brian Kellow and Scott Barnes from Opera News.
Finally we all entered the theatre and the magic began. Maestro Victor DeRenzi, baton aloft conjured up the opening notes of this masterpiece. The curtain lifted to show us the hall of the palace of the King of Egypt.
Radames is the captain of the guards. He is pledged to Amneris the daughter of the King. Radames falls in love with the Ethiopian slave girl Aida, who in reality is the daughter of Amonasro, now also a slave but actually the King of Ethiopia. Radames gives the invading plans to Aida and is caught by Amneris and Chief Priest Ramfis. Aida and Amonasro flee to safety. Radames is put on trial and found guilty of being a traitor; he is to be buried alive. Amneris begs the judges to change their mind but to no avail. Aida has managed to sneak into the tomb where she and Radames die together with Amneris on the ground above, chanting a prayer softly.
The Radames was Jonathan Burton whose singing of "Celeste Aida" revealed a powerful tenor with lyrical grace, ending the "untrono vicino al sol" first full voice then an octave lower and softly. Burton has  real "squillo" (shine) to his voice. His heroic singing in the duet "Numi che duce ed arbitto" with the Chief Priest Ramfis concluding jointly with "Immensa Ptha" was thrilling. His third act finale "Sacerdote io resto a te," was with golden notes seemingly held together with electrifying intensity. His confrontation with Amneris in Act 4 was a revelation, "Gia i sacerdoti adunansi" with generous and expansive bursts of glory. Burton's "Morire si pura e bella" was lyrically done with pathos and a beautiful blend with Aida. The final "O terra addio" was sung with security and resignation. This was an extraordinary performance from a very promising tenor.
The title role was sung by soprano Michelle Johnson. Her singing of "Ritorna vincitor!" in the first act was the revelation of an Aida of the first rank. Her creamy sound, vocal ascents and vivid charismatic persona made for many magical moments. Her confrontations with Amneris and the excellent translations made one appreciate her dilemma and the brilliant score by librettist Antonio Ghislanzoni. The conflicting emotions were all seen and felt. Ms. Johnson's scenes with Amonasro had great impact and her sense of being torn expanded into newfound courage. Ms. Johnson's wondrous singing of "O patria mia" with its exotic vocal turns found her "inner Aida" in full bloom. Her singing in the tomb scene and "O terra addio" was flawless. Ms. Johnson was a visually radiant and vocally compelling Aida.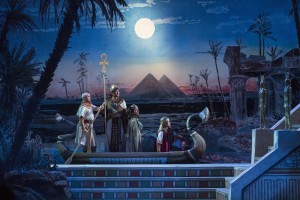 The Amneris of Leann Sandel-Pantaleo was exemplary. The part of the king's daughter, Amneris, Radames lover in waiting and vengeful, and later repentant, is truly a scenery chewing role. Amneris feigns love for her rival Aida and learns of Aida's true love for Radames. Like a cat playing with a toy mouse, she revels in her ploy. Ms. Sandel-Pantaleo was at her "baddest" best in "L'abborrita rivale a me sfuggia" and "Gia I Sacerdoti adunansi" in the fourth act. Her rich versatile mezzo with its haunting chest voice truly made her a unique Amneris. When the priests declare Radames to be a traitor and condemn him to death, Pantaleo's convulsive tears "Empia razza! La vendetta del ciel scendera!" wracked her very being and transferred these emotions to the audience. She took a big bite out of this juicy role and left an indelible impression.
The role of Amonasro, father of Aida and King of Ethiopia was sung by Marco Nistico whose robust baritone impressed from his opening phrases "Suo padre Anch' io pugnai." His singing of "Ma tu, o Re, tu signore possente" was a heartfelt plea and together with the pleading chorus made for Verdian magic. Nistico's impassioned and powerful singing in the Schiava scene with Aida was dramatically precise. His performance so dynamic in the third act, added greatly to the drama.
The King as portrayed by basso Jeffrey Beruan was both majestic and regal. His "Salvator della patria, io ti saluto" and "Gloria all' Egitto" revealed a mellow bass of substantial quality.
The high priest Ramfis of Young Bok Kim was sung in a strong basso and shined in "Mortal, diletto ai Numi" in the "Immensa Ptha" duet with Radames. His Ramfis had dignity and depth vocally and was a vivid portrayal of justice served and mercy ignored.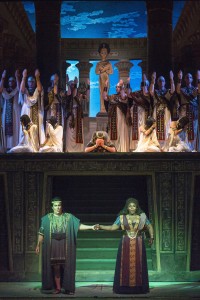 Tenor Matthew Vickers was a commanding messenger in his brief moment to shine and he did indeed with vocal strength and urgency.
The Grand March with the many treasures, dazzling costumes and what appeared to be a golden calf tribute was truly spectacular! The stage was full of extras top tier and bottom with trumpeters on both sides of the stage. It was a marvelous montage, beautifully staged and free flowing with feathers and pageantry galore! The audience loved it!
The act three set design was ravishingly beautiful with its shimmering moon, river waves, barge, palm décor and pyramids.
Kudos to Conductor Victor DeRenzi whose brilliant conducting of this magnificent score from the Grand March to the gentle finale was impeccable. "Words for music" supplied the subtitles which Maestro Victor DeRenzi also translated.
The musicians of the Sarasota Orchestra were truly inspired. The final Aida of a 28 year dream will live on in memory and a final Verdi concert the next evening will complete this monumental effort.
The stage direction by Stephanie Sundine made for a stage that crowded spectacle with ease, flawless movement and striking vistas.
The scenic designer David P. Gordon created images that are unforgettable like some living breathing tableau.
Howard Tsvi Kaplan, costume designer, gave us breathtaking costumes and made us feel at home in this time and place.
Ken Yunker's lighting design, so viable in the third act and the tomb scene also fast framed the Grand March finale like a time travel camera flash.
The ever creative hair and makeup designer Joann Middleton Weaver's work was striking, never garish.
The chorus of Sarasota Opera's apprentice and studio artists, under the astute hand of Roger L. Bingaman was magnificent.
The choreographer, Miro Magloire and dancers Meghan Connolly, Holly Curran, Ariana Henry, Sasha Paulovich, Nicholas Peregrino and Preston Swovelin made sense of the various dancing scenes. The dance of the priestesses and the dance of the young Moorish slaves were a pleasure to behold.
At the beginning of the excellent generous souvenir program, board Chairman David H. Chaifetz praised Maestro Victor DeRenzi for the Verdi cycle plus the board members and volunteers for their time and effort. Executive Director Richard Russell stated  "Verdi has been very good to us. Sarasota Opera has arrived! Now let's enjoy it and get ready for the next great adventure!"
Artistic Director Victor DeRenzi wrote "I will leave the last words to the Italian poet Gabriele D'Annunzio who wrote this as part of a poem written immediately after Verdi's death."
"Diede una voce alla speranze e ai tutti. Pianse ed amo per tutti."
"He gave a voice to our hopes and to those in mourning. He cried and loved for us all."