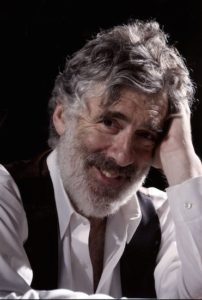 For Brooklyn-born Jewish men of a certain age, there are three totemic heroes: Sandy Koufax, Woody Allen and Elliott Gould. One of these giants (ah, poor choice of noun to describe a Brooklynite; let's make that "titans") afforded me the rare pleasure, and privilege, of hanging out with him on a recent trip to Los Angeles.
To say I "interviewed" Elliott Gould does not begin to do justice to the experience. A hunch I'd had for 45-plus years, ever since seeing him in "Bob & Carol & Ted & Alice," turned out to be true: Gould is not only a prodigiously gifted actor, but he's also a warm, wise, soulful mensch. Think Buddha meets Isaac Bashevis Singer or Kwai Chang Caine meets Rebbe Mendel.
On the morning of our interview, when, after parking my car, I have trouble locating his building, Gould steps out on his West Los Angeles apartment balcony to point the way. I have an out-of-body experience: there he is — Trapper John McIntyre ("MASH"), Philip Marlowe ("The Long Goodbye"), Charlie Waters ("California Split" and his third collaboration with Robert Altman) Harry Greenberg ("Bugsy"), Reuben Tishkoff ("Oceans Eleven," "Oceans Twelve" and "Oceans Thirteen.")
Not to mention God (or at least, his voice) in the 2007 version of "The Ten Commandments." Not to mention all the television work, going back to 1964, when he played the Court Jester (and sang "Very Soft Shoes") opposite Carol Burnett in "Once Upon a Mattress." Not to mention 26 episodes of "ER," where he played Dr. Howard Sheinfeld. Not to mention 20 episodes of "Friends," where he played Courteney Cox's (Monica's) and David Schwimmer's (Ross') father, Jack Geller. Not to mention 17 episodes of "Ray Donovan," as Ezra Goodman.
Perhaps most especially, his membership in the elite Five Timers Club, having hosted "Saturday Night Live" six times. Altogether, over an almost 60-year career, Elliott has appeared in, by my rough calculation, 200 movies and television shows. From rabbis to casino owners, from lawyers to gangsters (not that big a stretch, actually), Elliott has played them all. He is the indisputable heir to throne of James Brown, as the hardest-working man in show business.
Born Elliott Goldstein on Aug. 29, 1938 in Bensonhurst, it can be argued that he was the first undeniably Jewish leading male actor in Hollywood. Unlike, say, Kirk Douglas or John Garfield, who, while themselves Jewish, usually played generic roles (with the notable exception of Garfield's "Dave Goldman" in "Gentlemen's Agreement") Elliott always was, and is, unabashedly Jewish.
Before we begin the interview, Elliott gives me a tour of his art- and memento-filled apartment: photos of his and Barbra's [Streisand] son Jason, paintings and drawings done by Jason and by Elliott's granddaughter Daisy, three Hirschfield caricatures (Elliott and Marcia Rodd in Jules Feiffer's "Little Murders"; Elliott with James Caan, Diane Keaton and Michael Caine in Mark Rydell's "Harry and Walter Go to New York"; and Elliott with Sterling Hayden and Nina van Pallandt in Robert Altman's "The Long Goodbye.") There is also an image that makes my hair stand on end: a numbered lithograph of World War I refugees by the French artist Theodore Steinlen. What makes my follicles stand at attention is the fact that I grew up with the exact same image (a different numbered edition) hanging on my Brooklyn bedroom wall.
After making sure I was comfortable ("You can sit anywhere you want") and didn't want something to nosh on ("I have some fresh apples"), we got down to the principal reason for my visit: Elliott's strong attachment to Brooklyn. As I was to learn over the next two-and-a-half hours, he possesses a photographic memory.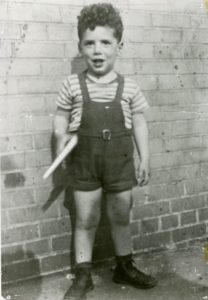 The Eagle: Where did your family live in Brooklyn?
EG: 6801 Bay Parkway, Brooklyn 4. N.Y. (West Ninth Street, between Bay Parkway and Avenue O.) Our telephone number was Beachview 2-5524. I went to grammar school at P.S. 247, which was three blocks away from our apartment. One of my earliest memories was the day I found my balance and could take my first steps. I was a bit worried, as kids are, because my friends Stevie Greenstein and Ed Posner had learned to walk before I did. My mother reassured me, "Ah, don't worry about it, you'll catch up to them." My mother was a very practical woman. She was a milliner; she made hats for all the other women in the neighborhood. She also was very fashionable — and beautiful.
Elliott goes to his mammoth desk, which is cluttered with scripts, books and tchotchkes. He extracts a 5-foot-by-5-foot memorial card with a photograph of a striking, stylish woman — circa mid-1940s — wearing a white blouse, billowing slacks and a white gardenia in her hair. Inside the card are the words "Lucy Gould, July 27, 1915 – September 24, 1998. In loving memory and devotion." At the bottom of the card is this inscription: "Nothing is so strong as gentleness; nothing is so gentle as real strength." On the opposite page is a photo of Elliott and his mother, also circa mid-1940s.
EG: That photograph was taken outside our apartment. Isn't she beautiful?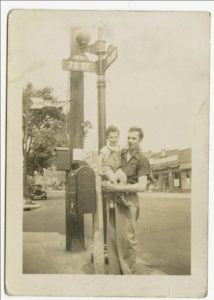 Eagle: Yes, and so modern — she must have been a trendsetter.
EG: That she was.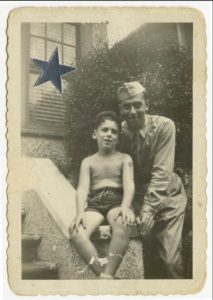 Eagle: Moving on to your other memories; would you say that the growing up in Brooklyn, at a time when the Dodgers' standing in the National League was more important than finding the best kale at the Park Slope food co-op, shaped and prepared you for the tough, competitive business you're in?
EG: Listen, it prepared me for life, and this business is simply another part of life. So in answering your question, I'm not really talking about show business.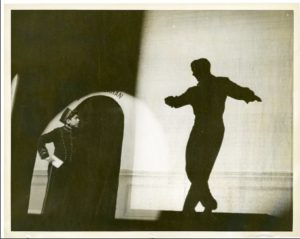 Eagle: Life in general…
EG: Yes, life in general. I'll give you an example of what I mean. When I was in the middle of second grade, the school felt that I should skip a grade. The school had just started experimenting with something called "Special Progress" for seemingly gifted children. But at the moment they chose to move me forward a grade, I was just getting comfortable, I liked my classmates, I was getting my "rhythm." I was thinking "I can do this." But I was too young to think I could object. However, in the third grade you were expected to read out-loud, which I couldn't do.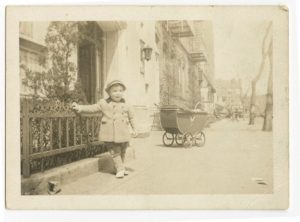 Eagle: Why?
EG: I had no confidence! One of the factors that has been significant in my life, for good and bad, is that I have always had a problem with authority. By that I mean, that authoritative people would tell you how things were and those people weren't necessarily right. I always had a dislike for having to conform. And it turns out I wasn't wrong. But one has to be realistic, to deal with the real world.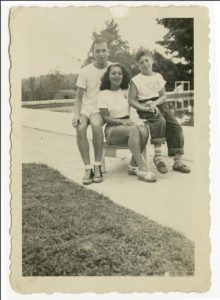 Eagle: After P.S. 247, where did you go to school?
EG: After I finished sixth grade, I went to Seth Low Junior High School. And, while I was in the seventh grade, I played the Palace. My parents had brought me to Manhattan, to a song and dance school, to learn "routines," which, of course, was not how I had envisioned my life!  My first role was in the stage show celebrating the first anniversary of the return of vaudeville to the Palace. Next door to the dance classes I took was a dance class in which a boy named Bob Fosse was also learning to dance. [Note: Fosse was the celebrated choreographer and the director of such films as "All that Jazz" and "Lenny."]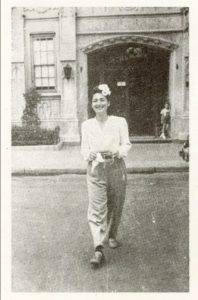 Eagle: In addition to your acting and dancing studies, were you also taking academic classes?
EG: Yes. After seventh grade at Seth Low, I was accepted in the Professional Children's School [PCS.] It was a school for child performers who, when they were on the road with a show, would take correspondence classes to get their high school diplomas. In fact, when I graduated PCS, I was accepted into Columbia University. But I don't think I really wanted to go, plus my family couldn't afford the tuition. So I graduated PCS at 16 and immediately got a couple of jobs: I danced in the chorus of the "Ernie Kovacs Show," then I was supposed to dance and sing in the chorus of the summer stock production of "Annie Get Your Gun" with Vaughn Monroe. But at what was to be our very first performance at Brandywine, a huge storm blew away the tent, so, sadly, I never got to perform "Annie Get Your Gun."
Eagle: So you also took singing lessons?
EG: Oh, yes. When I studied with Charlie Lowe, we had what were called "personality classes," where you had to sing a solo. In fact, I remember one of my first solos — "Hello Hollywood."
[At which point, while still seated, Gould starts to perform the song and dance routine "Hello Hollywood."]
"Hollywood/Here I am/I am looking for a movie man/Like Shirley Temple/I can sing and everything/Oh where is Mr. Warner/I'd like to get him in a corner!/I'll show him how I sing and dance/Hello Hollywood/Whoop-ee Hollywood!"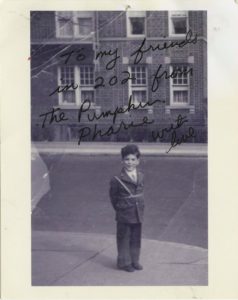 Eagle: [Applauding] That was great! Anyway, what happened after the tent blew down and you couldn't tour with "Annie Get Your Gun?"
EG: I came back to New York and got a job in the chorus of "Rumple," starring Eddie Foy Jr. and Gretchen Wyler. We played the Alvin Theater, which is now the Neal Simon Theater. (I loved the smell of the Alvin Theater; it reeked of show business history.) This was also the first time I went out of town with a show. We went to Philadelphia and Boston. It was a great experience.
Eagle: So by then you were sure you wanted to be an actor?
EG: No! I'm still not sure! It was not my idea to get into show business; it was my parents' idea. But I was so shy, and even repressed, that the feeling was that memorizing my lines and performing might be good for me. For example, another routine that was written for me to memorize and perform was, "Mary had a little lamb/Some peas and mashed potatoes/An ear of corn, some buttered beets/And then had sliced tomatoes/She said she wasn't hungry/So I thought I'd get a break/But just to keep me company/She ordered up a steak/She said she couldn't eat a thing/Because she's on a diet/But then she saw ice cream and pie/And thought she'd like to try it/She drank two cups of coffee/And had dessert of course!/Oh Mary had a little lamb/And I had apple sauce!"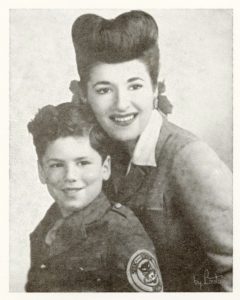 Eagle [applause again]: Your memory is amazing.
EG: Looking back on it now, it was beyond embarrassing, but I thought, "I have to try this. I can learn something." The idea was if that I could mimic, if I could memorize, then somehow my own talent would come out. And this was the only artistic activity I was any good at — acting, singing, dancing, performing. I could draw a little; I couldn't paint, not even finger-painting! But I remember I once saw a paperweight with the saying, "The greatest artist in the world is an uninhibited child at play." And I subscribe to that. It's funny, because when I repeated this to Herb Gardner [the late playwright Herb Gardner, another notable Brooklynite, wrote such hit plays as "A Thousand Clowns," "I'm Not Rappaport" and "The Goodbye People"], he said, "an uninhibited child and Picasso." And I said, "I didn't know you were a materialist. I love Picasso, too, but you keep Picasso, and I'll keep the child." For me, without the spirit of the child, it's all meaningless. Then, many years later, I discovered that the quote on the paperweight was actually from Picasso!
Eagle: You were so young when you did, for example, "The Ernie Kovacs Show," which was a very hip show, way ahead of its time. Were you "getting" material such as Percy Dovetonsils and the Nairobi Trio?
EG: No, it went right over my head. I also appeared several times on "The Milton Berle Show." I also did Jimmy Durante's show. I made a couple of commercials. One was for Bonomo's Turkish Taffy.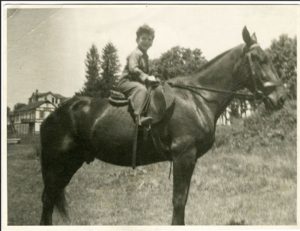 Eagle: I remember Bonomo's! You can buy it on Google now.
EG: My tagline was "It's better that delicious; it's scrumptious."
Eagle: After your Broadway debut in "Rumble," was Jules Feiffer's "Little Murders" next?
EG: Well, after "Rumple," I started studying Modern Jazz dance with Matt Maddox. And Matt Maddox was about to choreograph a musical called "Say, Darling." Abe Burrows directed that and Jules Styne and Comden & Green did the music and lyrics. It starred Vivian Blaine, who, of course, was the original Adelaide in "Guys & Dolls." And I auditioned and auditioned for that show; I wanted so badly to be in it.
Now remember I was still living with my parents in Brooklyn! Well, I got into the show and they gave me the role of Earle Jorgenson, and I had to sing "Old Man River."
The other thing I remember vividly was that because I wasn't on until about 45 minutes into the show, I would go across the street from the old Madison Square Garden to watch the "Big O," Oscar Robertson, play for the University of Cincinnati Bearcats against other college teams. Then I would scoot back to the theater just in time for my cue.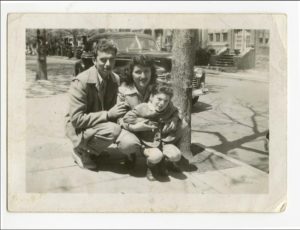 Eagle: You've been a sports fan forever, right? In fact, I remember the 1976 Oscar ceremony (when it was still broadcast on Monday nights), when you presented with Isabelle Adjani, and she said, "The winner is…" And you said, "Indiana 86, Michigan 68."
EG: Yes, I was, and still am, a major sports fan. I remember my parents taking me to Ebbetts Field to see the Dodgers when I was 5 or 6. I also remember my father used to get angry with me, because I always had to go to the bathroom. And, of course, something important would happen — Duke Snider homering or Jackie stealing a base — while we were in the bathroom. My father used to get so mad at me! I'll tell you another great sports story: Before the first Ali-Frazier fight, Jim Brown introduced me to Ali, and Ali said to me: "You do what you do as well as I do what I do." That's the second greatest compliment ever paid me.
Eagle: What was the first?
EG: Groucho Marx! We became friends, and I was at his house changing a light bulb over his bed. And he said, "that's the best acting I've ever seen you do."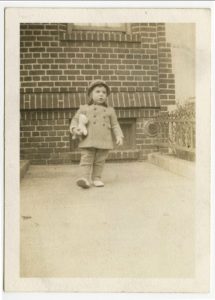 Eagle: Back to Broadway. After "Say, Darling" …?
EG: After "Say, Darling" closed, I decided to hire Colin Romoff (who had been the assistant choreographer on "Say, Darling") to help me improve and update my singing. I remember Colin had me sing "Do it the Hard Way" from "Pal Joey."
[Once again, Gould starts singing. Who knew he was such a crooner? I ask him about this relatively unknown aspect of his career.]
EG: While I was in "Irma la Douce," I was taking jazz lessons with Gene Lewis. He was friendly with Oona White, who I'd met while doing "Irma." [Note: Oona White was a celebrated choreographer, whose Broadway credits included "The Music Man, "Carmen Jones" and "Take Me Along"]. After "I Can Get it for You Wholesale," I went to London to do the West End premiere of "On the Town."
Eagle: Were you still living at home in Brooklyn during this period?
EG: Yes, I was living at home until I met my first wife.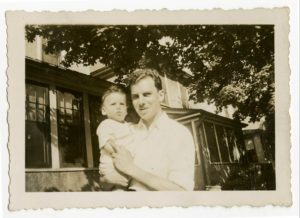 Eagle: How did you meet?
EG: We met while we were both in "I Can Get it for You Wholesale."
Eagle: So we're talking about Barbra [Streisand].
EG: Yes, Barbra. Not only my first wife, my first real relationship; I'd never really been with anyone before.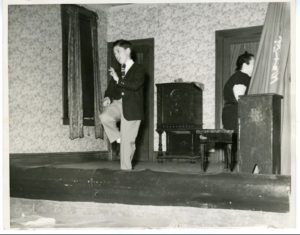 Eagle: Barbra was Ms. Marmelstein, your assistant, in the play, correct?
EG: Yes. She played the secretary to my character, Harry Bogen. She was terrific. It was Barbra's Broadway debut. Goddard Lieberson, who produced the cast album for Columbia Records, signed her to a contract and her first solo album was released two months after the show closed.
Eagle: Did the fact that you were both from Brooklyn, and Jewish, add to the appeal?
EG [smiling impishly]: You should ask Barbra that question.
[So, via email, I did.]
Her response: "Our attraction was not based on our being Brooklyn or Jewish … but it didn't hurt."
She was also gracious enough to take time out from recording her new album to answer one other question: Why hadn't she and Gould worked together again after "Wholesale?"
"We never got any scripts that satisfied us."
[Gould confirms this.]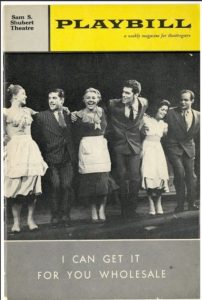 Eagle: Barbra used to perform a lot at the Blue Angel in the Village, right?
EG: Yes, I'd often go to see her there.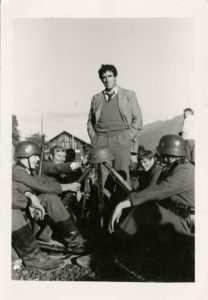 Eagle: The Blue Angel's gone now…
EG: So is everything … so is Ebbets Field.
Eagle: But you're still here…
EG: Yes I am!
* * *
Elliott Gould has just completed his starring role in the independent film "Humor Me" and will next be seen as a regular on the new CBS series "Doubt."