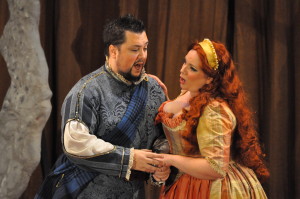 On the afternoon of Saturday, March 5th, the Regina Opera's 46th season continued with an exciting Lucia di Lammermoor by composer Gaetano Donizetti. (1797-1848) For those few precious hours, Sunset Park in Brooklyn was transformed into La Scala in Milan or Lincoln Center. Lucia di Lammermoor is based on Sir Walter Scott's novel The Bride of Lammermoor and is set in late 17th century Scotland. The libretto is by Salvatore Cammarano and the first performance was at the Teatro San Carlo in Naples, Italy on September 26, 1835.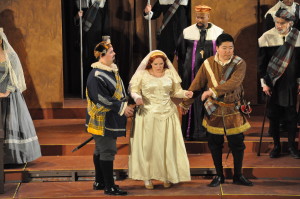 Enrico wants his sister, Lucia, to marry Arturo which will greatly improve the family's financial situation. Lucia however loves Edgardo who is a sworn enemy to Enrico. By forged letters, Enrico convinces Lucia that Edgardo has abandoned her, and forces her to marry Arturo. Edgardo "crashes" the wedding, denounces Lucia, throws back her ring and is escorted out with swords drawn. Raimondo Bide-the Bent, a minister, restores the peace. We soon learn that Lucia has gone mad and has stabbed her groom, Arturo, on their wedding night. Lucia then appears with the dagger, delirious, in a blood stained gown. Edgardo goes to his family tomb, is told of Lucia's death and stabs himself.
Lucia Ashton was sung by Alexis Cregger whose singing of "Regnava nel silenzio" was haunting. Ms. Cregger's coloratura has a quick vibrato and a shimmering dream like quality that is beguiling. Her singing of the love duet with Edgardo "Verranno a te" was both lyrical and ardent. Ms. Cregger's thrilling ascent in "Se tradirmi tu potrai" was golden age in its quality like a sudden burst of fireworks. Her high note finale in the famed sextet "Chi mi frena" was a wonder.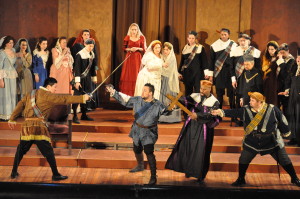 "Il dolce suono" and the ensuing "mad scene" were sung with pyrotechnic fierceness with trills, cadenzas, highs and lows in a dazzling panorama of colors and emotions ending in "Sparigi d'amaro pianto" with a spectacular high note above the orchestra and chorus. Cregger's Lucia was flawless and spectacular!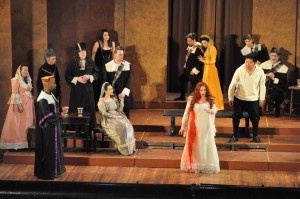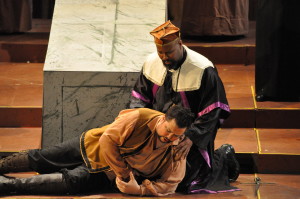 Edgardo di Ravenswood was sung by the rapidly rising Australian tenor Benjamin Sloman. His ardent powerful singing of "Sulla tomba che rinserra" and "Qui di sposa eterna fede" made one sit up and take notice. The ensuing duet "Verranno a te sull' aure" with its soaring melodies had us enraptured as Ms. Cregger and Mr. Sloman rose to heavenly heights, their voices blending and a few new, trill like additions added to this captivating brew. Sloman's top voice steely, steady and secure, combined with Alexis Cregger's flowing sound, made for a "golden age duet." His penetrating notes in the sextet and his declamatory power in the denunciation scene "Hai tradito il cielo e amor" made for great theatre. Sloman's beautifully framed and poignant singing of "Fra poco a me ricovero" and "Tu che a Dio spiegasti l'ali" made him an Edgardo of the first rank.
Lord Enrico Ashton was sung by Seung-Hyeon Baek whose robust baritone negotiated the passages of "Cruda, funesta smania" with strength and angst. His exciting singing with Lucia of "Se tradirmi tu potrai" evoked the duet in Rigoletto with his stirring high note. He was a bad and angry brother. His remorse at Lucia's death was genuine. Baek's portrayal was vivid and masterful but he needs a little more "push" into getting into Enrico's skin with a bit more angst. He is young and his future promising.
Raimondo Bide-the-Bent, a peace keeping minister was beautifully sung by Isaac Grier whose basso cantante provided the glue that literally held people together throughout the opera. His singing with the chorus of "Cessi, ah cessi" and "O meschina" and "Tu che a Dio" at the tomb scene was done with extraordinary power and beauty.
The unfortunate groom, Lord Arturo Bucklaw was sung in a sweet and strong tenor by Mario Bacigalupi. His singing of "Per poco fra le tenebre" and "Dov'e Lucia" was done with genuine conviction and lamb before slaughter was the prevailing thought.
The smaller roles were all done with vocal heartiness and aplomb. The Normanno of Ray Calderon, the excellent Alisa of mezzo Jennie Mescon, the Deacon of versatile Wayne Olsen and the notary of Thomas Geib were all of a high quality.
The conductor Dmitry Glivinskiy gave a brisk and spirited reading of this exciting and melodic score and brought out every bit of its toe tapping vigor. The 32 musicians who seemingly put their souls and skills into it followed as a unified force, his every baton movement. Plaudits to Richard Paratley who brilliantly accompanied Lucia on the flute in the mad scene, Kathryn Sloat whose harp playing evoked the angels in "Quando rapito" in the first act. Also Dmitri Barkan's oboe solo so poignant and concertmaster Yelena Savranskaya and her magic violins.The Scottish wedding music was so joyful in contrast to the somber melodies to come.
The chorus sang with perfection strength and elegance throughout and especially in the final act.The melodies haunt me still.
Linda Lehr's brilliant direction and staging made for vivid fight scenes, unshakable visions of the mad scene and a haunting tomb scene with the monks and mourners holding candles. Lehr's scenes (So Gothic and mysterious) sometimes are "frozen" as in mid flight-a brilliant touch! Tyler Learned's set lighting was truly mood evoking.
The costumes by Julia Cornely were outstanding and the red and gold gowns at the wedding scene were dazzling. Edgardo's outfit was superb and Lucia's blood soaked gown as she left the unseen boudoir and entered the reception was unforgettable.
The subtitles by Linda Cantoni Vice President were excellent and gave the newcomers vital dialogue.
We thank the Regina Opera for a truly splendid afternoon of opera at its best-not updated tampered with or modernized-just the brilliant genuine article. There were ovations, cheers and many bravos echoing in the hall at the conclusion. Thanks to Francine Garber, Linda Cantoni, Joseph Delfausse, Alex Guzman and all those behind the scenes who make it all possible. Bravo!
For more information about Puccini's Manon Lescaut to be presented in May, e-mail:  [email protected]