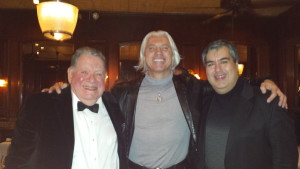 On the evening of Tuesday, February 23rd, the promising Brazilian tenor Ricardo Tamura added Turiddu in Pietro Mascagni's one act masterpiece Cavalleria Rusticana to his list of Metropolitan Opera roles. Cavalleria Rusticana had its premiere in 1890 and is usually paired with Leoncavallo's Pagliacci, both verismo (flesh and blood) works. The Metropolitan Opera was the first company to perform Cavalleria and Pagliacci together on December 22,1893. Cavelleria Rusticana was also performed with the Metropolitan Opera (Met) on tour at the old Brooklyn Academy of Music (BAM) on March 8, 1892.
The role of Turiddu has been sung by many of the great tenors and is coveted for its passionate duets and solos. It is Easter Sunday and Turiddu, a Sicilian soldier is in love with Lola but when he goes off to war, Lola marries the village carter Alfio. Turiddu then turns his passions toward Santuzza who was excommunicated from the church. Lola makes overtures to Turiddu and their love rekindles. Santuzza tells Turiddu's mother, then confronts Turiddu, they argue and with Lola in sight beckoning, Santuzza runs off and tells Alfio. Alfio in a rage, swears vengeance after confronting Turiddu drinking with friends in Mamma Lucia's tavern. Turiddu sings a tearful farewell to his mother and shortly thereafter, a screaming villager shrieks that Turiddu has been killed. Santuzza stares straight ahead as all the grieving villagers turn their backs to her and help his grieving mother.
The offstage serenade from Turiddu "O Lola c'hai di latti la cammisa," was sung with ringing tone and Italianate flair by Ricardo Tamura. This aria in white heat sung offstage is a challenge to sing.
Riccardo Tamura sang with passion, flair and well placed high notes. His declamatory utterance and rich middle voice evoked memories of the Italian greats -Beniamino Gigli comes to mind, "Tu qui Santuzza?" and the ensuing gripping duet indicated Turiddu's frustration and his determination to find a balance to his dilemma. Tamura's singing of "Intanto amici; Viva il vino spumeggiante" was brilliant, grand and generous right up to a dazzling high note. His confrontation with Alfio was white hot and one knows despite his words he will fight for what he wants! Tamura's full throated "Addio a la madre" was sung with pathos, desperation and resignation with a beautifully framed finale.
Santuzza was sung by Liudmyla Monastyrska whose powerful soprano is a force of nature. Her singing of "Voi lo sapete mamma" was a tour de force and a little tapering and a bit of color would have placed her on the list of great Santuzza's. The Regina Coeli was powerfully sung but was stripped of its poignant majesty by its lack of religious spectacle. Her "Turiddu ascolta!" and their duet were among the vocal high points of the evening.
Ambroglio Maestri was a gruff no nonsense Alfio. His "Il cavallo scalpita" was sung with brio and pride. Maestri's singing in the duet with Santuzza, " Infami loro, ad essi non perdono, vendetta avro" was fury and volcanic angst, his baritone barometer exploding in rage.
Lola was in the youthful and attractive persona of mezzo Ginger Costa-Jackson. Her singing of "Fior di giaggiolo" had its lure and appeal. The production however gave us not a hint of sluttiness and spite.
The vivid Mamma Lucia of mezzo Jane Bunnell was rich voiced and not quite as naïve as one would think.
Andrea Coleman as the screaming woman handled "Hanno ammazzato compare Turiddu!" with eardrum piercing perfection.
The fabulous Fabio Luisi, principal maestro conducted with authority, intensity and inspiration. Luisi's hobby is making perfumes and his various fragrances also seem to be part of his extraordinary blends of harmony in his music making. The Intermezzo was truly the heavenly calm before the storm.
Chorus master Donald Palumbo led the singers gloriously, especially the Regina Coeli and "Gli aranci olezzano." All the singers were very well received.
With the splendid Turiddu of Ricardo Tamura, it was a good night of opera. Tamura as a student, wanted to be a scientist. Singing prevailed and his career took off like a rocket! The great soprano Licia Albanese heard him sing and with the assistance of the Licia Albanese-Puccini Foundation started his ascent.
The sets and costumes were drab beyond belief; the singing cast gave us Sicily in their passion and dedication to the story but the black costumes, dismal rows of musical chairs and peasant dancing evoked Fiddler on the Roof. Not an orange tree could be seen and Sicily at Easter time got lost in the shuffle. The singers provided all the colors of Sicily in their vivid interpretations.
The celebration party at nearby Fiorello's restaurant hosted by Ricardo Tamura and his charming wife Dagmar had many notable supporters and friends. Among them were Stephen De Maio President of the Gerda Lissner Foundation with patrons Karl Michaelis and Michael Fornabaio, Gloria Gari from the Giulio Gari Foundation, Sachi Liebergesell President of the Licia Albanese-Puccini Foundation and opera artist's manager Robert Lombardo, all longtime supporters of Ricardo Tamura.
As we were having dessert, the great Russian baritone Dmitri Hvorostovsky and friends joined the revelers. Outside it was pouring rain, but inside it was pouring love. Bravo Tamura!