On the evening of Sunday, January 21st at The JW Marriott Essex House in New York City, Opera Index celebrated its 2018 Distinguished Award Dinner honoring legendary American mezzo Mignon Dunn. The program began with an operatic recital of young Opera Index 2017 awardees. During the cocktail hour, I was happy to chat with great mezzo Dolora Zajick, legendary Met soprano Lucine Amara, brilliant Met soprano Diana Soviero and the glowing awardee Mignon Dunn. Of course I thanked them all for their careers which made the operatic multitudes very happy indeed. I told Mignon Dunn how beautiful she looked and sounded as Magdalena, the Duke's girlfriend in Rigoletto, and as a young man, how happy I was to see her so vocally alluring and sexy as the trollop sister of Sparafucile! Ms. Dunn, radiant and youthful, now teaches and like Johnny Appleseed, is planting many new singers and sending them off for future generations. I told Lucine Amara how a commercial for "Pace, Pace Mio Dio" Olive Oil on WOV Italian Radio in my grandmother's house, made me familiar with the aria and helped spark an interest in opera. Ms. Amara sang the aria with such glory-even recently. I always tell Diana Soviero how moved I was by her unrivaled performance as Suor Angelica at the Metropolitan Opera. Dolora Zajick, up beat and full of fun, is one of the greatest Azucena's in Metopera history in Verdi's Il Trovatore and she too has a school of teaching and is helping to keep opera alive. Earlier we chatted with the Metopera legend, the indomitable Elinor Ross whose dramatic soprano still echoes in memory.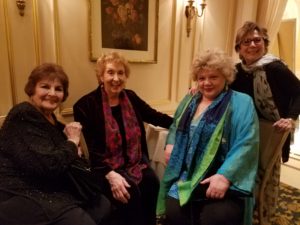 President Jane Shaulis came to the lectern and with one golden note, got the attention of all and the program began. In her introduction, Ms. Shaulis, who is a much heralded and loved mezzo at the Metropolitan Opera thanked the patrons, whose generous support sustains the awardees, who bring us all hope for the future and the honored guest Mignon Dunn who remains both in memory and current times a historic American opera presence.
The presenter of the award was Joan Dornemann, pianist and vocal coach at the Metropolitan Opera from 1974 and she also serves as assistant conductor. Ms. Dornemann gave a rousing and animated speech getting much applause and joyous laughter. She mentioned the wonderful Amato Opera with its Aida and the Egyptian army of 4 people. Ms. Dornemann spoke of her years in Spain at the Gran Teatro del Liceo and all the great singers she worked with. Her stories and wit were most amusing.
Mignon Dunn, looked so much like we remember her. She worked hard but had fun with her colleagues. Ms. Dunn was born in Memphis, Tennessee and raised in Tyronza, Arkansas and Memphis. Her opera debut was in New Orleans as Carmen in 1955. She sang over 600 performances at The Metropolitan Opera in a 35 year career and taught voice at Brooklyn College and Manhattan School of Music among others. Her late beloved husband was conductor Kurt Klippstatter. Her advice was high praise for Opera Index for the award and profound thanks. She misses her colleagues and says it is important to "always be good to each other."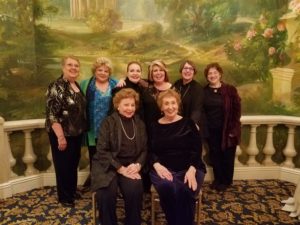 The concert then began with Tamara Banjesevic who sang "Je veux vivre" from Gounod's Roméo e Juliette. Her soprano has power depth and flexability. Ms. Banjesevic danced through the tables in the dining area and had much allure. Her voice had the necessary frisson to make us all feel her newfound love and joy. Her coloratura flights showed us how happy Juliette was and while dancing, it was a nice bit of vocal and stagecraft by a future star.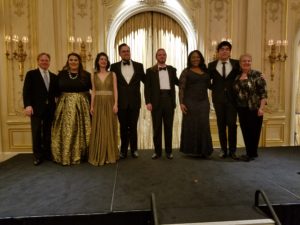 Bryan Murray sang "Mein Schnen, mein Wähnen" from Die todt Stadt by Korngold. Mr. Murray has a caressing baritone and was able to draw the audience into his mood as if it was a Schubert lieder. His voice has a nice cadence to it and was always in legato balance and fell gently and passionately on the ear.
Courtney Johnson sang "Come scoglio" from Mozart's Così fan tutte. Her impeccable soprano was well balanced with a lovely piercing top and flawless legato. Her coloratura flights were exciting and her ascendancy and downward slides were seemingly effortless. Ms. Johnson captured the spirit of Mozart's character and shared that with us!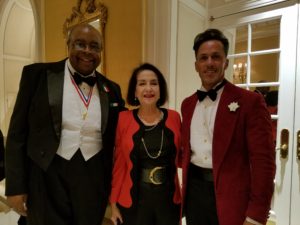 .
James Ley tenor, sang "Vainement, ma bien-aimée" from Le Roi d'Ys by Lalo. This aria is like an illusion. Most think it to be a simple ditty when it is really a high bridge partially obscured by mist and fog. The outreach for the satisfying high notes are deceivingly out of reach for too many tenors. Tenor legend Beniamino Gigli's superb honeyed recording should be heard. One has to interject a vocal personality in this piece. Mr. Ley's capabilities are strong enough to achieve this. Let that note float – and satisfy. Don't just reach for it – let it float and carry us on an emotional journey with it!
William Guanbo Su, bass sang "Vi ravviso" from La Sonnambula by Bellini. I am Sicilian, I love Pasta à la Norma and I love Bellini. I felt that Mr. Guanbo Su was a fruit in the midst of ripening. A few touches here and there and then bravo – la frutta perfecto! His first part was lyrically sung but one did not feel the pulse of Bellinian melancholy. The cabaletta had more energizing spirit to it. The voice itself has all the good baritonal and darker sounds one desires. They have to be kneaded like pasta, and a covering of tomato sauce with graded cheese and a bit of mint will create a true Bellinian singer. Then we can all celebrate with Pasta à la Norma! In 2017, William Guanbo Su was the first prize winner of the Gerda Lissner Foundation. The ripened fruit is near happening. We eagerly await for it at the table with some fine wine!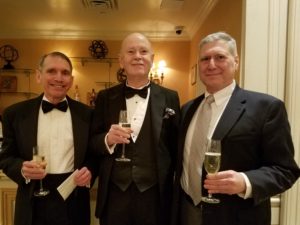 Brittany Nickell soprano, sang "Robert, toi que j'aime" from Robert le Diable by Meyerbeer. Ms. Nickell posses a fine flexible soprano of pleasing quality from top to bottom. Strong emotions were displayed and her ascents and descents were formidable. Her soprano had subtle shading and she was "in control" of her instrument and seemed to know the "feel" of Meyerbeer. Perhaps one day, a revival of this work-just for her!
I thought of Met Opera librarian Lionel Mapleson with his cylinders recording of Meyerbeer's operas at the old Met in 1901-03. The "live" sounds of the golden age and the wild applause of the transfixed audiences with Polish tenor Jean de Reszke, American soprano Emma Eames and some legendary names that never made recordings.These are the only recordings of the elegant Jean de  Reszke. Ms. Nickell and the extraordinary Opera Index piano accompanist Michael Fennelly gave us the thrills that Mapleson yearned for over 100 years ago.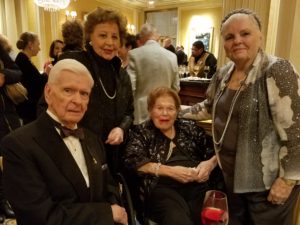 After the concert and presentations, we had a delicious Filet Mignon (Dunn) dinner and chatted with many of the guests. It was nice to see Metopera legend mezzo Rosalind Elias, Opera Orchestra of New York conductor Eve Queler, journalist and patron Meche Kroop, elegant Executive Director Joseph Gasperec, patron Sachi Liebergesell, author pacifist Luna Kaufmann, vocal teacher Joy Ferro, Opera Index Vice Presidents Philip Hagemann and Janet Stovin and treasurer Murray Rosenthal, horologist and board members John David Metcalfe, conductor Stephen Phebus and Linda Howes, Robert Steiner and Faith Pleasanton, Gloria Gari from the Giulio Gari Foundation, Michael Fornabaio and Karl Michaelis, distinguished patrons and representatives from the Gerda Lissner Foundation, suave David and glittering Barbara Bender from Career Bridges, opera manager Ken Benson, computer whiz George Voorhis, Cavaliere poet Dr. Edward Jackson, Jolana Blau from Elysium between two continents and the classy tenor Cesare Santeramo and Dr. Robert Campbell, sage patrons and benefactors, who added to the sparkle of this joyful evening at the fabulous  JW Marriott Essex House.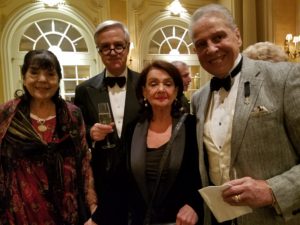 May opera thrive in the new year and beyond! Thanks Jane Shaulis and Joseph Gasperec for this splendid evening and for the loving assistance you render to these Opera Index artists of the future.