A review by Nino Pantano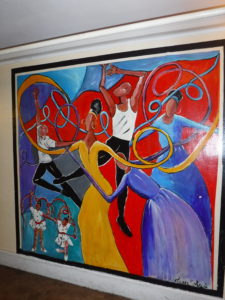 The Metro Chamber Orchestra is currently in its 14th season. Maestro Philip Nuzzo is the founder, Artistic Director and Principal Conductor, Deborah Surdi is the Executive Director and Nathaniel Chase is the Assistant Conductor. The Brooklyn Music School is located at 126 St. Felix Street around the corner from the Brooklyn Academy of Music (BAM) and has ambitious plans for its 15th season which begins in October.
On the evening of Saturday, May 6th, Maestro Philip Nuzzo began the concert with Siegfried Idyll by Richard Wagner. I was familiar with the piece having heard it via radio with the legendary conductor Arturo Toscanini (1867-1957) and the NBC Symphony. Richard Wagner (1813-1883) composed this piece as a birthday surprise for his second wife Cosima,(1837-1930) who was born on Christmas Eve in Como, Italy. Originally this rustic work was performed with 13 instruments and later its orchestra size was doubled. With the sounds of nature, leaves rustling, birds chirping, one can envision young Siegfried, rubbing his eyes to horns heralding the new day. The trembling of a leaf, the fleeing of a stag, salmon swimming upstream, the silence of a deer. All were heard in this piece which was incorporated in part, in his opera Siegfried. It still remains as a testament to Richard Wagner and his Cosima, who herself was a "love child" of Franz Liszt and his Baroness mistress Marie d'Agoult.
One heard all this and more in the subtle, ever ascendant beat of Maestro Nuzzo who built this tone poem into a resplendent tsunami of love and spring eternal. The members of the orchestra played with intense dedication and unity.
Next came selections from "El Amor Brujo" by Manuel de Falla. (1876-1946) It is called "Broken Love" and it features the Fire Dance. I looked at some of the musicians just before they began playing and they had a look of anticipation and exaltation, eager and ready to express the passions of this great work. Maestro Nuzzo's strong and steady beat ensured us of a passionate reading of this sumptuous score and he and the musicians nailed it right on the head.
I envisioned an MGM musical with José Iturbi or an early TV show with Liberace hitting the keys on a flame filled piano!
The Spanish born Manuel de Falla evokes Grofé, Thompson, Copeland, Gershwin and others of his era who used vivid and graphic ornamentation to absorb audiences right into the fabric of their music. Not Hollywood type "faux" Spanish music but the "real deal," penetrating the soul of the listener. The main theme with its dark dramatic minor key repetition and pizzicato sections triggered off the Fire Dance and carried us along this magic carpet journey.
The second part of the program was a concert version of a one act opera by composer Philip Hagemann entitled RUTH. 
According to Shavuot: "The Book of Ruth is the eighth book of the Old Testament of the Bible. A short story, it tells how Ruth, the Moabite widow of a Bethlehemite, with her mother-in-law Naomi's assistance, married an older kinsman Boaz, thereby preserving her deceased husband's posterity and becoming an ancestor of King David." Ruth and Orpha are sisters and daughters-in-law to Naomi.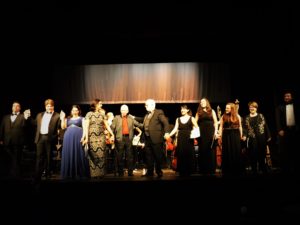 Ruth is indeed a victim that the drama swirls around. The music by Philip Hagemann is not atonal or melodic but rather sweeping and harmonious. It is not film music but evokes and impresses. It is an opera in brief that deserves to be a strong part of the contemporary operatic firmament. Hagemann has written ten short operas and several full length ones that bear listening.
Jessica Mirshak used her warm mezzo and stretched the envelope to indicate the sturm and drang of her character Naomi. Ms. Mirshak is the possessor of a mellifluent mezzo-soprano. Ruth, sung by Alyson Spina's soaring soprano, made for a vocally and histrionically satisfying reading. Ms. Spina gave generous portions of her soprano plus a blend of defiance and resignation that was noteworthy.
Deborah Surdi used her beautifully polished soprano and floated some really impressive notes as Orpha. 
Boaz was strongly sung and acted by Stan Lacy whose lyric baritone negotiated the byways of this role with passion and ease. 
Theodore Chletsos as the servant/Amnon showed his inner Canio with a splendid tenor of squillo and abandon.
Tenor Christopher Tefft joined the chorus and blended well.
The Greek Chorus consisted of Jessica Doolan, Amal-El-Shrafi and Victoria Rodriguez. They made for a tantalizing trio of future Rhine maidens.
Maestro Nuzzo did a masterful job making the singers and orchestra play as one and showing his mastery of the music and its genre. Maestro's code seems to be "to thine own self be true" and he conducts what he likes best!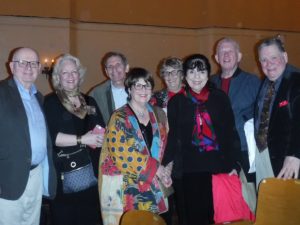 In the audience were famed Maestro Eve Queler from the Opera Orchestra of New York, Midge Woolsey, spokesperson from PBS's Channel 13 and former radio host WQXR with her husband Dr. Jerry Stolt, economist, Brooklynite Ella Godfrey formerly from the Met Opera broadcasts, Murray Rosenthal, Treasurer of Opera Index and Philip Hagemann, Vice President of Opera Index and the composer of Ruth who received an ovation. Mr. Hagemann is the longtime director of the Rockland Choral Society and is also the composer of Fruitcake, a well known whimsical and popular choral work.
The Metropolitan Opera included the Brooklyn Academy of Music as part of its tour until 1937. All the great vocal artists appeared at BAM. On December 11, 1920, Enrico Caruso collapsed on the stage of BAM after suffering a throat hemorrhage during a performance of Elisir D'amore. After a lengthy illness, the great tenor passed away at age 48 in his native Naples, Italy on August 2, 1921. 
On a happier note, fabulous soprano and silent film star Geraldine Farrar as the goose girl in Die Königskinder on January 13, 1914 by Engelbert Humperdinck was dismayed when her geese ran out of the house on to St. Felix Street. (Hopefully they were retrieved by the Met staff)
It was a rainy chilly evening but we all went to the nearby Berlyn Restaurant to celebrate over libations and sweet edibles. It was the ever young Indiana born composer Philip Hagemann's night and many a glass was lifted in his honor. Our waitress Anna Schumann gave us impeccable service!
We look forward to future performances by this superb ensemble of Metro Chamber Orchestra. Maestro Philip Nuzzo has conducted in Italy and many international venues. A tree grows in Brooklyn and

tonight

it was a giant oak!