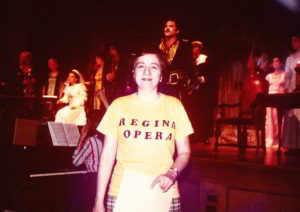 Marie Cantoni was born in November 1930 in Brooklyn, at home, on 75th Street between 11th and 12th Avenues, the youngest of four children. She passed away on Saturday, October 28th at the age of 86 in Brooklyn.
Marie was introduced to opera by her maternal grandfather Giuseppe Ulla who was from Piemonte and who sang tenor in a church choir. He loved the Metropolitan Opera broadcasts, which began in 1931 and would listen to them with his grandchildren.
Marie attended P.S.176 and New Utrecht High School and became a legal secretary for a large admiralty law firm. In 1957 she married Matthew Cantoni whom she had met in first grade. She quit her job and gave birth to Linda in 1958 and Mark in 1960.
In 1970, she started the Regina Opera with a neighbor Nick Tierno, whose brother was a fine tenor with no place to sing opera. The company originally gave little concerts with piano accompaniment at the Regina Pacis Youth Center. Many of the original singers were members of the Regina Pacis choir. The first full opera was La Traviata in 1971.
According to her daughter Linda, until her retirement a few years ago, "Mom did just about everything for the company except sing – casting, scenery, set decoration, furniture, props, costumes, accounting, publicity, box office, administration – you name it! She was amazingly creative and could draw, paint, sew and wield a hammer with the best of them! She made beautiful props out of household items – a candle in a tuna can, glued on a dowel stick with some plastic fence material cut into spikes, spray-painted black, became a medieval torch."
"She and Fran (Garber) made an unbelievable team, both of them extraordinarily talented at organizing a growing company and keeping it afloat on a shoestring budget and she was the best "usher" on earth. She loved her Guild members. She was too shy to appear on stage, but once in a while she would throw on a costume and do a walk on for the good of the production."
Judy and I, as Guild members, have been attending operas at the Regina Opera for 40 years with a large group of friends. We look forward with great enthusiasm to the works in this new season, including La Traviata, Madama Butterfly and their first Aida. Their 30 to 40 piece orchestra of splendid musicians are superb. The Regina Chorus is especially noteworthy.
Thomas Vilardo, former Met Opera baritone mentioned that Met Opera soprano Licia Albanese visited and the late basso Don Yule from New York City Opera attended many times and superbly sang Sparafucile from Verdi's Rigoletto at the Regina Opera. Today's Met opera super mezzo Dolora Zajick sang Santuzza in Cavalleria Rusticana at the Regina Opera early in her career as did baritone Mark Delavan who was an outstanding Danilo in The Merry Widow. Soubrette soprano Elaine Malbin visited this exciting company. Many of the Regina Opera stars had large followings and that still prevails today! They all followed the standard of talent and graciousness set by Marie Cantoni.
Whenever I embraced Marie upon greeting her, I felt I was in the presence of sweetness and the stuff of dreams. I am so confident that President Fran Garber-Cohen, Executive Vice President Linda Cantoni, Stage director, Linda Lehr, Maestros Alex Guzman and Gregory Ortega, Treasurer Joe Delfausse and all of the volunteers and staff will continue everything Marie started with a combination of Brooklyn grit and heavenly dreams.
State Senator Marty Golden honored Marie Cantoni in Bay Ridge some years ago and we think she felt the love and appreciation of that sold out and wonderful event! We will all miss her very much but her indomitable spirit will soar with every note in the future. Whether it be La Bohème, Tosca or Aida, the tears will be half for the opera and the rest for Marie Cantoni whose passing leaves us with great sadness. She was a pioneer, a creator and a great Brooklynite. We all stand and shout "bravissimo Marie." May you, dear and wonderful soul, rest in peace!