On the afternoon of Saturday, November 18th, in its 48th season, the Regina Opera presented a beautiful La Traviata. This opera has long been a favorite of mine dating back to the early 1950's when I received an RCA LP as a 21st birthday gift. The principals were the idolized soprano Licia Albanese as Violetta, popular American tenor Jan Peerce as Alfredo and beloved Brooklyn baritone Robert Merrill as Germont, and conducted by the iconic Arturo Toscanini and featured the NBC Symphony Orchestra. The opera was a gift to audiences by the legendary composer Giuseppe Verdi! In many ways it was a tribute to his second wife (soprano) Giuseppina Strepponi, who to many, was the inspiration for the opera.
La Traviata (The Fallen Woman) premiered in Venice, Italy in March 1853 at La Fenice Theatre and was based on the play by Alexander Dumas fils. La Dame aux Camelias with a libretto by Francesco Maria Piave was a failure. The soprano, Fanny Salvini-Donatelli was too fat to be a consumptive and the audience was befuddled at its contemporary look. Verdi did some rewriting and got another soprano, and the opera became a great audience favorite and has remained one, worldwide, ever since. Note that composer Giuseppe Verdi also composed Rigoletto and Il Trovatore in the same time period. The great 1936 film Camille, starring Robert Taylor and Greta Garbo, is based on the same story and La Traviata is utilized in the popular film Pretty Woman with Richard Gere and Julia Roberts.
La Traviata was the first full opera by the Regina Opera in 1971 and many thought of the recent death of Marie Cantoni who founded the company so long ago. This opera is a fitting tribute to her love of opera and the Regina Opera remains a true and eternal monument to her blessed memory.
The ever elegant Maestro Gregory Ortega made his entrance, the musicians readied themselves for his baton, the houselights dimmed and the magic began.
The beautiful Prelude with its sound of strings, grips one right from the start. The Maestro and the musicians have set the mood; the curtain lifts and the gaiety of the party prevails.
Violetta Valéry was portrayed by soprano Christina Rohm, whose vocal gifts were a constant source of pleasure and filled the hall with full and generous sound. Her sublime singing of "È strano… Ah, fors' é lui" moved the heart, and her full throated singing of "Sempre libera"literally tore down the house. She did not hit the stratospheric high e-flat at the end of the aria, but hit one high enough to thrill with the expansiveness and strength of her instrument. Ms. Rohm's scenes with Germont were touching. Ms. Rohm's interaction with Germont in their scene that begins with "Pura siccome un angelo" was sung with such feeling, as was "Ah! dite alla giovine," that you cannot forget her heartache. Catholic priest Father Owen Lee once said on a Metropolitan Opera radio broadcast "Violetta was Una Santa"- she was truly a saint. Her reaction to Alfredo's terrible mistreatment to her at Flora's party melted the heart.
The final act with "Addio del passato" and "Ah! gran Dio! Morir sì giovine," was like witnessing the execution of an innocent person. Her "Parigi o cara" with her grief – stricken Alfredo, was sung with tenderness and compassion. The finale with "Prendi, quest' è l' immagine" with Violetta, Alfredo, Germont, Annina (Violetta's maid) and Dr. Grenvil was sudden and shattering. Christina Rohm was for me and for the audience, one of the most vital Violetta's ever. Her performance is now inscribed in the minds and hearts of all who were lucky enough to witness such glory! Giuseppe Verdi must have been there and rejoiced in the perfection of this very unforgettable performance.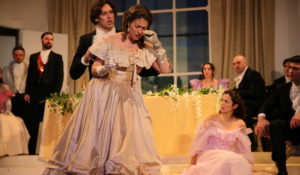 I had the privilege of thanking Christina Rohm, this wonderful artist and singer, for all of her previous superb performances, as well as for this powerful emotion-filled Violetta.
Alfredo Germont was sung by Thomas Massey whose soaring lyrical tenor and boyish charm made him a vital and vibrant addition to this exceptional performance. His singing of "Libiamo"with principals and chorus at the beginning of the first act was exuberant and stood out. Massey's robust singing of "De'meie bollenti spiriti" at the beginning of the second act was among the very best I can recall, and his clarion and vibrant powerful tenor negotiated the myriad paths of the aria beautifully. Massey's rage and heartache in the gambling scene made one want to console him. His throwing money at Violetta in the gambling scene never made him the fool, only the fooled. His angst was shown in the power of his voice and his humiliation by his father denouncing him, and also made him the victim of the bourgeois ego. Massey's beautiful singing in his duets with Violetta "Un dì felice" in the first act and "Parigi o cara" in the last were indicative of his high hopes soon to be dashed by cruel fate. His remorse at the finale became our remorse.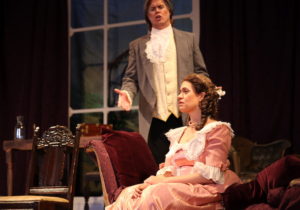 Baritone Scott Lefurgy was an excellent Germont Père. His warm and expansive baritone was utilized to perfection. Lefurgy's voice is not an overly large voice but he knows how to project. His beautiful singing of "Di Provenza il mar, il suol" was among the highlights of the performance. Lefurgy's singing in the second act with Violetta was moving but never hypocritical. His emotions were perhaps a bit self-serving regarding "family honor" but his affection for Violetta was sincere, especially his "Piangi, Piangi" and his being the responsible one for her death was among the sadder aspects of this tale. Yes, Father Owen, Violetta was far more than a courtesan; she WAS a Saint! (Una Santa)
Baritone Samuel Bowen portrayed Baron Douphol. He was at his best in challenging Alfredo to a duel at the end of the second act. His indignation was justifiable. Kudos to the Regina for making the Baron's duel challenge moment a visible one. His useful and warm baritone and dignified appearance was well served.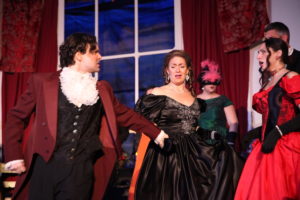 Kristin Behrmann was Flora. Her warm mezzo was pleasing, her affection for Violetta touching, her fabulous parties rivaled Ethel Merman as Perle Mesta in Call me Madame. (No pun intended)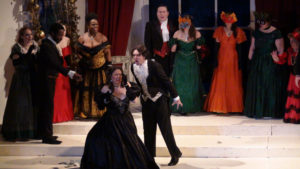 The more minor roles were securely played by Danny Oakden as Marquis d'Obigny; Rick Agster as Dr. Grenvil with a warm basso voice and persona; vibrant soprano Angela Aida Carducci as Annina, Violetta's loving and sympathetic maid; Justin Randolph was Gastone, Viscount Letorières; Thomas Geib was Giuseppe a servant; and veteran comprimario Wayne Olsen, an elegant first rate commissioner.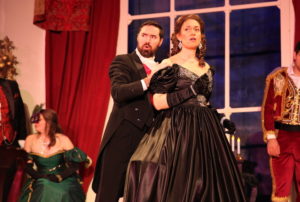 The dancers at the party scene were the excellent and graceful with Wendy Chu as the gypsy and Kelly Vaghenas as the boastful impassioned matador. Both were colorful and exciting attractions in the party scene.
The ensemble was glamorous: stunning Shelly Barkan as Gastone's girl; Thomas Geib (a "moving man"); chorister Catherine Greco beguiled and amusing as a fortune teller; Tareva Moore (Gaston's girl); Wayne Olsen (Violetta's Butler) Raffaele Rosato (a "moving man") – all vital, vibrant and colorful!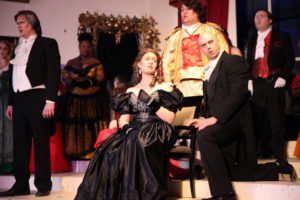 The chorus sang with exuberance and sympathy. The orchestra of 35 plus superb musicians were led by Maestro Gregory Ortega, whose genius gave us a well balanced and inspired interpretation. The familiar Prelude and Interlude were fresh and familiar – like old friends and good wine. The violins were haunting thanks to Concertmaster Christopher Joyal. Violinist Diana Barkan was outstanding and her husband Dimitri Barkan was the excellent oboist. Richard Paratley, principal flutist, was also the Michaelangelo-ish set painter.
The costumes by Marcia C. Kresge were brilliant and colorful. The sets were sheer perfection. Flora's party was elegant and extravagant with paintings, large garden window and great intimacy as well. Violetta's party in the first act had a lovely "Libiamo" with all the color and fun synonymous with such settings.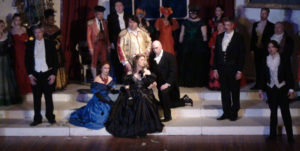 Lauren Bremen's lighting design added to the mood swings, the marvelous supertitles by Linda Cantoni contributed greatly by their sophistication and explanation. Graphic design was by the multi-talented Wayne Olsen.
The stage direction by Linda Lehr is always unique and fulfilling. The camera is on Violetta but the bouquet also includes strong glimpses of the despair of Alfredo and Germont. The entire production is praiseworthy and we were thankful for it.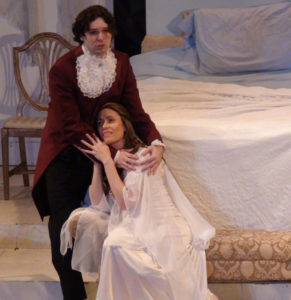 I am thankful that my guests including family and friends were given this precious gift of Violetta's life and demise. The great music of Giuseppe Verdi (1813-1901) whose long life and great career thrill, thanks to the late beloved Marie Cantoni and her still living dream – The Regina Opera.
Thank you producer Francine Garber-Cohen, Linda Cantoni, Linda Lehr, Maestro Gregory Ortega, the singers, costumers and all who made this La Traviata so memorable! BRAVI!
We and our guests went to Casa Vieja Restaurant nearby for a delicious (Mexican) dinner à la Violetta's and Flora's soirèes.