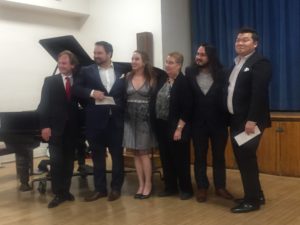 On the evening of Wednesday, November 8th, Opera Index presented their Annual Membership Buffet & Recital at The Community Church of New York in Murray Hill, New York. This annual dinner concert is a way of enjoying some of the award winning young singers in an informal setting. The food is volunteered by the members and it is easily one of the great parties to be a part of.
Host Jane Shaulis, who is President of Opera Index and a Metropolitan Opera mezzo, welcomed us all and proudly mentioned the $55,000 that was raised for scholarships in the last year. She called them "talented young artists and stars of tomorrow with blossoming careers." Future Opera Index events include their annual gala on January 21st honoring the great Met Opera mezzo Mignon Dunn, their Spring Lunch honoring patron Karl Michaelis and Maestro Eve Queler's 50th anniversary of her legendary career with The Opera Orchestra of New York.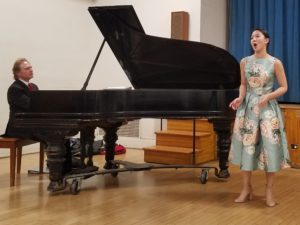 The recital began with the appearance of the gifted accompanist Michael Fennelly and the petite and charming soprano Hayan Kim. It united in her singing of "Je veaux vivre" from Gounod's Roméo and Juliette. Her soprano is full and she sang of love in a light, lively and spirited manner with some adolescent awakening and carried us all with her newfound joy. Ms. Kim was a delightful Juliette of bright vocal potential and a visceral Veronese enchantress.
Bass-baritone Leo Radosavljevic sang "Riez, Allez" from Don Quichotte by Massenet. He is a fine singing actor as well. His voice was better shown in his encore of "Song of the Black Mass" which allowed him to twist his instrument into a beguiling bellow in the quest for the perfect evil! A good show!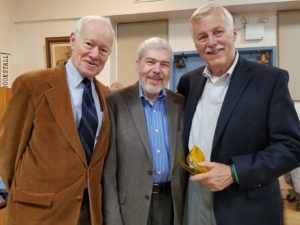 Andres Benavides Cascante's vibrant singing of "Hai già vinta la causa" from Le nozze di Figaro by Mozart made one snap to attention. His is a dark baritone and his internal actions attached to his vocal giving made for a super magnetic interpretation. His "encore" offering was the Zarzuela selection "Mi Aldea los gavilardes" which was thrilling, topped by a B flat that I haven't heard since the late immortal baritone Leonard Warren. Mr. Cascante brought back the thrill!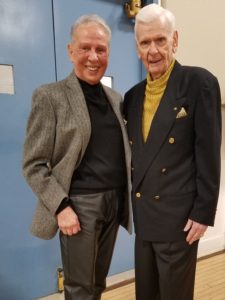 Soprano Emily Pogorelc, sang "O quante volte" from I Capuleti e I Montecchi by Bellini. Her bright soprano was sincere, heartfelt, with lovely tapering, following the Bellini line, with some lovely highs, solid coloratura and a heaven bound quality. Her encore was "Kiss Me Again" by Victor Herbert and her voice, rich with longing, beautifully transformed us to Hollywood of the romantic 1930's.
Baritone Jaeman Yoon sang "Nemico della patria" from Giordano's Andrea Chénier with relentless power, precision and perseverance. His constant projection made the finale less than it could have been. A tad more softness earlier would have infused this overwhelming outpouring into something more. None the less, the ingredients are there and a little polishing will no doubt bring full shine to it.
Michael Fennelly was superb in his accompaniment – light for the Juliette and passionate in the Zarzuela and elegant and transforming in every note he played. Bravo to all!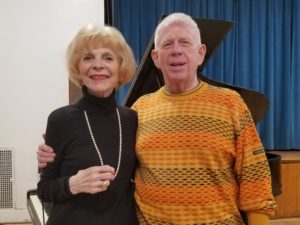 The reception and dinner was just as wonderful. It was so nice to "meet and greet" friends and fellow opera lovers. Executive Director Joseph Gasperec at the door inviting guests to join in and they did! Met Opera great soprano Elinor Ross, opera manager Ken Benson and friend computer wizard George Voorhis, Lois Kirschenbaum, celebrating her special birthday this month, composer/conductor Steve Phobeus and Linda Howes, Vice President Janet Stovin and family, Award donors Cesare Santeramo and Dr. Robert Campbell, several underwriters were Robert Steiner, Jessie Walker, Meche Kroop, Doris Keeley and John David Metcalfe; new member and opera artists manager Robert Lombardo, Faith Pleasanton, psychotherapist Ursula Brown, Jane Le Master, Cavaliere and poet Edward Jackson and Brooklyn friends Bob Ohlerking, Christopher LiGreci and Bill Ronayne from the Mario Lanza Society and Dianna De Martino, whose pasta with pumpkin sauce was heavenly.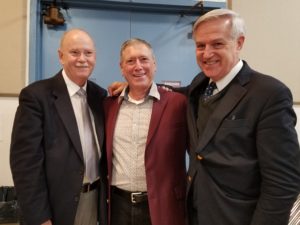 We missed Murray Rosenthal who had another engagement but it was nice to see composers Philip Hagemann and Penny Leka Knapp who co-wrote the whimsical and popular choral work "Fruitcake."
What a great night! To quote Cole Porter, "What an elegant, swellegant, party it was!"