Martina Arroyo, Kennedy Award ceremony honoree, soprano supreme, who has been a beacon of light and pioneer since the 1960's and 1970's, a crossover classical singer with a delightful sense of humor still is in the game. She is a brilliant teacher "go getter"and nurturer through her Martina Arroyo Foundation. This gala event occurred at the Kaye Playhouse at Hunter College in New York City on Saturday, July 13th. Danny Kaye, (1913-1987) great entertainer and film comedian and his wife (songwriter-actress) Sylvia Fine (1913-1991) were both multi- talented Brooklynites whose names live on in glorious memory.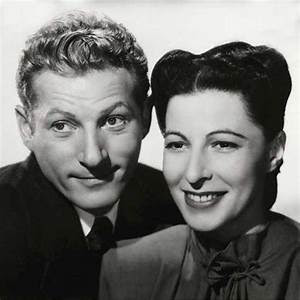 Esteemed Metropolitan and New York City Opera tenor Richard Leech spoke of his commitment to the Martina Arroyo Foundation and his strong belief in its being the joyful breeding ground for our fresh new generation of singers eager and ready to "strut their stuff " when they have trained diligently and are ready. A vigorous 6 weeks plus stipend is a Godsend for the young, eager and talented recipients.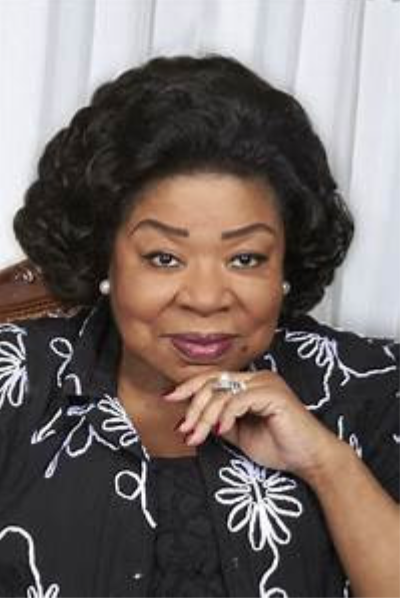 Johann Strauss II (1825-1899) was known as the "Waltz King" and he put all that he had in his opera Die Fledermaus (The Revenge of the Bat). With its waltzes, folk tunes, choruses comedy and subplots, it has been a staple since its premiere on April 5, 1874. Die Fledermaus is set in Vienna in the late 19th century. The witty libretto is by Karl Haffner and Richard Genée.

The excellent conductor, Maestro Valéry Ryvkin, began the lively overture, an iconic favorite and all was well with the world as the eager audience were carried away to the funny, frivolous world of the golden gem of Vienna in its prime. The joyous abundance of rhythm and melody so superbly presented, gave all a sense of expectation which later became fulfillment. All of the musicians were splendid and gave us a pulse that we would retain for days. We are looking forward to the return of Music Director Willie Anthony Waters who is on the mend and expected back next summer.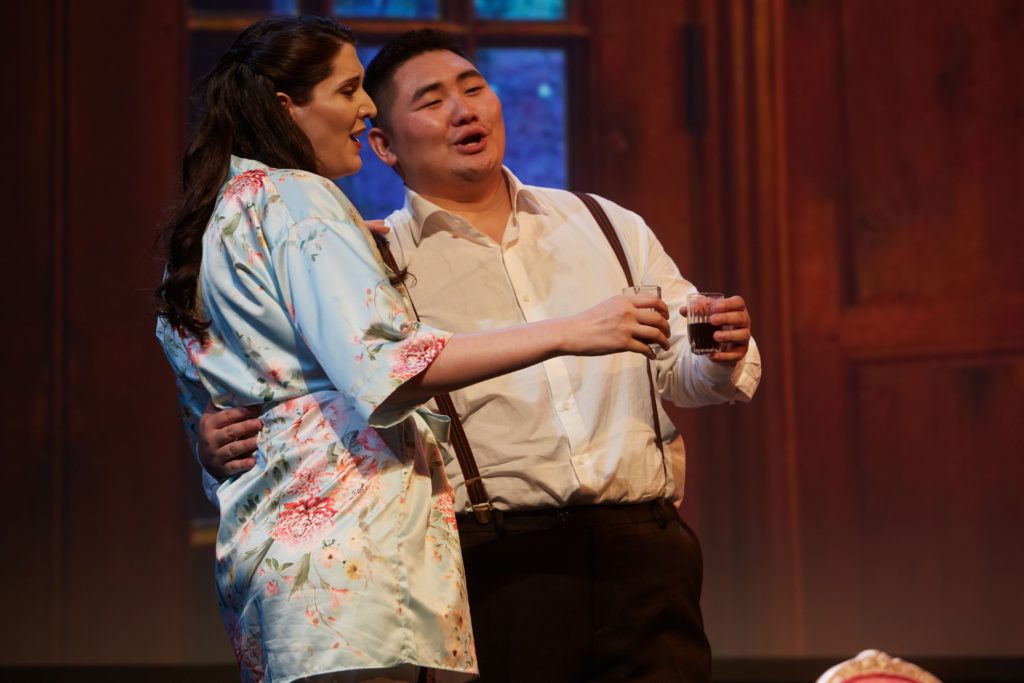 The Rosalinda of clarion soprano Lisa Faieta was top notch. Her soprano has power, reserve, flexibility and a resonant top. Her duets with her husband Eisenstein were amusing and her ensemble singing impeccable. Her "Hungarian" song the "Czardas" was sung brilliantly, with a multitude of roulades and flourishes climaxed with a beautifully placed final high note!

Gabriel von Eisenstein was portrayed by Jimin Park and his firmly placed baritone allowed him to stretch the envelope with a wide vocal umbrella. He sang and acted with manly grace and was amusing and pleasing. His opening for "Goodness me, oh gracious me, what calamity" led to much merriment and revealed the sweetness and power of his voice.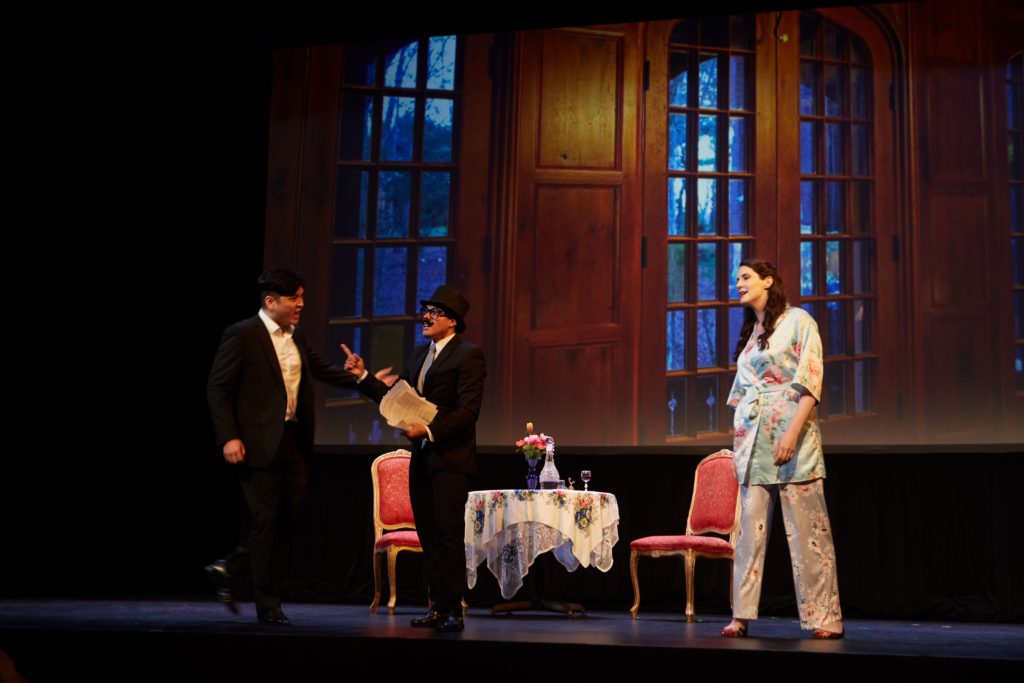 Adele, the chambermaid, was in the enchanting curvaceous vase of Yejin Lee who used her lithe and lean anatomy in a role that called for "excess." Thank goodness she banished from memory Mme. Florence Foster-Jenkins (Meryl Streep in the film) who LOVED singing her "Laughing Song," (Mein Herr, Marquis) as well as her actress song, "Audition song," Act Three. Ms. Lee scored a big hit and was an audience favorite. Her coloratura soprano has a quicksilver quality and her theatrical bravura was truly outstanding. She dominated ensemble singing and made a very strong impact.

The Ida of Michaela Larsen was visually and vocally another bright ray in this production. Her plangent soprano envelopes the observer and coupled with excellent stagecraft, made for a lovely interlude.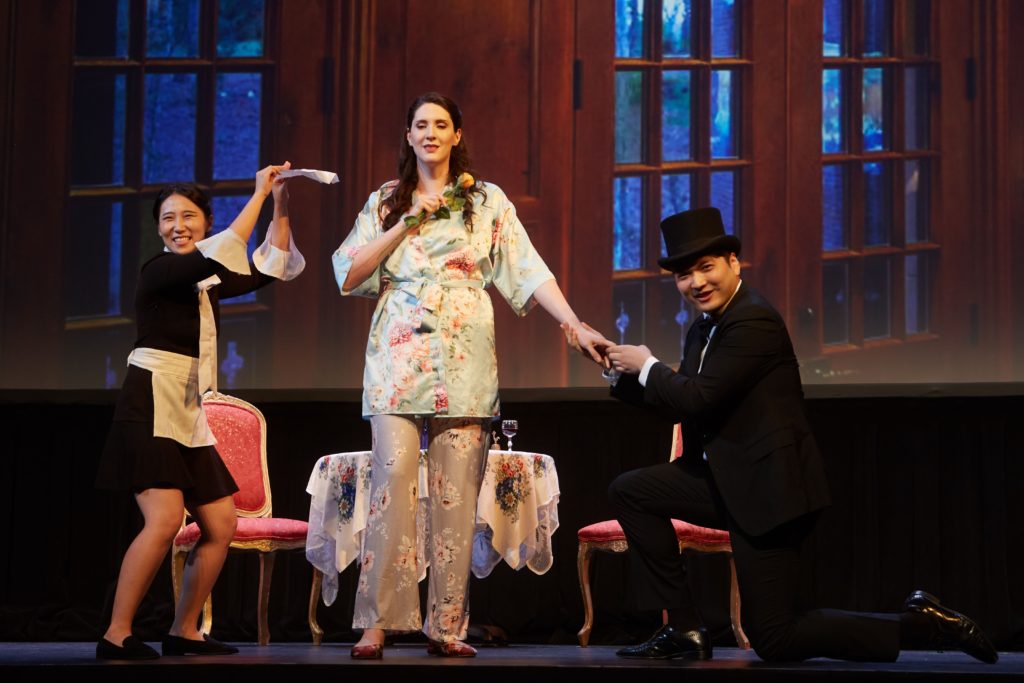 The Alfred of tenor Congju Song was most amusing,"Drink my darling" and in the red dressing gown and hat of Eisenstein, he looked more like an Emperor than an Italian tenor (Ex beau of Rosalinda). His Pavarottian countenance made for humor and his attractive tenor was another big plus. I wished he had been given more stage time to portray Rosalinda's Italian wannabee tenor and I missed the many snippets of opera his character usually embraced, everything from "Di quella pira" to "O sole mio." As a Sicilian American, I certainly think he could have been a wonderful comic foil and a droll Italian!

I remember a heroic tenor from the Amato Opera, Boris Cristaldi who was a wonderful big voiced hammy and funny Alfred some four decades ago. At one performance his mustache got stuck on Rosalinda's cheek! I wished for some broader comedy this time around but Mr. Song certainly did well. I guess not everyone goes as far back as I. It was nice to be sitting next to Amato baritone, Nathan Hull who directs the Amore Opera, now the chosen replacement for the Amato Opera. Nathan Hull took a full page ad in the Die Fledermaus program for Amore Opera's December's The Merry Widow. As we were chatting, the effervescent Barbara Meister-Bender walked by. She of New York City Opera, sang with Groucho Marx and Helen Traubel in a television presentation of The Mikado. Barbara Meister-Bender, ever glamorous could still sing Adele to perfection!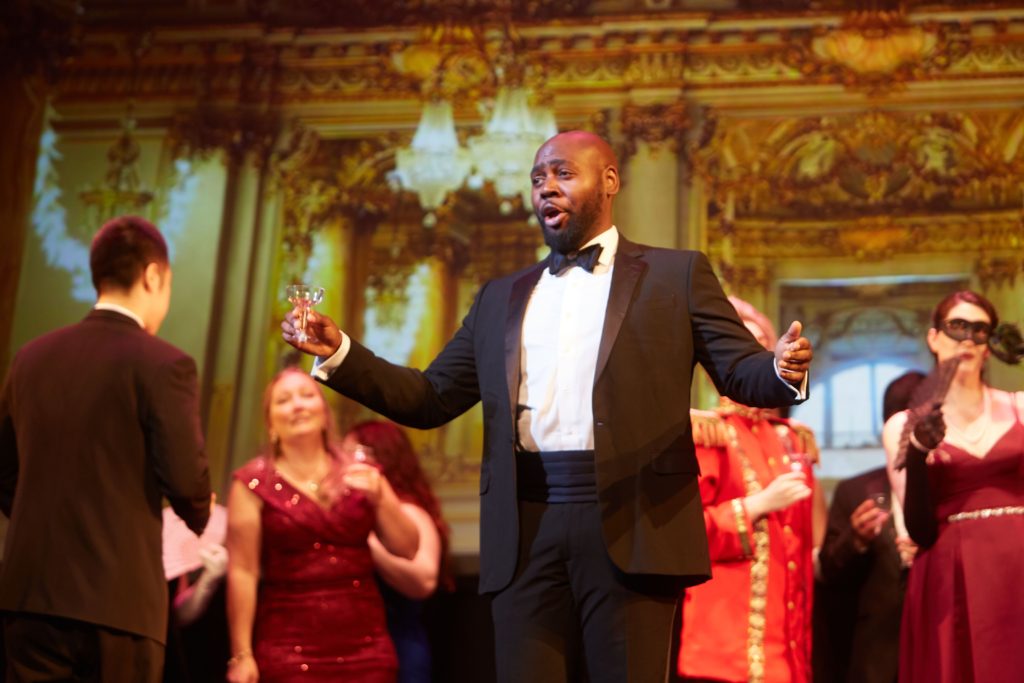 Dr. Falke was in the spirited countenance of Michael Parham. Mr. Parham's bass is resonant and ear caressing. His singing of Bruderlein song in the second act was noble and with the ensemble it becomes sentimental and tinged with loving sadness. Nice job, Falke! I recall the excellent Falke of the Amato Opera some 40 or so years ago by baritone Walter Kavney. His partner, tenor Vincent Titone, was a staple at the Amato also for many years.

Dr. Blind was admirably portrayed by Esteban Zuniga. This role was toned down a bit and became more of a comedic part rather than a disabled travesty. Mr. Zuniga, while not a Lou Costello, managed to be pleasantly humorous in a buffo role! Mr. Zuniga has good comedic flair and needed more space to show it!

Frank portrayed by Yichen Xue, had a pleasing baritone and strong acting ability and was an interesting amalgam of many skilled parts. He had charm, voice and elan and captivated us. To be frank (pun), he was very good!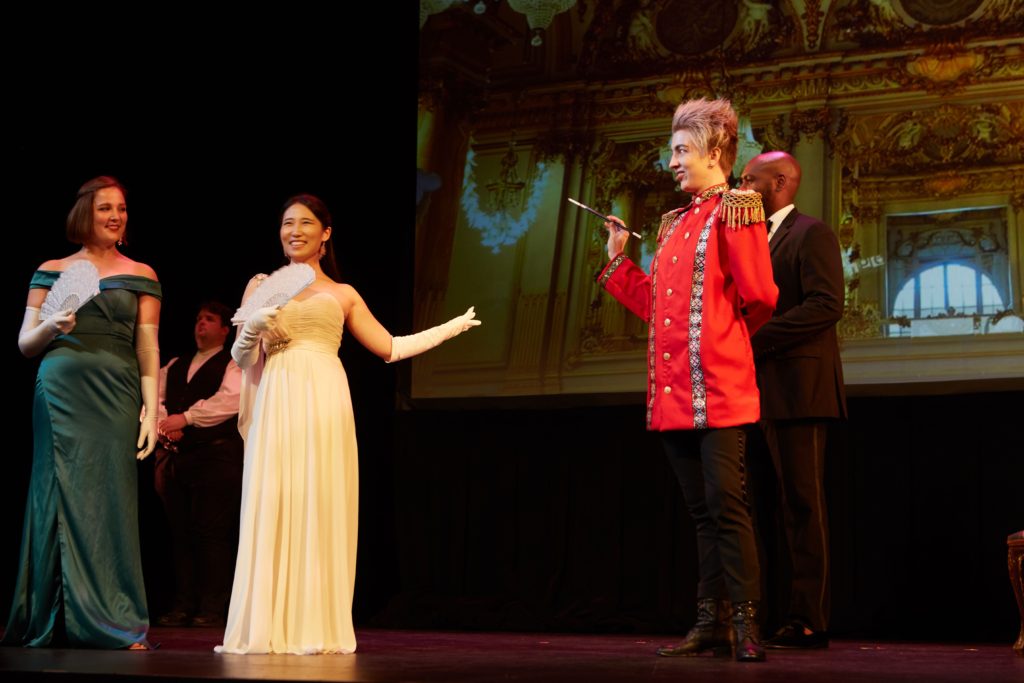 Prince Orlofsky, the androgynous host of the party, was superbly brought to vivid life by Elizabeth Harris. With her red topped military outfit and clump of hair, she looked like a combination of Harpo Marx and the chief soccer player currently in Sports Illustrated, Megin Rapinoe. Ms. Harris's "Chacun à son goût" aria was marvelous and her "King Champagne" aria was exciting with her strong mezzo and the percussion collaborating and her eyes fixed on Adele. Her silent servant, Ivan was well done and always had a drink at the ready!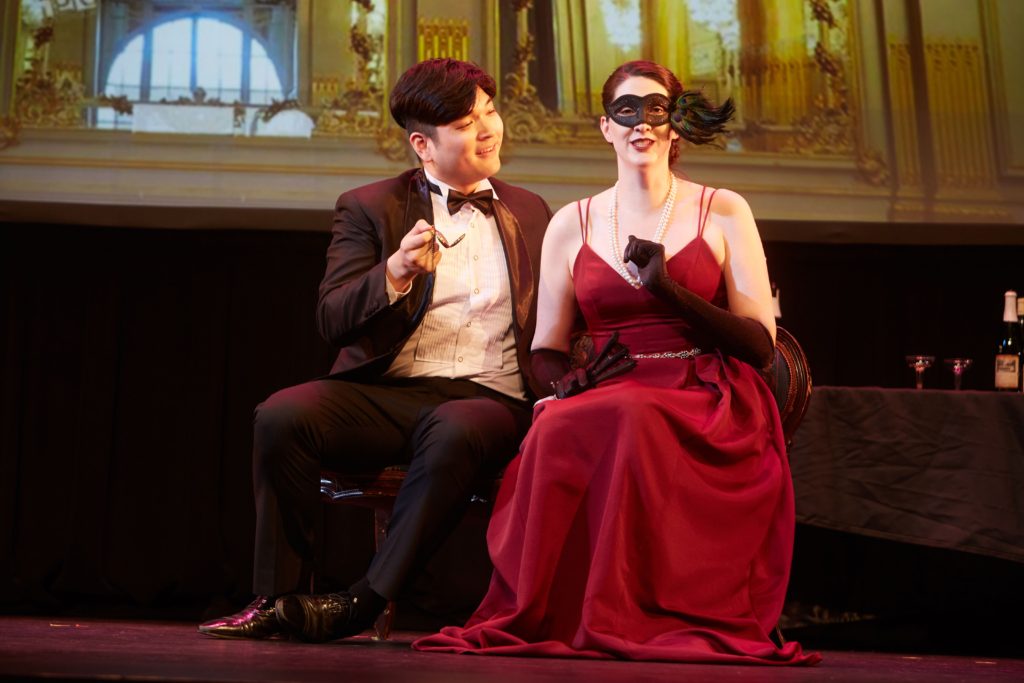 Frosch, portrayed by Evan Julius Nelson was present but there was no comic interlude. Several years back, at the Metropolitan Opera, I recall the great Sid Caesar as a hilarious multi-lingual incomprehensible Frosch and Dom De Louise also funny, in a later production hiding, then stepping onstage and exclaiming "I'm finally out of the closet."

Melanie was Amy Guarino, whose sweetness and stellar soprano show promise and Lindsay Cherin, New Jersey soprano sparkled as Faustine.

Kudos to Alan Fisher Stage Director and Vera Junkers, German coach. I had a bit of a problem reading the prompter but most people I am certain, found the dialogue translations useful. Lisa Jablow is to be thanked for her pulling it off so well for so many.

The party scene had WQXR radio host Robert Sherman speak and introduce several singers to entertain. At the old Met, on February 16, 1905, Enrico Caruso sang an aria as a guest at Prince Orlofsky's party and Polish soprano legend Mme. Marcella Sembrich (Rosalinda) sang and played violin! Those were the days! The Marcella Sembrich Museum at Bolton Landing on the banks of Lake George, is open summers and well worth a visit! You will find Artistic Director and composer Richard Wargo eager to provide information about their upcoming events.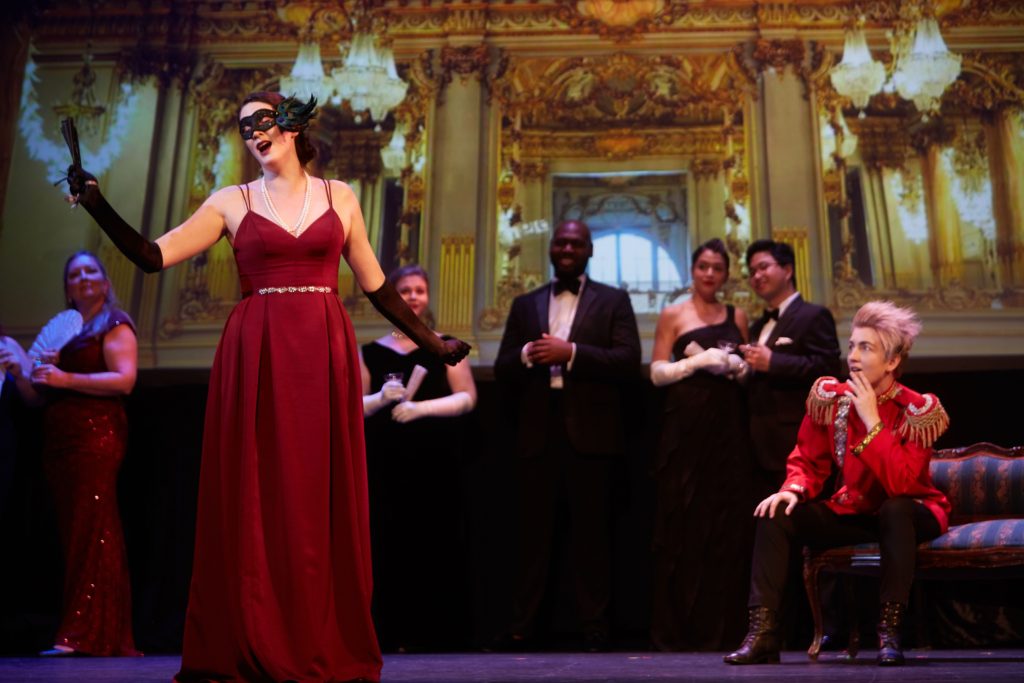 Nicole Haslett who amazed us with Nannetta's "Forest aria – Sul fil d'un soffio etesio" from Verdi's Falstaff made us realize how perfect this magical aria is. It was written in Verdi's 80th year and brought to mind Prelude to Performances – splendid Falstaff last year, still flashing in memory.

Noah Stewart, spinto tenor with a "beacon of light" talent that will open more doors and more roles to future male singers of color, sang "Donna non vidi mai" from Puccini's Manon Lescaut with verve, passion and longing, which coupled with a vibrant and rhapsodic tenor, made for a fine and robust interlude.

Bulgarian soprano Mariana Zvetkova gave a strong and powerful sampling of "Io son L'umile ancella" from Adriana Lecouvreur. Since 2012, Marianna Zvetkova has been Vice President of the Martina Arroyo Foundation.

A "surprise" appearance by coloratura legend Harolyn Blackwell, sang Puccini's "O mio babbino caro" in a lovely soprano with diminishing pianissimos and all those special skills one associates with her name and claim to fame. Ms. Blackwell is a member of the Martina Arroyo Advisory Board.

The sets were regal and sparkling with projections of old Vienna. Its wonderful costumes were so fine to see and the ladies evoked memories of Zsa Zsa Gabor and family. The gentlemen were in spirit, all like actor Kurt Kasznar or baritone Herman Prey and were perfectly attired. Thanks to Ianna Higgins, Assistant Stage Manager for the elegant smoothness of it all. Many people worked hard to make it look easy!

The chorus, managed by Dror Baitel, sang wonderfully and "Brüderlein, schwesterlein" as always gave me goose bumps. Beautiful music gives one goosebumps not goosesteps!

It was so nice to see great Metropolitan Opera Verdi baritone Mark Rucker and charming and gifted Sadie Rucker (publicity) and Administrative Director Deborah Surdi, whose dedication to the Martina Arroyo Foundation results in such perfect evenings. We greeted our friends from Opera Index Jane Shaulis, Joe Gasperec, Murray Rosenthal, composer Philip Hagemann, Linda Howes, with composer pianist, Steve Phebus and Bill Goodhue, opera manager Ken Benson, Career Bridges Barbara and David Bender, writer Meche Kroop, French diction teacher Susan and lawyer Arthur Stout, opera lecturer Lou and Kathleen Barrella, Deborah Surdi, designer Rafael Sanchez and vocal coach Patricia Sheridan, stellar radio host Nimet Habachy and friend and opera lover Joan Gravallese, all "surprises" on this beautiful summer night. The famed filmmaker team of Powell and Pressburger, The Red Shoes (1948) and Tales of Hoffmann (1951) made Rosalinda (1955) with Anthony Quale, Ludmilla Tchérina and Anton Walbrook which updated Die Fledermaus to post World War II Vienna – well worth searching for!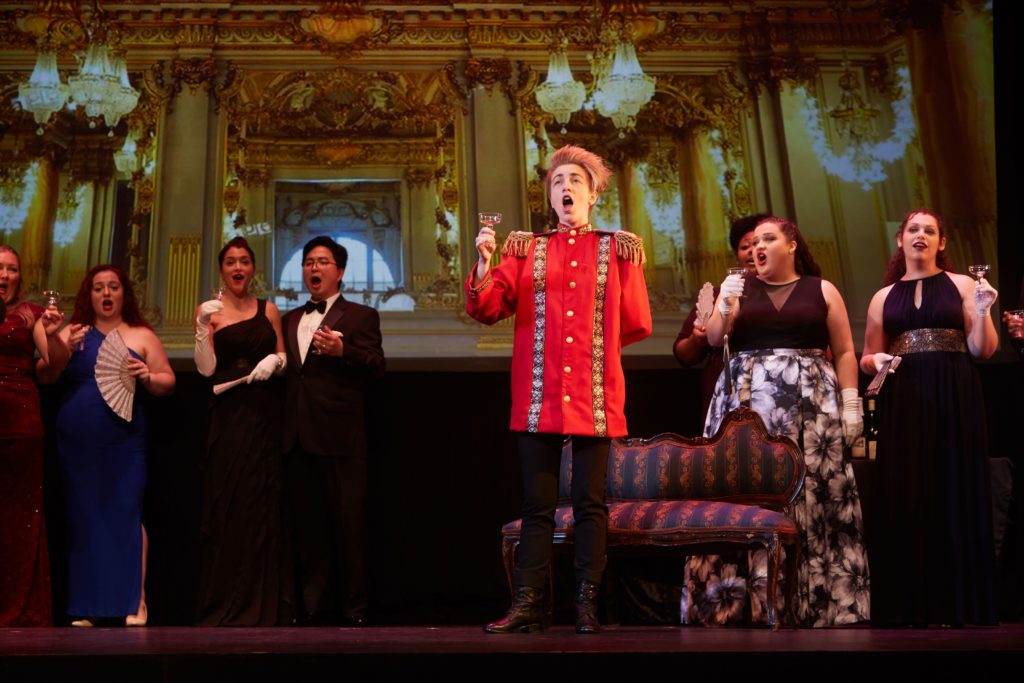 We found out later that a large part of New York City had a blackout with people stuck on trains and elevators for hours-but all was well at the Kaye Playhouse for a splendid production of Die Fledermaus! Here's to next year with a toast to the great Martina Arroyo whose father Demetrio worked as a supervisor at the Brooklyn Navy Yard to help with the cost of young Martina's voice lessons. He often took Martina for baseball games (Brooklyn Dodgers) and delicious hot dogs at Ebbets Field. Thank you Martina's Mom and Dad and thank you Martina for Prelude to Performance which gives so many young and talented singers such a great lift, enough to see the future, doing what they love. Bravo to all!

A Toast to Prelude to Performance from Prince Orlofsky and guests for giving us 15 years of such delightful evenings! Chacun à son goût! Judy and I add the" special flavor with toppings" to our Fledermaus memory bank that this treasured and fun night offered us from the great Martina Arroyo's new arrivals at the opera scene in a very captivating and enchanting performance of Die Fledermaus and of course thank you to Johann Strauss II for this glittering masterpiece!