On the afternoon of Sunday, May 1st, Murray Rosenthal, the past President of Opera Index, was honored at the Spring Lunch at The JW Marriott Essex House on Central Park South.
Jane Shaulis, beloved Metropolitan Opera mezzo and current Opera Index President, spoke glowingly of Murray Rosenthal and listed the many singers who were assisted in their careers by Opera Index during his 17 years at the helm. The concert began and the reason for all this activity was beautifully demonstrated by the young awardees who sang.
Shea Owens sang "Largo al factotum" from Rossini's Barber of Seville, his warm burnished baritone brilliantly negotiating the roller coaster Rossinian terrain with abandon, elan and a touch of the unexpected. Owens literally danced through the audience table to table making Figaro's exuberance and hubris a gift to all. His patter and agility, range and vocal colors brought us the rainbow Judy Garland sought.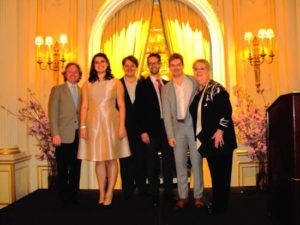 Alasdair Kent sang "Una furtiva lagrima" from L'elisir d'amore by Donizetti. Kent's beautiful haunting tenor with its mournful accents, crescendos and ravishing diminuendos made the final cadenza the stairway to paradise. He is a tenore di grazie with a Ferrari shift of gears taking us "out of the commonplace and into the rare" as in Kismet.
Meryl Dominguez regaled us with a silken "Chi il bel sogno di Doretta" from Puccini's La Rondine, her beautifully placed soprano reveling in the high tessitura of this ravishing aria and carrying us all on the journey.
Lastly, tenor Robert Watson sang an old chestnut "Nessun Dorma" from Puccini's Turandot and gave it new life by infusing it with introspective passion and dramatic flair, fine dark vocal color and an extraordinary climax and finale.
Michael Fennelly was the superb pianist and played with the style and sweep of the great ones.
Philip Hagemann who is a Vice President of Opera Index and a composer of acclaim, was the presenter to Murray Rosenthal. After listing Murray's many accomplishments at Opera Index and outside of it as an eminent periodontist, medical expert for the federal, state and city levels and Army veteran, Murray is also an avid movie buff. Hagemann began quizzing him about films and casts from Hollywood in that banner year of 1939. Murray passed all the tests and he graciously accepted the crystal New York Apple given to him. Rosenthal then spoke of his formative years and how opera came into his life.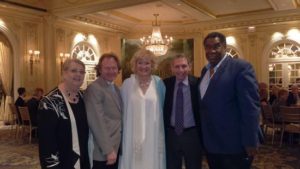 Two more surprises awaited him. The great Metropolitan Opera (Met) basso Eric Owens, a former winner of Opera Index who sat at the table of Brooklynite Janet Stovin from the Board of Directors, thrilled us all with a magnificent rendering of "Some Enchanted Evening" from South Pacific. The second surprise was Broadway star Christine Ebersole beautifully singing George Gershwin's "Our love is here to stay" and then, a la Ginger Rogers and Fred Astaire, danced between singing with Murray in a touching and romantic moment. It should be noted that both Murray Rosenthal and Philip Hagemann are Broadway, London and Australia investors and producers and share three Tony Awards and one Olivier Award as well.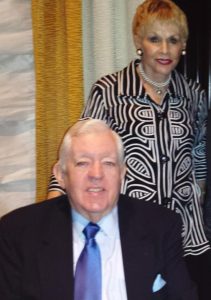 It was nice to see so many friends and special guests including Met legends sopranos Martina Arroyo and Elinor Ross, mezzos Rosalind Elias and Nedda Cassei, Opera Index Executive Director Joe Gasperec, Board member John Metcalfe, patrons Cesare Santeramo and Dr. Robert Campbell, composer Stephen Phebus and Linda Howes, Maestro Eve Queler, Gerda Lissner President Stephen De Maio, Karl Michaelis, Michael Fornabaio, Barbara Ann Testa, Joyce Greenberg, Duane Printz from Teatro Grattacielo, David Bender and Barbara Meister Bender from Career Bridges, Mara Waldman Music Director from the Encompass New Opera Theatre based in Brooklyn, tenor/film maker Michael Davis from Remi Arts, Inc. who sang Marius in Fanny and who is the son of the late opera legend Regina Resnik, PBS's Midge Woolsey and spouse Dr. Jerry Stolt, Rebecca Paller from the Paley Center for Media and devoted opera fan Lois Kirschenbaum.
The party is over but the song lingers on. A memorable tribute to that "wonderful guy" who we all love – Murray Rosenthal!