On the afternoon of Sunday, April 2nd at the JW Marriott Essex House in New York City, the Martina Arroyo Foundation held its Spring Luncheon. The luncheon featured a special cabaret performance by Marilyn Maye and Mario Cantone with present and past Prelude to Performance artists. The glittering crowd consisted of the shakers and breakers in the world of Broadway, opera and fashion. A dazzling potpourri of the doyennes, legends and admirers. It was a love boat that took us to exotic ports and entertained us royally. The auction featured everything from rock guitars to music memorabilia.
The concert began with mezzo soprano Magda Gartner singing the "Seguidilla" from Bizet's Carmen. Ms. Gartner's voice has exceptional clarity, agility and a "cutting edge" that rivals how Carmen can cut a man and discard him like a shucked clam! Slam bam, shucked clam man! A very tantalizing hors d'oeuvre of what Ms. Gartner's complete Carmen will be!
Saucy soubrette soprano Shana Grossmann was a particularly engrossing, piquant and ingratiating daughter as she sang an exquisite "O Mio Babbino, Caro" from Gianni Schicchi with subtle winsome gestures that made for an unforgettable operatic moment. Her clinging to the final "Pieta" made for great theater and a tiny humble gesture of appealing to her Daddy was the whipped cream on the

Sunday

, sundae!
Tenor Woo Young Yoon will soon be "the triumphant tenor talk of the town" for his splendidly lyrical and heartfelt singing of the Flower song from Carmen. His high note was caressed, swelled and diminished beautifully and the tender side of this future erupting volcano was bared unashamedly for Carmen, his delicious arsenic soaked peach! How could she not be moved by his singing of this aria? I know the audience was!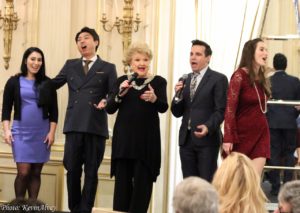 Metropolitan Opera conductor Steven Crawford was the brilliant piano accompanist.
Opera Index Treasurer, the erudite Murray Rosenthal, made opening remarks. He introduced the young singers and paid special recognition to legendary opera soprano Brooklyn's own, Elaine Malbin, ever the soubrette in a dazzling red dress. Ms. Malbin sang the "Butterfly duet" with film tenor Mario Lanza for the recording of the film, The Toast of New Orleans and vividly remembers how beautifully Mario sang and how nice he was to her and her mother who flew out to Los Angeles. (she was only 19 years old ) A special event for patrons of the Martina Arroyo Foundation will be an upcoming showing of the March 7, 1953 telecast ofSuor Angelica starring Elaine Malbin at the Paley Center for Media on

Saturday, June 10th at 3:00pm

hosted by Rebecca Paller. Martina Arroyo will host a segment on golden age sopranos. Ms. Malbin sang with the New York City Opera and was a pioneer of opera on television with The NBC Opera. At our table, Elaine regaled us with many tales of both her operatic and Broadway career. (My Darlin' Aida (1952-3) and Kismet (1955)
The salad was served as we recalled our "salad days" followed by a chicken dinner as we watched a cool young "red hot mamma", Marilyn Maye and her superb trio for an afternoon of CABARET! The Marilyn Maye trio with Jeff Davis on piano, Tom Hubbard on bass and Daniel Glass on the drums took us back to the days when cabaret was where one took his date.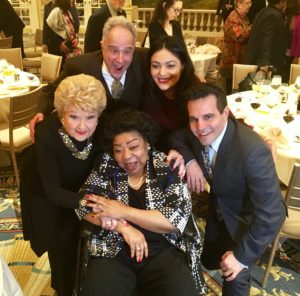 Marilyn Maye, looking dazzling, admitted to being 89 which just defies mortality. It might have well been sweet 16, legal 21 or sizzling biological "peak" at 39. Her fulsome singing-and I mean SINGING, showed a voice of clarity and power, elegance and finesse, singing on the word and belting them out like Caruso, Ethel Merman and Babe Ruth – a home run every time!
For a starter, a rousing "It's a Most Unusual Day" and a medley of the familiar and not so familiar, "It's Spring Again" awakened one as "O Paradiso" from Meyerbeer's "L'Africana" would – full of newfound joys of new horizons! Her youth became our adrenalin in "That's All!" which was a blend of irony and insouciance and Artie Butler's "Here to life " was a rich tapestry of all that was and is yet to be. "Somewhere over the Rainbow" took us to that rainbow and was sung with all the hopes and dreams of mankind and the colors of the rainbow in her voice, so fresh and full of hope. Marilyn Maye had us all lift our glasses in a salute to life! An unforgettable moment!
Then to everyone's delight, she shared the stage with the brilliant comedian whose Broadway one man show was acclaimed, as well as his television and film work. Mario Cantone sang "I'm Gonna Live Till I Die" with all the enthusiasm of a tarantella at a Sicilian wedding! Mario and Marilyn sang "When You're Smilin' " with real pizzazz. It's one of my favorite "old" songs and was the theme of "The Alan Courtney" radio show (WNEW)  back in the 1940's.
Mario Cantone and Marilyn Maye thrilled  us with "Life is a Cabaret", I never want to be "Alone in my Room." Mr. Cantone lives up to his name and is a very fine singer and in a way, a Sicilian "pop" tenor with a robust voice that is strong and clear. Bravo Mario! To hear this dynamic duo conclude "Life is a Cabaret" in full voice with such exuberance and joy was a catharsis for all. The young singers, soprano Shana Grossman, tenor Woo Young Yoon and mezzo Magda Gartner joined in. The bravos echoed through the corridors of the Essex House Hotel and literally "shook the chandeliers!"
It was a pleasure to meet and greet the young opera singers and the seasoned Broadway "stars." I told an Artie Butler story, having met him (A transplanted Brooklynite) in Los Angeles.  Artie is a renowned composer (Here's to Life) who wrote  the music for a brilliant  Broadway show several years ago called The People in the Picture. Artie told me he was in awe of no one but one day he gave a lift to an elderly man who was huffing and puffing near his home. After a few moments of silence, the man said, "you know who I am?" and Artie Butler burst out with joy and love. "I loved your show, watched it every

Saturday

for years!" His "lift" was Moe Howard of The Three Stooges! The other Brooklyn born stooges were Moe's brother's Shemp and Curly. (Larry Fine was from Philadelphia)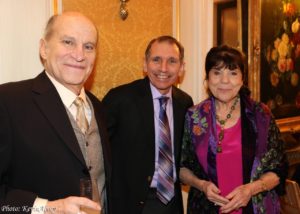 We had a lovely table with our special host Murray Rosenthal, composer Philip Hagemann, soprano Elaine Malbin, Met mezzo Jane Shaulis and President of Opera Index, her spouse, Executive Director Joseph Gasperec, Vice President Janet Stovin and Maestro Eve Queler of The Opera Orchestra of New York. 
In the crowd, we chatted with acclaimed Met Verdi baritone Mark Rucker who also coaches the awardees for Prelude to Performance and his invaluable wife and accompanist Sadie who helps promote the great Martina Arroyo Foundation as well as the effervescent Norena Barbella who is the Producer of Talent, Music & Live Entertainment. 
Andrew Martin-Weber and Beatrice Disman 
are active Board Members of the Foundation
 also
.
Of course legendary Met opera soprano Martina Arroyo was present, and welcomed all at the beginning of the program, the founder of the feast, looking radiant and proud and we paid special homage to this great lady and recipient of the Kennedy Center honors. We all look forward to Prelude to Performance in July at the Kaye Playhouse at Hunter College with Carmen and Gianni Schicchi. Both Bizet and Puccini are brilliantly served by the young and gifted nurtured awardees of the Martina Arroyo Foundation. Martina's Dad Demetrio, was an engineer at the Brooklyn Navy Yard to support his family and assist young Martina's career and music lessons.
It was nice to chat with Maestro Stephen Phebus and his wife Linda Howes, Cavaliere Eddie Jackson, spectacular soprano Ailyn Pérez, Met Opera tenor comprimario and television star 
Anthony Laciura 
and his wife Joel. He is a fellow Sicilian also lovingly called "Ninutzu" as a child by his adoring family!
Judy and I honeymooned at the Essex House Hotel nearly 51 years ago! So to me, at least two events at this venue, fifty years apart will forever be enshrined in my memory bank!