The Regina Opera Company began its 50th season with Carmen on Saturday, November 23rd in Sunset Park at Our Lady of Perpetual Help (OLPH) in their elegant auditorium. A crowded house warmly applauded Regina Chair Francine Garber-Cohen as she announced that the Regina Opera was ready to show the glories of Bizet's masterpiece Carmen to the eager audience of opera lovers and audience members enjoying opera for the first time.
George Bizet (1838-1875) had written The Pearl Fishers earlier. That opera is exotic and has some lovely arias and duets, but not even a brilliant opening night at the Met with a stellar cast including Enrico Caruso could save it. It was recently successfully revived but it is a far cry from Carmen. Bizet finished Carmen but never knew the great fame and future glory this masterpiece would create. He died of heart disease at age 36.
Geraldine Farrar (1882-1967) was an American soprano beloved by her fans. Cecil B. DeMille chose her to star in his silent film Carmen (1915). She was so successful that she made 15 films for DeMille. Our friend, actress Geraldine Abbate, told us her parents named her "Geraldine" after Geraldine Farrar. Her esteemed husband Dr. Anthony Abbate, a fellow opera lover, is a boyhood friend and a renowned urologist. It was so nice to see his family of new opera lovers attending this performance of Carmen. Dr. Abbate is also a very talented sculptor and a few years ago for my 80th birthday he gave me a truly wonderful bronze sculpture of the greatest of conductors, Arturo Toscanini which adorns my living room. Thank you Anthony, fellow Sicilian, opera lover and great friend.
Geraldine Farrar's Metropolitan Opera Carmen was first criticized for being too tame. When she returned from filming, her Carmen was so frantic that she fought with a chorus girl and slapped Caruso. Caruso was furious at her brutally rough treatment and vowed he would never sing with her again. Cool heads prevailed and they performed together again to the audience's raves (with her somewhat toned down Carmen).
Brooklyn Academy of Music (BAM) was treated to their Carmen on February 2, 1915 with Arturo Toscanini conducting. Caruso also sang Don José on January 14, 1909 at BAM again with Toscanini. The Met Opera included BAM as part of its tour until 1937. When Mme. Farrar retired at age 40 from opera in 1922, her fans, called "Gerryflappers", filled the streets in front of the Old Met where she sang Leoncavallo's Zaza.
The Regina Opera's "Carmen" began with esteemed Maestro Gregory Ortega conducting the exciting Overture. It recalled Music Appreciation at P.S. 200 in Bensonhurst when I would get goosebumps listening to the overture and didn't know what it was. Maestro Gregory Ortega told me how much he enjoys conducting this incredible opera. His rhythmical and exciting passages made for an abundance of musical and emotional feelings in my innermost being.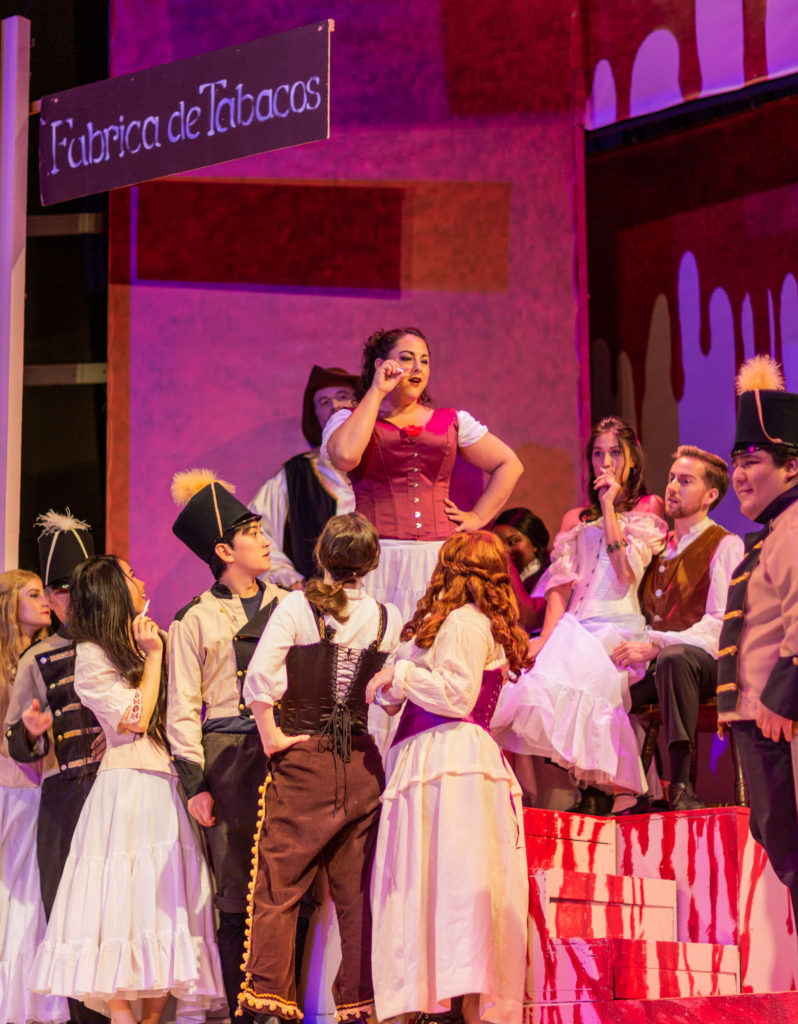 The story takes place in a square in Seville in the 19th century. Carmen and her friends work in a factory and are known as "cigarette girls." Carmen is not a "Puttana Diavolo" but she seemed to be at that time. She was a woman of an independent spirit. In the film, more based on French writer Prosper Mérimée's story, Don José looks like he was hit by a truck when she gave him the rose. One knew he was doomed. At the finale, he has lost his beloved mother, his sweet fiancee Micaëla, his reputation and his military bearing. He has joined the smugglers and in a sense was like the village idiot. Carmen falls in love with Escamillo, the bullfighter. She is stabbed and killed by Don José outside the bull ring (Corrida de Toros) amid the cheers for her lover Escamillo, inside the bull ring.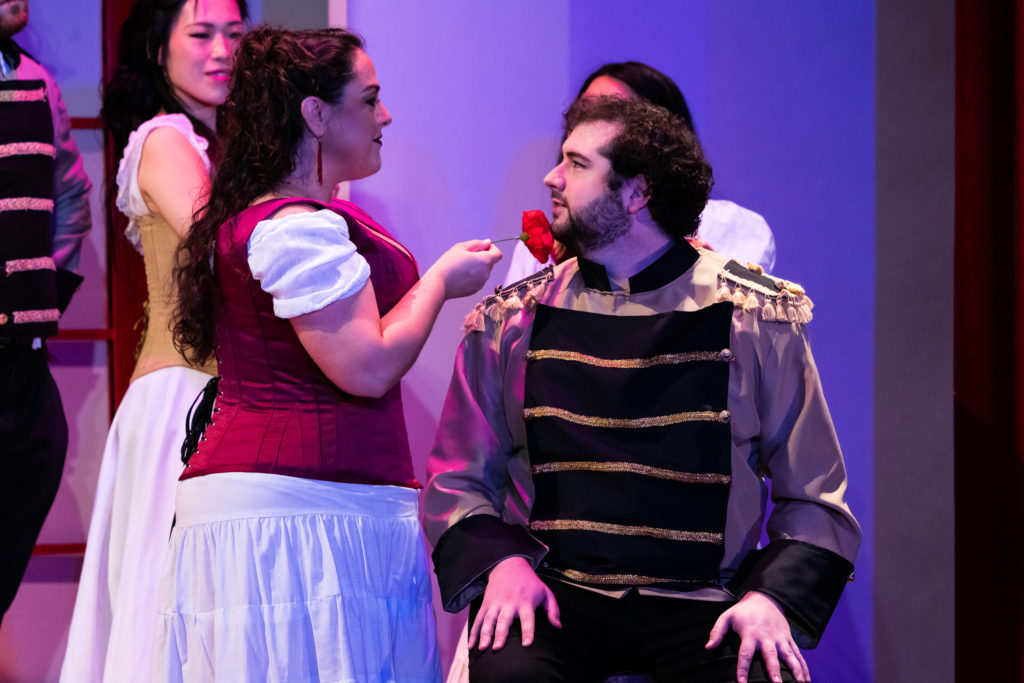 Lara Michole Tillotson used her lustrous mezzo soprano in the "Seguidilla." The lyrics explain Carmen's free spirit, while the toe tapping rhythms entice even the tightest white-collared cleric to thoughts of lustful mayhem. Ms.Tillotson caught one's attention in a pleasing plangent persistent outburst. Her "Seguidilla" was enticing and the castanets were well negotiated.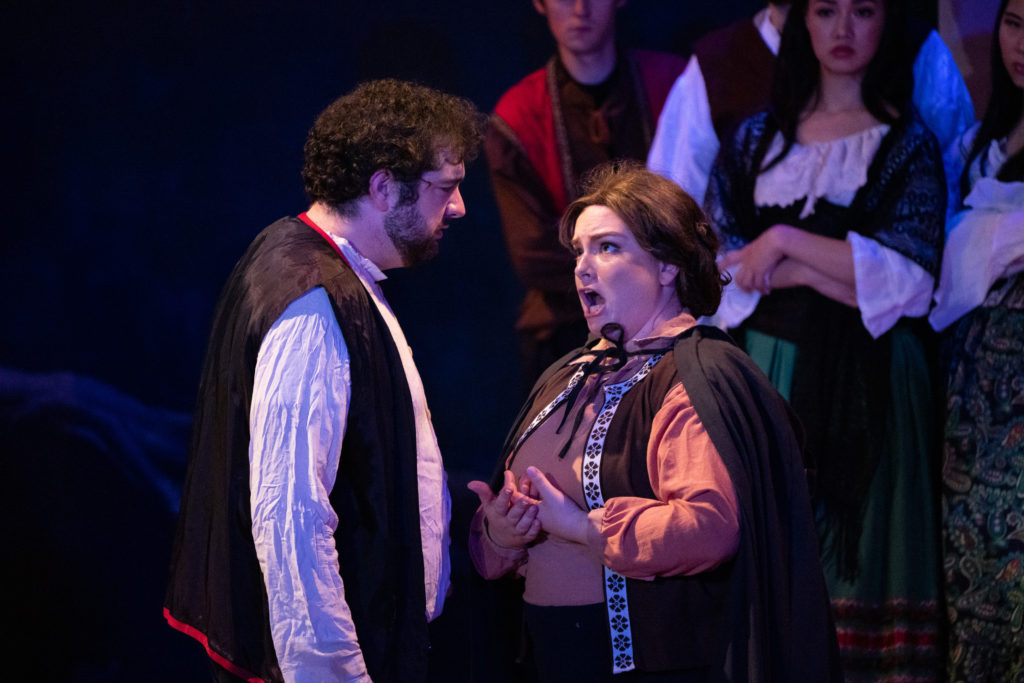 The card scene was a bit tame, and I recall the late beloved mezzo from the Bronx, Risë Stevens with Brooklyn born tenor Richard Tucker (born Reuben Ticker in Boro Park, Brooklyn) giving us a lesson in great singing with strong emotion. This was in "Carmen" at the "Old" Metropolitan Opera. Like Geraldine Farrar's early Carmen, a certain panache was eluding the Regina performance.  Carmen's "Habanera" was well done without incident. The castanets were as adroitly used as the cigarettes that the factory girls hungrily smoked. Her "Tra la la" song was like Lana Turner capturing her male prey in the film, The Postman Always Rings Twice. Ms. Tillotson's ridicule of Don José's refusal of her effort to go back to military roll call was very strongly done, indicating a more controlling Carmen than one would want. Her final scene in front of the Corrida de Toros was indelible as well as inevitable. Carmen's love duet with Escamillo was indicative of the strength of her new love.This duet was brilliantly sung by film baritone Nelson Eddy and film femme fatale Ilona Massey in Balalaika (1939). I thought it a bit rushed at this performance and should have been emphasized more to show that this was Carmen's new love.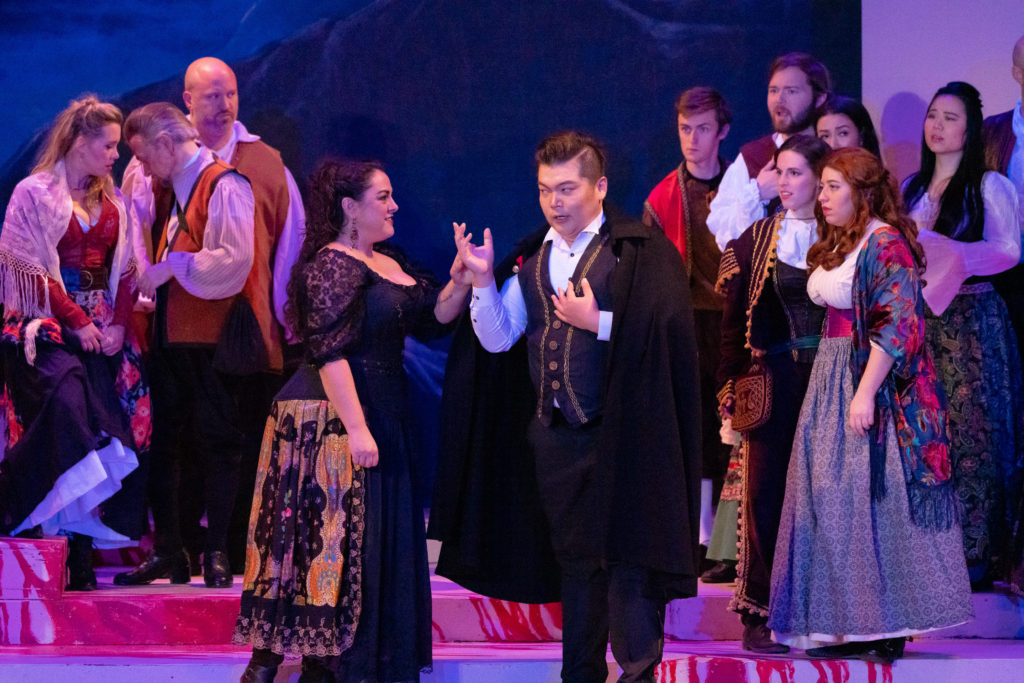 Dragoon, military officer Don José, was in the able hands of rising tenor Christopher Trapani. I recall Mr. Trapani's splendid Manrico (Il Trovatore) at Regina Opera earlier this year. Mr. Trapani has a very fine tenor voice and his duet with Macaëla, "Parlez-moi de ma mère" was beautifully sung, recalling the recording of Enrico Caruso and Frances Alda, which is a classic. Mr. Trapani's singing of the iconic "Flower Song," ("La fleur que tu m'avais jetée") was wonderfully done in the style of renowned tenor Franco Corelli. Mr. Trapani hit the top note with seemingly effortless freedom and truly made one hope that his talent will carry him to fame and acclaim. His final scene should have probed his shame as well as his anger a bit more deeply. But he did very well but like a good pasta dish I wanted some "extra" meatballs.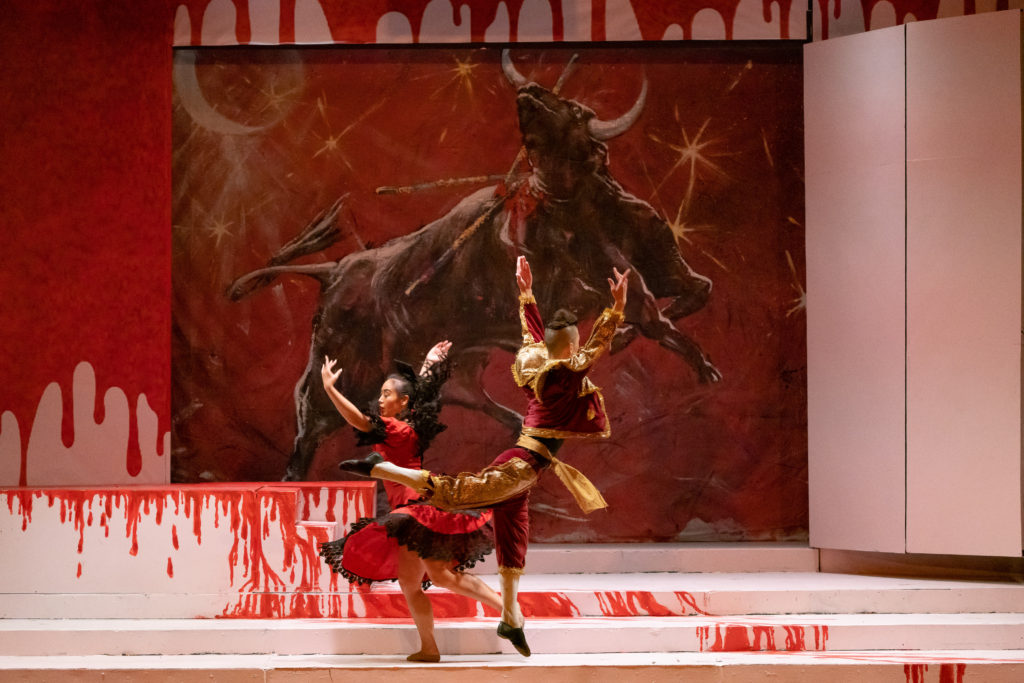 The Micaëla of Alexis Cregger, whose radiant soprano has thrilled in Il Ballo in Maschera, Il Trovatore, and the title role in Lucia di Lammermoor at Regina Opera, was pristine and all in vain because Don José simply can't leave Carmen. I once again felt a bit of restraint. Her singing of "Je dis que rien ne m'épouvante" was nicely done. This aria has ofttimes brought the house down, as it should. One does not have to have histrionics, but a certain tear in the voice and a sob in the heart can do it. All attention should go to Micaëla's radiant plea. I suggest a little more indescribable thrust be felt by Ms. Cregger to bring down the house.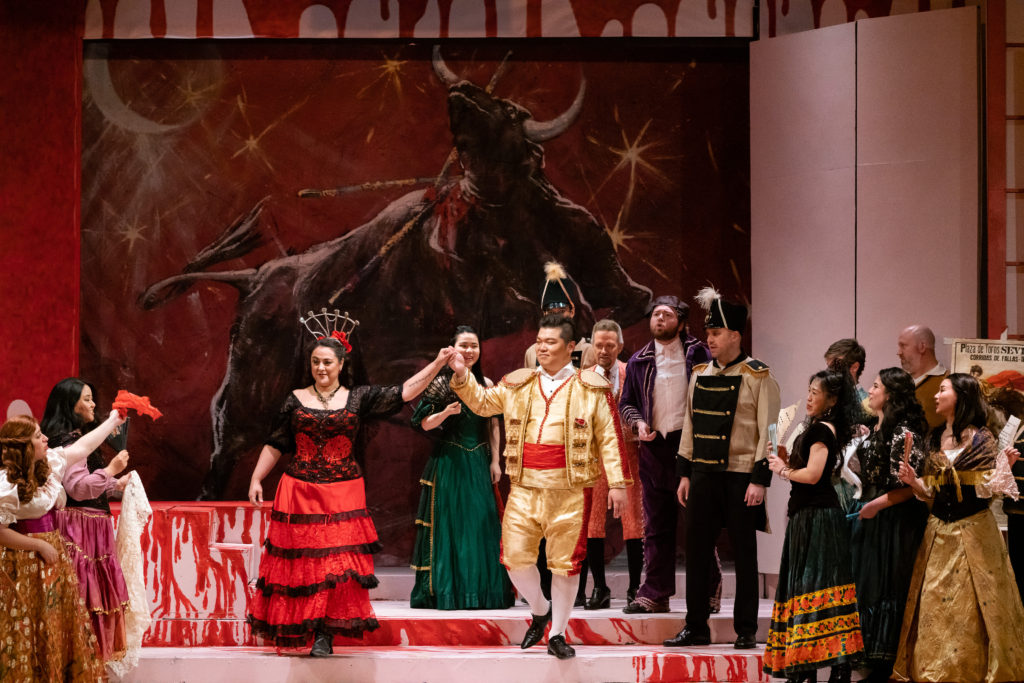 The Escamillo of Jaeman Yoon was audience pleasing. His warm baritone was expressive and soothing. His singing of "Votre Toast" ("The Toreador Song") was vividly done and with the splendid Regina Chorus, it really energized the audience. Yoon's love duet with Carmen was a generous blend of sound and he has really come far as a Gerda Lissner, Giulio Gari, and Opera Index winner.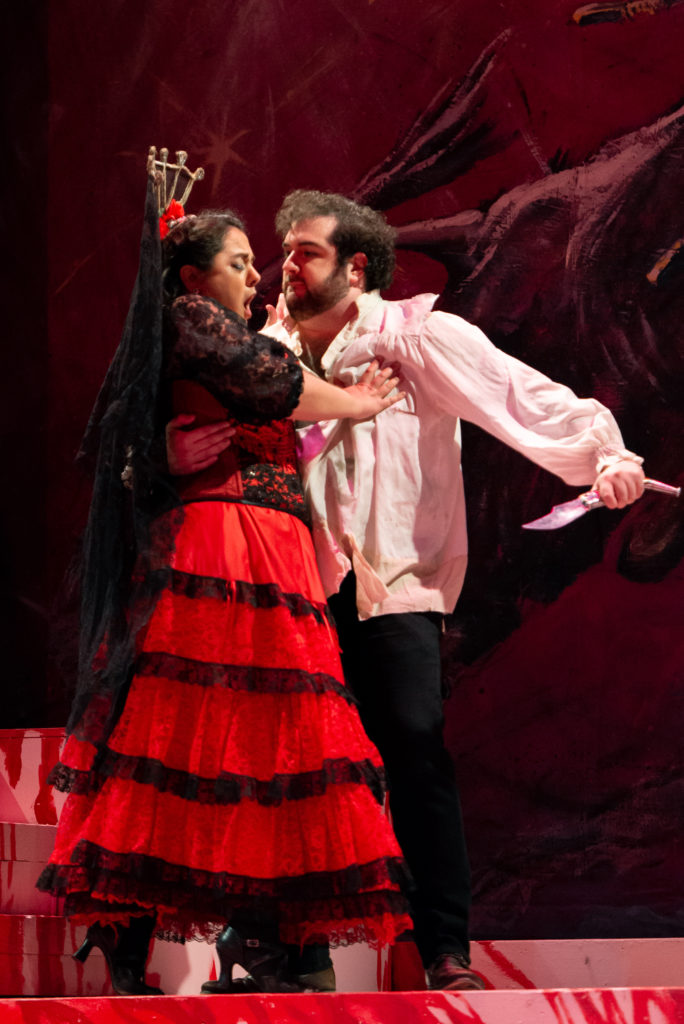 The rest of this talented ensemble were: Geeseop Kim as Zuniga, a Captain; Brian Ballard as Morales, an Officer; Katie Lipow as Frasquita and Maayan Voss de Bettancourt as Mercedes. gypsies; David Tillistrand as Dancaïro and Josh Avant as Remendado, two smugglers; Thomas Geib as a guide; Roger Ohlsen as cabaret manager Lillas Pastia; the superb dancers Wendy Chu and Keiji Kubo, whose graceful movements were magical.The ensemble members were all excellent and it was nice to see veteran chorister Cathy Greco and artist Wayne Olsen. Nomi Barkan also lent her sparkling presence.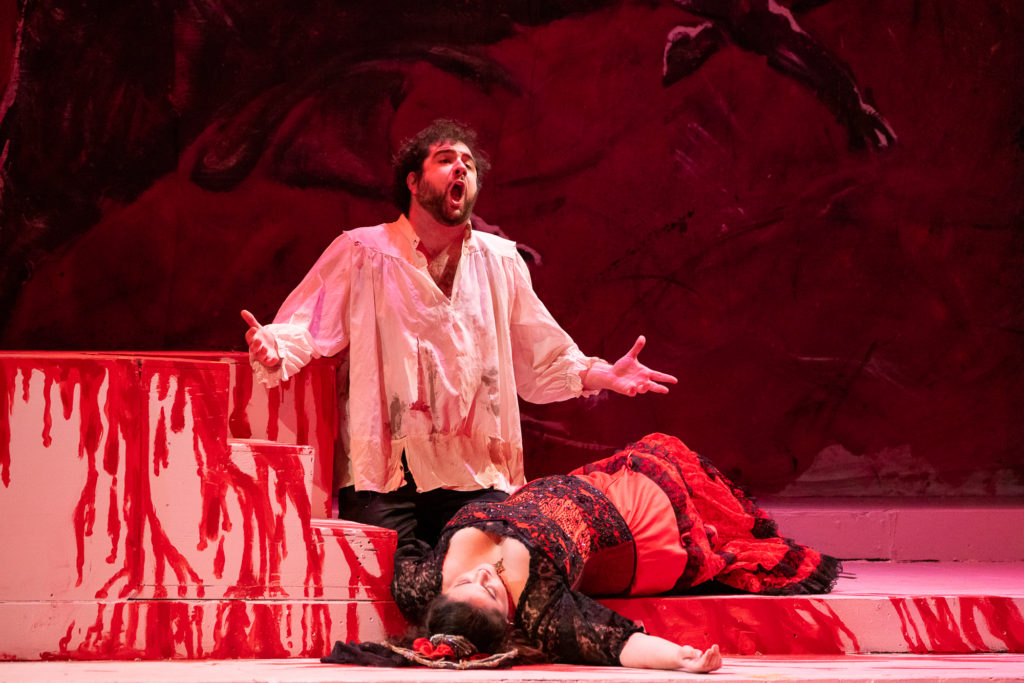 Gregory Ortega conducted an inspired performance, and one enjoyed the Maestro's eliciting the phenomenal beauty and power of this brilliant score. Richard Paratley was noteworthy on the flute. Plaudits to Christopher Joyal, concertmaster. All 36 musicians deserve extravagant praise for their efforts.
The beautiful and proper costumes by Marcia Kresge were colorful and gave one a good sense of time past. The Regina Chorus and the splendid Children's Chorus sang with glory and abandon. How grand!
The set design by Linda Lehr, Wayne Olsen, and Richard Paratley was exceptional. The painted large bull outside The Plaza de Toros was stunning. The blood-spattered paint in other scenes was a bit awkward and I felt it should have been omitted. Goya and Dali clash rather than blend.
This Carmen was directed by the brilliant Linda Lehr, a great favorite of mine. Regina Opera is lucky to have someone of such wonderful talent in this special celebration of Regina Opera's 50th season of bringing the opera world to Brooklyn as the Metropolitan Opera once did.
Congratulations to Francine Garber-Cohen, Chair, Linda Cantoni, Joseph Defausse, Alex Guzman, Elena Jannicelli-Sandella, all board directors; and Marlene Ventimiglia, ticket volunteer and all members of the Regina family.
My group celebrated the occasion at Casa Vieja, a nearby Mexican Restaurant, where we had delicious food washed down with Sangria!  Hostess Lourdes Peña was our Lillas Pastia and we all had a great time! We look forward to Gianni Schicchi and Turandôt coming up in 2020, and many others in the future.
All hail the Regina Opera on its golden anniversary. A Christmas and holiday gift to Brooklyn and the world of Opera at its finest!