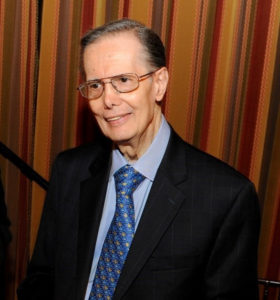 Stephen O. DeMaio, of Fairfield, passed away on Thursday, May 28, 2020, in the Clara Maass Medical Center in Belleville. He was 89 years old.
Born in Newark to the late Carmelina and Rocco DeMaio, Stephen attended Barringer High School. He attended Kean College and transferred to New York University earning both Bachelor Degrees and 2 Master Degrees in Education and Music & Dramatic Arts. Stephen worked for many years in Education, first as a teacher and then as an Administrator for the Newark Board of Education. Following his retirement, he became the Director of American English Programs at Marymount College in New York. Stephen was currently President of the Gerda Lissner Foundation, an organization to assist young musical artists in their careers. He was the loving brother of Marie DeMaio and the late Jennie Caputo and Generoso DeMaio, cherished uncle of Dr. Wayne Caputo and his wife Phyllis, and the late Gary Caputo, Sr., adored great uncle of Stacey Short, Gary Caputo, Jr., Carla Witkowski, Kimberly Lebeda, and Stefanie Caputo, and great uncle of Brooklynn, Damien, Tessa, Emily, Barry, and Christopher. Due to current restrictions, a Memorial Service will be held at a later date as graveside services in Glendale Cemetery were held privately under the direction of the LaMonica Memorial Home in Livingston, NJ.
Memories
Stephen O. De Maio
JUNE 3, 2020
We were deeply saddened to learn about Steve's passing. He was a wonderful friend and a delightful host. His many accomplishments with the Gerda Lissner Foundation were legendary. His service to young and talented opera voices was invaluable. We loved Steve and find it difficult to talk about him in the past tense. Whoever is in charge of the universe did us a big favor when he put Steve in the path of our journey. He was the right road taken and he truly enriched the lives of all who knew him. Judy and I are certain that the spirit of the divine soprano Licia Albanese took him into Paradise.
Thank you, Steve De Maio and we hope you enjoy the company of such musical giants as Bellini, Rossini, Donizetti, Verdi, Puccini, Caruso, Gigli, Corelli, Titta Ruffo, Pavarotti, Pinza, Toscanini, Tebaldi, and Licia Albanese who are serenading you as the angels sing. Our great loss is surely Heaven's gain. Licia Albanese is sharing your favorite dish of Penne rigate. Yours is an exalted place in Heaven that is truly earned. Bravo Steve! Una Furtiva Lagrima! Many tears are shed but Oh Paradiso! is where you now reside in peace and beautiful harmony. Condolences to sister Marie and family.

Sadly,
Nino & Judy Pantano
Dear Friends, Colleagues, It is with great sadness to announce the passing of our dear beloved President, Stephen De Maio on Thursday, May 28, 2020.Stephen was adored and loved by many, he worked tirelessly to promote young opera singers, he never stopped caring or lost interest in any career of young opera singers that crossed his path. Stephen achieved greatness for The Gerda Lissner Foundation and his involvement with the Opera World had no boundaries. Stephen's enthusiasm was so electrifying that everyone around him had to join in to celebrate all the beautiful voices he discovered and cherished during his long life and career. Stephen was an amazing human being, an outstanding President, a dedicated family man, a loyal friend, and a man with such a colossal large heart that he would always help out in one way or another. You will be so missed, Stephen!
"We are overwhelmed with the loss of Stephen De Maio, especially at this awkward sad time in our country's history. We remember all the fine times from the vocal competitions, to dinners and special Opera Nights at the Columbus Citizens Foundation, which he sometimes shared with our friend Opera lecturer Lou Barrella. He also had magical evenings at the Liederkranz, and Kosciusko organizations. Steve was so proud of his sister Marie who was a teacher and principal in the New Jersey Public School system for over half a century. In 1966 as newlyweds, we lived a few doors away from Steve but not knowing him. Years later, we would reminisce about Murray Hill and Steve, the neighbor we never knew till much later. Several years ago and after a Tosca performance at the Metropolitan Opera, Steve invited us to a party at Fiorello's Restaurant across from Lincoln Center for one of his favorite tenors, Brazilian Ricardo Tamura, and his charming wife Dagmar. Tamura had just sung his first brilliant Cavaradossi from Tosca at the Metropolitan Opera and was known to us for his many ringing performances at the Licia Albanese-Puccini Foundation which evolved into an annual opera "must attend" event. Legendary Russian born Verdi baritone Dmitri Hvorostovsky also dropped by Ricardo's party at Fiorello's and his last words to me were, "You saw and heard Ettore Bastianini? You don't know how lucky you are." Steve's love for the young talented singers shined through and the best part was his pride in their success. We are certain Cornelia Beigel, Michael Fornabaio, Karl Michaelis, Barbara Ann Testa, and others will do their best in the great spirit of Stephen De Maio to keep what he loved and worked for alive." NINO & JUDY PANTANO