The 2018 Winners of the International Vocal Competition & Celebrating 50 Years with Maestro Eve Queler & Opera Orchestra of New York
Sunday, May 6th, was a very special day for opera lovers. The Gerda Lissner Foundation and the Liederkranz Foundation presented their prizewinners in a grand concert at Zankel Hall, part of the Carnegie Hall Complex. It also celebrated 50 years of Opera Orchestra of New York with Maestro Eve Queler who, with the orchestra, accompanied the young awardees on their operatic journey.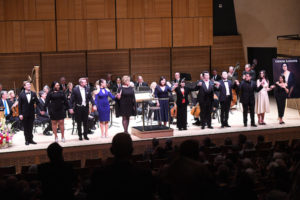 Midge Woolsey was the host of this exciting event. Ms. Woolsey, who was a familiar radio voice for years, is also a familiar face from her manifold duties as host on PBS Channel 13. She requested the audience greet and cheer her co-host, the well known opera writer and Broadway biographer Brian Kellow, who could not attend and Stephen De Maio President of the Gerda Lissner Foundation and "Father" to so many young singers through the years. We reflect on their fruitful lives, wish them well, thank them for their inspired work and thank dear Steve for this glorious afternoon with legendary Maestro Eve Queler and the splendid young singers.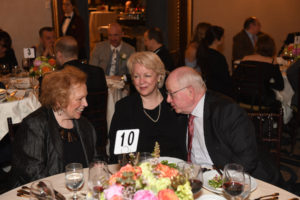 The Liederkranz Foundation sponsored prizes in two categories: the General Division and the Wagnerian Division. The top prize in the General Division went to tenor Matthew White. Soprano Amy Shoremount-Obra was the top prize winner in the Wagnerian Division. President Joseph Pfeifer from the Liederkranz Foundation presented the esteemed awards.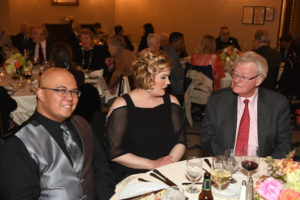 The program began with "Ah La Paterno Mano" from Verdi's Macbeth sung by tenor Robert Stahley, who at age 26, is the fine ambrosia for a special occasion. His voice has a very pleasing sound; good secure upper register, fluent legato and breath control building up to a strong finale. A good Verdi stylist ready to go!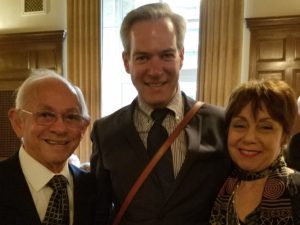 Next was "Song to the Moon" from Rusalka by Antonín Dvorák. Elena Perroni soprano sang this rhapsodic and beautiful aria with a dark hued sound, power and a great sense of yearning of this sea creature who desires to be a human woman and love a man. The exotic and passionate orchestra with Maestro Eve Queler made for quite a treat with the sound of music and the quest for magic in the air.
I had some spinal surgery at NYU-Langone Hospital and on the corner entrance (East 17th Street & Second Avenue) there was a street sign that said "Dvorák Place." That was the house where the great Czech composer Antonín Dvorák lived for three years while composing "The New World Symphony." Regrettably the new hospital tore it down but the sign is still a significant reminder.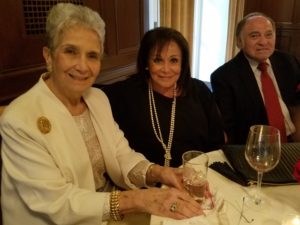 Bass William Guanbo Su sang Bellini's "Vi ravviso o luoghi ameni" from La Sonnambula. Mr. Su has a pleasing sound to his bass and captured most of the poignant Bellinian style. The fioritura was good, the yearning was heartfelt and the "Italianate feel" was intact. With orchestra embellishments at the end of the aria, it was an exciting moment.
Verdi's "Surta è la notte …Ernani! Ernani involami" from Ernani was sung by soprano Anna Dugan. Since the classic rendition by the great Rosa Ponselle, this haunting and thrilling aria and cabaletta is held to a very high standard. Ms. Dugan possesses a vibrant soprano voice, her highs and lows were forceful and there was a touch of stridency on top in the cabaletta. These insecurities can be worked out and Ms. Dugan will surely help fill the current void of good Verdi sopranos.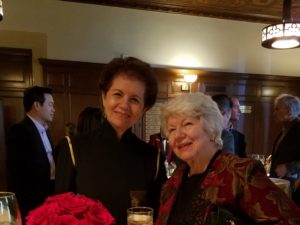 "Ah, lève-toi soleil" from Gounod's Roméo et Juliette was in the capable hands (or voice) of tenor César Delgado. Mr. Delgado is the possessor of a fine lyric spinto voice with softness and thrust. There was good contrast from loud to soft and a strong finale swelling to an impassioned climax.
Baritone Seokjong Baek sang "Cruda, funesta smania" from Donizetti's Lucia di Lammermoor. He had just the right amount of seething rage at his sister Lucia and he sang with precision, power, shading and elan. His exciting finale on a good high note was held and inspired the audience to cheers.
During the intermission it was nice to see so many celebrities and friends: Host Midge Woolsey and husband Jerry Stolt, Cornelia Beigel, Michael Fornabaio, Karl Michaelis, from the Gerda Lissner Foundation and Joyce Greenberg loyal patron/contributor of the Gerda Lissner Foundation with friend Ralph Petrarca; Philipp Haberbauer from The Liederkranz Foundation, Gloria Gari from the Giulio Gari Foundation, Met mezzo soprano Jane Shaulis, Joseph Gasperec, Murray Rosenthal, Philip Hagemann, Janet Stovin, Cesare Santeramo, Robert Steiner, Faith Pleasanton all from Opera Index; sopranos Elinor Ross, Barbara Ann Testa, Elaine Malbin; Glenn Morton from Classic Lyric Arts, opera managers Ken Benson and Robert Lombardo, vocal coach Tamie Laurance, Deborah Surdi, from Opera Orchestra, Richard Wargo, composer and artistic director at the Marcella Sembrich Museum in Lake George, Brooklyn reviewer Thomas Lenihan, patron activist Betty Cooper Wallerstein, from Stifel investments Alfred Palladino and wife Christine, Luna Kaufman, author pacifist, export consultant Michèle Classe and husband Anthony, designer Rafael Sanchez, vocal coach Patricia Sheridan, City National Bank's Joseph Sedillo and John Lawrence and famed opera standee Lois Kirschenbaum.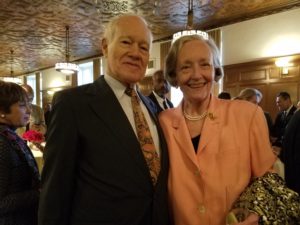 Mezzo-soprano Hyo Na Kim sang "Einsam Wachend in der Nacht" from Wagner's Tristan und Isolde. Her warm caressing mezzo was indicative of so much more sound being saved for passages of drama. She has both capital and interest on tap and the result leaves one in awe. Her voice evoked the Champs Élysée and the Eiffel Tower in its imposing authority and grace held by great vocal support.
"Dich teure Halle" from Tannhäuser was sung by soprano Amy Shoremount-Obra. It was voice of strength and beauty that lit up the Wagnerian sky with brilliant streaks of light making impact on Wagnerites and giving life to new lovers of Wagner.This selection calls for brilliance of sound and Ms. Shoremount-Obra gave us that in full measure.
The familiar sounds of "Eri Tu" from Verdi's Un Ballo in Maschera followed and are reminding us all how wonderful it was to have Maestro Eve Queler and her orchestra behind the singers. Baritone Jaeman Yoon sang this poignant and moving aria from dark menacing phrases to those of longing and heartbreak with a full emotional plate and captured it. He hit some ringing top notes and his final d'amore ended with a passionate Italianate thrust.
Puccini's iconic "Un bel di" from Madama Butterfly was sung by Maria Natale. In the 1930's she would have been scooped up by Hollywood like Lily Pons and Risë Stevens Met Opera stars and beauties. Jeanette MacDonald sang in opera after she left Hollywood and sang with Ezio Pinza in Faust. Mr. Eddy had a ten-year opera career before he went to Hollywood. My favorite of their films was Maytime. Maria Natale sang with admirable restraint. Her beautiful soaring soprano seemed to be hearing the legendary soprano Licia Albanese "to always sing on the word." I told Ms. Natale that she gave me tears with her phrases and determination.The finale was beautifully accomplished with power and pathos and the wonderful Maestro Eve Queler and Opera Orchestra. Maria was a second prize winner and just sang a memorable Violetta in La Traviata in Seattle. I have to admit, I handed her a rose making her both a California gal and a "Roseworthy Butterfly."
Hubert Zapiór, Polish baritone, was a striking looking Onegin singing" Vy mne pisali"…. from Eugene Onegin – by the great Tchaikovsky. Mr. Zapiór's beautiful lyric baritone has a lovely quality and Adamo Didur, a star Polish bass during Caruso's time comes to mind. Beautiful sensual voice, subtle yet moving and powerful. I told Mr. Zapiór that the late Dmitri Hvorostovsky, I am certain in singer's heaven, is happy to see such a splendid Eugene Onegin now that he is gone.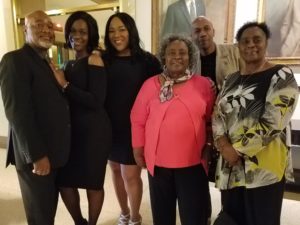 Soprano Courtney Johnson sang "Je dis que rien ne m'epouvante" from Carmen iconicallyknown as "Micaela's air." This aria is said to have greatly enhanced the career of young Licia Albanese. People would see Carmen just to hear Mme. Albanese sing "Je dis que." Ms. Johnson has a full, radiant and lovely voice with power and resilience. A beautiful top and generous shading give her a special offering to the audience. Her ample finale was poignant and heart wrenching. The Opera Orchestra of New York made everything the stuff of dreams. It was so nice to see how proud her family was of this emerging opera star.
Tenor Matthew White was the winner of the Liederkranz top prize. His singing of "O Paradis" from Meyerbeer's L'Africaina was a sensation! I always found the French diction to restrict the tenor from "opening up" and both Enrico Caruso and Beniamino Gigli recorded it in Italian. I said when I saw the program that "O Paradis," lovely as it is, is usually a downer because the French doesn't open and diminishes the thrill. Mr. White opened with a lovely vibrant tenor of moderate size and his first high note was full and round and had a Corellian spark to it. Then he sang all the long phrases and at the finale came on an ascending scale evoking the quality of the great Swedish tenor Jussi Björling and brought down the house. We all felt like we were present at the creation.
Seokjong Baek closed Act One in baritonal triumph and Matthew White gave us a visceral thrill with his wondrous tenor to conclude the concert.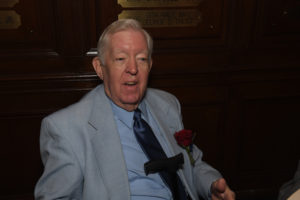 There was a private dinner at the New York Athletic Club honoring Maestro Eve Queler for her 50 years at the helm of the Opera Orchestra of New York. Karl Michaelis hosted, as many sang her praises which she graciously and proudly accepted and a beautiful anniversary cake was presented. She spoke of past triumphs and how she, a female remained firm, certain of her talent and opened the doors for many women who would not have knocked and deprived the world of their talent.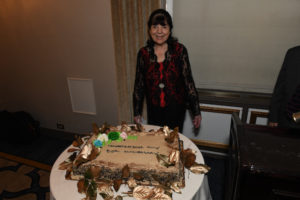 Many friends and opera lovers were there to dine on delicious pumpkin ravioli, salad, breaded chicken, wines, coffees and desserts as we heard so many great things about Maestro Eve Queler. Some at our table or passing by to chat, were Dr. Anthony Abbate, urologist and actress/stage director wife Geraldine, opera lecturer Lou Barrella and wife Kathleen, Vito & Rosa Pietanza, formally from the New York Grand Opera, photographer Anita Sanseverino, pianist Alba Mazza and opera aficionado Dianna De Martino were happy to be among the privileged many on this special day. Bravo Gerda Lissner and Liederkranz, so beautiful together.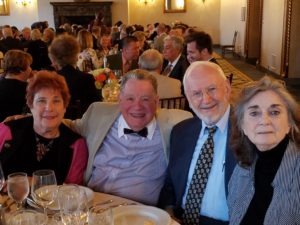 Thank you Steve De Maio for making this event so special! You surely have the magic touch and congratulations to Maestro Eve Queler and her marvelous orchestra, loved and idolized after 50 golden years.This affair was truly special, where past and present united and the fresh young singers gave us a dazzling look at the future.