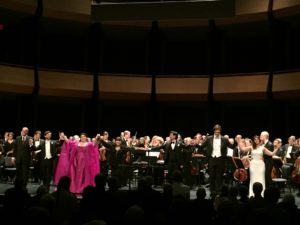 Maestro Eve Queler's Opera Orchestra of New York presented Gaetano Donizetti's Parisina d'Este on the evening of Wednesday, May 4th at Jazz at Lincoln Center's Rose Hall at Columbus Circle on Broadway and 60th Street.
This is a rare presentation of a work that calls for a revival. Maestro Eve Queler and the Opera Orchestra presented this work in a memorable Carnegie Hall Concert with Montserrat Caballe forty years ago. All that is needed are great voices and on this evening we had one in Angela Meade. The libretto is by Felice Romani after Lord Byron's 1816 poem Parisina. The setting is Ferrara, Italy in the 15th century. The work premiered at the Teatro della Pergola in Florence, Italy in 1833.
Angela Meade, Metropolitan Opera soprano, resplendent in a red gown, sang Parisina, wife of Duke Azzo in love with Ugo. Ms. Meade sang with gorgeous tone and superb coloratura embellishments. Occasionally she would literally "touch a shooting star" by lightly hitting a note seemingly in outer space. Her caressing tone in her Piangi aria touched the heart. (That I am chosen to weep) Ms. Meade gave us some exquisite silken phrases both ethereal and on a thread of spun gold. This is Bel Canto singing of the highest order. However, there is another side to her artistry. In the final scene, after viewing her lover dead, her singing of "Ugo e spento! A me si renda!" had the passion of a Tosca and this "victimized" persona was struck by unfathomable rage as she kills herself after viewing Ugo's body. It was an unforgettable operatic moment that one recalls for a lifetime.
Aaron Blake was Ugo, Parisina's lover. His full lyric tenor was serviceable but he labored in passages where he should have soared. He tried to attain the tenorial heft needed both in duet and solo. The audience was supportive of his effort but one hopes he will stick to proper roles and not have to push hard in his upper register.
Duke Azzo was sung by Yunpeng Wang in a powerful  resonant  baritone that indicated the intensity and cruelty of his character. His "River Po" duet with his minister Ernesto was captivating. His shifts of mood, bad to worse, were heard in his vocal offerings and he was wholly believable and well defined.
Ernesto, Duke Azzo's minister was sung by basso Sava Vemic. He attempts to be the peacemaker, even announcing that Ugo is the Duke's long lost son, raised by himself, from the Duke's first deceiving wife Matilde. Vemic's basso cantante had nobility and depth.
Imelda, Parisina's handmaid, vividly portrayed by soprano Mia Pafumi in her debut with the Opera Orchestra, made a very strong impression with her sympathetic portrayal, duet with Parisina, and vocal bursts of glory. One would like to see and hear more of Ms. Pafumi in the future.
We envisioned what a stunning staged opera this could be with knights, handmaidens, gondoliers, squires and soldiers in a fully costumed production.
The chorus from the New York Choral Ensemble under Chorus Master Italo Marchini sang lustily and with inspiration.
Maestro Eve Queler conducted the Opera Orchestra of New York with mastery and love. There were passages with the chorus singing and the trumpets playing with the full rich sound of Donizetti's melodic music that made one say "thank you Eva Queler for all this glory." The audience cheered for the ever youthful and indomitable Maestro and founder Eve Queler for this great triumph!
The Gerda Lissner Foundation and Stephen De Maio are to be thanked for nurturing so many of the wonderful singers.