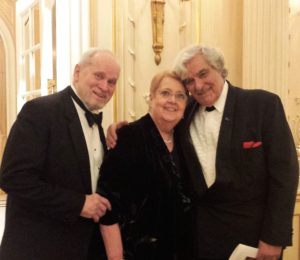 On the evening of Sunday, January 15th, at the JW Marriott Essex House on Central Park South in New York City, Opera Index hosted a tribute to internationally acclaimed stage designer Tito Capobianco and also presented an operatic recital of the 2016 Opera Index Award winners.
Jane Shaulis, a much-loved mezzo from the Metropolitan Opera is the President of Opera Index and made the introductory remarks. She was happy to report that over $50,000 was given in varying scholarships in 2016 and proudly introduced the awardees.
Sandra Hamaoui sang "Ah! Je veux vivre" from Romeo and Juliette. She and Gounod are perfect together. Her generous soprano flows freely and evenly from upper to lower register and was full of adolescent enthusiasm. Ms. Hamaoui's beguiling coloratura was symbolic of Juliette's awakening. The exuberance of her presentation and some powerful outbursts at the finale, made for a joyful Juliette with a newly minted inner core of love and strength.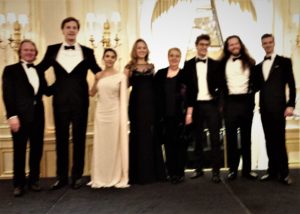 Cody Quattlebaum used his seamless resonant bass-baritone in "Se vuol ballare" from Mozart's Le nozze di Figaro. He brought with him a vibrant quality, penetrating sound and impish interpretation that evoked memories of the great basso s of the past. We need good bass-baritones today and Mr. Quattlebaum brings us hope aplenty!
Jakub Orlinski, countertenor will help fill the void left by Russell Oberlin, the pioneer countertenor who just passed away. Mr. Orlinski sang "Furibondo spira il vento" from Partenope by Handel. His adroit "handeling" (no pun) of the scales, roulades, ascents and descents of this roller coaster selection showed mastery. His clear diction and surprisingly effortless low notes were a marvel. Can Orlinski "Handel" it? The answer is- very well indeed!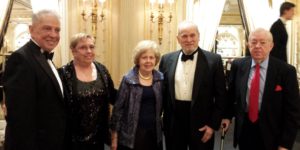 Andre Courville, bass-baritone entertained us with a rarity,"Air du tambour major" from Le Caid by Ambroise Thomas. This aria, full of pomp, strutting and soldierly pride, has audiences foot stomping to its rhythm. It's the "Over there" of its day and Mr. Courville sang it with resonance, power, relish, good humor and into the dining area where he serenaded a few ladies at table, including my wife Judy. Courville's fioritura and cadenzas rivaled the 1812 Overture in their contagious joy.
Angela Vallone sang "Azael, Azael" from L'enfant Prodigue by Claude Debussy. Ms. Vallone, winner of the Arthur E. Walters Memorial Award evokes memories of the great Mary Garden (1874-1967), a Scottish-American soprano who sang a very exotic repertory as well as the usual fare. Ms. Vallone possesses a truly beautiful soprano and can float a high note like an angel on a cloud. As the legendary soprano Licia Albanese always advised, to let each word sing. Ms. Vallone paints word pictures and with a slight inflection, can break your heart. This is a talent that will require careful nurturing so that the world can see and hear what we witnessed. She will shine and bring us the light we seek in both opera and song.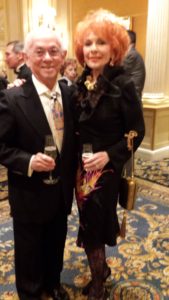 Sava Vemic, basso, has won the top awards from the Premier Lissner Charitable Fund Award and Opera Index. He sang "Il lacerato Spirito" from Verdi's Simone Boccanegra. Vemic recently made his Metropolitan Opera debut as the High Priest in Verdi's Nabucco. His singing of this magnificent aria plumbed the hallowed depths with noble phrasing, great emotion, caressing tone and a burnished heavenly "Prego Maria, per me." His declamatory singing at the beginning was riveting and his inspired singing throughout was exemplary. Tall, handsome and debonair in manner, truly Cesare Siepi reborn!
The splendid accompanist to the singers was the terrific and talented piano virtuoso Michael Fennelly.
Jane Shaulis returned to give the Distinguished Achievement Award to Tito Capobianco, who is acclaimed for his ingenious and versatile treatment of repertory classics, "from Baroque to Romantic, verismo and contemporary opera." Mr. Capbianco was born in Argentina and his years with New York City Opera (NYCO) included Donizetti's Three Queens with Beverly Sills, Lucia di Lammermoor, Giulio Cesare and Boito's Mefistofele. We shared a mutual friend in the late great NYCO basso Don Yule, my Brooklyn (Prospect Heights) neighbor as well.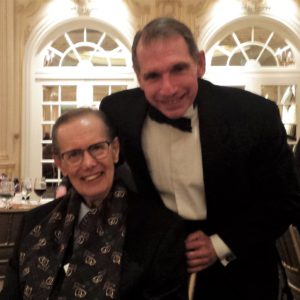 Jane Shaulis spoke glowingly of Tito Capobianco's assistance to her as a novice at NYCO and warmly of their friendly and fruitful collaborations. Mr. Capobianco, gave a witty and gracious acceptance speech and said "listen, watch and learn," his advice to beginners and received a standing ovation.
We spoke with Tito Capobianco and his charming guest Barbara Sandonato who was a prima ballerina at New York City Ballet (NYCB) in the halcyon days of George Balanchine and who now heads the Barbara Sandonato School of Ballet in Philadelphia. I mentioned the legendary Italian lyric tenor Tito Schipa (Vivere) (1888-1965) who sang many Spanish songs and often visited Argentina. Mr. Capobianco said that his parents so admired the art of Tito Schipa that after seeing Schipa sing at a concert in Buenos Aires shortly before Capobianco's birth, they broke tradition and named him Tito instead of after his familial grandfather. Like Pope Francis, the Capobianco family originated in Italy then migrated to Argentina. I too, have family members in Buenos Aires.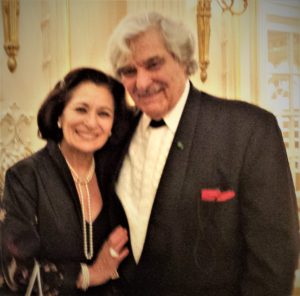 It was wonderful to see Armenian-American Met soprano Lucine Amara, Lebanese legendary Met mezzo Rosalind Elias, the indomitable dramatic Met soprano Elinor Ross, Met legend and Kennedy Center awardee Martina Arroyo, Elaine Malbin, soprano at NYCO and NBC TV opera pioneer, the great Met Opera basso Eric Owens, a former Opera Index awardee, fresh from his triumph in L'Amour de loin at the family table of Janet Stovin (Vice President of Opera Index), soprano Barbara Meister-Bender lent her glamorous presence (Career Bridges), along with Rafael Sanchez, handbag designer, patron presenter Dr. Robert Campbell and tenor troubadour Cesare Santeramo, author Luna Kaufman, Bill Ronayne, President of the Mario Lanza Foundation (located in Brooklyn) were in attendance as was Met tenor and television actor Anthony Laciura, a fellow Sicilian.
At our table was our gracious host Stephen De Maio, President of the Gerda Lissner Foundation, patron presenter Karl Michaelis, Michael Fornabaio Vice President and Treasurer, Gloria Gari from the Giulio Gari Foundation, Maestro Eve Queler from Opera Orchestra of New York, Joyce Greenberg, competition assistant to several foundations and Met opera basso Sava Vemic, a Gerda Lissner awardee.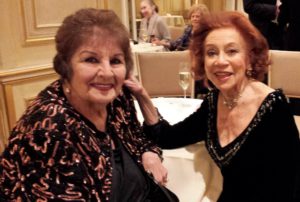 It was such fun to spend some time with Opera Index Treasurer Murray Rosenthal and composer and Vice President Philip Hagemann. We greeted Joy B. Ferro, who is now the Artistic Director of the vocal program of her late husband Daniel on Madison Avenue. We introduced two gentlemen whose hobbies were clocks, (horologists) John Metcalfe from the Opera Index Board of Directors and Gary Dietrich who is the Metropolitan Opera Stage Manager and both were friends of NYCO bass Don Yule who was also a clock maven. Mrs. Dietrich is Opera Index Board member Laura Alley and is on the staff of Mannes College. We also chatted with Mara Waldman, pianist musicologist, Doris Keeley, patron and presenter, Meche Kroop, patron and reviewer, opera manager Ken Benson, Edna Greenwich, Founder and Director of Opera Exposures with Dwight Owsley, Board member and the ebullient Cavaliere Edward Jackson, poet, who is the unofficial Mayor of Italian Bensonhurst!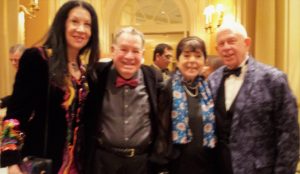 As we were leaving, as when we entered, it was great to to see Opera Index President Jane Shaulis and her husband Joseph Gasperec, who was a Stage Director and now serves as Executive Director of Opera Index.
We all went into the chill of the night with echoes of young and talented voices that warmed our hearts and will live on in memory!