The Community Church of New York, located at 40 East 35th Street in Murray Hill, New York was the venue for the Opera Index annual membership celebration on Wednesday, November 9th. It was a dreary drizzly night but as in the past, the room was crowded.
Jane Shaulis, who is a mezzo soprano at the Metropolitan Opera, is the new President of Opera Index. She spoke of scholarships that were divided among 16 singers. The original 300 who applied were all given encouragement to return if not chosen this time.
This evening five of those singers were heard accompanied by gifted accompanist Michael Fennelly.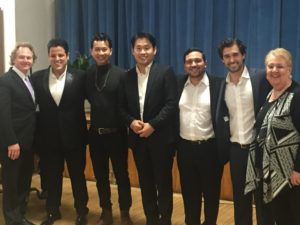 Andres Moreno Garcia, Mexican tenor sang "De miei bollenti spiriti" from La Traviata by Giuseppe Verdi. Mr. Garcia's voice has a mellifluous and pleasing quality. His encore was the passionate Spanish Zarzuela song "No puede ser" which he sang with abandon. It is one of Placido Domingo's most impassioned recordings.
American tenor Alexander McKissick followed with "Torna ai felici di" from Puccini's seminal work Le Villi. His vibrant voice has much sheen. His encore was" You and the night and the music"(Arthur Schwartz-Howard Dietz) nicely done with good soft contrast to his strong top. Mario Lanza's impassioned but somewhat bombastic "pop" version of this song is recommended listening.
SeokJung Baek, from South Korea sang "Avant de quitter ces lieux" from Gounod's Faust. His robust lyric baritone traveled the various vocal highways smoothly and his final note was held and swelled with satisfying results.This aria is always a big moment in the opera. Baek's encore number was "L'alba separa dalla luce l'ombra" by Francesco Paolo Tosti (Dawn banishes the night). This song was recorded in 1917 by the immortal tenor Enrico Caruso and is one of his greatest recordings. Mr. Baek hit the high note with great abandon and gave us all a visceral thrill. One could see, hear and feel dawn triumphant, banishing the darkness!
Cesar Delgado, Mexican tenor sang "La donna e mobile" from Verdi's Rigoletto, with elan and with a resounding high C preceded by a fine cadenza. His vocal projection is in the style of legendary Spanish tenor Miguel Fleta with some lovely diminuendos and strong fortissimo's. His encore was "Yours is my Heart Alone," from The Land of Smiles by Franz Lehar sung in flawless German.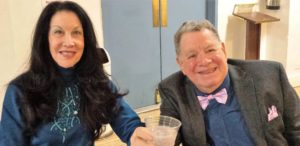 Brian Vu used his essentially lyric baritone well in "Largo al factotum" from Rossini's Barber of Seville. Vu did the patter and declamatory portion with dexterity and made it great fun! Vu's encore was "Johanna" from Sweeney Todd and was well sung and acted!
Jane Shaulis then announced the finale which was called "Three Tenors and Two Baritones" all singing a "fun"competitive "O Sole Mio" and ending fortissimo to much delight and applause.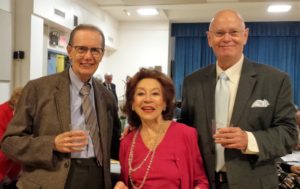 In the audience were legendary singers, Met opera mezzo Rosalind Elias, dramatic soprano Elinor Ross, soubrette soprano and TV opera pioneer Elaine Malbin, Janet Stovin and composer Philip Hagemann, Vice Presidents, Murray Rosenthal treasurer, Executive Director Joseph Gasperec, Board members John Metcalfe, Jessie Walker, Mark Steiner and Steve De Maio, President of the Gerda Lissner Foundation. Brooklyn's Ken Benson, opera manager and radio personality, the famed Brooklyn born "world's greatest opera fan" and subject of a recent documentary, Lois Kirshenbaum, who although legally blind, never stopped her from attending every Met opera performance for decades. Maestro Stephen Phebus and wife Linda Howes, David and Barbara Meister-Bender from Career Bridges, Brooklyn's Bill Ronayne from The Mario Lanza Society, opera lecturer and educator, Lou Barrella, Cavaliere-poet Edwardo Jackson, the vibrant chef-reviewer Meche Kroop and new members Bob Ohlerking and friend Christopher LiGreci from Park Slope, Brooklyn were in attendance.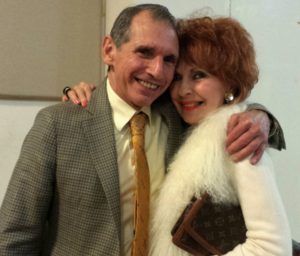 A sumptuous dinner plus coffee and desserts was enjoyed by all. The offerings by these young and promising opera singers was feast enough. It was no longer raining when we left, but we were literally "Singing in the Rain" in the puddles. All the sunshine we needed was at the church from food, friends and frolic to fresh young voices of the future!