The Sarasota Opera presented a thrilling first performance of Norma by Sicilian composer Vincenzo Bellini (1801-1835) who created this masterpiece with librettist Felice Romani. The opera is both tuneful and full of conflict and truly different in a new and revolutionary way. The combination of chorus, aria and cabaletta, a fast aria after the lyrical passages that brings the passage to a dramatic trilling and thrilling usually with a high note finale. Norma had an abundance of melodic sweep made for what was seemingly a fiasco but became a much loved "must see" hit in the opera world preceding Verdi but with strong hints of a new direction for opera. Norma had its world premiere at La Scala in Milan, Italy on December 26th, 1831. Bellini's early death was tragic indeed, but like Mozart or Brooklyn's George Gershwin, what he accomplished in his short life was eternal.
My first Norma was at The Metropolitan Opera, (MetOpera) circa 1956 with Mario Del Monaco and Maria Callas. Callas was vocally unsteady, but visually captivating even then, but Del Monaco as Pollione revealed a voice of heroic mettle and Herculean thrust.
The Winter Festival of 2018 at the beautiful William E. Schmidt Opera Theatre at the Sarasota Opera on the afternoon of Saturday, March 17th, was indeed special by its first airing of this incredible work. Maestro Victor DeRenzi, looking as elegant as his photo on Verdi Place in the impressive souvenir program and an imposing sculpted bust of him in the theatre, raised his baton and the world stood still. The final words in his program message were, "We work hard to create a performance and we love what we do! We want you to enjoy it and to love it as much as we do."
After the spirited overture, we see a stage evolve into brilliant color. Suddenly, we were in Gaul during the Roman occupation. It was like coming out of cataract surgery and seeing the world with colors you forgot existed. Cameron Schutza, truly as Pollione, looked the warrior in his colorful costume. Mr. Schutza has a very fine tenor with metallic grace and sang heroically.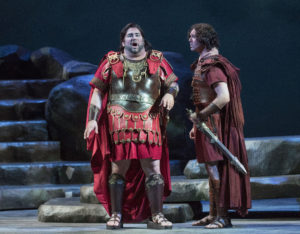 Mr. Schutza whose tenor was of more modest means than the stentorian Del Monaco had a fine reliable instrument that gave warrior resonance to his arias and certainly heroic flair to "Svanir le voci" which was very well done. His lyrical passages were also present enough to evoke sympathy for his character. Some of Bellini's "choppy" war like passages were like Betty Davis "a bumpy ride" before a triumphant take off. "Me protege, me defende." Mr. Schutza was indeed a force as Pollione and one I shall remember. I still can't understand why he strays unto fiery death with Norma and becomes a prosciutto Pollione when he played with two women so casually earlier. But that's opera! Pollione fathered two children with Norma and then became lover to her best friend Adalgisa and he is a detested Roman also. George Costanza was accused of "double dipping" in Seinfeld but Pollione is even worse!
Oroveso, Norma's father, the Chief Druid, was in the presence of Young Bok Kim. Mr. Kim has a moderate sized lyrical basso with an amazing quality of emotion in it. His expressive eyes and face were part of an ensemble of humanity. His opening aria "Ite sul colle o Druidi!" showed how much Mr. Kim is able to get from his vocal arsenal. His final scene with Norma,"O in te, ritorna" was like a rainbow of turmoil from anger to acceptance. A truly impressive and passionate performance.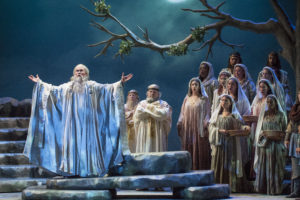 Norma the Druidess, was Joanna Parisi. This was her first performance of this brilliant opera. I have heard Callas, Caballe, Milanov, Sutherland and Jane Eaglen in this unique role and I rate Ms. Parisi very high both vocally and dramatically. Ms. Parisi was a wonderful Butterfly with the Sarasota Opera last season, so I know she has the "goods." Her Norma seemed to have, as it should, a dual personality both in voice and as a person. She would suddenly go up and come down to a Hades like low or go up and touch the hem of the gods "non so, diversi, affetti". One thing prevailed, love, and deepened her humanity. Her decision to be the "guilty" one and join Pollione in the fire but making certain that her children are raised by Oroveso was that of a woman and a mother.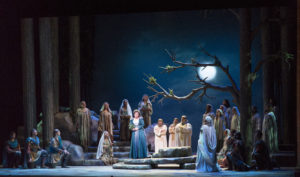 Casta Diva, quite possibly the most beautiful music ever written, was sung divinely. When the chorus joined in, as Norma, under the light of the moon, delivers sacred mistletoe and flowers, one is transformed to another world until Bellini, through Norma, sets you down. Norma's (Joanna Parisi) confrontational scenes with Adalgisa were angry, then compassionate and their scenes together were quite exciting. Legendary soprano and Norma, Rosa Ponselle (1897-1981) made a famous recording of "Mira O Norma" with mezzo Marion Telva in 1927 (as well as her own glorious Casta Diva) and captured the vitality and melody of this soprano-mezzo duet and triumphed!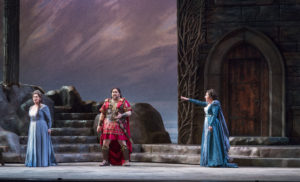 Adalgisa was portrayed by Jennifer Black. Ms. Black has a truly radiant soprano voice and I did not hear any dark tones overshadowing the bright freer ones. She sang beautifully, with passion and was particularly-engaging in the Mira-Norma duet. She and Ms. Parisi  were outstanding in their long scenes together, "Salva mi, dal mio cor" with plenty of the coloratura, fioritura, and vocal variations of the day sung to illuminating perfection in the Bellinian style. Verdi admired Bellini, who set the musical world in a firmer more cohesive direction.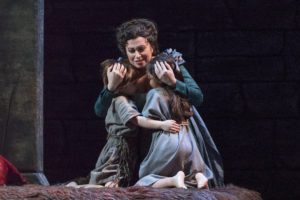 A personal aside, the Sarasota audiences are wonderful and knowledgeable, but why did Casta Diva not get the deserved ovation – or Mira o Norma? I don't think audiences in general  are that aware of Bellinian music and they should be exposed more to it so they can properly applaud, and cry "Brava, Bravo, Bravi!"
Nicole Woodward (Studio artist) was a noticeable Clothilde, Norma's confidant. Her rich mezzo was ear worthy and savored.
Thomas Massey (Studio artist) was Pollione's friend Flavio and revealed a strong tenor and good stage presence.
Norma's children were both excellent and brave enough – no wonder they happily survived her tantrum.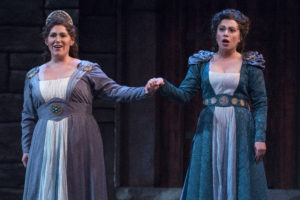 Music director and Maestro Victor DeRenzi gave Bellini a truly brilliant reading from the overture to the incredible finale. The excellent musicians are much appreciated for their treasured efforts. Kudos also to Mark Freiman, Stage director for his easy to follow, brilliant and thoroughly digestible and memorable episodes on stage.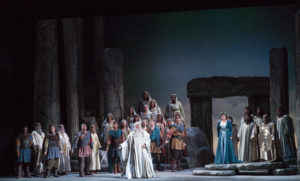 Scenic designer Michael Schweilkhardt for the brightness of his designs and the clarity of purpose-easy on the eye dazzling as a spectacle.
Costume designer Howard Tsvi Kaplan's triumphant ware for Pollione and outstanding costumes for Norma as a leader and as a woman.
Ken Yunker's lighting design was both vibrant and at the finale full of impact and flame.
Hair and make up were by Brittany Rappise-subtle and striking but never overdone.
The chorus excelled under Roger L. Bingaman. The Casta Diva and "Guerra, Guerra" episodes were quite thrilling.
The subtitles by Victor DeRenzi are helpful and informative. (by Words and music)
I always think of Norma when dining in a fine Italian (Sicilian) restaurant. Order Pasta Norma, it was Bellini's favorite dish. Pasta, tomato sauce, eggplant slices topped both with ricotta insalata cheese. It represents Mount Etna and like Norma – it is a masterpiece! (Albeit a culinary one)
Executive Director Richard Russell who once  resided in Brooklyn wrote in the beautiful program article featuring "Opera can transform our souls." We chatted with our neighbor Greg Trupiano, longtime Director of Artistic Administration. Ready for a nearby ice cream at "The Farmacy" in Brooklyn, Greg? We missed Sam Lowry, former Park Slope resident who heads Audience Development and thank him for his assistance. It was nice to chat with opera lover, August Ventura and his charming vibrant mother Romola and their friends from Brooklyn. Ventura was showing excerpts from his forthcoming Verdi film and the opera Luisa Miller at the opera house that week.
If its great opera that you want to see
Come to beautiful Sarasota – like Judy and me!
Whether it be comedy or catastrophe,
They will shine like magic with Victor DeRenzi and his splendid company!