On the afternoon of Saturday, February 29th, the Regina Opera celebrated its 50th season at our Lady of Perpetual Help (OLPH) in Sunset Park, Brooklyn. Selections from Verdi's Don Carlo and Massenet's Manon, and the Intermezzo from Puccini's Manon Lescaut were presented as the Golden Jubilee Concert. Eminent Music Director Maestro Gregory Ortega began with excerpts from Giuseppe Verdi's dark masterpiece Don Carlo.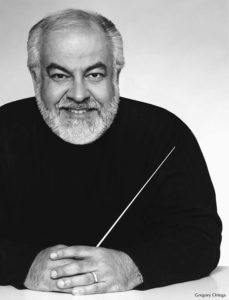 "Io la vidi" was brilliantly sung by tenor Chris Carr with some dazzling high notes and his voice which has been called "confident" earned its title. This was a lyrico-spinto voice to watch.
Next was the beckoning opening chords of Verdi's "O don fatale" by fiery mezzo-soprano Galina Ivannikova. I did not hear the darker "chest voice" to accompany the intensity of sound. I would have preferred she hold the thrilling last note a bit longer to fulfill the finale. Nonetheless, she has tremendous promise and will attain her potential of fame and glory when she does not "overcook" her vocal pasta and becomes the chef supreme.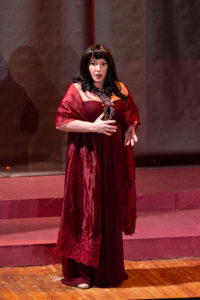 "Ella giammai m'amò" was nobly sung by John Dominick III, who captured the majestic delirium of the aging king with a full cornucopia of rich basso cantabile phrasing with heartbreaking softness and power.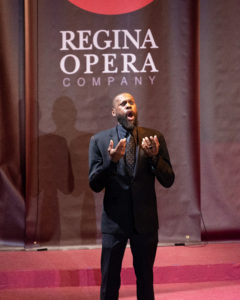 Baritone Scott Lefurgy sang "Per me giunto" with a nice dark quality and seemingly newfound power and followed with "Morte di Rodrigo" with perseverance, power and precision.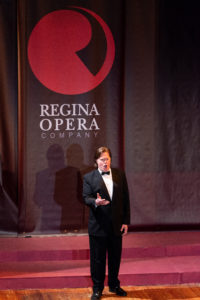 "Tu che le vanità" was sung by soprano Antonina Chehovska in a creamy, dreamy heartfelt outpouring so typical of this grand and intense Verdi opera.
Selections from Massenet's Manon then followed.
Tenor Chris Carr sang "Ah! fuyez, douce image" with lyricism and golden intensity. I have been spoiled by immortal tenor Enrico Caruso's 1911 recording of this sublime aria but Mr. Carr's dramatic rendering also found the longing in one's soul.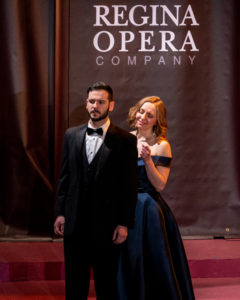 The passionate duet "Toi! Vous!" was sung by Mr. Carr and Antonina Chehovska as her passionate love lures him in priestly garb from less earthly things back to the passion no longer suppressed, which they shared. Some productions have a bed nearby, not so subtle, but very much needed. Both Chehovska and Carr sang their hearts out and concluded the concert in true operatic and passionate glory.
Fifty years of the Regina Opera is a great and wonderful thing. Maestro Gregory Ortega led the musicians and singers with joy, passion and a sense of a half-century of loves labor found.
Next was Puccini's great opera and only comedy Gianni Schicchi with a brilliant libretto by Giovacchino Forzano. Gianni Schicchi was part of Il Trittico which had its Metropolitan Opera premiere in December 1918. Il Tabarro and Suor Angelica were heartbreaking and shocking. Gianni Schicchi the third and last of these operas was hilarious, the most critically acclaimed and is often done by itself or with other short operas. All three are outstanding and were followed later by his last opera, Turandot whose "hit" aria "Nessun Dorma" was sung by many tenors including Franco Corelli, Jussi Björling and Luciano Pavarotti. Puccini died before the opera was finished and Franco Alfano, using Puccini's sketches, finished the opera – Turandot.
Elizabeth Hastings was our opera Maestro and it is obvious Ms. Hastings is very much at ease conducting this brilliant masterpiece by the great Giacomo Puccini (1858-1924). She captured the spark of the piece and took us all on such a spirited and happy journey. The thirty-plus splendid musicians of the Regina orchestra were sublime. Plaudits to violinist Christopher Joyal concertmaster, Richard Paratley on flute and Miguel Tepale on the "funeral" bells. Bravo to all!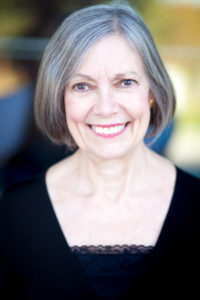 Gianni Schicchi takes place in Florence, Italy in 1299. Based on some lines in Canto XXX in Dante's Inferno. Wealthy Buoso Donati has just died. His greedy relatives are trying to conjure up false grief which turns to alarm as Betto, Buoso's brother-in-law spreads the rumor that Buoso was leaving everything to the monks. After a frantic search, the will is found and sure enough, everything goes to the monks. Rinuccio, Buoso's nephew and Gianni Schicchi's daughter Lauretta are in love. The family looks down upon Schicchi as being an upstart like the Medici's, Giotto and Arnoldo. But Schicchi arrives to "help" them.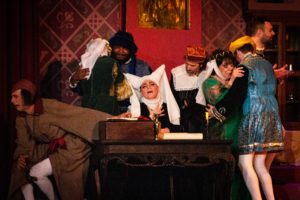 Rinuccio, Buoso Donati's nephew, (portrayed by Chad Kranak) arrives and sings "Firenze come un albero fiorito." This aria has some vivid high notes and bounces along in persistent vibrant melody. The great American Brooklyn born Met Opera tenor (from Boro Park) Richard Tucker (1913-75) made a great recording of this. Google it! Mr. Kranak's fine ringing tenor assures us that Rinuccio is as committed to the city of Florence as well as to Gianni Schicchi. Zita, Buoso's cousin offers defiance refusing to let her niece, Lauretta marry Rinuccio. Gianni Schicchi senses the greedy hypocrisy and false mourning of the family, while Zita "disinherits" them. Rinuccio begs Schicchi to help them. Lauretta sings the iconic "O Mio Babbino Caro" threatening to throw herself into the Arno River if she cannot marry Rinuccio.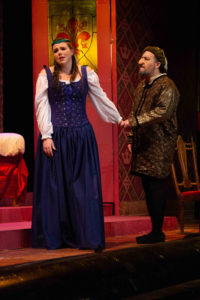 Lauretta, played by soprano Hannah Stone, sang this iconic aria with warmth and lyric tenderness which moves her doting father, Gianni Schicchi. After studying the will and saying "nothing can be done", he has a change of heart and decides to impersonate the deceased Donati. There is a knock on the door. Schicchi tells everyone to tell the visitor, Dr. Spinelloccio, that Buoso is alive and resting. He tells everyone that he will impersonate Donati and make a new will, "Si corre dal notaio." Baritone Robert Garner gloriously sang the role of Schicchi and acted with panache and plentitude. His voice pleasing and plangent is not really a buffo one but it is subtle and superb and caresses the ear. His singing of "Si corre dal notaio" was endearing and charismatic. He makes out his will to the relatives who are thrilled. The spoils are divided up; however, the big ones – the mule, the house and the mills – were left to himself, "to my dear friend Gianni Schicchi." Schicchi is dressed as Buoso and warns them that the punishment in Florence for lying about wills is that their hands will be cut off and in "Addio Firenze," they will be exiled from Florence. The notary and witnesses arrive and Gianni Schicchi gets what he wanted.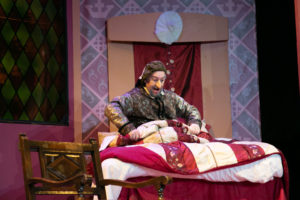 The angry relatives loot the place and Schicchi chases them out. Moved at the sight of the happy lovers, he turns to the audience and asks if Buoso's money could end up better than this, and seeks approval for "extenuating circumstances."
The smaller parts were all brilliantly done. Zita, Buoso's cousin was animatedly sung by Alvard Mayilyan, Simone was Buoso's cousin (Gennadiy Vysotskiy). His warm and powerfully caressing basso shows great promise and his stagecraft is perfection!
Gherardo, Buoso's nephew was Josh Avant impressing with vitality and clarity. Nella, Gherardo's wife was Elena Jannicelli-Sandella whose lustrous soprano and strong drama sense was quite a delight. Baritone Jonathan R. Green as Marco, Simone's son, also impressed with precision and power, La Ciesca, Marco's wife played by Heather Antonissen, had a pleasing mezzo-soprano and strong personality.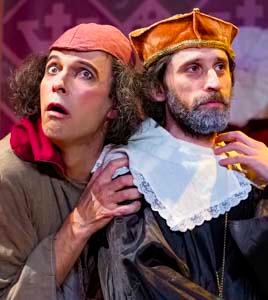 Brian Ballard was notable as Buoso's brother-in-law and Dr. Spinellocchio was in the superb hand of baritone John Schenkel. It was so nice to see him once again and enjoy his stellar and sparkling performance.
Ser Amantio di Nicolao, a notary was John Brakatselos, whose bass shined. Pinellino a cobbler, was Thomas Geib; Guccio, a dyer was Eric Lin; Gherardino, Gherardo's son, the young and gifted Nane Arsenyan; and Buoso Donati, the sparkling Shelly Barkan, whose talented family have been so supportive to Regina Opera as musicians, singers and actors.
The ensemble of relatives was excellent and was really the choral experience. The costumes by Marcia C. Kresge, so colorful was so fine for 1299. (The year-not the price) were flamboyant from the color of rose to Gianni Schicchi's nose. (Jimmy Durante has met his schnozzola match!) The sets, designed by Linda Lehr, Wayne Olsen, and Richard Evens, were truly amazing and transported us to Firenze. The center panel on stage showing a view of Florence was remarkable – a triptych of splendor and the genius of set artist Richard Paratley.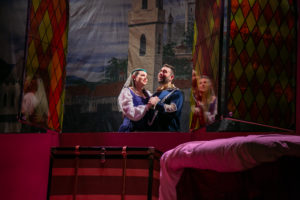 Dante Alighieri, poet, writer of The Divine Comedy (1265-1321), places Gianni Schicchi in one of his circles of hell for this so-called crime. I hope he is forgiven by now.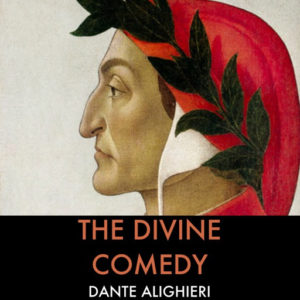 It was nice to greet Joe Delfausse and Marlene Ventimiglia who welcomed all to the Regina Opera family. My opera group went to Casa Vieja, a Mexican Restaurant around the corner afterward, where Lourdes Peña made us feel that food and opera were blended in a perfect afternoon. As for Gianni Schicchi, he really did exist and I hope his stay in hell was a brief and benign one.
Stage Director Linda Lehr, rode the tiger and tamed it. This Gianni Schicchi was forever placed in the memory bank. The stagecraft was sheer magic and each person stood out! Marie Cantoni and the founders of the Regina Opera past and Fran Garber deserve our praise and applause. The informative subtitles were very helpful. We look forward to Turandot in May. The Regina Opera has provided fifty years of joy and great opera for Brooklyn and opera lovers everywhere.