Saturday afternoon on May 11th became one to remember always with the first of four Il Trovatore's held at Our Lady of Perpetual Help Auditorium in Sunset Park, Brooklyn. Il Trovatore premiered in Rome, Italy in 1853. The libretto is by Salvatore Cammarano and is one of three masterpieces composed by Giuseppe Verdi (1813-1901) in that time period – the other two were La Traviata and Rigoletto. Il Trovatore is set in 15th century Spain during a civil war between the provinces after a play by Antonio García Gutiérrez.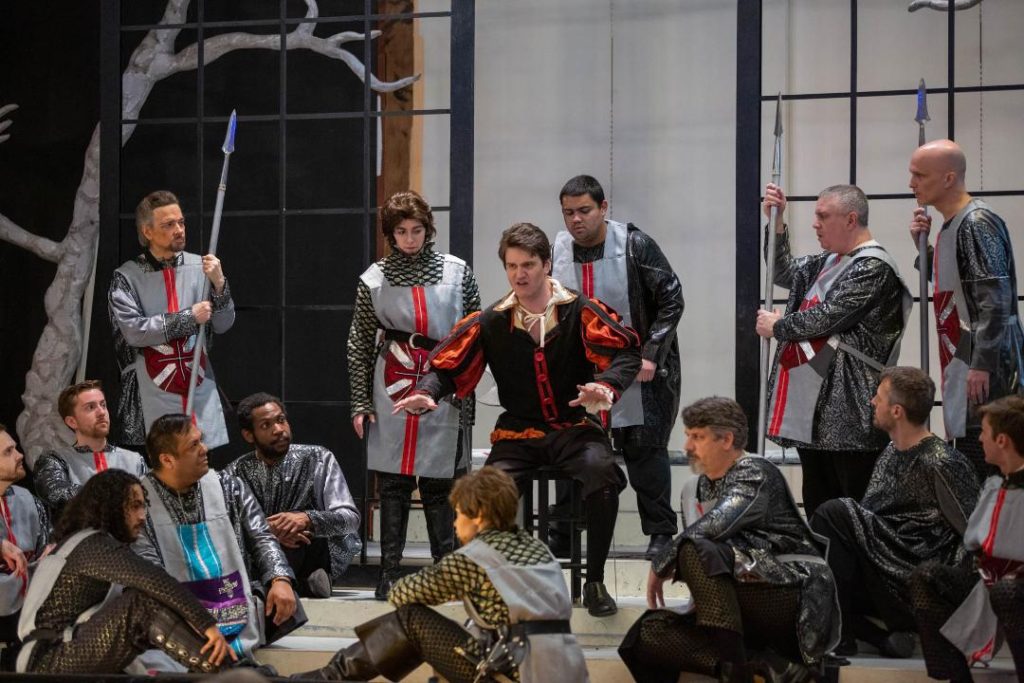 Conductor Gregory Ortega stepped to the podium and the opera began. A few vibrant, heavy chords and the curtain rose with Ferrando (Captain of the Guard) telling the story of the Gypsy ("Udite, udite") to his rapt and horrified men. Adam Cioffari had a powerful and vibrant basso voice that, coupled with precision and dramatic flair, made for a very strong opening to the opera. Immortal basso Ezio Pinza (1892-1957) made a recording of this and it was like a storytellers passage to those who heard it. Cioffari continues a great tradition.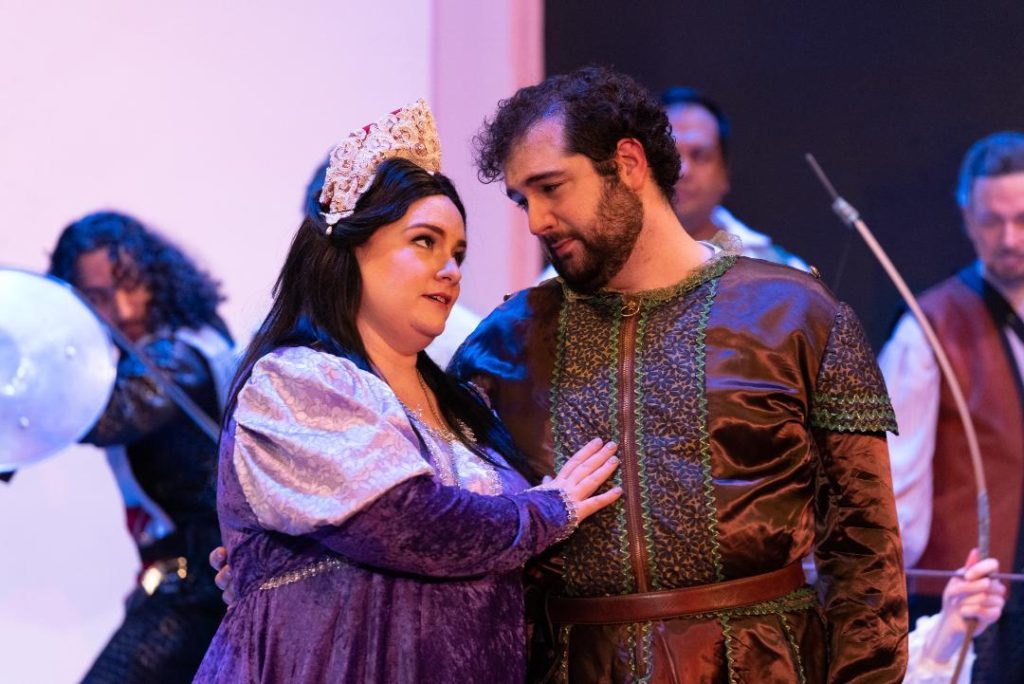 Count di Luna and Manrico are sworn enemies and both are in love with Leonora, the Queen's lady in waiting. Manrico's "Mother" is Azucena. In a rage over her own Mother's death at the stake for witchcraft, ordered by the prior Count di Luna, Azucena kidnapped the Count di Luna's baby. However, crazed, Azucena threw her own baby into the fire instead of the royal baby, and raised Manrico as her own. Manrico is the troubador who serenades Leonora and arouses the jealous fury of the current Count di Luna. Di Luna's singing of "Il trovator – io fremo" (The Troubador – I am trembling!)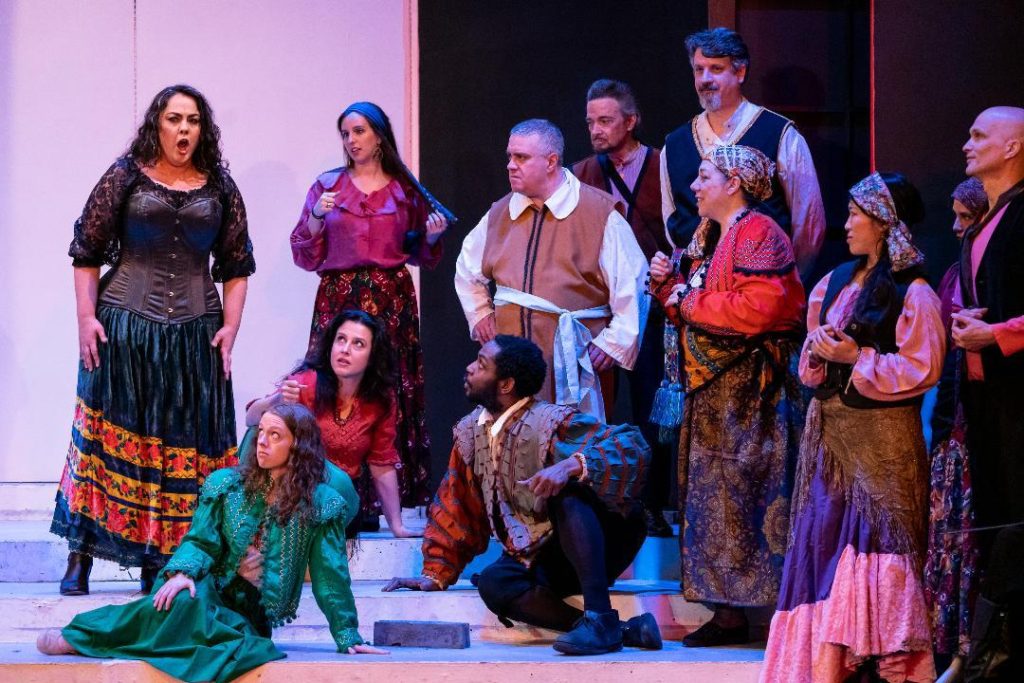 Manrico, the Troubador, was rising tenor Christopher Trapani. Mr. Trapani has a voice that is even in quality, gathers more freedom in the upper registers and is compelling in the middle and lower registers. His rhapsodic singing of "Ah! si ben mio" in Act Three Scene Two revealed a first class tenor at his best with finely sung melody: thrilling, passionate, lyrical passages, superb legato, and an impassioned finale. Some trills added to the refined outpouring, one of the best in memory. This was followed by "Di quella pira" which was sung with fury, fire and brimstone culminating with two superbly hit and held high C's. "Non son tuo figlio" with Azucena in Verdian harmony. I was fortunate to see and hear magnificent tenor Franco Corelli as a superb and dashing Manrico, soprano Zinka Milanov as a marvelous Leonora, and the brilliant Leonard Warren as Count di Luna. I recall Fedora Barbieri as Azucena and Fiorenza Cossotto in some other performance. The Regina Opera performance was very satisfying on every level. Great singers of the past echoed in their superb voices.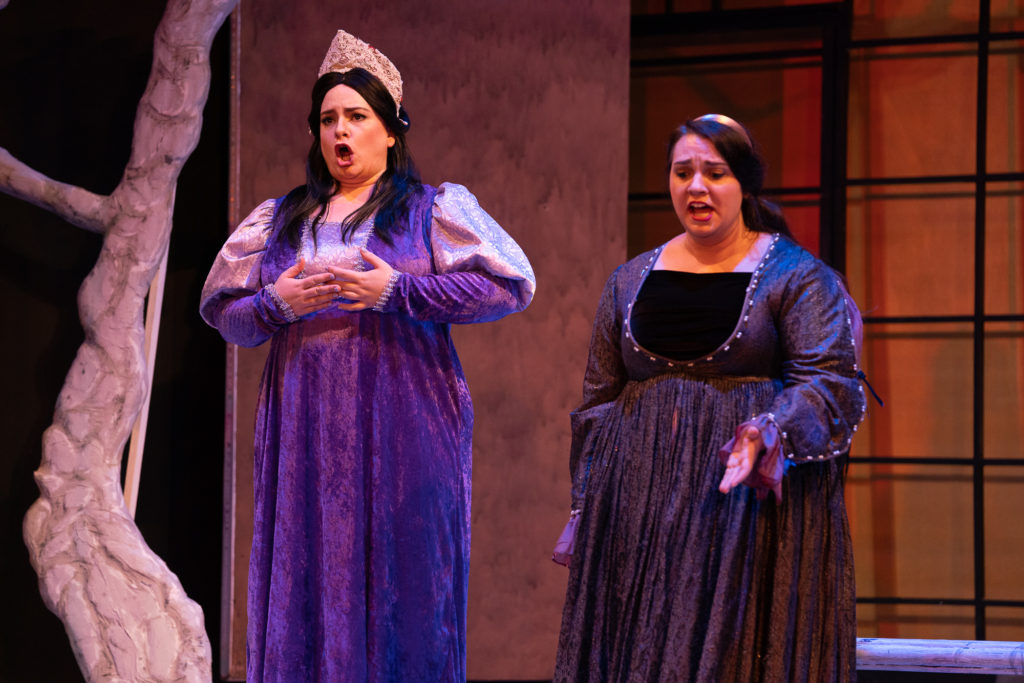 Leonora, the Queen's lady-in-waiting was sung by soprano Alexis Cregger. Her performance as Leonora was like a time capsule transferring me to the old Met in its golden age. Ms. Cregger sings with beauty of tone sudden optional high notes that thrill and a flowing legato that makes one float in ecstasy. Her superb singing of "Tacea la notte placida" and its cabaletta evoked Met divas Zinka Milanov and Montserrat Caballé in its soaring and lyrical outbursts (Act One Scene Two) and her stunningly beautiful Act Four aria "D'amor sull'ali rosee" ravished the ear of the listener. Her ascending notes and floating "highs" plus her interpolated highs were like extra scoops of ice cream for a sweet deprived opera kid. Ms. Cregger's duet with di Luna, "Mira, di acerbe lagrime" and "Vivrà! contende il giubilo", was thrilling. Her "Miserere" duet with Manrico as a group of monks marched by was heavenly. As a youth, I listened to immortal tenor Enrico Caruso and Mme. Frances Alda sing "Miserere" on an old 78 recording. Caruso sang Il Trovatore at the MetOpera in 1906 and his recording of "Di quella pira" is a sensation as is his "Ah! si ben mio". Ms. Creggar's death scene was beautifully done, evoking great sympathy. Alexis Cregger has shown the world her beautiful Leonora – she is a blessing.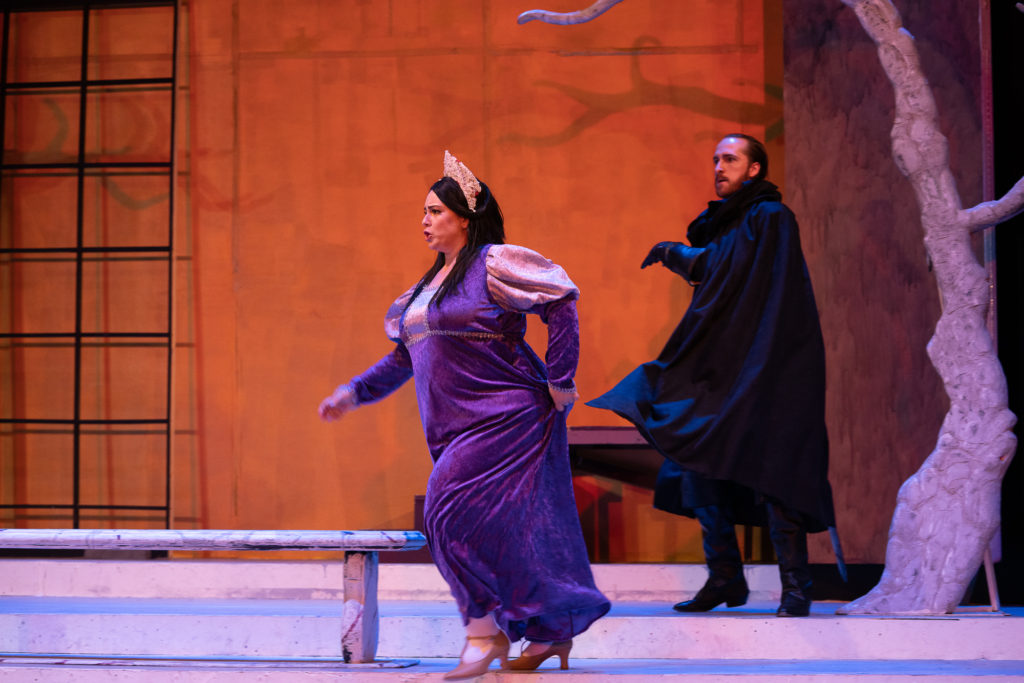 Count di Luna was robustly and brilliantly sung by baritone Nathan Matticks. His sublime singing of "Il balen del suo sorriso" was perhaps the opposite of the great Leonard Warren's heavenly lyrical outpourings; but Matticks' di Luna was more inherently evil, and the great love that is the melody of this aria was more obsessive. Mr. Matticks dark Iago-like passion, was bordering on dangerous. A truly exciting di Luna. When Manrico is beheaded and Azucena tells him he just killed his own brother, Count di Luna says in horror "E vivo encore"- (and still I live) the last line of this opera.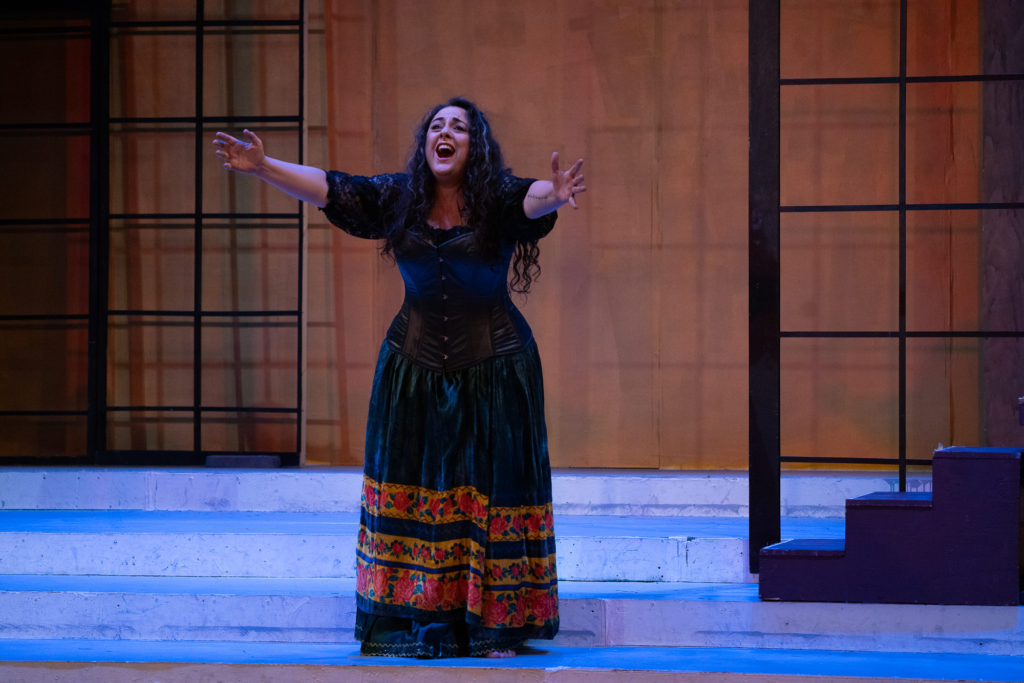 Azucena, a gypsy was sung by Lara Michole Tillotson. Her mezzo-soprano had tremendous beauty and some stunning upper register notes that made us all heaven bound with burnished lows that made us see the dark past she endured. "Stride la vampa!" was magnificently sung, and her cries of "Figlio Mio" were emotionally shattering. Her final duet with Manrico, "Ai nostri monti" was pure and full of longing. Her laughter after singing that her Mother is now avenged was like a female Mephisto.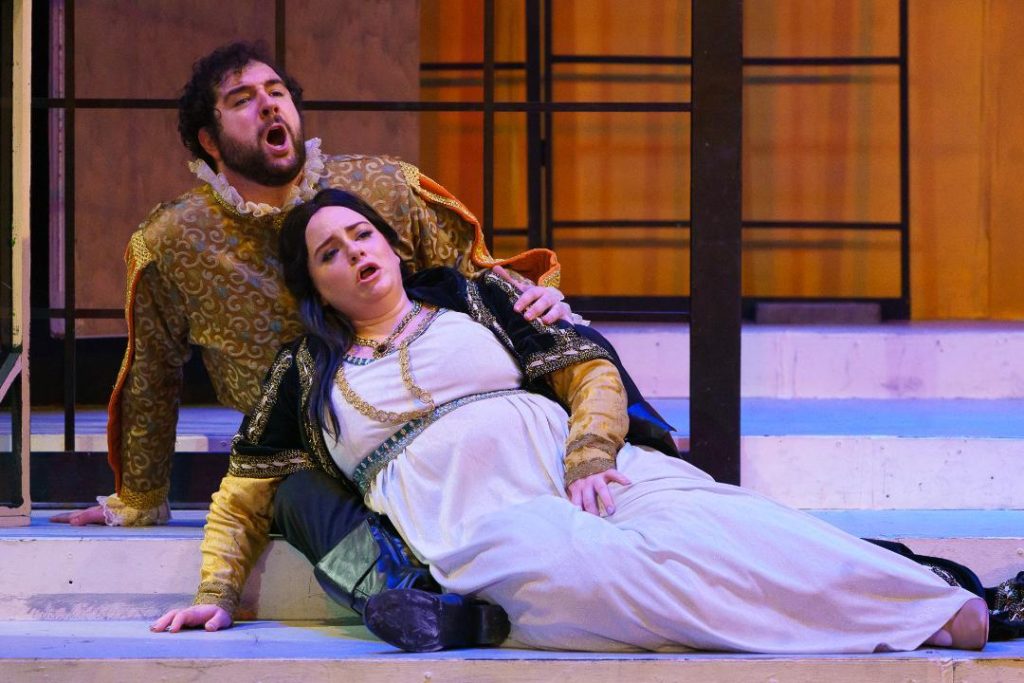 Leonora's attendant Ines, was sung by Aida Carducci, who evoked the proper concern and sympathy for her lady. Her warm soprano was indicative of good potential, and she was really a solid and vital singer.
Chance Polic was an able and dependable Lieutenant to Manrico. His strong tenor was impressive.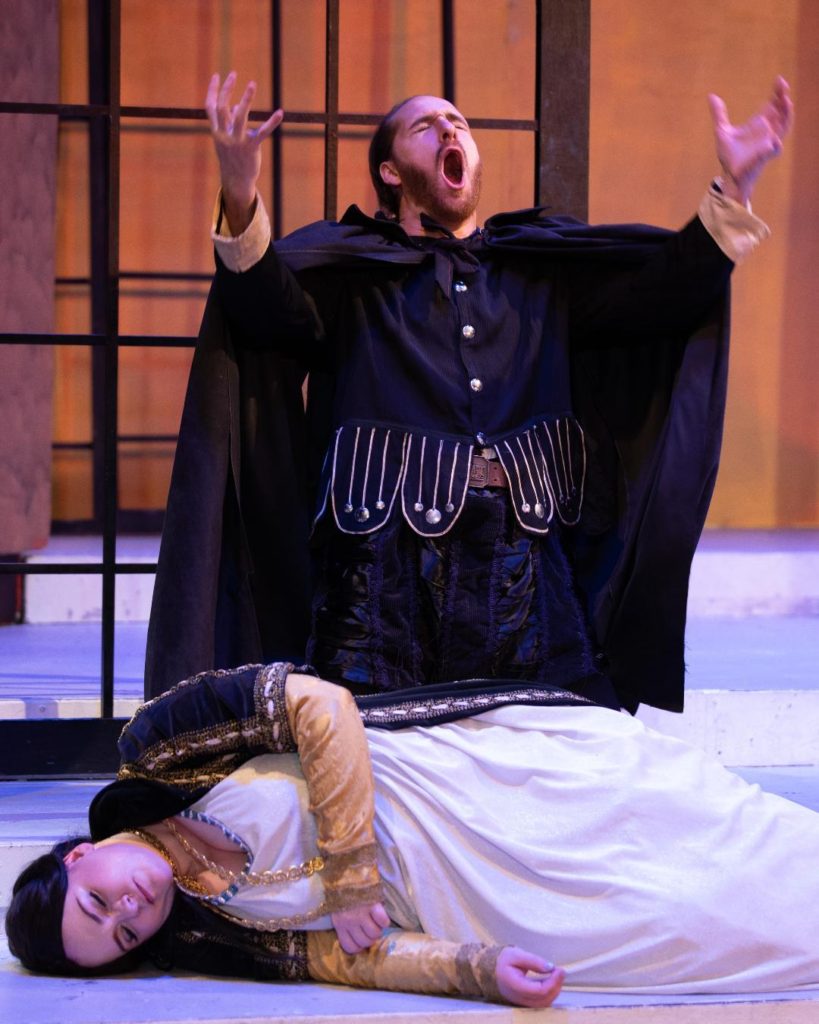 Baritone Rick Agster as an old Gypsy sang with finesse and flair and tenor Andrew Watt made his mark as a messenger.
The Chorus sang with warm friendly and spirited tone and it was so nice to see outstanding chorister Cathy Greco among the gypsies.
Conductor Maestro Gregory Ortega got excellent results from the 33 splendid musicians in the Regina Orchestra. The gypsy song of the Anvil Chorus aroused the audience with its iconic familiarity. Azucena's themes were heightened by the horror ever lurking in the music. Kudos to chimes player, percussionist Miguel Tepale, and to Concertmaster Christopher Joyal. Bravi to all the musicians and Maestro Ortega for this glorious music of Giuseppe Verdi.
Linda Lehr, the Stage director and Set designer, gave Il Trovatore's great characters room to maneuver, threaten, fight, love and die with clear focus. The "Miserere" was so impressive visually and vocally, that the image is retained in my mind. The fight scenes were right out of some MGM spectacular.
Rob Aronowitz was the superb fight choreographer and the outstanding duel and armor scenes stood out with their muscle flexing swordplay. Ms. Lehr almost brought the late British actor Basil Rathbone back for some Robin Hood villainous swordplay. I once saw Basil Rathbone hailing a cab as part of the crowd of opera goers, in front of the Metropolitan Opera with his deep unforgettable voice calling "Taxi, Taxi."
The costumes by Marcia C. Kresge were perfection. Leonora's gowns were magical and Count Di Luna's outfits regal. The gypsies were colorful and Manrico heroic. Kudos to Make-up and Wig Artist Saori Morris.
So nice to see Regina Opera's President Francine Garber-Cohen; Executive Vice President Linda Cantoni; Treasurer Joseph Delfausse; Elena Jannicelli-Sandella, Vice President; and Box Office volunteer Marlene Ventimiglia, who keep us all comfortable and seated. Our group went to Casa Vieja Restaurant nearby for a lovely and lively Mexican dinner. Sunset Park is ablaze with hope and promise!
This is the last opera of the Regina Opera's 49th season. We look forward to the glorious 50th upcoming season.