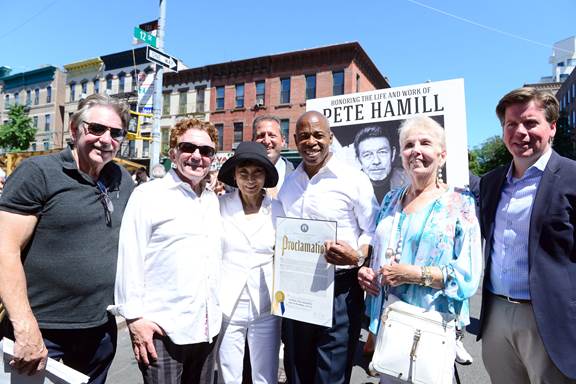 On Thursday, June 24, Brooklyn Borough President Eric Adams and Council Member Brad Lander unveiled the new Pete Hamill Way, on 7thAvenue between 11th and 12th streets in Park Slope. Hamill, who was born and raised on the block that now bears his name, had a storied four-decade career as a newspaper journalist, columnist, editor, and author in New York City.
At the ceremony, Borough President Adams and Council Member Lander were joined by members of Hamill's family, including his widow Fukiko Aoki and his brother Denis Hamill, as well as famed civil rights attorney Norman Siegel, one of his admirers.
"Pete Hamill was a true Brooklynite and New Yorker. He told the stories of people who are often overlooked in our city, and left an indelible impact on all who were fortunate enough to come into contact with him, whether in person or through his writing — myself included. It is a privilege to join his family in unveiling the new Pete Hamill Way to honor his myriad contributions to this neighborhood, this borough, and this city," said Borough President Adams.
"Pete Hamill captured the grit, spirit and people of New York City like no one else, and weaved together a tapestry of stories from every corner of the city," said Council Member Lander. "He started delivering the Brooklyn Daily Eagle when he was 11 years old, and he never stopped telling the stories of New Yorkers. He knew there was 'no one New York, but many New Yorks.' He showed that people across the boroughs with different backgrounds, beliefs, and status can share this one city and move it forward. Today we are honored to name the corner of Brooklyn where he was born in honor of Pete's contribution to the life of our city."
"We will remember Pete in positive ways. He was thoughtful and inspiring. He embraced the best qualities of NYC. We need to remember his legacy as a man who did not hesitate — and I might add very effectively — to speak out and educate us," said civil rights attorney Norman Siegel.
Pete Hamill was born in the Park Slope neighborhood of Brooklyn on June 24, 1935, the son of Irish immigrants. He dropped out of high school at 15 to work as a sheet metal worker at the Brooklyn Navy Yard, and joined the US Navy before returning to New York in 1957. After spending three years as a graphic designer, he got an opportunity to write for the New York Post despite having no journalistic experience. He spent the next several decades working in journalism in a variety of roles at the New York Post, New York Daily News, and Newsday. In addition, he was a celebrated author of fiction, nonfiction, essays, and screenplays. Hamill received numerous accolades for his work, including a Grammy Award in 1976 for his notes on Bob Dylan's album "Blood on the Tracks" and a George Polk Career Award. He passed away at the age of 85 on August 5, 2020.