On Saturday May 14, Brooklyn's Regina Opera now in its 46th year presented Giacomo Puccini's (1858-1924) Manon Lescaut, which was the composer's first great success. Jules Massanet had already written his Manon in 1884 but Puccini felt two operas about the same fascinating subject could easily thrive. Manon Lescaut premiered at the Teatro Reggio in Turin, Italy in 1893. Its first performance at the Metropolitan Opera was in 1907 with rhapsodic tenor Enrico Caruso and the ravishing soprano Lina Cavalieri. Since then all the great tenors and great sopranos have sung the much coveted roles of Des Grieux and Manon Lescaut.
Manon Lescaut is in four acts and takes place in 18th century France. Renato Des Grieux, while cavorting with his fellow students, is smitten by a girl who is exiting a coach. She is escorted by her brother Lescaut on her way to a convent. Des Grieux, convinces her to elope with him. Geronte di Ravoir, an elderly official, plans to run away with Manon offering her wealth and jewels for his "fatherly affection."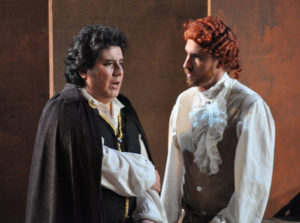 Tired of poverty with Des Grieux, Manon goes to Geronte and lives with wealth, but misses the passion of Des Grieux. Des Grieux, now wealthy from gambling woos and wins Manon again. Geronte denounces Manon as a prostitute. Instead of fleeing immediately, Manon tries to collect her jewels and, because of the delay in searching for and collecting them, is captured by the soldiers.
Manon is sentenced to exile in America with other prostitutes. Des Grieux begs the ship's captain to let him come aboard as a cabin boy so he can be with his beloved Manon.
In the final act the lovers, having escaped the authorities, are on a desolate plain in Louisiana, starving and thirsty. Manon regrets her follies, expresses her love for Des Grieux, and dies in Des Grieux's arms.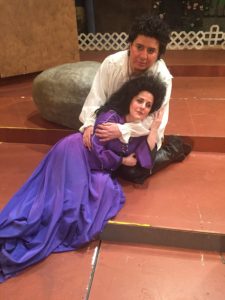 Manon was portrayed by soprano Sabrina Palladino.  Ms. Palladino has many fans in the metro area and New Jersey, where she is known for her dynamic and legendary performances. Her singing of "In quelle trine morbide" in the second act was magical. Her soprano, which has delicacy, color and grace, is not really one that dominates by size. It commands intimacy and pathos. Yet her voice carries very well and soared to the heavens when called for.  Ms. Palladino's impeccable diction and vivid acting brought Manon's plight to one and all. In the last act, her singing of "Sola, perduta, abbandonata" was heartbreaking in its lamentation. That she died "Le mio colpe sereno" with the love of her life was the only solace. Ms. Palladino's interpretation was unforgettable. It simply stays with you in memory and won't let go.
Des Grieux was sung by Percy Martinez, whose stalwart, serviceable tenor evolved to a memorable portrayal. His lighthearted singing of "Tra voi belle, brune e bionde" was nicely done. His "Donna non vidi mai" had him a bit short at the top, and went by sans recognition as the great aria it really is. His duets with Manon went from strength to strength and his big aria in the third act "No, no Pazzo son" found him on his knees sobbing, belting out full throated high notes with abandon and splendor. His laments at Manon's death and their love duet "Manon, senti amor mio…" were extraordinary in their emotional wallop.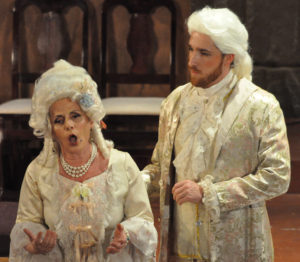 Nathan Matticks was a clarion and robust voiced Lescaut.  Matticks' resonant baritone was heard in "E a chi lo dite ed io da figlio" and other phrases with a suave and dominant tone.
John Schenkel portrayed Geronte as a cruel despot who did not enjoy playing the fool and gave Manon a very vengeful course leading to her tragic death. His adroit baritone was utilized to the fullest in a vivid portrayal. Schenkel also doubled as the captain.
Baritone Charles Gray was the Innkeeper/Sergeant, the versatile Wayne Olsen was the hairdresser and Reuven Aristigueta Senger was the hurried, harried Dancing Master.
David Bailey was Edmondo and the Lamplighter, his lilting tenor sparkled; Noelle Currie's fine soprano served us well albeit briefly, as the Madrigal Singer.
The excellent ensemble and chorus consisted of Shelly Barkan, Samantha DiCapio, Catherine Greco, Margaret Keymakh, Marta Kukularova, Lily Lu Lerner, Wayne Olsen, Jennifer Klauder and Ksenia Stepanova.
The lively and captivating children were Nomi Barkan and Isabela Decker.
Maestro Gregory Ortega led the superb Regina Orchestra in a thrilling musical journey of the suddenly blooming young Puccini with Wagnerian themes and great heartfelt melodies of pathos and power. The Intermezzo was a revelation with bursts of beauty, sweep and grandeur. Yelena Savranskaya, violin concertmaster, was an inspiration, as was Michael Vannoni on the viola. Kudos to Michael Sirotta on percussion, Kathryn Sloat on the harp and Richard Paratley on the flute.
The costumes by Julia Cornely were brilliantly ornate when needed and threadbare when the times were not so good for poor Manon.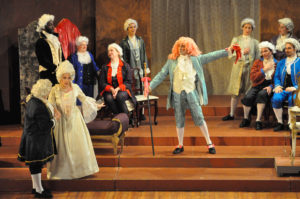 The backdrops by Richard Paratley who also serves as principal flautist, evoked both the extravagant and the unfortunate aspects of Manon's journey from opulence to demise.
Tyler Learned's lighting touch added greatly to the scenes and Linda Lehr's stage direction went brilliantly and smoothly.
Linda Lehr's special theatrical skills carried us on that fateful journey of Manon Lescaut and Renato Des Grieux and left us with a priceless tableaux and memories of Puccini's first masterpiece.
We thank the Regina Opera staff for a brilliant 46th season of opera in Brooklyn. Here's to Regina Opera's 47th season. Bravo to all!