On December 31st, the Amore Opera celebrated the incoming 2020 with a glorious New Year's Eve gala of opera and dinner at St. Paul & St. Andrew's Church in New York City. Artistic Director Nathan Hull welcomed one and all to the Amore Opera's tenth season. Many received New Year hats and noisemakers to properly ring in the new decade.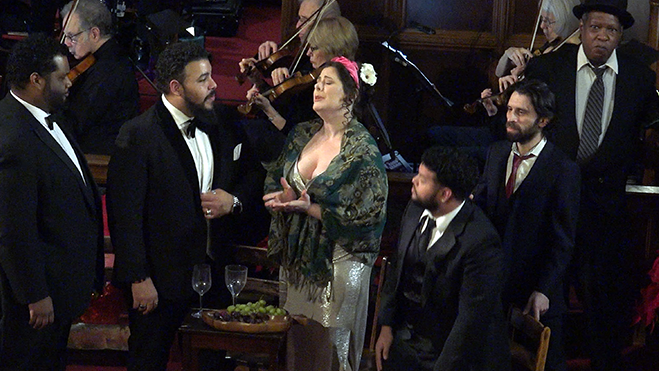 Nathan Hull, who did the superb staging, directs the Amore Opera in the style of the late beloved Anthony Amato (1920-2011) who retired in 2009 and Sally Amato (1917-2000). The Amore Opera gave its first performance of La Bohème staged by Nathan Hull and conducted by Maestro Richard Owen, who returned tonight to help Amore Opera celebrate its tenth year. The second acts are usually joyous and the main characters haven't been subject to tragedy yet.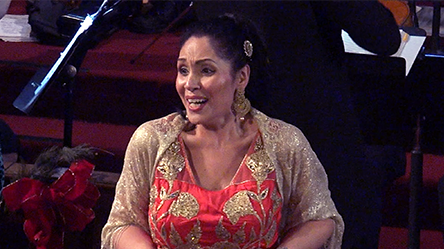 But before La Bohème, Carmen and Die Fledermaus, the ebullient and elegantly attired host Nathan Hull had the singers entertain us with one of his favorite operas, Giacomo Puccini's operetta La Rondine (1917). The Quartet was caressingly sung and this bittersweet opera does not end tragically. But like the film masterpiece, The Umbrellas of Cherbourg (1965) with a touching score by Michel Legrand, the couples' love dies leaving them from the life that could have been but never was. Catherine Deneuve was so poignant in this superb love story. In La Rondine, the Act Two quartet "Bevo al tuo fresco sorriso" tugs at the heart. Soprano Alexys Tiscareno played Lisette with impressive panache and voluptuous luminous sound. Tenor José Heredia hit some heavenly high notes, his rich voice full of the sensual joyous sound of young love. Soprano Rachel Hippert as Magda (Pauline) seemed bewitched by her deception, hitting climactic highs while baritone Luca Fric completed the passionate outpourings with his suave manly sound. It was so nice to hear this touching and exciting music by the great Puccini in such a tender story.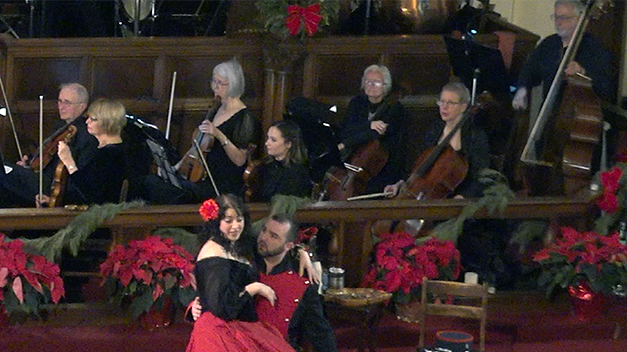 La Bohème Act Two, takes place at the Café Momus on Christmas Eve in Paris. Four starving artists share a flat and are out for a night of frolic. All are desperately poor: Rodolfo, a poet, Marcello, a painter, Colline, a philosopher and Schaunard, a musician. Rodolfo and Mimi fall in love, but Musetta, Marcello's ex-girlfriend is there with her new older and richer companion. Musetta (Victoria Wefer) flamboyantly arrives, then sings "Quando m'en vo" in a beautiful soprano hitting the highs with sensual splendor. Her screams of pain from ill fitting shoes were piercing enough to fool Alcindoro amusingly played and sung by David Owen, to go out and buy her another pair thus enabling Marcello and she a chance to kiss, embrace and "make up" gloriously. When Alcindoro returns he is handed the bill as Parpignol, the toy vendor, leads a parade for the children. The Rodolfo was rising tenor José Heredia who sang some truly golden phrases. He is becoming one of the best lyrico spinto tenors and is a proud son of the tropical isle of Santo Domingo.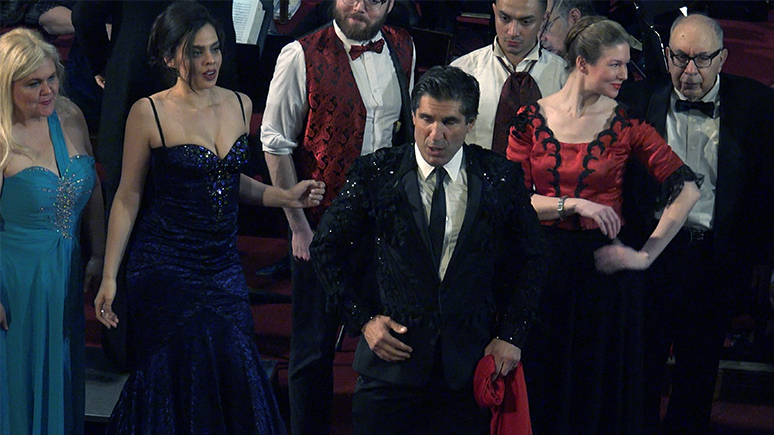 The spirited Marcello, Jonathan R. Green, had a majestic powerful baritone and was impressive. His interplay with Musetta was fun to watch even when she doused him with water. Mimi was portrayed by Rachel Hippert, Schaunard by Samuel Flores and Colline by Gennady Vysotsky. I would have loved to hear him sing Vecchia Zimarra (The Coat song) but that's in the final act.The guests, Alexys Tiscareno and Luka Fric made their presence known with color and flamboyance and vocal elan.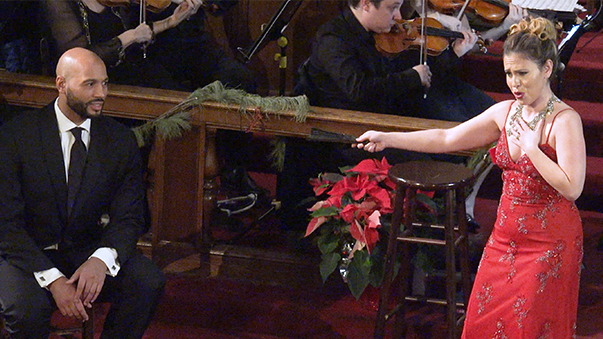 Carmen was presented next with its thrilling overture offered as a special gift by Maestro Richard Owen. In my young boyhood, the Carmen overture was part of our music appreciation class and made me take notice of such classical gems! Maestro Owen led the orchestra in a particularly full sounding version reviving the goosebumps I felt hearing it in music appreciation class at P.S. 200 in Bensonhurst-Bath Beach, Brooklyn. Schools should be having such introductions to classical music today.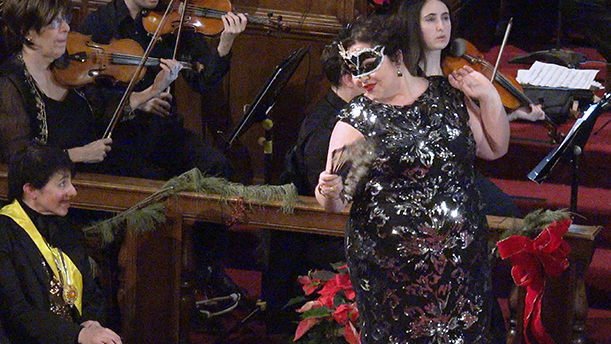 Iris Karlin was a sultry, subtle sexy Carmen, her dark sound was sensual, luscious and intimate. Her Seguidilla was a whirlwind of precision and passion and her "Tra la la" melody was as caressing as the cloth that captured the head fresh off the guillotine. Ms. Karlin knows Carmen inside and out. Her Carmen was calculating, contemporary, freedom seeking and always a strong part whore troublemaker. Her Don José was the excellent Albanian tenor Riad Ymeri, whose years in Italy led him to his career here. There were many golden outpourings rising with real dramatic fervor. When my wife Judy and I first heard Riad as a marvelous lyric tenor I did not think of him as Don José. His superb singing of the flower song slightly tapered on the high finale was heartwarming and really good. He is on his way!
Megan Marod caught the eye and the ear as Frasquita. In ensemble, her dynamic soprano ultra high notes stood out and her eye catching acting enticed. Enchanting voiced Perri Sussman was stellar as Mercédès. Escamillo was in the able hands of Roberto Borgatti whose robust baritone made the most of "Votre toast" ("The Toreador Song") and whose machismo put him in the realm, somewhat limited today) of good manly Escamillo's. Rick Agster excelled as Zuniga, Julio Mascaro as Remendado and Thomas Geib as Dancaïro. Trey Sandusky was "a su sordones" or "at your service" at Lillas Pastia's Inn. To see Don José and Escamillo thrust knives was hair raising. Their passionate anger made one think of what was yet to come.The dialogue was in English and the arias in French.
After a superb dinner (no Toro) but pasta, fish, fowl, wine and countless other savory foods, we headed back for Die Fledermaus. Johann Strauss' opera is full of waltz melodies and is also called the Revenge of the Bat.The action takes place in Vienna on New Year's eve in the 1870's.The excellent dialogue and arias were in English. Dr. Falke invites his friend Eisenstein to attend a party at Prince Orlovsky's mansion, instead of serving a jail sentence. He also invites Eisenstein's wife Rosalinde so she can see her husband's philandering. Adele their chambermaid attends as an actress. The jailer Frank is invited as a French Marquis and the fun and frolic begins.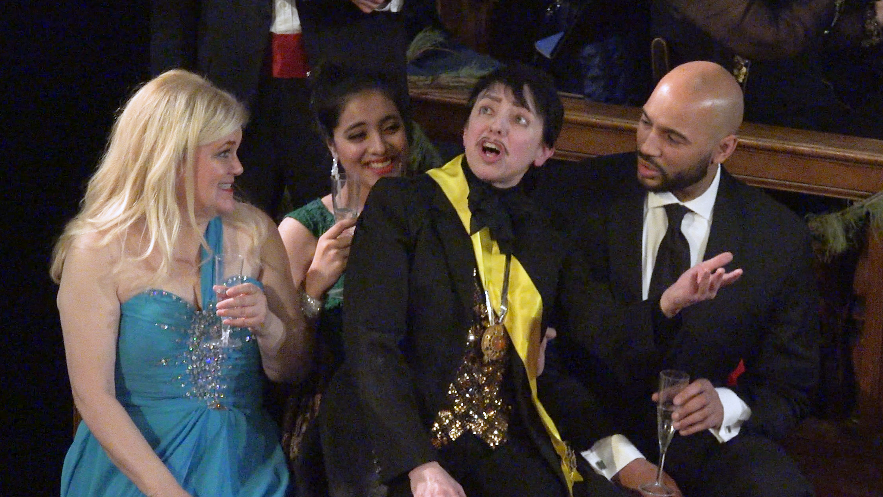 Mezzo soprano Hayden DeWitt was Prince Orlovsky. The essence of androgyny with her male attire, strong mezzo and mustache, she looked like Charlie Chaplin and Al Pacino. Her "Chanson a son gout" aria was done with sparkle and brio and her King Champagne song certainly suited the evening. Blame it on Rio was a film with Joe Bologna and Michael Caine and the excuse for all their wrongs was Rio de Janeiro), so whatever happens, blame the champagne. Ashley Becker as Rosalinde, used her rich flexible captivating soprano in her Hungarian Gypsy song "Czardas," ending with a brilliantly sustained high note. Rosalinde's chasing her husband Eisenstein, with his gold "flirting" watch evoked memories of the great film comedian Marie Dressler who was hilarious in Tillie's Punctured Romance, a full length silent film (1914) where she was a match for Charlie Chaplin! She won an Oscar for her unforgettable double take with Jean Harlow in Dinner at Eight in the early 1930's. Ms. Becker is a "super" talent.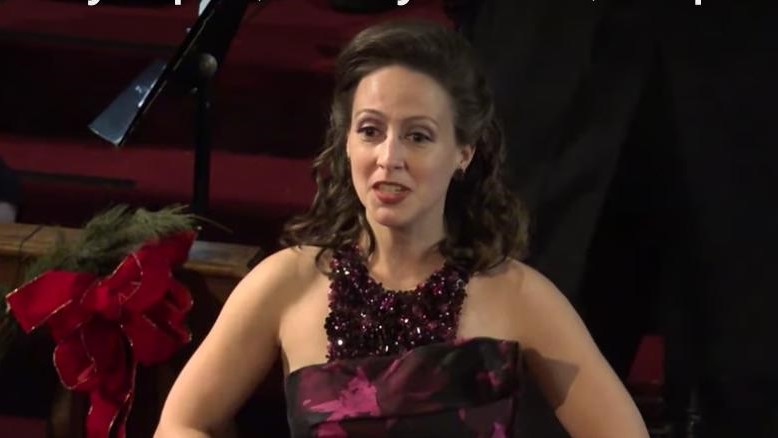 Gabriel von Eisenstein was played by Christopher Eaglin whose impressive tenor expressed dismay in his problems. Adele the chambermaid, was vibrantly sung and acted by Alea Vorillas whose soaring and lovely soprano sang her laughing song with coloratura agility and generous tone. (Florence Foster-Jenkins, made a recording of Adele's "Laughing song" that will have one laughing!) "I love he ( or she) who yearns for the impossible." (Goethe) Coloratura soprano Holly Flack was a guest at Prince Orlovsky's party and sang an extra spectacular "Doll Song" from Offenbach's Tales of Hoffmann. The encore was the Queen of the Night aria from Mozart's The Magic Flute.The audience was completely blown away by the power, agility and outer space high notes to spare. I hope the Metropolitan Opera takes notice! 
Sublime baritone Robert Garner was Dr. Falke. Garner's elegant and silken voice has a robustness evoking the greats of the past.The Bruderlein song "Just one kiss" with cast and resounding chorus always touches all the right spots with its majestic sweep and nostalgic longing.The English dialogue was well done and left us all clear about the madcap fun.
James Stephen Longo was the absolute Ivan! Dramatic soprano Kristina Malinauskaite was Sally, ingratiating and vocally noteworthy and Jay Gould was Frank the Governor of the jail. Mr.Gould is also the videographer of the production. Gould's fine comedic stance and dark deep voice made him a formidable presence but always irresistibly amusing. No wonder he is such a great Gilbert and Sullivan performer. The conductor Richard Owen had the joie de vivre to have the splendid musicians take us all on a joyous ride conducted with vivacious Viennese flawless flair.
It was nice to greet our friend Scott Wiley on the french horn and Richard Paratley on the flute. Great music makers in a great ensemble. Nathan Hull's stage direction was brilliantly done and the chorus, children's chorus and costumes were perfection.
This Fledermaus act ended with the Champagne song about 2 minutes before midnight. Nathan Hull and the singers gave out glasses of champagne and had us all sing "Auld Lang Syne" and toast the New Year 2020! Desserts and a brief concert followed and the new year was off to a glorious start!
We tip our feathered New Years hats to Anthony and Sally Amato of beloved memory and artistic director Nathan Hull, staff and singers who put the love in the "Amore" Opera. Happy New Year and happy tenth anniversary to the Amore Opera.