On the afternoon of Sunday, October 21st, The Giulio Gari Foundation presented the Winners of the 2018 International Vocal Competition. The gala event was held at the famed New York Athletic Club in New York City across from the now autumnal Central Park.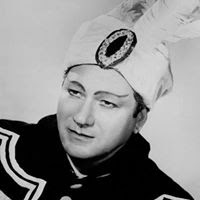 The colorful and informative program reminded us that the mission of the Giulio Gari Foundation is to discover and encourage young classical singers of the highest quality. They received their awards at the annual Gala Winner Concert and dinner which introduces them not only to the public but to the professional world of opera and classical music. Creating the Giulio Gari Foundation was the inspiration of Stephen De Maio and Licia Albanese who admired Giulio Gari (1909-1996) not only as an artist but as a human being and friend. His years as a lead tenor was at the New York City Opera (1945-1953) and the Metropolitan Opera (1953-1961). His generous spirit lives on with his wife Gloria Gari and family, all of whom share the glory of his legacy by helping young singers perform for a public that thirsts for the beauty they offer. Thanks to the Giulio Gari Foundation there will be no roses blooming in the desert unknown and sight unseen.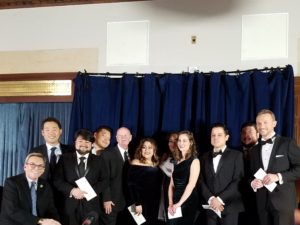 The concert began hosted by Ken Benson of Columbia Artists Management and the Met Opera broadcasts and co-hosted by Scott Barnes, Broadway expert, director, judge and coach. Brian Kellow who passed away on July 22nd of brain cancer was married to Scott Barnes and both Benson and Barnes paid tribute to Brian's brilliance as a writer, opera host and warmth as a human being. Scott was an erudite host and found strength in the ever loving spirit of Brian Kellow. There is a special section in the program booklet "In Memoriam" dedicated to Brian Kellow with touching photos of Brian and Scott.
The program began with "Ah! Je ris de me voir…" from Gounod's Faust sung by soprano Marlen Nahhas. Ms. Nahhas soaring soprano had a safe, secure technique and a strong top. It whetted the appetite to hear her in other repertoire like a treasure chest submerged and full of mystery. A very fine job! The award was given by Barry Schenk.
"Largo al factotum" followed from Rossini's Il barbiere di Siviglia and was sung by baritone SeokJong Baek. Mr. Baek had a range that allowed him to take the liberties that iconic baritone Lawrence Tibbett had at his disposal: stunning cadenzas, roulades, and flourishes that energized this great aria to special heights. Ironically Tibbett (1896-1960) sang the Barber only once in his entire career. Mr. Baek sang it with ringing freedom, stratospheric highs, dazzling scales, and "Italianate" abandon. Tibbett would have been proud and so was I! The award was given by Louise Simmons and Robert Funck.
(I sang this aria as a youngster at age 13 and was a winner on the Ted Mack Amateur Hour in 1949. I was also a protege of bandleader legend Paul Whiteman (The American Idol) way back then. I learned it phonetically and heard it on record by the great American baritone, Lawrence Tibbett.)
Soprano Jana McIntyre was next with "O zittre nicht, mein lieber Sohn" from W.A. Mozart's Die Zauberflote. It evolved into a spinning wheel of coloratura, power, elocution and dynamic structure that made us see the essence of the divine Mozart. The award was given by Frank DeRosa in memory of Lucia DeRosa.
Tenor Dangelo Diaz sang "Pourquoi me réveiller" from Werther by Massenet. Mr. Diaz has a pleasing voice, one that wants it to be less laid back in lyricism and more in impassioned thrust. I sensed like a skier, he was mulling the next climb rather than just overtaking it with seeming ease. I have heard Franco Corelli and Alfredo Kraus, differing voices with different techniques sing the heck out of it with both lyrical and dramatic intensity. A little more intensity and Diaz can be listed in that unrivaled list of Werther's. He's got the goods – just get out of the woods. His award was given by Jack and Anna LaPadula in memory of Lucia DeRosa. Any relation to famed accordionist Johnny LaPadula – family friends from long ago?
Another sampling from Massenet was "Pleurez! pleurez mes yeux!" from Le Cid sung by Helena Brown. Her burnished mellow soprano had power, fury, allure and an inner mezzo soprano. The great American soprano, Rosa Ponselle had mezzo like darkness and sang Carmen at the end of her career. I kept thinking Amneris more than Aida. Time will tell! Helena Brown is a force of nature. The award was given by Joyce Greenberg.
"Nemico della patria" from Andrea Chénier by Giordano followed. Jaeman Yoon has a strong secure baritone and worked hard to capture the Italianate brio that goes with this role.The immortal Leonard Warren studied with legendary baritone Giuseppe De Luca and the Bronx born Warren, captured the Italianate style. Dr. Philip Frezzo gave the award.
"No puede ser" from La tabernera del puerto by Sorozabal was sung by tenor Cesar Delgado. This Zarzuela piece is a "must" for high Spanish tenors and can capture one's heart by its blazing intensity. Surprisingly it is one of Placido Domingo's best encores and always gets a rousing roaring reception. Mr. Delgado has some burnished low tones and throbbing high tones. He aimed for "rapid execution" at the finale but slightly missed the mark. Some of his extra "highs" were a surprise and I long to hear him in a concert of Spanish favorites. Like the great Alfredo Kraus, he has the goods. His award was given by Scott Barnes in memory of Brian Kellow.
Next was Verdi and from Rigoletto, "Cortigiani, vil razza dannata" sung by Kidon Choi whose fulsome baritone had soothing diminuendos, soaring high notes, strong legato phrasing, evoking sympathy and giving thrills. His musicality allowed the Italian phrasing and vocal flourishes to take over and the final "Pieta" was vivid both as a work by Michelangelo and a phrase by Choi. It was very well done. Bravo! The award was given by the Lissner Charitable Fund and was presented by the impeccable Karl Michaelis.
The final selection by first prize winner Hubert Zapiór was "Or dove fuggo io mai?"… "Ah per sempre" from I Puritani. His well-placed baritone negotiated the Bellinian line with the proper flourishes and sad momentum. His cadenzas and legato were flawless and just a tad more melancholy would create the perfect cocktail  – the Bellini! Bravo! The award was given by Max Kade Foundation Dr. Lya Friedrich Pfeifer, President.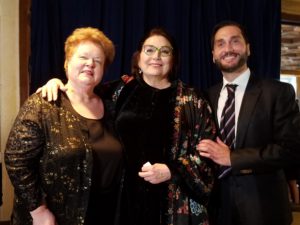 The brilliant accompanist was Jonathan Kelly from the Metropolitan Opera. His pianistic virtuosity was like a heavenly orchestra!
In between the singers' performances, three great artists were honored. Soprano Sharon Sweet looking as lovely as she did when I heard her Leonora at her Metropolitan Opera debut in 1990. I thought to myself, Ms. Sweet is in the great line of Verdi sopranos, Ponselle, Milanov, and Sweet. It was so nice to meet and greet Sharon Sweet and her husband John Sweet. She is a Professor of Voice at Westminster College in Princeton, New Jersey. Ms. Sweet accepted her award with pride and humility, advised the youngsters to never lose hope and to enjoy the musical journey. Sharon Sweet showed us all her persistence, endurance and a sense of vibrant family life with a delightful sense of humor.
Carol Vaness, Metropolitan Opera and international soprano I saw and heard in Tosca with Luciano Pavarotti. Her 30-year career was a wonder to behold. She now teaches and mentors a new generation of singers and is as vital and vibrant as one can be at the Jacob School of Music at Indiana University.
Giuseppe Filianoti has been a noteworthy tenor since his debut in 1998. I remember his brilliant Edgardo in Lucia at the Metropolitan Opera in 2005, a sweet lyric voice with dramatic color. It was like a Mario del Monaco surrounding a honeyed tone. He still sings, makes CD's and gives master classes and is youthful and pleasant to talk to.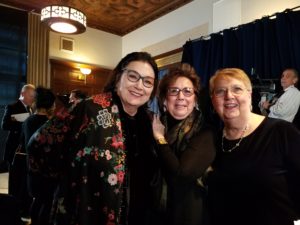 The souvenir program had a beautiful poetic tribute to the late  Glen Gary who was "a Prince of Players" by Steve De Maio.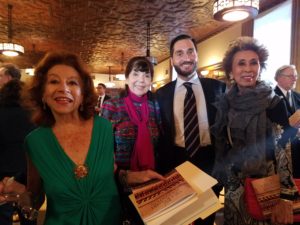 The concert was followed by a brief fascinating film, edited and compiled by opera lecturer Lou Barella, with footage by Glen Robert Gary and Ron Harris. Some of the highlights of the film showed the great basso Jerome Hines singing "Ol' Man River," magnificently in his old age. Soprano Elinor Ross singing a glorious Gershwin's "Summertime" at a Gari Gala years after her retirement, soprano ever youthful, Elaine Malbin wonderfully singing "Meine Lippen Sie Kussen So Heiz" from Lehar's Giuditta, Jerome Hines's wife Lucia Evangelista and Giulio Gari in golden duet from La Traviata, grand soprano immortal and  sorely missed Licia Albanese belting out two final notes from The Star Spangled Banner from one of her superb galas and Giulio Gari in a ringing, heroic "Celeste Aida."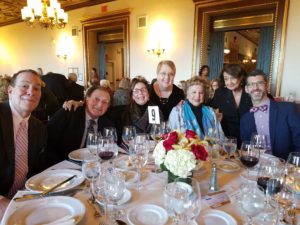 At this splendid affair, it was nice to see Artistic Director Stephen De Maio President of the Gerda Lissner Foundation and his sister Marie De Maio, extraordinary educator, Gari Board members, dapper Karl Michaelis and ever stylish Joyce Greenberg, Cornelia Beigel from Gerda Lissner, legendary Met mezzo Rosalind Elias, unforgettable Met soprano Diana Soviero and impeccable impresario Bernard Uzan, saucy soprano Elaine Malbin from New York City Opera, Met mezzo soprano the sparkling Jane Shaulis, who is also President of Opera Index and Joseph Gasperec, Executive Director from Opera Index, soprano Barbara Ann Testa, vocal coach Tamie Laurance, talented conductors Maestro Eve Queler and Jan Josef Wnek, very chic Sachi Liebergesell former President of the Licia Albanese-Puccini Foundation, affable lawyer Brian O'Connor, Artists Personal Managers agent Michael Rosen, Betty Cooper Wallerstein, the great civic activist, Anthony Laciura, Metopera tenor and television actor and charming wife Joel, industrious Bill Ronayne from The Mario Lanza Society and classy Michèle Classe export consultant and husband Anthony added their vibrant presence.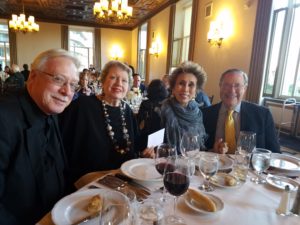 The delicious dinner with Butternut Squash Ravioli and succulent chicken, potatoes, and vegetables gave us all the opportunity to wine and dine in fine splendor. We think about past and present and contemplate the "stars," both the ones on view in the heavens and the young awardees with stardom in their future. Thank you beautiful Gloria Gari, family, staff and awardees for this incomparable and unforgettable gala event.