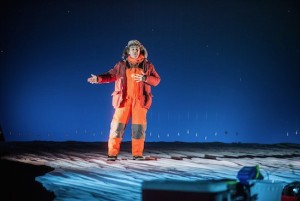 This past Sunday night at St. Ann's Warehouse in DUMBO, Mark Rylance's and Louis Jenkins's farcical, lyrical, melancholic, brilliant play "Nice Fish" had its opening night performance. Combining equal measures of Eugene Ionesco and Sherwood Anderson, "Nice Fish" is still sui generis. Alternately hilarious and doleful, the play is indisputably the yardstick by which the rest of Brooklyn's 2016 theatrical season will be measured. Congratulations of the highest order to St. Ann's Artistic Director Susan Feldman, Minneapolis's Guthrie Theater, which commissioned the play in 2013 and, most of all, to the American Repertory Theater, which produced it.
It would be churlish to single out any of the five cast members for praise. Suffice it to say that Rylance, Raye Birk, Kayli Carter, Bob Davis and Jim Lichtscheidl are all uniquely, and distinctively, outstanding. As are Claire Van Kampen's direction and music, Todd Rosenthal's scenic design and Japhy Weidman's lighting design.
Among the guests praising the production at the after party were actors Holly Hunter, Gabriel Byrne, ex-New York Jets great and NFL color commentator John Dockery and Diane Borger, the play's producer (who graciously gave up her aisle seat to this reporter).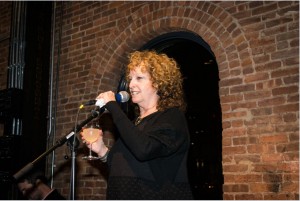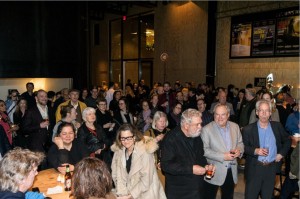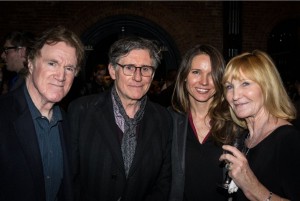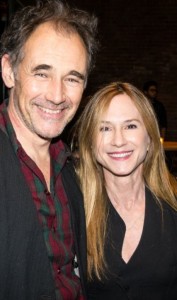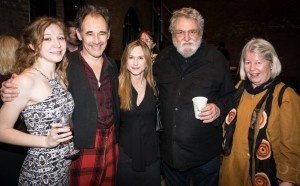 After Feldman's introductory acknowledgments, she invited Rylance to the podium. In his customarily idiosyncratic, unfailingly generous fashion, he spoke about the play's gestation and his longstanding relationship with both St. Ann's and the A.R.T. He also reflected on how appropriate it was that St. Ann's is on the Brooklyn waterfront, since "Nice Fish" is set on the frozen waters of one of Minnesota's 1,000 lakes. And he reflected on the spectral presence of Walt Whitman, both in the play and in his present surroundings. It was classic Rylance: modest, quirky, cerebral, free-associative and gracious. Let's hope he has the chance to display these qualities to a national (and global) audience this coming Sunday at the Academy Awards…
"Nice Fish" runs through March 27 at St. Ann's Warehouse.