The Rockaway Post Theatre Company presented an exciting production of Arthur Miller's play A View From the Bridge on Saturday evening, October 6th. The company is located in Fort Tilden, an old historic Army installation between Riis Park & Breezy Point in the Rockaways. This whole area is now part of Gateway National Park along with Floyd Bennett Field, which was a prominent airfield in World War I & II.
A View from a Bridge was written by Arthur Miller in 1955 as part of a two short play production. He re-wrote it as a two-act play the following year. At this time in our history, this play about immigration is very à propos. My wife Judy and I saw it as an opera a few years ago at The Vertical Player Opera on Court Street in Cobble Hill Brooklyn. We were profoundly moved by this as an opera by William Bolcom and now we see it as the magnificent play, a work of understanding and genius. Arthur Miller, a renowned Brooklynite (1915-2005) lived in Brooklyn Heights and we would sometimes see him or author Norman Mailer walking amidst the citizenry of that fabled Brooklyn area. Arthur Miller and his wife Marilyn Monroe often dined at Cafiero's Restaurant, a legendary eatery that is now an artist's loft nearby. My father Santo (Sam) Pantano had a Florsheim Shoe Store on Columbia Street for many years in the 1940's and 1950's and he was privy to the gangsters and characters of Red Hook, South Brooklyn. Judy and I have lived on President Street for 35 years just across the street from where my father's former shoe store was on Columbia Street. As a young man, I would walk to the shoe store from St. Francis College that was originally on Court and Butler Streets, my Alma Mater, which was near Ebel's Restaurant and Ice Cream Parlor and the legendary College Bakery. The "old timers" still call it Red Hook or South Brooklyn and have never really embraced the "new" and uppity name of Carroll Gardens. The neighborhood has changed now but the Italian flavoring still strongly exists with Mazzola's Pastry shop, the famed House of Pizza & Calzone on Union Street operated in the "old days" by the legendary much loved Giovanni (John) Teutonico and Onofrio Gaudiso. They on occasion still visit current owner Paul DiAgostino and like all of us, are so happy that the tradition is held sacred and continues to this day with great pizza and calzone. On nearby Court Street, Court Pastry, Caputo's Bakery, Monteleone's Pastry, Esposito's Pork Store, Mazzone's Hardware and a few others are still active in the neighborhood.
When my father had his shoe store, Virgilio Santamaria was the photographer who lived upstairs. He had a cousin, the nuclear scientist Enrico Fermi who told my Uncle Cologero (Kelly) that the longshoremen lived better than he did. The great tenor Enrico Caruso sailed back to Italy to die in 1921 with his wife Dorothy and baby Gloria from Pier 7 nearby waving to the multitudes who saw him off. A decade earlier, Caruso, surrounded by police and undercover, went to Van Brunt Street to capture suspected Mafiosi who threatened him and his family. They were in reality two out of work Italian immigrants who desperately needed money. Ever faithful to his fellow Italians, Caruso was the first one to sign a petition to have them released. Lieutenant Petrosino intervened years before to protect the great tenor from Mafia threats. (See the film "Pay or Die" with Ernest Borgnine as Inspector Petrosino). The legendary "Mondo the Midget" was a gangster wannabee whose job was to feed the pet lion the Gallo family "adopted" to put fear in the hearts of their creditors. It was a rich textured neighborhood and Arthur Miller, sitting in Montero's Bar along the taverns on Atlantic Avenue, first heard the story that inspired A View from the Bridge. It is Italian oral tradition conceived in whispers, the disgrace and tragedy of Eddie Carbone. If only Eddie Carbone had listened to the soothsayer, the lawyer Alfieri.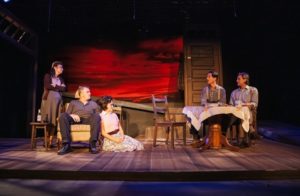 The setting is Red Hook, Brooklyn in the 1950's. The ominous sounds of horns and seagulls filled the theater with the cacophony of the Red Hook waterfront. Alfieri the lawyer narrates the tale, like a Greek chorus and is very much a "Beware the Ides of March" prophet. Bernard Feinerman, a well-known actor from Brooklyn Heights, was an almost Biblical figure, a "wise" man, a prophet raising his voice against a tide that Eddie Carbone embraced. His advice to Eddie is simple pure truth, but it falls on "deaf" ears. Alfieri warns Eddie repeatedly not to pursue what he is feeling, but Eddie stubbornly holds his old beliefs, which consume him and swallow him whole. Feinerman's excellent diction, emphasis on truth, nobility of utterance, wisdom in law and religion, made him a prophet without honor, an eloquent angel who could not break the wall that the devil set up. In Sicily, honor supersedes law! "You can NEVER have her, Eddie – only GOD makes Justice." Alfieri's advice to Eddie, "Let her go and give her your blessing!" was not heeded. Mr. Feinerman gave us a haunting and unforgettable performance that evoked Charlton Heston's biblical Moses. The striking blazing reds of the backdrop gave us grandeur and the illusion of a Cinemascope film. Frank Caiati is a talent combo of Frank Capra, David Lean and Cecil B. DeMille.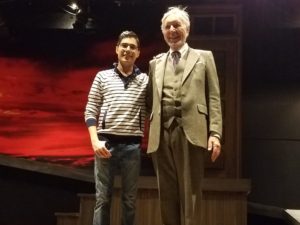 Eddie Carbone was portrayed by Robert Wilkinson, who gave a searing and soaring performance and was a stubborn and complex character who evoked sympathy from his audience, never contempt. One never really felt that he was disgracing his wife and himself by his obsession and infatuation of his niece Catherine. He and his wife Beatrice had raised her since she was a little girl. Now at 17, she is a young, vibrant and pretty young woman, perhaps a bit flattered by his attention but perhaps also naive. I spoke to Mr. Wilkinson and wondered how he captured the essence of Sicilian Eddie Carbone so well. He told me he had some Italian relatives and was able to use that as a reference in capturing Eddie's character. A truly praiseworthy job, a brilliant performance. A question – in the final, fatal scene with Marco, perhaps subliminal – does Eddie fall on the knife to end it all?
Melanie Mahanna was utterly captivating as Catherine, niece and the "adopted" child of Eddie and Beatrice. She had a sweetness that was beguiling and a "naivete" that was part of the adolescent package. I do not think that there was anything in her lighting up Eddie's cigar although some might. Her walking around in her slip was not really provocative but who knows what a gossamer garment might provoke? Surely the cigar lighting pleased Eddie very much and it just might have pleased her to make him happy. It is very important that her portrayal steer clear of ambiguity of character. There is and should not be any nuance of ambiguity. Her basic character of goodness must be retained. Her scenes with Rodolpho were in earnest, sex or not, they were normal for a girl of 17. It is to Eddie that the abnormality falls and with a mighty volcanic crash buried in his own putrid lava.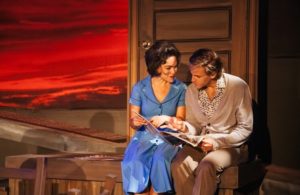 Jodee Timpone was superb as Eddie's wife. Her slow awakening to Eddie's problem was like watching a favorite painting melt from too much steam on a cold day. She slowly fell apart, the sameness of their life in Red Hook, his hard work as a longshoreman, hers, cooking and caring for their niece and feeling the chill still of his cooling feelings for her. The family dinner with Eddie and others crossing themselves was touching in its simplicity. What a sublime piece of work and a performance to remember. Bea's caressing of Eddie's dead body symbolized her whole life, devoted to Eddie Carbone.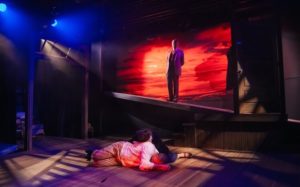 Rodolpho was in the skilled hands of Matthew Barrera. Rodolpho, illegal immigrant was "different." He loved to sing (Paper Doll, a 1950's song by the Mills Brothers) he could repair dresses and had an almost effete range of interests. The longshoremen thought him peculiar but Catherine showed interest in him. Eddie warned her about Rodolpho saying he would marry her only to become a United States citizen. In a chilling scene when he sees them together, he suddenly kisses Catherine full on the mouth and does the same to Rodolpho. Near the end, Alfieri arranges for the couple to marry.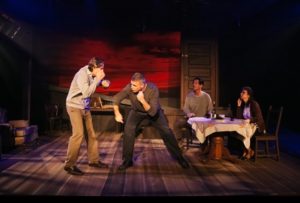 Marco was brilliantly portrayed by Guido Corno. Marco has a wife and children in Sicily who he helps support by coming to the United States to work and help. When he finds out that someone has called the immigration police (Submarines) he spits at Eddie. He and Eddie fight and Eddie gets stabbed and dies. This is the day that Catherine and Rodolpho are to be getting married.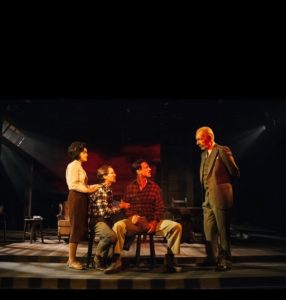 Fred Grieco and Brian Sadowski as friends, Mike and Louis were as true as truth itself with warm affable heartiness, Cronin Cullen and Eric Kramer were authoritative in their police officer roles, Francesco Ciaramella and Mike Whelan excelled as the "Submarine" immigration officers with sanitation men attitudes toward the human refuge at their disposal. Mr. Lipari (Kevin Abernethy) and Mrs. Lipari (Ruth Graves) were a perfect fit. The main course actors and ensemble made for a perfect dish, each blending in a perfect meal with extra virgin olive oil and fresh from the grape vinegar. This was a perfect performance of a great work and the wonderful and appreciative audience who applauded and cheered with great enthusiasm in the "wilds" of an oasis at The Rockaway Post Theatre.
Director Frank Caiati is a young man with a fine future. The direction was contained and intimate when needed and broad an expansive when necessary. One's eyes and mind were always focused on the proper protagonists. Directing is a soufflé that MUST work or it collapses. This was set up to perfection. The reddish sky, the stairway descending to Eddie and Beatrice's apartment, the bright scenes where Alfieri, like Moses, pronounces his apprehensions and philosophic truths were all indelible and compact. As Alfieri said, "I feel like a lawyer in Caesar's time – powerless to watch as the events of history run their bloody course." Eddie Carbone kept worrying about his being disrespected by all including his neighbors in Red Hook. His wife Bea, his niece, everyone not caring about the proper "respect" that was his due – but as a possible "snitch," his reputation was gone.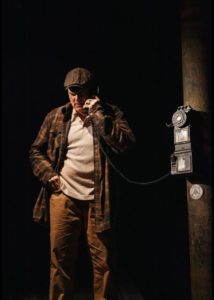 Red Hook today has Fairway and Ikea and some new buildings but some of the old "City Island" type areas remain. Sessa's Bank is gone from Union Street as is Frank Sacco's Department Store, several movie theatres such as the "Happy Hour" and "The Luna" are gone as are the Sicilian puppet shows (with Orlando Furiso – giant puppets Medieval armor battling Malagiggi the villain.) Ocean liners come in now and dock nearby. Rents and property values have escalated. The iconic swimming pool and parks remain. The housing projects once Scandinavian and Italian are still here as is the imposing Church of the Visitation. The pushcarts and small family owned stores are gone. But Eddie Carbone's days are memories and dust in the passage of time and a chill in the ocean breeze.
The souvenir program notes welcomed back Suzanne Riggs as Stage Manager, Adele Wendt as Assistant Stage Manager and marvelous costumier.
How do we love thee? For brilliant productions, hard working company, talent supreme, friendly audience, including many from "The Red Hook hood." A teacher friend of ours, a true gentleman, Les Kraft who lived in Far Rockaway proudly told us of his acting in this Far Rockaway Company. Just before the hurricane wiped out his house, he sold it, married and is now living in Florida. We thank him for his being a factor in our visit.
A resounding bravo to the Rockaway Post Theatre Company! This truly was a night to remember. The applause, cheers and peerless performance still echo in memory!