On the evening of Friday, October 28th, The Columbus Citizens Foundation located at 8 East 69th Street was the venue for Opera Night Live! hosted by Stephen De Maio with a special presentation by Lou Barrella. These fabulous evenings were begun by the late Dr. Frank Celenzia. The torch has been passed to Stephen De Maio, Gerda Lissner President, who has brilliantly hosted these special evenings of opera dinners for the last several years.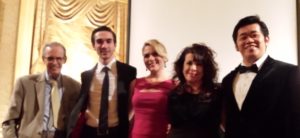 At the concert were three young promising singers: Maria Natale soprano, Fanyong Du tenor and Matthew Ciufitelli baritone, all accompanied by talented pianist and vocal coach Mary Pinto.
Mr. Ciufitelli was recently featured  in The NY Post because he was hired by Mick Jagger to be a temporary "back up" singer. Ciufitelli sang "Bella Siccome un Angelo" from Don Pasquale by Donizetti with a mellow and expressive baritone that easily negotiated the Bel Canto style of florid and heartfelt singing.
Soprano Maria Natale, fresh with California sunshine, in a stunning red dress, sang "Ah, fors e lui" and Sempre libera from La Traviata by Giuseppe Verdi. Ms. Natale is the possessor of a radiant soprano voice and sailed through the pyrotechnics of this showpiece aria nailing the high note with dazzling ease!
Fanyong Du tenor, was a promising ice skater in China. He was told to switch careers and sing after a judge chanced to hear him. This evening Mr. Du sang "Je crois entendre" from Bizet's The Pearl Fishers. A voice lyric but penetrating with a silvery quality, beautiful legato and fine breath control. His tapered notes were magical.
The operatic portion over, Mr. De Maio requested "lighter" fare. Matthew Ciufitelli and Maria Natale sang a touching "If I loved you" from Rogers and Hammerstein's Carousel and the charming and witty "Watch song" from Johann Strauss Die Fledermaus with Ciufitelli beguiling the Hungarian princess with his wrist watch.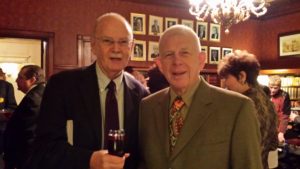 Fonyong Du joined the merriment in a sprightly "Shall We Dance" from Rogers and Hammerstein's The King and I with Maria Natale and they danced and sang enchantingly. (No ice skating) Mr. Du did one more encore, a thrilling "A te o Cara" from Bellini's I Puritani with a stunning high D. His voice brilliantly caressing this Bellini Bel Canto masterpiece, infusing it with gorgeous diminuendos and ravishing beauty.
Steve De Maio introduced famed Brooklyn born soprano Elaine Malbin and opera manager Ken Benson also from Brooklyn sitting next to Barbara Ann Testa, soprano and judge from the Gerda Lissner Foundation. Cavaliere Edward Jackson poet and scholar, photographer Anita Sanseverino and pianist Alba Mazza both well known to the Brooklyn cultural community were part of a captivated audience.
General Manager John Boden prepared a sumptuous repast of Ravioli pomodoro and basil, Osso Buco with risotto (or Filet of sole) with excellent wines to compliment the evening.
A special video presentation was given by educator/lecturer Lou Barrella born and raised in Brooklyn. Mr. Barrella gave brief presentations honoring former Met tenor Giulio Gari, famous worldwide Met soprano Elinor Ross and soprano Teresa Apolei. All three (Includng Gloria Gari) are judges for the various opera auditions. Despite a cold, Lou Barrella gave a very well documented tribute.
The renowned tenor Giulio Gari (1909-1994) sang at New York City Opera from 1945-1953 and at the Metropolitan Opera from 1953 -1961. His pure powerful tenor and personality made him a favorite of critics and audience alike. His many vocal students adored him. Mr. Barrella showed rare video of Gari singing with soprano Lucia Evangelista in La Traviata. His video of "Celeste Aida" showed a tenor voice radiant and in its prime. Giulio Gari's widow Gloria and a group from the Giulio Gari Foundation were present for this tribute. Gari was also a beloved vocal coach and the Giulio Gari Foundation headed by his widow Gloria continues his goals to assist young and promising opera singers in their careers. Steve De Maio is Artistic Adviser to the Giulio Gari Foundation.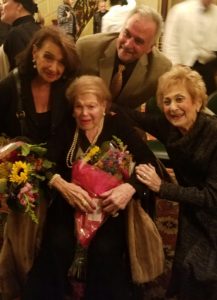 Next was the legendary Elinor Ross, from Tampa, Florida who had both a brilliant career in Europe and in the United States. Her dramatic soprano made her a great Norma, Aida, Leonora, Turandot and Tosca. Clips were shown of Elinor Ross with Mario Del Monaco in Norma. We heard her magical Pace, pace, from La Forza Del Destino and others. When Elinor Ross replaced an indisposed Birgit Nilsson as the Empress in Turandot at the Met, (1970-1979) the ovations were ecstatic! Then in an interview, Ms. Ross told how one morning she woke up with her face half paralyzed from bell's palsy. Suddenly her career ended. Years later (1996) at a Giulio Gari Gala, she performed again singing a brilliant "Summertime" from Porgy and Bess – a heroic, one time emergence. Ms. Ross, looking radiant, acknowledged the applause with her proud son illustrator designer Ross Lewis looking on.
The third honoree was the celebrated lyrico-spinto soprano from New Jersey, Teresa Apolei. Ms. Apolei is an American soprano who returned to our shores after a 15 year career in Italy  and Central America  in all the major opera houses. Ms. Apolei sang Santuzza (250 performances) in Cavalleria Rusticana and appeared in it with the great Brooklyn born tenor Richard Tucker in Philadelphia and also in Aida to Tucker's Radames.  Ms. Apolei recalled a Tosca so intense that she actually cut through Scarpia's outfit in the stabbing scene.  In Europe, she sang with opera tenor legends Ferruccio Tagliavini, Beniamino Gigli, Mario del Monaco and baritone Gino Bechi. She credited her parents and public school teachers for her illustrious career.
Mr. Barrella then presented each honoree, Gloria Gari, Elinor Ross and and Teresa Apolei with a special bouquet to resounding applause.
After that, we had  desserts consisting of  Italian cheesecake, cookies and fruit. It was a joy to chat with the singers and get the pulse of their studies, accomplishments and aspirations. It was nice to see Murray Rosenthal treasurer of Opera Index, composer Philip Hagemann Vice President and Tamie Laurance and Joyce Greenberg from the Giulio Gari Foundation.
We thank Steve De Maio, Lou Barrella and Anthony Carrera from The Board of Directors of the Columbus Citizens Foundation and General Manager John Boden and the singers for sharing their prodigious talent. It was an unforgettable evening of food and song. It provided us with the visceral thrill of hearing and seeing these talented performers on the cusp of a very bright future!