The Kosciuszko Founation was the venue for The Gerda Lissner Foundation 2016 Lieder/Song Vocal Competition Winners Concert on the evening of Friday, November 4th at 15 East 65th Street in New York City. Stephen De Maio, President of the Gerda Lissner Foundation introduced his board members: Michael Fornabaio, Vice President and Treasurer, the effervescent Cornelia Beigel, Secretary, Karl Michaelis, Trustee and Barbara Ann Testa Trustee. Mr. De Maio singled out many guests in the audience including Jane Shaulis, Met mezzo and President of Opera Index, Joseph Gasperec, Executive Director, Jane Marsh, soprano and lecturer, Scott Carlton from the Wagner Society, Gloria Gari from the Giulio Gari Foundation, Brian Hunter from the Musicians Club of New York, famed illustrator Gregory Downer and Alfred and Christine Palladino from the Columbus Citizens Foundation.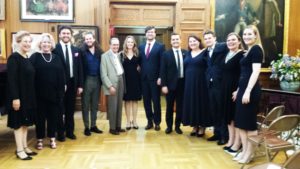 Hosting this special event was Midge Woolsey, whose speaking voice was a familiar presence on WQXR radio for 20 years and whose charm and persona warmed the heart and hearth on Channel 13 as well. When Steve De Maio introduced Ms. Woolsey and her lengthy credentials, she said it was easy to leave all that, having met and married her husband, economist Dr. Jerry Stolt. The tie in? LOVE as found in the song cycle of the evening. Cole Porter said it all in "Easy to love, all others above!" True love has its strong points but love unfulfilled is another story. Midge Woolsey answered that rhetorical question, "If not she, who would she be?" The answer – Arlene Shrut! our splendid accompanist because making heavenly music is a joyous thing to do.
The evening began with Cody Quattlebaum singing "Der Atlas" by Franz Schubert. Mr. Quattlebaum's dark bass- baritone plumbed the depth of each word reaching levels of fury and dismay and one could hear in his cavernous sound, Amonasro and Wotan. Love is angst and this case the weight of the world was on his shoulders. Atlas did not shrug but he did carry on quite a bit!
Kelsey Lauritano sang "Var det en Drom?" (Once I was your hearts true love) by Jean Sibelius. Her shimmering mezzo was like a lonely fjord, solitary and saddened. Sibelius, a loner, shared his feelings in this brief but telling piece. Ms. Lauritano ably created the mood.
Amanda L. Bottoms sang "Ich bin der Welt abhanden gekommen" by Gustav Mahler. Mahler's wife Alma gave him a very difficult time with her liaisons but he loved her deeply despite all. Who better than he to write of love's pain? Ms. Bottoms has a warm rich powerful mezzo and I thought Marian Anderson redux. She seemed to be a force of nature, a majestic sound and presence. A future Amneris?
Heather Stebbins sang" Unbewegte laue Luft" by Johannes Brahms, her vibrant  soprano shimmering like a cascading brook. Ms. Stebbins has a strong affinity toward the Wagnerian and that special refreshing sound. The real deal!
Miles Mykkanen sang "Nous avons fait la nuit" by Francis Poulenc with good breath control, sweetness and a nice dark edge to his tenor voice making love's pining pleasant to hear.
Felicia Moore sang "La Chevelure" from Chanson's De Bilitis by Claude Debussy. "I was stroking your hair but it was my own." Ms. Moore's soprano has sensuality, vitality, some good floated tones and a hint of Verdi down the road.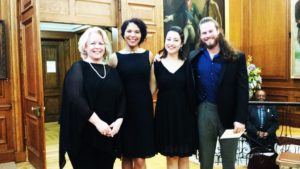 Part two of this somewhat bumpy road of love began with another "dark" voice, Anthony Schneider, bass. "Svarta Rosor" (Black Roses) by Jean Sibelius. In this brief but distraught song, Anthony Schneider revealed a cavernous sound and the music and feel of the piece evoked The Flying Dutchman in its angst and pain.
Samantha Hankey used her haunting mezzo to capture the essence of Franz Liszt in "Der Du von dem Himmel bist." Her dark hued, even and powerful voice with its well placed and paced vowels indicated that her training at Julliard paid big dividends for her!
Dennis Chmelensky  sang "Der Neugierige" by Franz Schubert in a fervent baritone. He was relaxed and focused despite a long train ride from Philadelphia. He has a plangent and strong focus and evoked memories of the charming and youthful Met baritone Theodor Uppman.
Angela Vallone, who recently sang in Cavallis' "La Callisto" sang "Flickan kom ifran sin alsklings mote" by Jean Sibelius. Ms. Vallone's vocal placement had that special mask sound and her vocal cascades and ascensions were thrilling giving one goosebumps. Ms. Vallone's unique and pleasing timbre will make her a specialist of rare operas as well as standard repertory. Sibelius music such as "Valse triste" can evoke great sadness and loneliness. Ms. Vallone truly tore at the heartstrings.
Lastly Erik Van Heyningen sang "Der Doppelganger" by Franz Schubert with youthful zest and charm. His dark edged bass baritone has a natural courageous and peerless sound. His upper and lower registers were effortless and his projection impressive.
The reception afterwards allowed one and all to meet and greet the singers and friends.The message of love and its consequences is an old one! The agony and the ecstasy has not changed. We thank the Gerda Lissner Foundation in collaboration with the Liederkranz Foundation for this lovely evening of lieder, showing love's ups and downs. The delicious reception afterward was presented by Philipp Haberbauer, General Manager of The Liederkranz Foundation.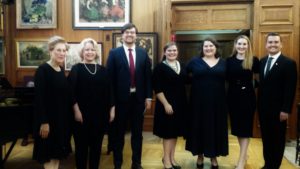 In Sicily they call it "the thunderbolt"- when one suddenly meets one's soul mate. It might be noted that the great Danish American Wagnerian tenor Lauritz Melchior (1890-1973) made some MGM musicals in Hollywood and sang "Easy to Love." He met his beloved "Kleinchen" when she, attending parachute school in Germany, fell into his arms from the sky in his back garden! Melchior 6 ft 4 inches of joviality, married his Kleinchen, a petite 5 footer and they lived "happily ever after."
As a veteran of marital bliss, sturm and drang (50) years I can attest to that! As Cole Porter so ably put it,in Kiss me Kate "So taunt me and hurt me deceive me, desert me I'm yours till I die, so in love, so in love, so in love with you my love, am I!"