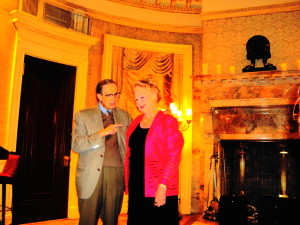 Stephen De Maio is now "Mr. Opera" in New York City. As President of the Gerda Lissner Foundation and Artistic Director of the Licia Albanese-Puccini Foundation to name a few, he has revitalized the operatic horizon for many awardees and brought many new arrivals to operatic careers. As host of Opera Night Live!, he is the "Ed Sullivan of opera with a really great show!" There are cocktails and finger food and a sumptuous dinner between the first and second part and dessert afterwards. Mr. De Maio decided to bring back opera nights after the passing of Dr. Frank Celenza who hosted these special soirees for years at the Columbus Citizens Foundation. The foundation is located at 8 East 69th Street in NYC and organizes the Columbus Day Parade and college scholarships for Italian American students among its many charitable duties promoting Italian American culture.
Anthony Correra from the Board of Governors introduced Stephen De Maio on Friday evening, February 26th and the program began with Mr. De Maio recognizing several special guests. Among them were soprano and Metropolitan Opera legend Elinor Ross, New York City Opera and acclaimed Met soprano and now vocal coach Diana Soviero and her husband Opera Director Bernard Uzan from Uzan International Artists, Gloria Gari from the Giulio Gari Foundation, Gerda Lissner trustee Barbara Ann Testa and patron Karl Michaelis, Nedra Zachary, President of the Loren L. Zachary Society for the Performing Arts based in Los Angeles with Peter Hubner who assists Mrs. Zachary and is a music arranger, Vice President and Brooklyn born Janet Stovin from Opera Index, author Luna Kaufman, Holocaust survivor and humanitarian, Commendatore Aldo and Lisa Mancusi from the Enrico Caruso Museum in Brooklyn, opera lecturer Lou Barrella and wife Kathleen.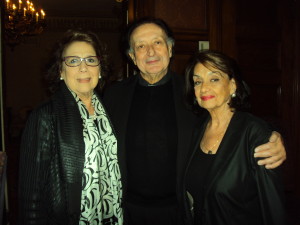 Part one began with the superb piano accompanist Mary Pinto and young soprano Amber Daniel. Ms. Daniel, who is a student of Diana Soviero, began with Vissi d'arte from Puccini's Tosca. Ms. Daniel's voice has clarity, strength, power and fullness. Her notes were tapered beautifully and her pause before the final "Cosi" added greatly to the drama. Her second selection was a rarity and tour de force,"Pace non trovo" from Sonetti di Petrarca, almost Wagnerian in its intensity and full of the pianistic virtuosity of its composer Franz Liszt. It resembled Liebestraum with words. Ms. Daniel sang with pathos, intensity and depth. Amber Daniel evokes memories of the great American soprano Eleanor Steber.
Australian tenor Alasdair Kent started with showstopper "A mes amis" from Donizetti's La fille du regiment. He sang in a shimmering, vibrant, fearless and peerless tenor from the bottom to the top and forged 9 high C's like an anvil chorus. Kent's second number was the charming Tosti song "A vucchella" which poured out like a delicious Asti Spumanti. Enrico Caruso made a wonderful recording of this song in 1919 and Mario Lanza sang it in the 1951 film The Great Caruso. It was nice to hear it again and so beautifully sung.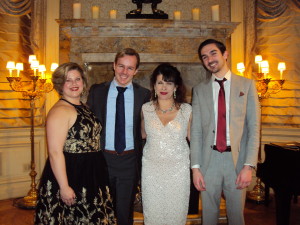 The third scheduled singer could not make the performance and he was replaced by a young Italian baritone Matthew Ciuffitelli who sang "Largo al factotum" from Rossini's Barber of Seville. He has a pleasing, plangent baritone and negotiated the fioritura and bravura of this aria looking at audience members with grand sweeping gestures. Ciuffitelli has resonance and power and sang the Don Pasquale aria "Bella siccome un angelo" with longing and good trills.
General Manager John Boden prepared a fine repast of food and wine for the dinner break. We had delicious Paccheri Amatriciana, a lasagna like pasta dish. Filet of Beef Rossini with sautéed broccolini or grilled Salmon Colombo were the entrees.
Part two was a DVD tribute to the late great beloved tenor Luciano Pavarotti. The tenor's second wife, Nicoletta Mantovani Pavarotti, was the scheduled guest but could not attend. With the assistance of Alejandro, one of the staff members, Steve De Maio showed Pavarotti singing "Recondita armonia" from Puccini's Tosca. It had the Pavarotti sound of clarity, generosity of voice and spirit and that marvelous top voice. This was followed by a clip from the Met Opera 1977 telecast of La Boheme and Pavarotti's exquisite high C in "Che gelida manina" with Renata Scotto. The finale had the three tenors singing "O sole mio" and how Pavarotti stood out as both a glorious voice and a beloved personality.
I sat near Alba Mazza, piano accompanist,"stornello" tenor Antonio Guarna and photographer Anita Sanseverino. Soprano Diana Soviero reminisced to the audience about her performances with the great tenor who was anxious to eat the real chicken served at the Café Momus in La boheme.
These operatic sweets were vocal nectar to all. Afterwards we went to the intimate dining area for tiramisu, coffee, fruit and cookies. It simply doesn't get any better than that! Bravo Steve De Maio for his wonderful program of "Opera Night Live!"