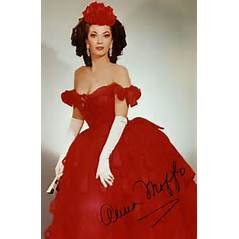 On the evening of Wednesday, March 9th, Michael Lahr and Gregorij von Leitis hosted a special remembrance of the great Italian American (Born in Pennsylvania) soprano Anna Moffo (1932-2006) who passed away 10 years ago to the day. Many friends operatic, literary, legal and medical from Ms. Moffo's legendary past stopped by to offer some insight into her vocal accomplishments as recordings of her signature roles were heard.
I was privileged to have seen and heard her amazing Violetta in La Traviata at the Metropolitan Opera (Debut 1959) where she sang countless lyric and coloratura roles such as Lucia di Lammermoor and was a legendary Liu in Turandot. Anna Moffo's ravishing beauty served her well in Italy where she had her own TV show and made films in Italy and Germany, both operatic and popular.
Ms. Moffo's heavy workload caused a vocal crisis and she turned to our host Gregorij von Leitis for advice and assistance. I again was among the sold out visitors at the Met Opera house to witness her "comeback" violetta in the 1970's which was short but very sweet.
Anna Moffo was a long time member of the Elysium-between two continents advisory board and her spirit prevailed at this "swellegant, elegant party" of Cole Porter rank with excellent hosts. Good food, fine champagne and wine and the voice of the angels caressing the ear. Priceless autographed photographs were admired by all.
I am certain that Anna Moffo, opera star, actress and humanitarian would have appreciated this gathering arranged by Michael Lahr and Gregorij von Leitis and she was present in spirit. The Elysium in New York sponsors international educational programs. To live on in the hearts of those you love is to be remembered forever.