On the afternoon of Saturday, January 5th on eve of the Feast of the Three Kings, Amahl & the Night Visitors by Gian-Carlo Menotti was presented at The Church of the Transfiguration aka The Little Church Around the Corner in New York City. It was an Arnold Schwartz Memorial Concert series which was created by Marie Schwartz to honor her Brooklyn-born philanthropist husband.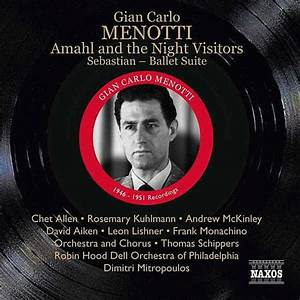 The Reverend John David van Dooren introduced the concert with charm and bonhomie and Dr. Claudia Dumschat, Music Director and Church organist sat at the piano in her dual role of conducting and accompanying. Amahl's theme was played by oboist Jeffrey Hale whose adroit skills added to the audience expectations and fulfillment.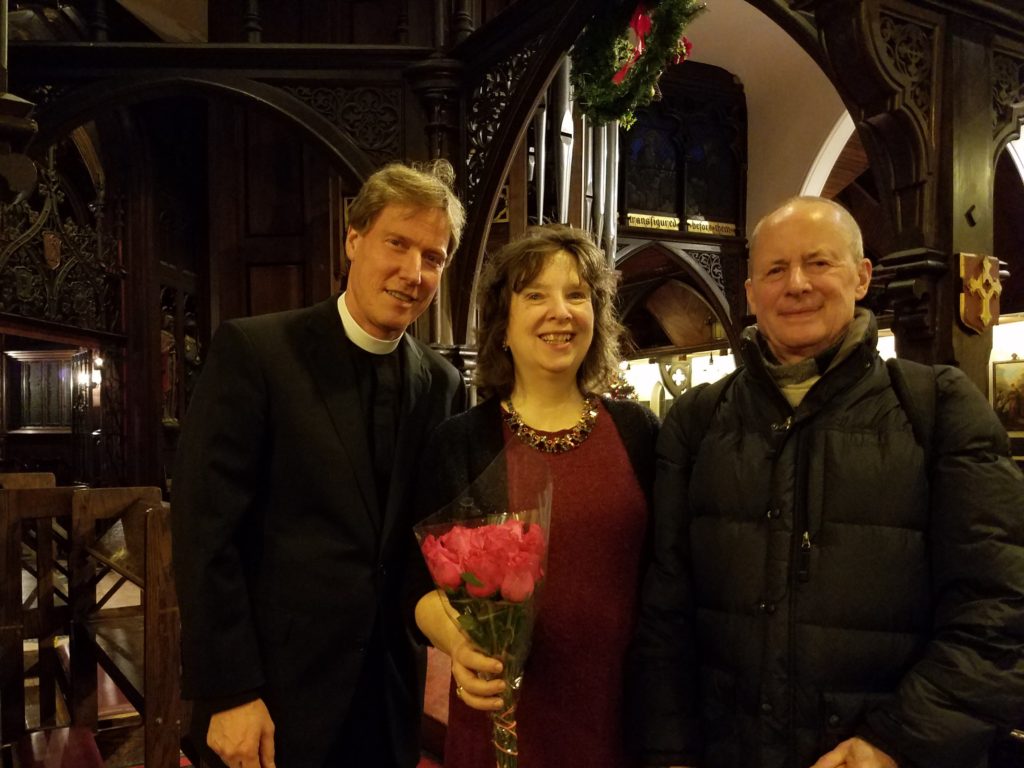 The Transfiguration Choir of Men & Boys, Girls Choir and Camerata took their turns in adding to the music composed by Italian-American composer Gian-Carlo Menotti (1911-2007) for NBC television in 1951. Menotti, who was commissioned by David Sarnoff, the head of NBC television, to write an opera for Christmas Eve viewing in 1951. Menotti could not find a theme for his opera until he chanced to visit the Metropolitan Museum of Art and saw Hieronymus Bosch's painting of "The Adoration of the Magi." He thought of his boyhood in Italy when he and his brother would await the arrival of the Three Kings to their home bearing gifts. He composed his opera, wrote the libretto and had it ready just in time. The great conductor Arturo Toscanini, head of the NBC Symphony, attended the dress rehearsal and with tears in his eyes told Menotti that this was his finest opera. For more than ten years, this was Christmas Eve viewing. General David Sarnoff created the NBC Symphony which lured Arturo Toscanini out of retirement at age 70 in 1937 and which he conducted from 1937 till 1954. The NBC Opera also a Sarnoff idea, toured the United States "live" for a number of years as well as doing full memorable operas on television. Can you imagine TV executives attempting anything like that today?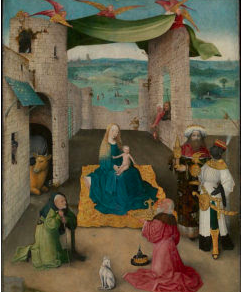 Occasionally Amahl would show up at a local church or theatre and then it became a rarity until The Church of the Transfiguration under the inspiring leadership of Maestro Claudia Dumschat, Music Director, began having it performed in this intimate iconic Church – a perfect setting for this mini masterpiece.

The Mother was sung by Kathryn Mensendick whose versatile soprano was both ethereal and powerful. Her duets with her son Amahl were always with a strong sense of love for her crippled son and anger for their poverty. Her singing of "Do They Know, do rich people know?" was tender and "All that gold" was powerfully poignant, very Puccinish but innovative, not imitated.

Amahl was portrayed by Luciano Pantano whose expressive boy treble has made him an Amahl in demand and whose emotional acting has earned him much praise. His singing of "Don't cry, Mother dear" when his mother thinks they might have to beg for food was brimming with hope and love. His "Mother come with me," had such anticipation and wonderment that it carried one away with the action. When the Kings asked Amahl what he did, Amahl sang, "I was a shepherd, I had a flock of sheep." It was sung with a devastating simplicity that melted the heart. His questioning the deaf King Kaspar, "Is there amongst your magic stones, one that could cure a crippled boy?" When the deaf Kaspar says"Eh?"and Amahl says "Never mind," it is heartbreaking.

King Melchior, Alan Henriquez, had a kindly strong baritone which always pleased the ear in their haunting, "Have you seen a child?" The blending of their three royal voices soothed the soul of the listener.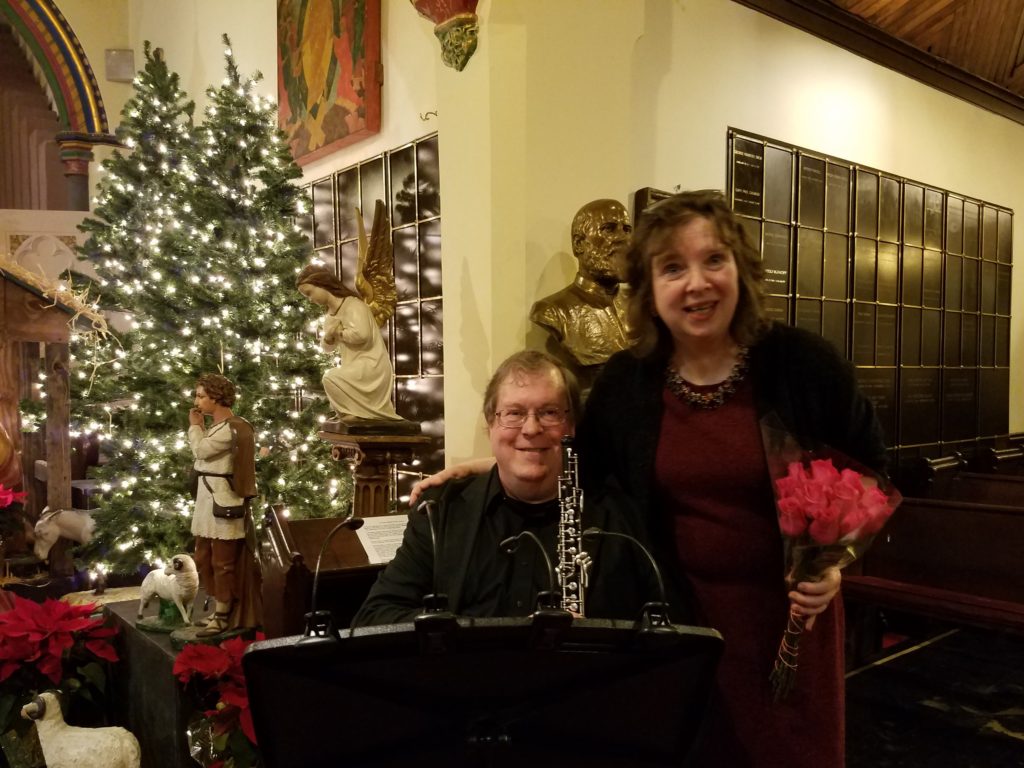 King Kaspar, Erik Rasmussen was youthful, amusing and crowd pleasing. His singing of "This is my box" with its precious stones and candies was deliciously done as he offers Amahl some licorice. Rasmussen's tenorial and frenzied cries of "Lovely, lovely, lovely" and "Thank you, thank you, thank you" were amusingly lovable as was his parrot who bites, as seen in his bandaged finger.

King Balthazar was ennobled by the rich voiced Charles Samuel Brown whose brilliant bass baritone stood out in "Have you seen a child?" Balthazar is a reassuring presence and young Amahl knows as well as his Mother that no harm will ever befall young Amahl in such noble and fine company.

The Page was Alexis Cordero whose shouts of "Thief, thief!" gave one goosebumps. When the worrisome Amahl sees his mother struggling with the Page during her attempted robbery,"For my child," he fights him tooth and nail. Luciano's fierce fighting with the Kings' Page who caught Amahl's Mother stealing the gold evoked sadness.

After Amahl offers his crutch as a gift to the child, he suddenly walks normally, "Look Mother, I can walk" and there is great rejoicing. The Kings all ask Amahl if they may touch him and when the Page also asks, Amahl at first refuses but then adds, "Well, just once." Then the Three Kings invite Amahl to join them on their journey to find the child. While playing his shepherd's pipe, Amahl leaves with his crutch and the Three Kings as they wave goodbye to his Mother.

The excellent chorus with my granddaughter Leeza sang "Emily, Michael, Bartholomew" in a spirited and joyous abandon. My wife Judy sang this with the Santa Monica Choir in her college days in Los Angeles, never dreaming that our grandson would be Amahl and glorify our senior years.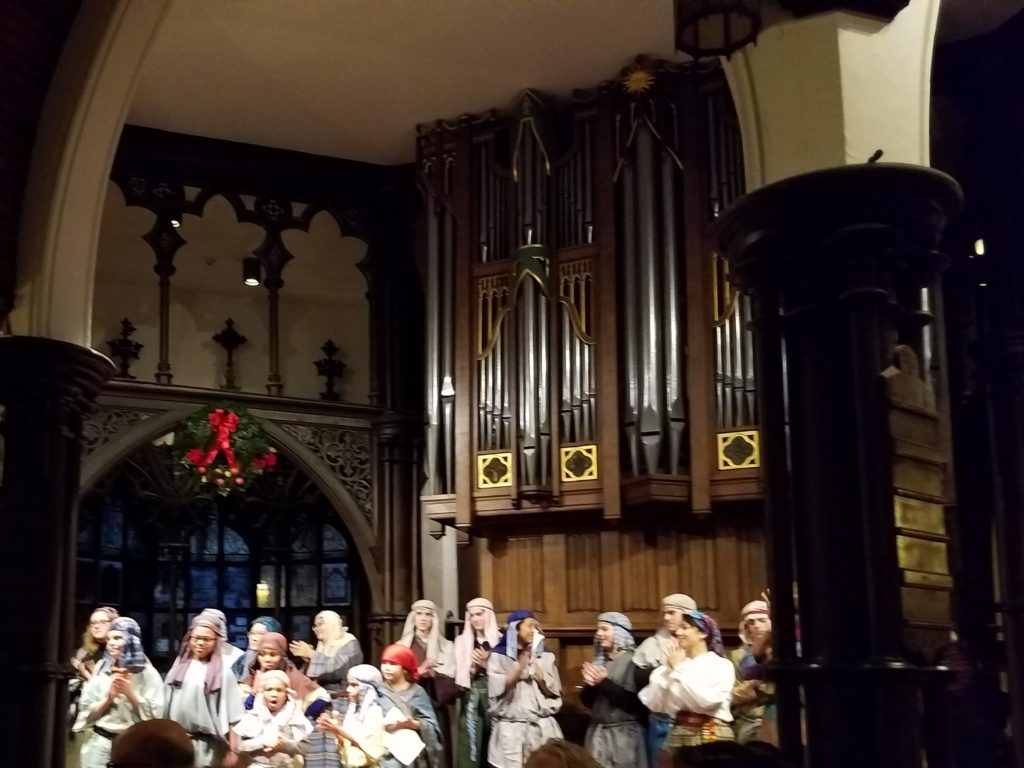 The dancers, sprightly and ethereal were the gifted Lauren Twomley and Mark Willis. I thought back to Aida at the "old Met" with the unforgettable dancing of Geoffrey Holder and Carmen de Lavallade. Choreographer Jesse Obremski was extravagant in his movements for the dancers in a grand eye catching, foot stomping and real "hand clapping" (with the audience joining in) manner with impressive leaps and twirls.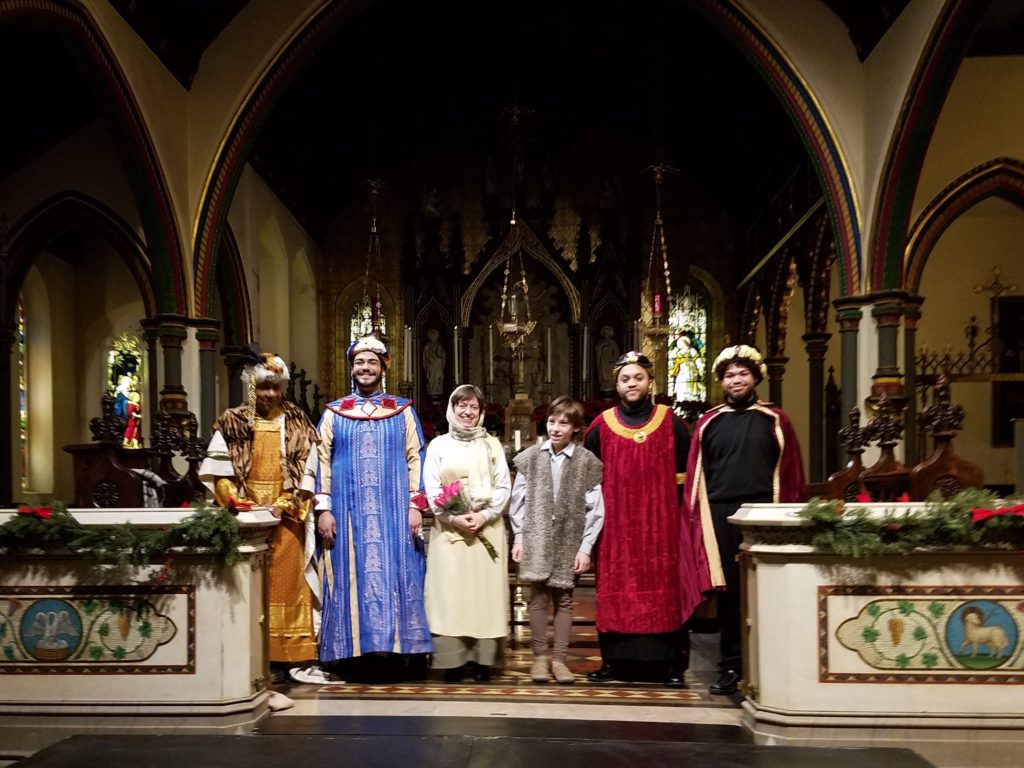 The talented costume designer Terri Bush whose peasant attire struck the right chord to the viewer and in contrast to the brilliant and dazzling costumes of the Three Kings.

Stage manager Betty Howe who used the side as well as the front of the Church gave a fantasia of sound and venue. The Director, Richard Olson whose concepts took us out of the common place and into the rare for a wondrous journey.

We were happy to see Metropolitan Opera's beloved mezzo-soprano Jane Shaulis and her husband Joseph Gasperec, formerly with NY City Opera stage design. Jane is now also President of Opera Index which helps support aspiring opera singers through awards and scholarships. They enjoyed the performance and loved the Christmas decor of The Church of the Transfiguration. Luciano's parents, Tatyana and our son Marcello were there to lend support to Luciano and Leeza-our mutual pride and joy! Luciano is now 12 and his voice will soon change. At age 13, I was "the boy Caruso of Brooklyn" but my voice changed to baritone! I never sang Amahl or had the excellent guidance of my grandson Luciano.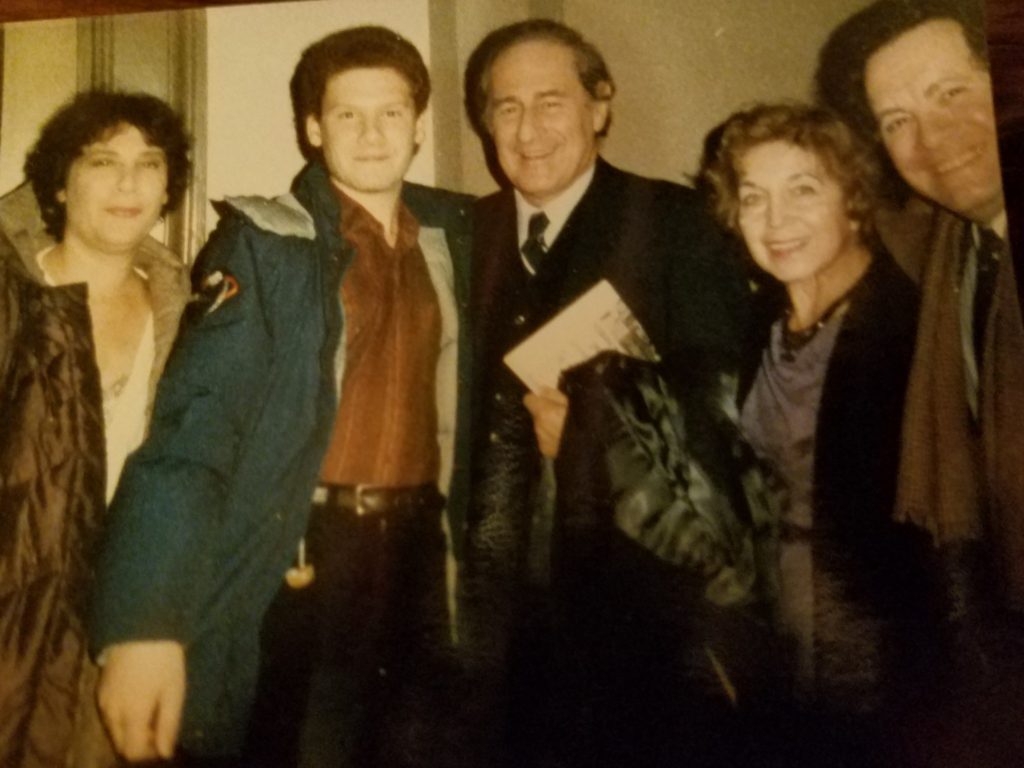 We thank the gifted and wondrous founder of the feast organist (piano) and conductor Dr. Claudia Dumschat for a Christmas treasure that would have brought a tear and a smile to Gian-Carlo Menotti. Judy, Marcello and I met Menotti at the Brooklyn Academy of Music and at Maestro Dino Anagnost's The Little Orchestra Society at Lincoln Center. Menotti was 75 but I still saw Amahl in his soul as he and his brother waited for the Three Kings in Italy way back when!