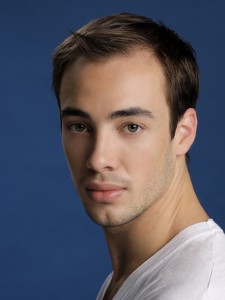 Since 1964, when it became the second building constructed on the new Lincoln Center campus, the New York State Theater (known since November 2008 as the David H. Koch Theater) has been home to the New York City Ballet, one of the city's, and the world's, great cultural treasures. As one walks into the lobby, (and now that THE NUTCRACKER has begun its annual holiday season, through January 3, 2016, there will be multitudes entering) on the right wall closest to the entrance, in alphabetical order, are black and white photographs of NYCB's principal male dancers. The first photograph is of Jared Angle, who has been a principal since November of 2005. Next to him is a photograph of his brother Tyler Angle, who has been a principal since since October of 2009. (The hierarchy in ballet is "apprentice," "member of the corps de ballet," "soloist," and, finally the highest ranking attainable, "principal dancer.") Although they are originally from Altoona, Pennsylvania, they both now reside in Brooklyn, as does a third brother Bradley. It would seem the Angles of Altoona have colonized the borough of Brooklyn.
(Interestingly. NYCB has two other sets of siblings: Megan and Robert Fairchild and Abi and Jonathan Stafford, although Robert Fairchild is on temporary leave starring in An American in Paris on Broadway and Jonathan Stafford recently retired from his principal dancer role and is now a ballet master for the company.)
Tyler, in particular, has become a diehard Brooklynite, living in Brooklyn Heights since 2012. In truth, however, his family's Brooklyn connections goes back much further.
The Eagle spoke by telephone recently with Angle, who will be dancing a selection of performances in this season's production of The Nutcracker.
Eagle: What drew you to live in Brooklyn?
Angle: When I first came to New York in the Fall of 2001 to study at the School of American Ballet (Note: SAB is the official school of the New York City Ballet), in order to be close to the School, I essentially lived at Lincoln Center. By 2009, when I became a principal, I wanted to put some geographic and pyschic distance between where I worked and where I lived, and because my father's sister, my aunt Rosie, raised her family in Brooklyn, the borough was my first choice. In fact, another sister of my father's, my aunt Shirley, also lived in Brooklyn; her husband was an NYPD beat cop. I had been visiting Brooklyn since I was ten. There was not the slightest doubt that was where I wanted to live.
Eagle: What are some of your favorite Brooklyn restaurants, cafes, activities?
Angle: My friends and I love having lunch or dinner at Jack the Horse, on Hicks. Excellent food, super great atmosphere. We also like Frankie's, Roman's, lots of restaurants in Williamsburg, which is where my other brother, Bradley, lives. We also like just wandering around, especially in the Heights. I really like the smaller scale, compared to Manhattan, of Brooklyn neighborhoods. And I like the way you can just be meandering and discover a plaque telling you that "Walt Whitman lived here" or Hart Crane wrote "The Bridge" on the fourth floor of this apartment. It makes these landmarks feel accessible. Afterwards, I like to go to Atlantic Avenue to buy Lebanese or Turkish food for dinner. Since purchasing the apartment, I've become a bit of a homebody; I enjoy cooking for friends, staying in, decompressing from rehearsal and performance.
Eagle: Although you dance the full repertoire, from Balanchine to Wheeldon, I'm always knocked out by your performance as one of the three sailors on shore leave in Jerome Robbins's "Fancy Free." On your profile page on the New York City Ballet website, you describe how one of your favorite aspects of this ballet is that, when it's clicking, "the dancer is not aware of performing and the audience is not aware of watching a performance." Is this only applicable to "Fancy Free" or do you also feel this way about other ballets you perform?
Angle: That's a good question. Ideally, what I always strive for is naturalism over "exhibition." For example, I remember dancing with Wendy Whelan (it was my debut dancing with her) in the pas de deux from "Diamonds," and experiencing that same sensation, being totally olivious of the audience. That is such a rare feeling and one that every dancer strives for. Both "Fancy Free" and Jerry's (choreographer Jerome Robbins) "In the Night" permit that transcendence to happen. With "Fancy Free" there are many other elements at work as well. My grandfather joined the Navy when he was 17 and fought in World War II. Talking with him about his experiences informed my approach to the ballet. Also, the first time I did "Fancy Free" I was still a very young dancer working with two seasoned veterans. Now I have the great fortune to dance with my contemporaries and this heightens the sense of camaraderie and esprit de corps. The ballet is wrapped up in all these memories, so, as I said on the website, it remains very special and significant for me.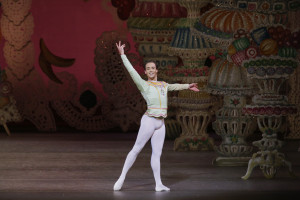 Eagle: Six years ago, in an interview with Claudia LaRocco of The New York Times, you mentioned that, at your career's end, you had no ambition to found your own company or to become a choreographer. Has your thinking changed? And have you thought about what you would like to do?
Angle: My thinking hasn't changed about not wanting to run a company or to choreograph, but I also know I don't want to reach 35 and think "What am I going to do next?" I want to be prepared for the "next." For the past four years, during the summer, after the company's residency at the Saratoga Performing Arts Center, I've been the artistic director of the Nantucket Atheneum Dance Festival. There are lectures, dance recitals, children's classes. We've attracted prominent dancers from American Ballet Theatre, the Paris Opera Ballet, the Royal Ballet, Pacific Northwest Ballet and Miami City Ballet. We don't have a big gala or benefit; it's all very local and low-key – we perform in the Mary Walker Auditorium at Nantucket High School. What the Festival is all about is the concentration, discipline and diligence that ballet demands. This is the kind of career path I see for myself after my professional dancing comes to an end.
Watching Angle dance, exquisitely, the role of the Cavalier at last night's performance of The Nutcracker, one hopes he puts off that decision until he's eligible for AARP membership.
The Nutcracker continues its run at the David H. Koch Theatre at Lincoln Center Through Sunday, January 3rd. Tickets available at www.nycballet.com