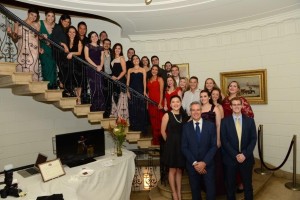 On the evening of Thursday, November 5th, Classic Lyric Arts held its Fall Benefit Gala at the Kosciuszko Foundation located at 15 East 65th Street in New York City. Under the direction of Artistic Director Glenn Morton, this organization helps promote L'Art du Chant Francais (The Art of French Singing) as well as La Lingua della Lirica (The Language of Opera). Glenn Morton spoke eloquently about the goals and objectives of Classic Lyric Arts and then introduced the young singers.
Mikaela Bennett sang a superlative "Musetta's Waltz" or "Quando me vo" from Puccini's La boheme, in a sparkling soaring saucy soprano.
Kady Evanyshyn's luscious mezzo enthralled with "Connais tu le pays" from Mignon by Ambroise Thomas. Ms. Evanyshyn has a velvety sound that carries well and does justice to the french style.
Vincent Festa sang "Ah! Mes amis" from Donizetti's La fille du regiment with joyous abandon, his smooth and mellow tenor entering the high C stratosphere with ease.
This was followed by "Tutte le feste al tempio" from Verdi's Rigoletto with Larisa Martinez and Suchan Kim. Ms. Martinez possesses a radiant and poignant soprano that blended perfectly with Mr. Kim's warm and spirited baritone.They gave us some lovely and visceral delights.
A true musical surprise was a thrilling rendition of a rarity Youkali by Kurt Weil as sung by Vera Kremers. It is marked "Tango Habanera" and I thought of the late exotic film soprano Ilona Massey or Zara Leander in some exotic cabaret. Ms. Kremer is the possessor of a stunning dark hued mezzo soprano with a volcanic top that erupts Wagnerian gold! The program notes tell us "Youkali, the land of our desires, happiness and pleasure, where we have no worries, only hope and love. Alas Youkali is a folly, a dream-there is no Youkali."
Dorothy Gal, operatic humorist gave her reflections on the art of opera and how it applied to her and had the audience laughing.
The Quartet from Puccini's La boheme was reenacted and sung with gusto featuring soprano Nadia Petrella as a touching Mimi, Mikaela Bennett, as a sprightly Musetta, Matt Greenblatt as Rodolfo and the Marcello of Bret Thom. Mr. Greenblatt possesses a solid powerful tenor and Bret an exceptional warm round baritone. How joyful to hear all four young outstanding voices in this opera about the lives young bohemians in Paris!
Gon Halevi and Jordan Rutter know how to handle Handel. Their duet "Va godendo/Io le diro" from Handel's Xerxes was sublime. Each was a counter tenor to savor with a strong assist from soprano Aedin Larkin. All sang with clarity and dexterity and some exceptional coloratura. Recommended listening is Enrico Caruso's beautiful recording of "Ombra Mai Fu" from Xerxes. (1920)
"Un bel di" from Puccini's Madama Butterfly received a heartfelt rendition by soprano Tamara Rusque. Hers is a voice of power, precision and passion with a dark quality to her lovely sound. Ms. Rusque ascended to the finale on a wave of tears and hope!
Glenn Morton gave a brief inspired talk on Classic Lyric Arts and is truly a disciple of the joys of opera! Two surprises followed: a popular Mandarin love song was sung as a duet "The moon represents my heart," composed by Weng Ching-hsi and was hauntingly sung by Dongling Gao and Jia Jun Hong.
The finale was the"New York, New York" song from Bernstein's On the Town with the females in the cast as flirtatious enticements. Tenor Matt Greenblatt, baritone Bret Thom and Jon Thierer were the fabulous ebullient sailors- they sang their all! The splendid pianist accompanists to the singers were Jie-Li, Laetitia Ruccolo, Michael Sheetz, Lochlan Brown, Michael Stewart and Weng Chi-his.The great Leonard Bernstein(1918-1990) is buried in Brooklyn's Greenwood Cemetery along with a composer he championed, Louis Moreau Gottschalk. (1829-1869)
The reception continued with wines, fruits, cheeses and desserts. It was nice to meet and greet President Steve De Maio, Cornelia Beigel and Joyce Greenberg from the Gerda Lissner Foundation, Maestro Eve Queler, Gloria Gari from The Giulio Gari Foundation, Al and Christine Palladino from The Columbus Citizens Foundation, Arturo Callegari, vocal teacher and his brother famed Maestro Joseph Callegari, Ken Benson who is Vice President of Classic Lyric Arts as well as an opera manager chatting with Brooklyn's Bill Ronayne from the Mario Lanza Society and sparkling soprano Elaine Malbin, Lou Barrella, opera lecturer and Verdi filmmaker August Ventura. We were truly thankful to have met some of these up and coming talented and youthful artists who were "the icing on the cake." They were the real desserts at the reception. We thank Glenn Morton, Artistic Director for his splendid efforts on their behalf. Bravo to All!