New York OperaFest 2019 Festival Preview Concert honoring Ira Siff was presented on the evening of Monday, April 29th at the National Opera Center located at 330 Seventh Avenue in New York City. Vincent Covatto, Senior Manager, Organizational Membership, introduced the program for the evening.
I was exhausted from our being honored the day before by Opera Index and all the activities therein with fans, friends and family. It was also my first day of therapy for a back ailment. I was kvetching and schlepping, whining and complaining ( 4 percent Jewish DNA ) when we sat in our seats. A few hours later I was yacking and munching on goodies like an adrenalin filled teenager. Such is the power of opera, such is the brilliance of Ira Siff.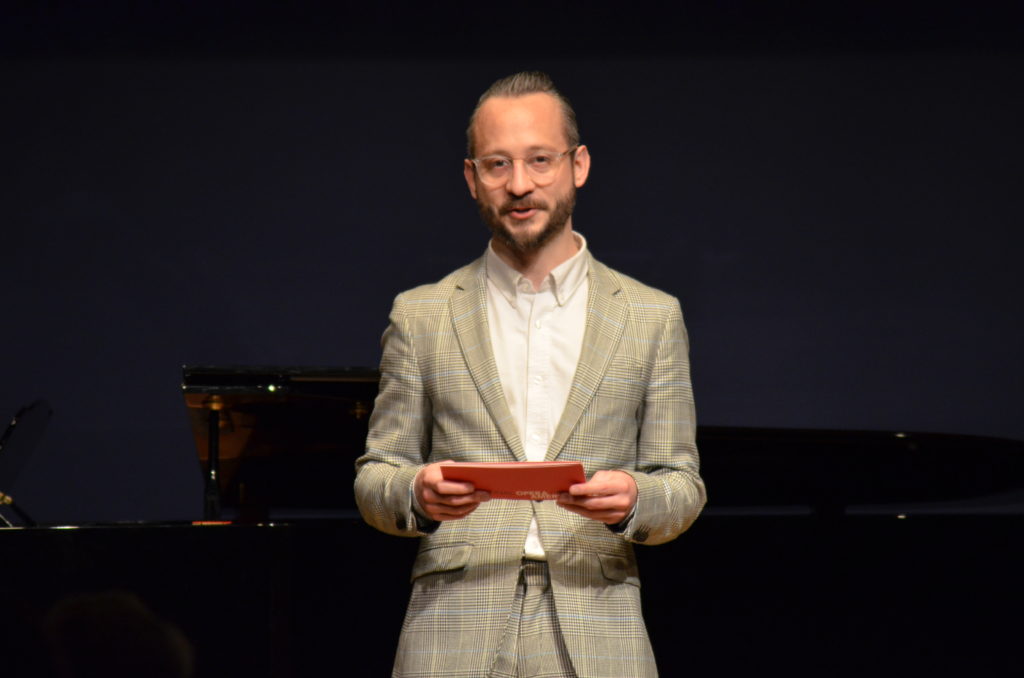 The first selection was "Udiste? Come albeggi" from Il Trovatore by Giuseppe Verdi. Alexis Cregger's impressive soprano with Nathan Matticks's vibrant baritone, made for a dynamic duo. Count Di Luna and his wannabe-lust for Leonora was dramatically demonstrated in this exciting duet. Ms. Cregger has a voluptuous sound with some gorgeous highs and exciting depth to her voice. Mr. Matticks captured Di Luna's great love with its insistent manly sound and compelling high notes. We recently saw a brilliant Il Trovatore with the Regina Opera featuring these two special singers in Brooklyn's Sunset Park at Our Lady of Perpetual Help Church. The vocal hors d'oeuvres was so tantalizing we had to go for the whole meal. Dmitry Glivinsky was the exciting pianist from the Regina Opera.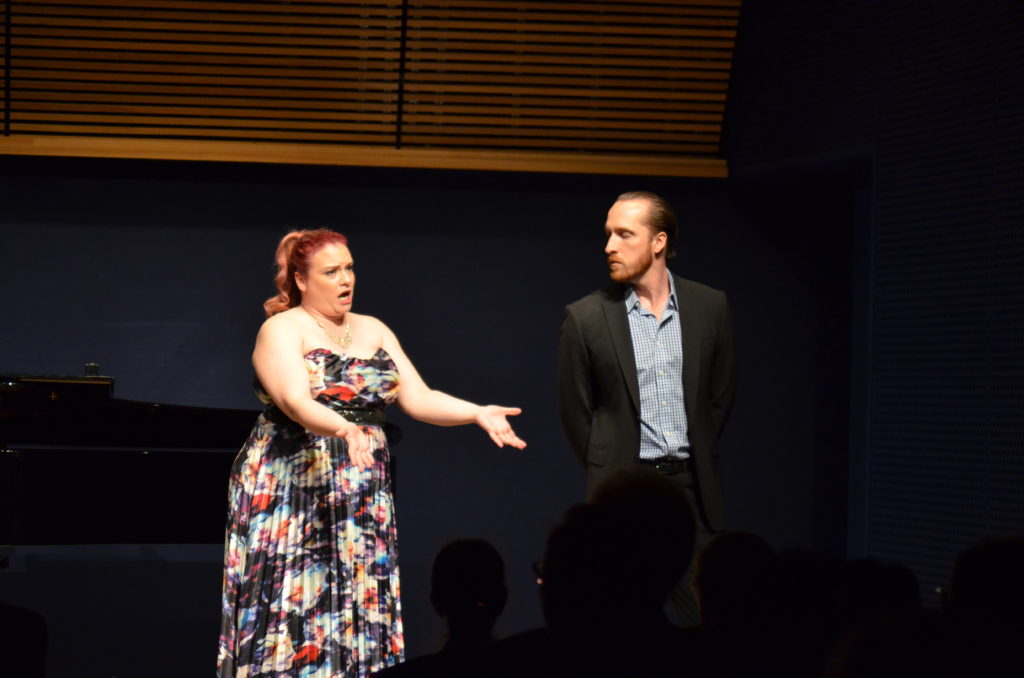 Next was an Excerpt from Patience and Sarah (Wende Persons/Paula Kimper featuring Katherine Robinson soprano; Markos Simopoulos baritone; Katarina Wilson, mezzo soprano; and Giordana Fiori, pianist. This mood inducing work was a good source for drama and vocal seduction. Katherine Robinson had a lustrous soprano with flexibility and strength, Mr. Simoupolos a manly thrust with sparkle and Katarina Wilson, a sensual mezzo soprano that blended with her vocal physicality. Giordana Fiori who is from Rome, Italy, was ablaze in her red outfit and played piano with intensity and grace. The Hunter Opera Theater had some stellar performers to show us.
"Interlude" from The Impossible She by Daniel Thomas Davis featured baritone Robert Maril and Christopher Wilson on the piano. This fine excerpt was adroitly sung by Robert Maril whose haunting voice surely must be blessed by the late great Brooklyn baritone of Metropolitan Opera fame, Robert Merrill. Christopher Wilson's pianistic versatility matched this introspective piece which, while not exactly Iago's credo from Verdi's Otello, nonetheless had a power all its own. This was from RHYMES WITH OPERA.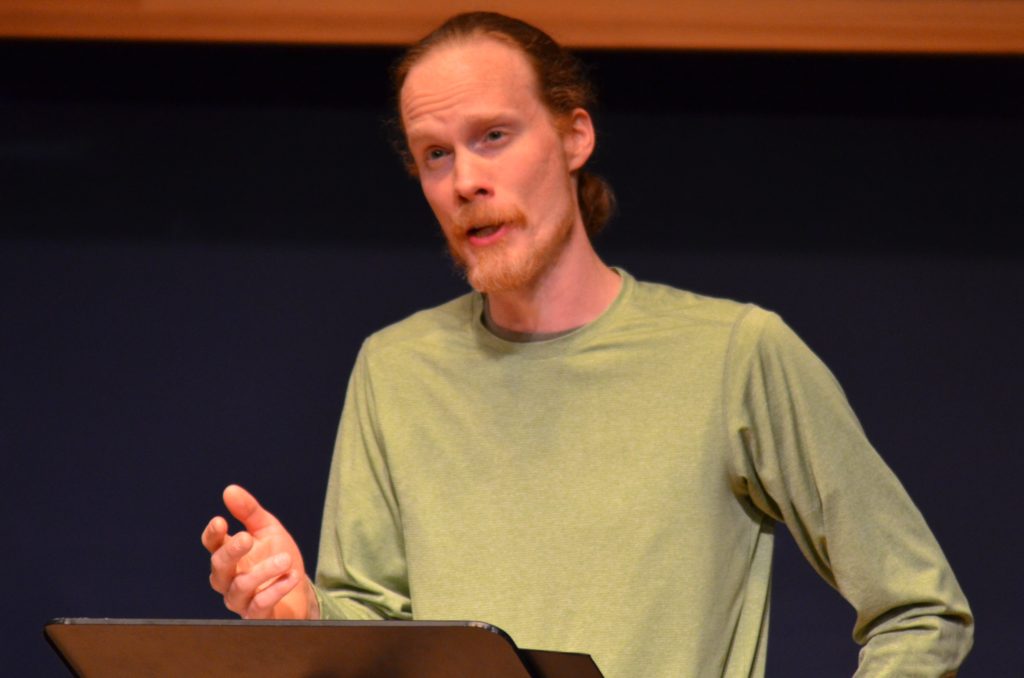 Excerpt from The Constitution, A Secular Oratorio by Benjamin Yarmolinsky, was with Nathan Baer, bass and Dmitry Glivinsky on piano. Mr. Baer has a mood provoking, expressive bass with impressive undertones like a rumble of thunder. His Grant Wood countenance sets the mood for this piece, which is retained because of its loneliness and conversational oomph ah like a Lincoln photo. This by Brooklyn's brilliant Vertical Player Repertory who dazzled the world with its production of Puccini's IL Tabarro on a barge on the Red Hook pier several years ago.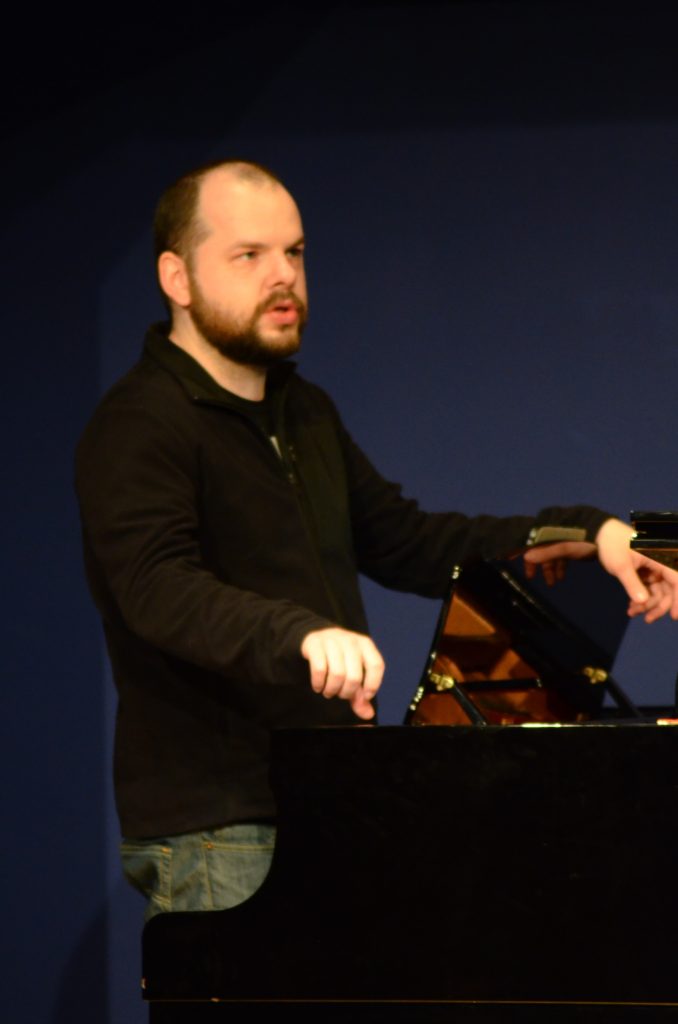 "Parle-moi de ma mère" from La Tragedie de Carmen was by Meilhac/Bizet. Matthew Pearce, tenor; Lara Secord Haid, soprano; with Jiannan Cheng, on piano of City Lyric Opera. Mr. Pearce has a caressing tenor that is balanced and nuanced. Ms. Haid, a lyrical pure sound of great beauty with angelic high notes that linger in one's psyche. Her kissing Don José touched one deeply. Their vocal blend was evocative of the greats in the past. His lovely softening of the voice at the end was of golden age quality. Ms. Haid's love for Don José was present in her outstanding purity of tone. Enrico Caruso and Frances Alda made a recording of this that one can google on the Internet and The Carmen film by Cecil B. DeMille 1915 featured the great Met soprano Geraldine Farrar that deserves viewing. When Farrar came back to the Met after her film, she roughed Enrico Caruso up and punched a chorus girl. Caruso threatened to never sing with her again but they made up. Huge tenor James McCracken was a surprisingly physical Don Jose and used much pianissimo in his "Flower song." City Lyric Opera deserves high praise for this tantalizing excerpt and wonderful singers.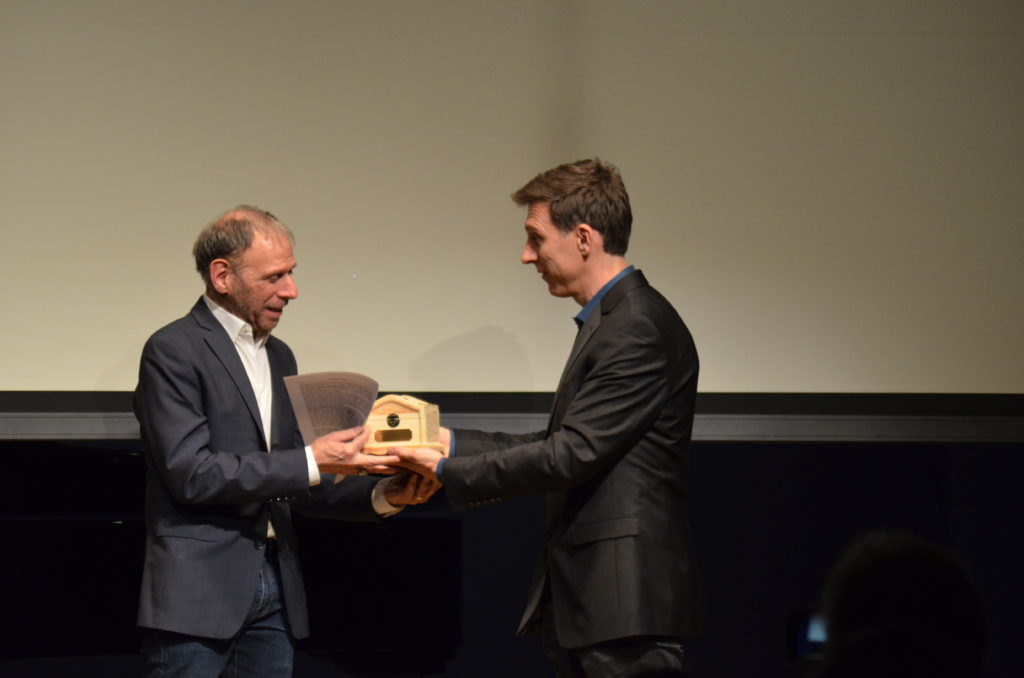 A brief film of Ira Siff as Mme. Vera Galupe-Borszkh singing Vissi D'arte from Tosca and Ho jo to ho! from Die Walküre was hilarious and breathtaking. I told friends later that the three hands I kissed of great divas was Mary Garden, lecturing on her autobiography at Brooklyn Academy of Music in 1951, Maria Jeritza at 90 plus at a Carnegie Hall Richard Tucker gala and Ira Siff as Mme. Vera Galupe-Borszkh at the National Arts Club after a hilarious Azucena excerpt from Il Trovatore.
Ira Siff gave a witty speech about his wanting to be in opera and the reactions of his mother and father. He did very well and his mother bragged to her friends in Florida poolside when he got good reviews on Mme. Vera Galupe-Borszkh. The New York Opera Awards service award was based on his indelible impact as a performer, commentator, director, teacher and Artistic Director of La Gran Scena.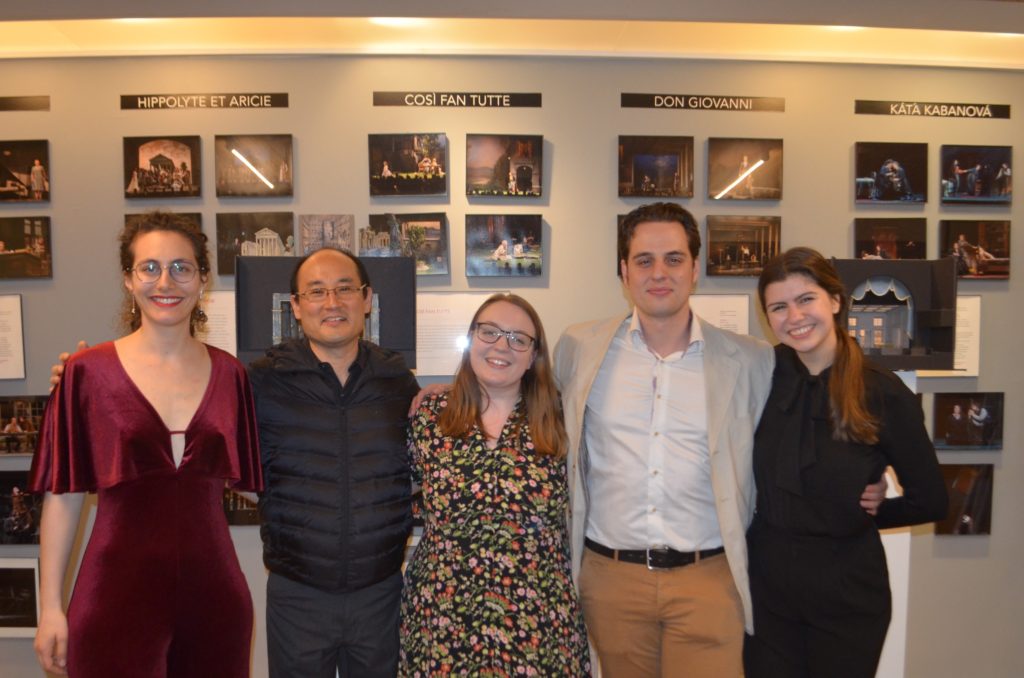 The concert then resumed with "In peace I have found my image" from Owen Wingrave (Piper/Britten) Robert Balonek, baritone James Landau, piano, of the little Opera theatre of ny gave a powerful piece, almost a soliloquy. Mr. Balonek was Falstaffian in his delivery and versatility and gave us a non brittle Britten that was introspective with a touch of irony. We saw Owen Wingrave and our grandson Luciano was one of four choristers from The Little Church Around the Corner who appeared in this production featuring the gifted Mr. Balonek.
The program ended with an excerpt from After Stonewall with Devony Smith, soprano and Michael Barret on piano from the New York Festival of Song. Ms. Smith sang with conviction, defiance and compassion. Her soprano more steely than Puccinian, her goal not tears, but strength and going forward. Michael Barret was her accommodating and gracious accompanist. From the New York Festival of Song.
Joseph Burke was the effervescent stage manager and we met Vincent Covatto from the Executive Committee in the elevator.
At the sumptuous reception afterwards it was nice to chat with Ira's partner Hans-Pieter Heijnis whose cabaret act has been so beautifully received. The Flying Dutchman (No Wagner) was brilliantly funny and a new version is set to overtake us soon. Hans-Peter made a wonderful video for Ira's mother Jean on the occasion of her 100th birthday in 2011. He sang a superb version of "For You Alone," which was out in 1911 and also was iconic tenor Enrico Caruso's first recording in English.
A wonderful surprise was to see Francine Garber with her Regina Opera shirt, from the Regina Opera in Brooklyn, soon to be celebrating its 50th year of opera. Nice to see multi-talented and vibrant Judith Barnes from The Vertical Player Repertory in Brooklyn there also. Anna Tonna, a now internationally acclaimed mezzo soprano suddenly popped up into view. Anna has been doing successful Malibran and Rossini concerts in Spain and will sing at the idyllic Marcella Sembrich Museum in Bolton Landing in Lake George this summer. In attendance also was Scott Barnes, the renowned stage director and acting coach and tenor Neil Eddinger from the much missed New York City Opera. We enjoyed speaking to the singers and pianists and to the great man himself, Ira Siff.