On the evening of Saturday, June 1st, the Amore Opera presented a thrilling Un Ballo in Maschera at the famed Riverside Church in New York City. Un Ballo in Maschera premiered at the Teatro Apollo in Rome, Italy on February 17, 1859. The music was composed by Giuseppe Verdi and libretto by Antonio Somma, based on Eugène Scribe's libretto for Auber's Gustave III. The censors in Italy objected to having a royal assassination and Verdi had the setting changed from Sweden to Boston, Massachusetts and King Gustave of Sweden became the Governor of Massachusetts. Both versions are given.
The Riverside theater is intimate and everything is up close and comfortable and the spirit of Anthony and Sally Amato is ever present. Anthony contributed costumes and sets from their home at the Amato Opera in the Bowery many years ago.
The lights dimmed and conductor Douglas Martin lifted his baton. The overture was beautifully played and the peak moments were thrilling. Musically, the overture ended and the action begins at the King's Palace in Stockholm, Sweden in 1792. The assassination was historic and the masked ball where it took place made for great theatre!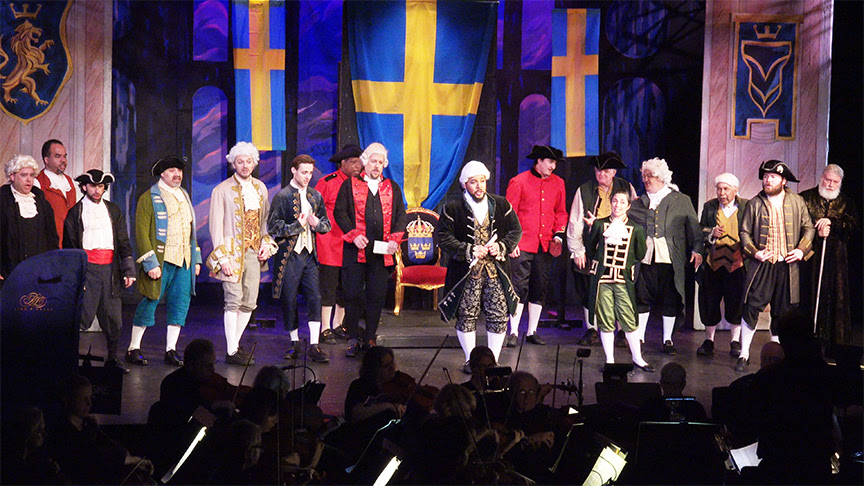 Riccardo, the King of Sweden, is in love with Amelia, wife of his best friend Renato and his secretary. They all go to Ulrica the fortune teller, who tells Riccardo that he will be killed by the next man to shake his hand. Ironically it is Renato. They all laugh off the witch's assumptions. To rid Amelia of her feelings of love for Riccardo, Ulrica recommends a special herb gathered at midnight by the gallows outside of town. Amelia is first interrupted by Riccardo, who declares his love for her and then by Renato. Renato tells Riccardo that there is a conspiracy to kill him. Renato discovers the veiled woman he has agreed to escort to safety is his own wife. He then decides to join the conspirators. At a masked ball, Oscar the page reveals his master's identity to Renato who stabs Riccardo. Riccardo dies declaring Amelia's innocence and forgiving his enemies as the crowd hails his noble spirit.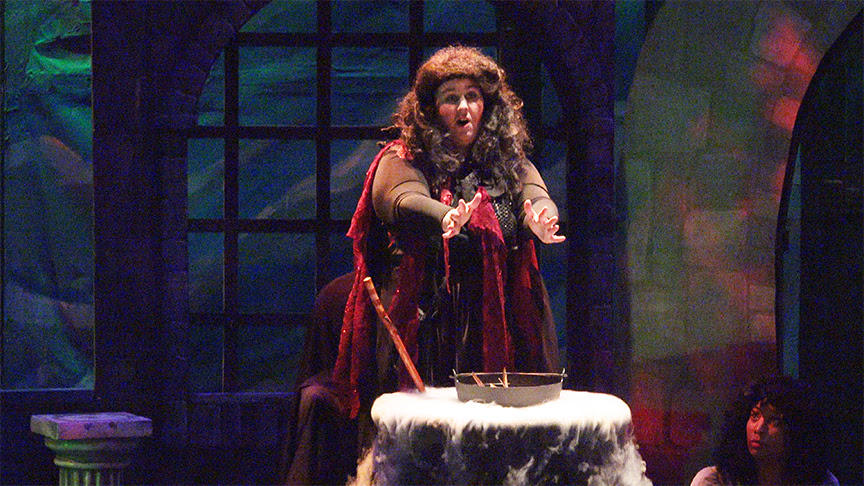 Verdi's music for Ballo is sophisticated and French Opera Comique with Falstaffian precursors and some real heel kicking can-can type music. Beautiful arias, duets and ensembles bursting with emotion and melody make for a splendid musical feast.
Tenor José Heredia sang Riccardo (Based on Gustave III) This enchanting tenor from Santo Domingo was in excellent voice and bearing for this performance. Heredia has grown as an artist and his rhapsodic tenor has beauty, ease and upward promise. Bursts of glory prevailed with intelligent pacing and refined legato. His elegant singing of "Amici miei, soldati" and "La rivedrò nell'estaci" were well noted with effortless and powerful ascents.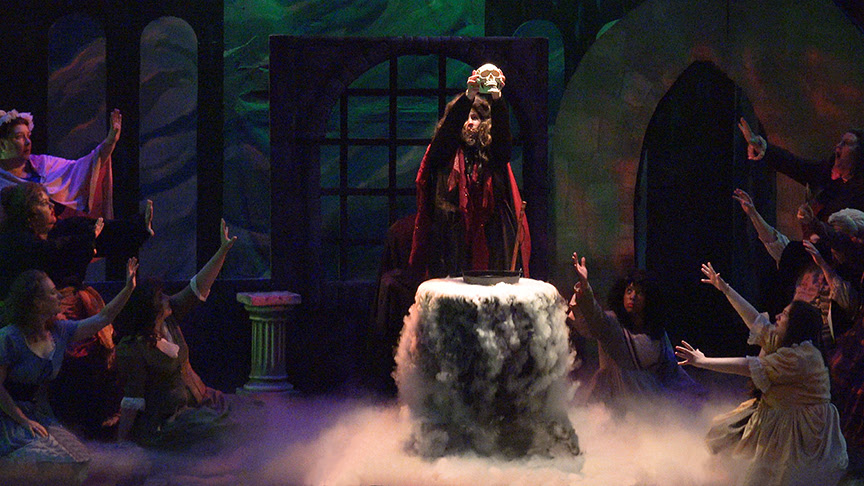 At Ulrica's witches den, Riccardo sings "Di' tu se fedele," then laughs and starts the Quintet "È scherzo od è follia." His combining rapid singing mixed with laughter was admirable. Enrico Caruso, the magnificent tenor, made a recording of this on April 3, 1914 with other arias from Il Ballo – give it a google. Riccardo and Amelia were truly united in their captivating love duet "Non sai tu che se l'anima mia" with swirling heavenly music ending in a rhapsodic high C.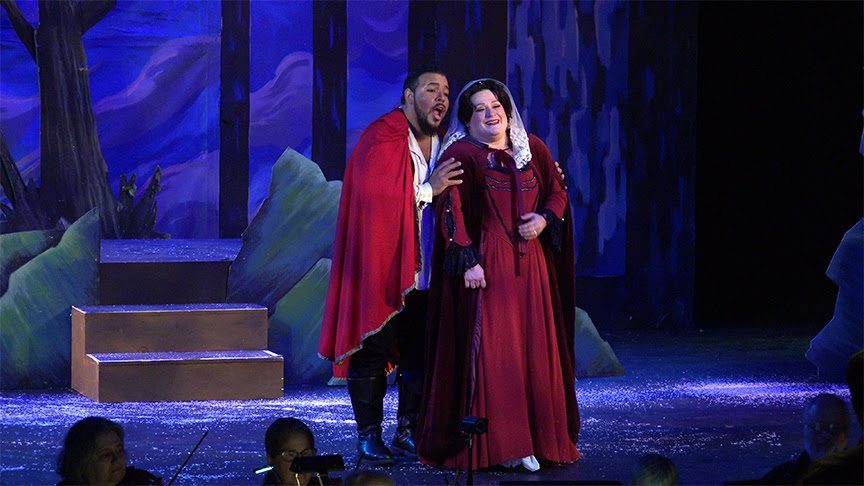 In Act 3 Scene 2, Riccardo resolves to renounce his love and sings, "Ma se m'è forza perderti." Heredia's voice was beautifully secure and his middle register was a launching pad for some truly pristine notes. I have heard the great Carlo Bergonzi in this role as well as Luciano Pavarotti but José Heredia makes for a trio of great Riccardo's. The squillo in his tone, the way he rides his voice to the upper chambers and the pleasing, plangent quality of his vocal palette, puts him is a position of rapid forward momentum toward international acclaim.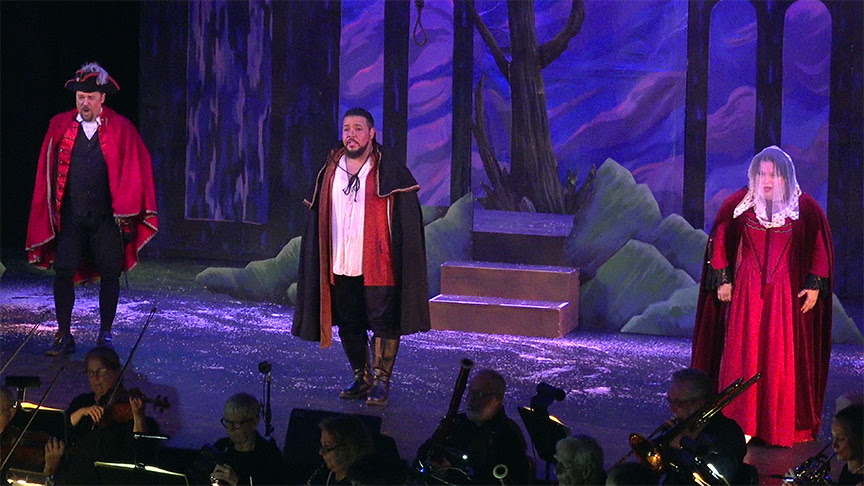 Amelia, wife of Renato, is in love with Riccardo and was sung by Elizabeth Perryman who possessed a bright powerful soprano. Her singing of "Ecco l'orrido campo" was of good strong caliber as was "Ma dall' arido stele divulsa." Her impassioned outbursts in her love duet with Riccardo, "Non sai tu che se lanima mia" were quite striking. Ms. Perryman sang "Morrò, ma prima in grazia" with abundant tone and emotional fervor This aria really brings out the soul and torment of Amelia as she begs to see her son one more time. It is one of Verdi's most compelling arias and she used her vocal gifts with clarity and precision. Ms. Perryman made this reviewer a merryman with her truly outstanding performance.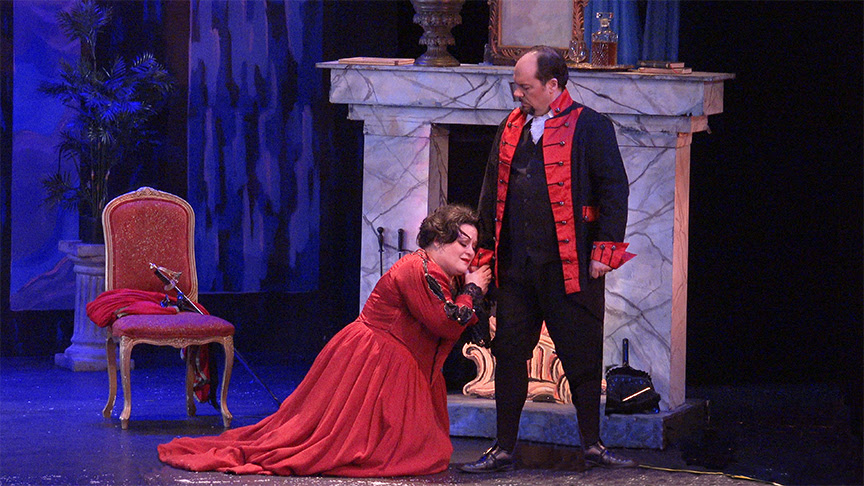 Renato, Riccardo's secretary and best friend, was in the vocal treasure box of Robert Garner. Mr. Garner possessed a lyric baritone that can take one out of the commonplace and into the rare with its warmth and seductive beauty. In Act One he sings "Alla vita che l'arride" in a strong encompassing tone, warning Riccardo of a conspiracy. Mr. Garner does not possess a voice of leonine strength but it has ample sound, excellent breath control, strong legato and warmth to kill. His heartfelt singing of "Eri tu" wiped away the rage for the moment and exposed the vulnerable bleeding heart. When I was 13 and surprisingly a baritone, my voice teacher neighbor and mentor Bertha Lang, made me listen to a beautiful recording of the great American Opera and film baritone Lawrence Tibbett. (1896-1960) "Eri tu" was often sung in concert by Tibbett but he never sang it in the complete opera. Mr. Garner captured the rage, hurt and love of Renato and got an ovation.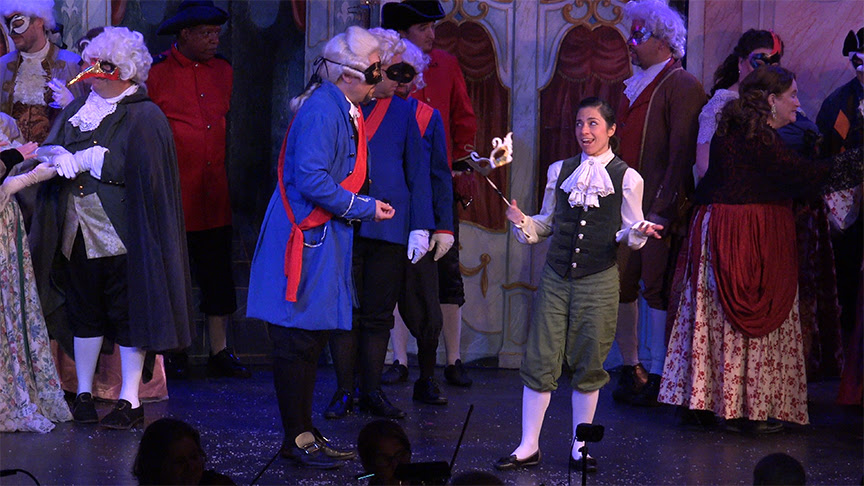 Riccardo's Page Oscar, a trouser role, was sung by clarion voiced coloratura soprano Merrin Lazyan. Her singing of "Volta la terrea" in the first act warmed the heart and thrilled the pulse with its versatility and quality. Her superb and lively singing of "Saper Vorreste" in the last act was super. I googled the legendary soprano Luisa Tetrazzini (1871-1940) whose marvelous gravity defying coloratura excesses were unrivaled. Google her 1909 and 1911 versions. Ms. Lazyan really sparkled in this role. The late great Francis Robinson, Metropolitan Opera press manager and Caruso biographer, once said he would have loved to see the very rotund Tetrazzini as Oscar with her enormous girth and her legs wrapped in delicate ribbons. Ah, opera legends! Ms. Lazyan was also a fine actress and she gave bite, might and was so right as Oscar.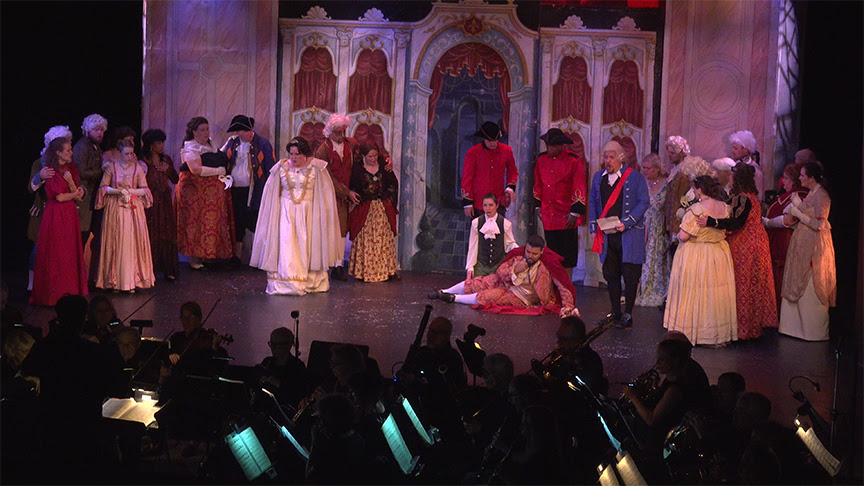 Ulrica the fortune teller, was played by Sarah Knott who was very striking in appearance and was truly witch like. She was more witch than bitch and her warnings fell on deaf ears. Her large bubbling cauldron led her to singing "Re dell' abisso affrettati " which was ominous and all hallows eve like and genuinely scary. Ms. Knott's deep lows were subterranean as if conjuring the ghost of all things evil. Her final "Silencio!" came from the bowels of the earth as well as the vowels necessary to project. The effect is sheer magic. The legendary Marion Anderson (1897-1993) broke the color barrier at the Metropolitan Opera near the end of her illustrious career by singing Ulrica in Un Il Ballo un Maschera. (With Richard Tucker and Leonard Warren) in 1955. She opened the door for such greats as Leontyne Price, Martina Arroyo and others.
The smaller roles were well portrayed and sung by bassos Nicholas Hay as Samuel and Gennady Vysotsky as Tom, conspirators and enemies of Riccardo. Their "Ha, ha, ha" arias were sung with relish. Jonathan Fox Powers, was Silvano a sailor and former New York City Opera tenor Roger Ohlsen was the Head Judge and skilled baritone Thomas Geib was Amelia's butler.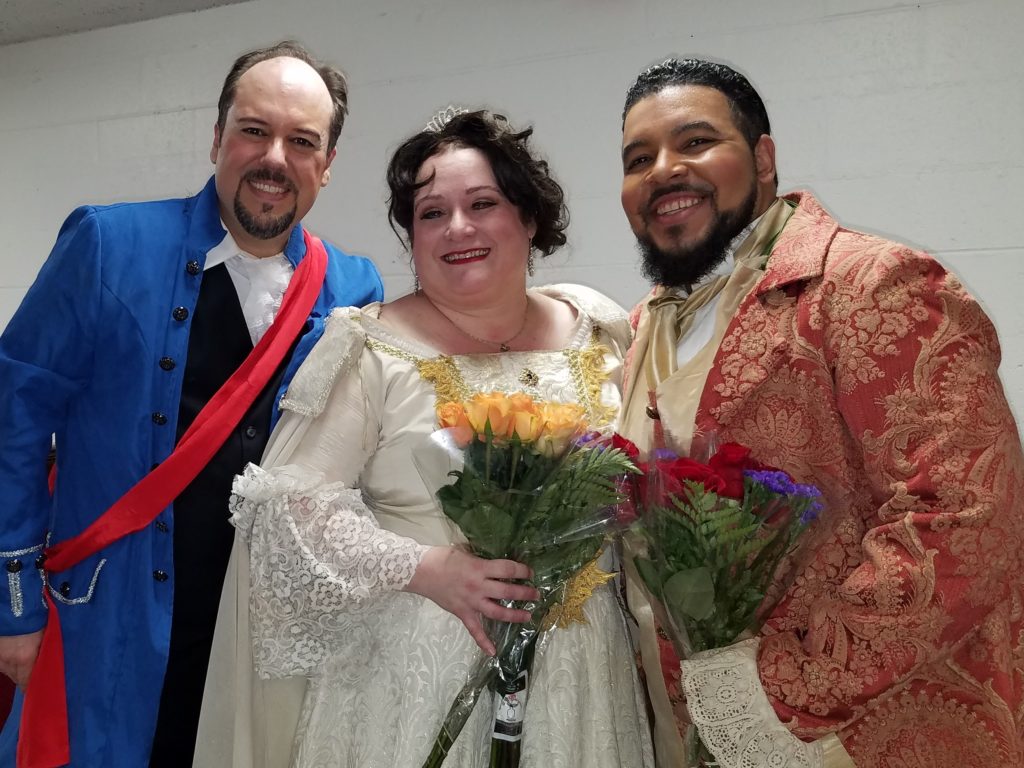 Douglas Martin, conductor and music director, brought the music to volcanic climaxes and heel kicking sensuality. The musicians worked hard and very skillfully to bring out the richness and drama of this score. The melodic output was opera comique and opera drama. Kudos to Jeffrey Kautz on tympani, so vital to the climaxes and our friend Scott Jackson Wiley on the horn. Scott is also a well known conductor, master of Spanish guitar and a Renaissance man.
Susan Morton, chorus master, brought the superb chorus to glory absolute with its full throated singing of "Cor si grande e generoso" before "Addio per sempre" in the last act. I recall the Roger Shaw Chorale in the recorded 1954 Un Ballo by the iconic and magnificent conductor Arturo Toscanini (1867-1957) with the NBC Symphony with famed tenor Jan Peerce, soprano Herva Nelli and great Brooklyn baritone Robert Merrill. The Roger Shaw Chorale brought tears to the eyes with the full voiced angelic sound as did Susan Morton and choristers at the Amore opera.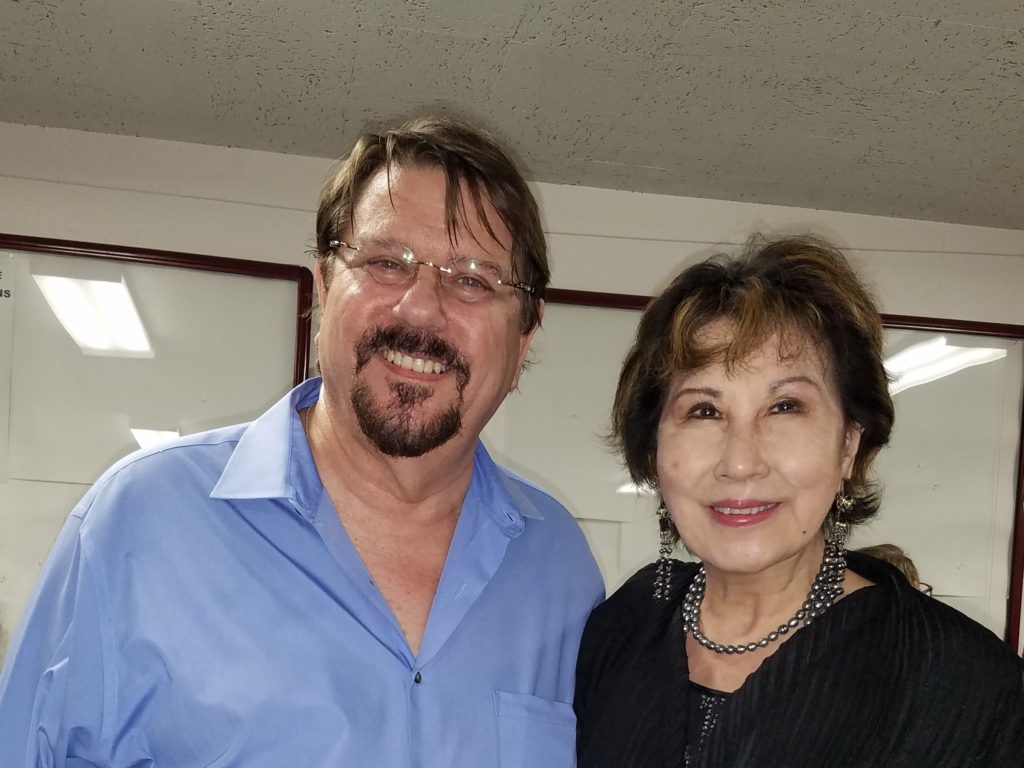 Nathan Hull's stage direction was like a great work of architecture; everyone in place with ease, visible and vivid. The wigs by Mary Rice were wondrous.The ingenious Richard Cerullo from the original Amato Opera was in charge of the scenic design which was regal and ornate but absolutely accurate. The costumes were majestic, courtesy of Anthony Amato's largesse and Robin Porter Van Sise. Plaudits to Duane Pagano, Lighting Director and Scenic Painter and Elias Cruz whose murals are captivating. The masks at the masquerade were colorful and eye catching, thanks to Allegra Durante's mask design. The bravos and cheers were part of the era of good feeling inspired by such a grand opera evening.
All of the artists received ovations from the wildly appreciative audience. Our friend, financial adviser and opera lover Connie Chen who joined us, will be spending some time in Europe visiting opera in legendary places. To quote her, "But what could I see that is better than the Amore Opera right here and now?"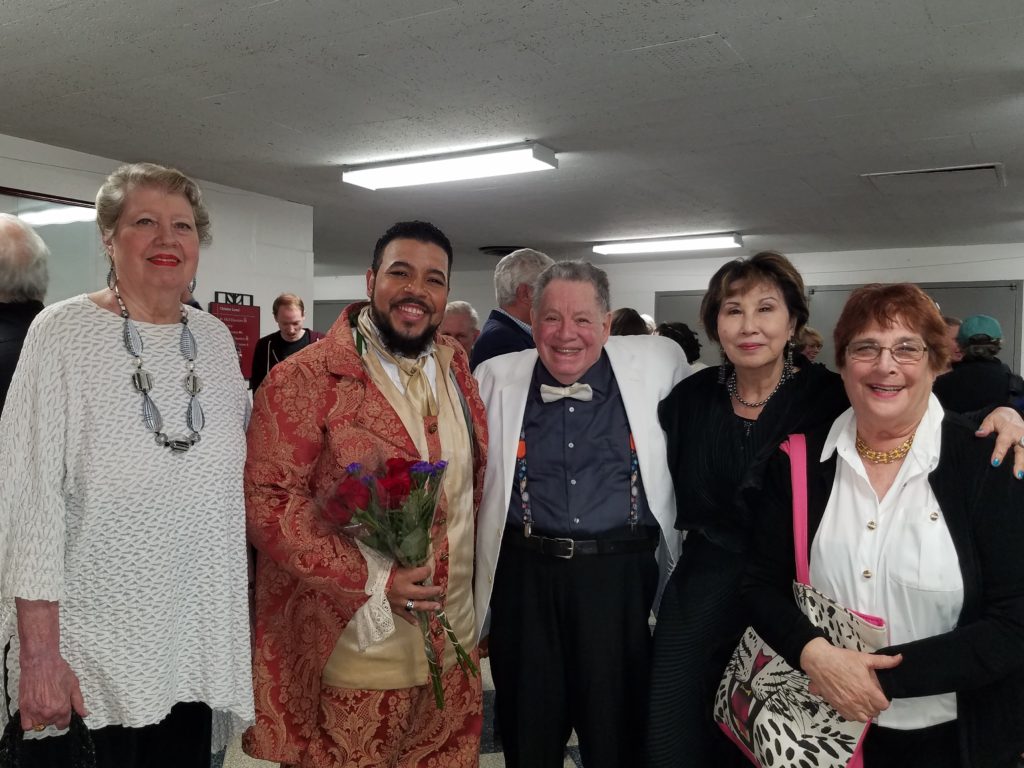 We congratulated vocal coach Tamie Laurance on the splendid performance of her student/protégé tenor José Heredia. We felt that we were present at the creation.
Here's to the next season and bravo to Nathan Hull and all at the amazing Amore opera and of course, Viva Verdi!