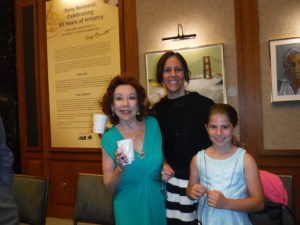 Once upon a time, lets say 1953, they had television executives who wanted to bring culture to a wider audience in America. "General" David  Sarnoff and Samuel Chotzinoff were two cases in point. In 1937, David Sarnoff created an orchestra to lure the just retired great conductor Arturo Toscanini (1867-1957). Toscanini then led the orchestra in a series of broadcasts and telecasts for the next 17 years. (1937-1954)
The NBC Opera was also formed to promote great operas in English. Their first telecast was Amahl and the Night Visitors composed by Gian-Carlo Menotti for television and the NBC Opera. It was an enormous success when performed on December 24,1951. Other operas were Madama Butterfly, Salome and a host of others. The NBC Opera toured America but was disbanded after a few years.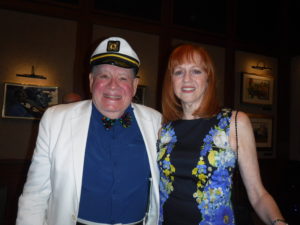 Today most television producers and executives get as glazed as a dunkin' donut when anything that is not "hip hop "or rock is mentioned. Most opera productions allow outrageous "updates" and violence to fill their coffers if not the house with the tattoo and nose pierced sets. Anything sentimental or traditional is scoffed at or is not considered politically  correct! What a pity because I believe that even the most hard hearted skeptic could not weep at the dilemma of poor Sister Angelica.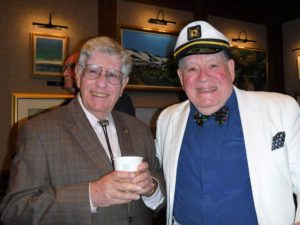 The great composer and man of the theater, Giacomo Puccini had a sister who was a nun. The Puccini family were church organists and composers for generations. Suor Angelica was written in 1918 as part of Il Trittico a series of three short operas. Il Tabarro is a dramatic love triangle tragedy, Suor Angelica initially dismissed as a "weak" piece and the delightful comedy Gianni Schicchi. Suor Angelica has come up from behind and is gaining new admirers for its musical elegance and overwhelming drama.
On the afternoon of Sunday, June 10th at the Paley Center located on West 52nd Street in New York City, a brief welcome and introduction was given by Associate Curator Rebecca Paller. She expressed her wonderment at the marvelous treatment given the NBC Opera done "live" with beautiful sets, excellent camera work, intimate shots and thrilling music by the orchestra which was unseen even by the singers. Ms. Paller singled out some special guests like legendary Met Opera soprano Elinor Ross, famed conductor Eve Queler and "practically everyone in  the audience!" Suor Angelica was aired in 1953 and repeated "live" in 1954.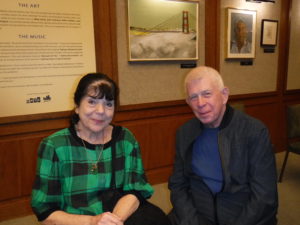 Puccini's Suor Angelica (Sister Angelica) takes place in Italy in 1680. Soprano Elaine Malbin, a young 21 year old Brooklyn born and raised was Suor Angelica. Sister Angelica's sweetness and innocence prevailed and she was dutiful and resilient in her being. All the nuns were sworn to obedience and just once you wanted to hear "What do you do with a problem like Maria" from The Sound of Music. Suor Angelica gathers herbs for the nuns. Then there is a special visitor for her, her aunt. Sister Angelica was from a well to do family. She gave birth to a child and her family kept the child and they placed Sister Angelica in a convent. Her aunt, the Principessa (mezzo Winifred Heidt) is on a special mission and needs Sister Angelica to sign some papers dealing with property. Angelica queries about her child and is cruelly told that a few years back the child was ill and died of a fever. Angelica reaches out to the Principessa in her anguish but Zia (Aunt) steps back and prays, always remindful of the family disgrace wrought by Angelica. Ms. Heidt was riveting and flawless in her singing and acting. Her steely taut mezzo was symbolic of Hell's wrath. Her exit left a chill in the room.
Suor Angelica is shocked by the news and sings "Senza Mamma" (without a Mother) ending on a high note that is from her heart to God. She mixes some poisonous herbs and takes them. In her delirium, she denounces herself for taking her own life which means Hell but as she dies, the Virgin Mary appears and lifts her arms in forgiveness and her child welcomes her to heaven.
Elaine Malbin was intense, her emotion profound, not one gesture wasted, her voice a laser of silver and gold as intense as a forger of steel. The final scene had me in tears, recalling my boyhood when things like the Madonna was so venerated by my Sicilian family. The Mother Superior Abbess (soprano Virginia Viney) was vivid and authoritative, but turned a blind eye when the nuns were eating sweets. All of the nuns sang with passion and fervor and were each and every one a gem. The Zia Principessa was like the ghost of Christmas Future in Charles Dickens' A Christmas Carol. She was a heartless unforgiving spectre. turning her back on Angelica, showing punishment without mercy – a frightening figure, brilliantly portrayed and sung in a resplendent mezzo.
Peter Herman Adler was the most sensitive conductor and Kurt Browning the superb director. The producer was Samuel Chotzinoff with the Symphony of the Air Orchestra and the NBC Opera chorus. The beautiful sets were by William Molyneux. The English translations were by Townsend Brewster. When the lights were on again, on stage there was Elaine Malbin, looking remarkably young and given a long ovation. The eloquent and knowledgeable Robert Sherman from WQXR (The Listening Room) had a Question and Answer session with Ms. Malbin. She thanked her teachers in P.S. 234 in Brooklyn for her career. One teacher in particular heard her singing and made her join the chorus.
Ms. Malbin sang "Voi lo sapete Mamma" from Cavalleria Rusticana at age 14 and sang with the great Viennese tenor Richard Tauber while still in her teens. When asked by conductor Wilfrid Pelletier where she found such adult emotion at so tender an age she said, "I just felt it through the music – that's all!"
An early La Traviata with Lawrence Tibbett as Germont and a brief study at the Stella Adler acting studio and the Stanislavsky method which she briefly used. But in reality it was just something she possessed and did. Elaine Malbin was given one weeks notice to learn the part and you could not see the conductor or orchestra. It was all savvy, Brooklyn grit and her own special gifts that allowed her not only to survive bur thrive. She also mentioned her Broadway play My Darlin' Aida where she sang Aida six times a week. Rudolph Bing warned her "it will ruin your voice" but it never did. She sang at New York City Opera and did coach with Brooklyn's Beverly Sills teacher Estelle Liebling. When the erudite Robert Sherman asked Elaine Malbin about her career losing its momentum, she proudly introduced her daughter Amy and grand daughter Savannah!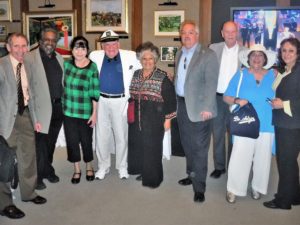 We then went from the Spielberg film room to the main room downstairs. A special Tony Bennett exhibit was on display showing his masterful paintings of people and places. We were pleased to chat with opera manager Ken Benson, conductor pioneer Eve Queler, Met Verdi baritone Mark Rucker and his wife Sadie from the Martina Arroyo Foundation's Prelude to Performance, WQXR famed hosts Robert Sherman and Nimet Habachy, Opera Index treasurer Murray Rosenthal, Vice Presidents Philip Hagemann and Janet Stovin all from Opera Index. Murray Rosenthal requested this homage for Elaine Malbin and also presented the voices of several legendary sopranos on video: Callas, Caballe and Stratas all singing their interpretation of the famous "O Mio Babbino Caro" from Puccini's Gianni Schicchi. 
Dramatic soprano Elinor Ross was enjoying the party as was author Luna Kaufmann, Gloria Gari, from the Giulio Gari Foundation and Bill Ronayne from the Mario Lanza Society. Ronayne reminded us that Elaine Malbin made two recordings with Mario Lanza back in 1950 for the film album The Toast of New Orleans.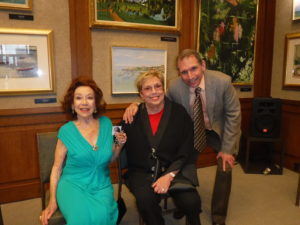 Unfortunately legendary soprano and "founder of the feast" Martina Arroyo could not attend but sent regrets and a reminder that the Martina Arroyo Foundation will present the young awardee singers in Puccini's Suor Angelica and Gianni Schicchi and Bizet's Carmen in early July at the Kaye Playhouse at Hunter College. The playhouse is named after the great funny man Danny Kaye and his wife Sylvia Fine who were both Brooklynites. Martina Arroyo's father Demetrio supported young Martina's musical career as an engineer at the Brooklyn Navy Yard.
Can you imagine an America where such magnificent cultural television once reigned? Giving voice to that significant minority-the lovers of classical music and opera? Television executives who respected the taste of their viewers – even if it was 10 million instead of 100 million? Thank you Martina Arroyo in absentia and Elaine Malbin. You brought back the thrill!