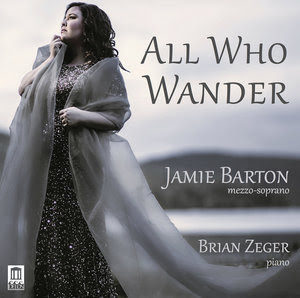 On Wednesday, February 8th at The Kosciuszko Foundation on East 65th Street in New York, acclaimed mezzo soprano, Jamie Barton and renowned pianist Brian Zeger were interviewed by opera manager Ken Benson celebrating their new CD "All Who Wander." The Van Alen Mansion is the home of The Kosciuszko Foundation which seats about 100 people. The reception area with its Steinway piano, makes for an elegant and intimate setting. We were welcomed by the personable new event manager, Iwona Juszczyk.
Stephen De Maio, President of The Gerda Lissner Foundation sponsored the event. In his absence, the enchanting, Cornelia "Conny" Beigel, Secretary, Michael Fornabaio, Treasurer and Trustee Karl Michaelis were tending to his duties.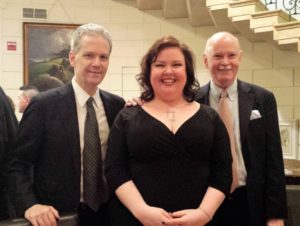 Ken Benson, who was born and raised in Brooklyn, is a prominent opera manager and host in the opera world. Mr. Benson is often moderator on the Met Opera Quiz radio broadcasts on WQXR Saturday afternoons. In the audience were Barry Tucker, son of the legendary Metropolitan Opera tenor Richard Tucker and head of The Richard Tucker Music Foundation and Sherrill Milnes, the great American (Downers Grove, Illinois) Verdi baritone also from the Met Opera whose 30 plus year career thrilled the multitudes. Mr. Milnes was accompanied by his wife, the noted soprano Maria Zouves and both head the VOICExperience Foundation based in Tampa, Florida. Maestro Eve Queler from the New York Opera Orchestra also lent her vibrant presence.
Ms. Barton was the winner of The Gerda Lissner award in 2010 and the prestigious Richard Tucker award in 2015. The great Brooklyn born tenor (1913-1975) shook the rafters at the Metropolitan Opera for 30 years and was known as "The Brooklyn Caruso." Ms. Barton also recently was given the 2017 Beverly Sills Award by the Metropolitan Opera. Ms. Sills (1929-2007) was the much loved soprano of The New York City Opera and the Met and was called "Bubbles." She was another proud Brooklynite!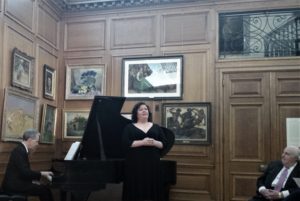 Jamie Barton was interviewed by the erudite Ken Benson and talked about her life and beginnings of her career. There was no opera in her house, mostly bluegrass music, but her family supported her efforts. Her advice to the young singers as she was advised was to "take your time."
With the eloquent and virtuoso piano accompaniment of Brian Zeger, who also serves as Artistic Director of the Marcus Institute for Vocal Arts at The Julliard School, the program began. There were two songs by Gustav Mahler (1860-1911) from the texts by Friedrich Ruckert, "Ich atmet' einen linden Duft" (I breathed a gentle fragrance). The second selection "Liebst du um Schonheit,"(If you love for beauty) were sung with richness, some melting pianissimi, elegance and a touch of melancholy. Some wonderful tones were floated in this dreamy medley, so pure light and soft! Mahler's wife Alma, to whom he was devoted, was notorious for her romantic escapades. Perhaps his love songs are idealized and his real emotions are on the back burner! The immortal tenor Enrico Caruso made a caricature of Mahler circa 1908 when Mahler conducted at both The New York Philharmonic and The Metropolitan Opera.
The next group were from the great Czech composer Antonin Dvorak (1841-1904) and texts by Adolf Heyduk. "Ma pisen zas mi laskou zni (My song of love rings out again) was sung with flair and elan. The second selection "Kdyz mne stara matka zpivat ucivala" (Songs my mother taught me) was sung with poignancy, the melodic intensity gnawing at the heartstrings. I cherish a recording by Victoria de Los Angeles of this haunting melody. Ms. Barton brought it to new heights with her heartfelt renderings. The third offering was "Dejte klec jestrabu ze ziata ryzeho" (Give a hawk a golden cage) and was sung with whimsy and depth. Her Czech was masterful. Ms. Barton is singing the witch Jezibaba in the Met Opera's splendid new production of Dvorak's Rusalka.
The third song group was by Finnish composer Jean Sibelius (1865-1957) and text by Gustaf Froding "Sav, sav, susa, op.36, No.4" (Rushes, rushes, murmur). Ms. Barton and accompanist Brian Zeger caught the despair of a young woman in love who drowned, envied by others, covered by ceaseless waves. In Ms. Barton's rich expansive mezzo, one heard the intensity and irony of this sad tale.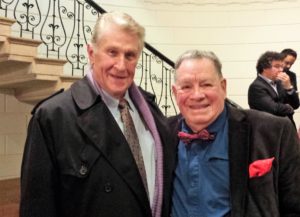 The final Sibelius selection was "Var det en drom?" (Did I just dream?)Text by J.J. Wecksell reflecting on a lost love. It sounded like a tremendous storm, a crack of thunder and the last words ended on a soul stirring low note like golden amber lava pouring out of a volcano. This was sung with generous power, expansiveness and chilling defiance.
Sibelius's music such as Finlandia and Valse Triste was always profoundly moving to me. His violin concerto is among my favorites. Strange that this solitary closeted man who stopped composing at age 59 had so much to tell us before he ended his career. The combination of Jamie Barton and Brian Zeger was truly the source and soul of these wonderful songs by these sublime composers!
A question and answer period with audience and media followed moderated with wit and skill by Ken Benson. The insights of accompanist Brian Zeger were fascinating and his mention of his visit to Andorra which we visited in the 1960's was of special interest. His comments about the composers were refreshing and informative. Ms. Barton advises young awardees to "dive into art songs." She herself, born in Rome, Georgia, loves bluegrass music. Her sage advice "marry the lyrics to the song!" I thought of cook maven Rachel Ray who always advises to "marry the pasta to the sauce!"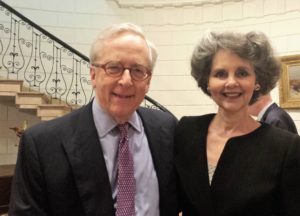 Some questions were "If you woke up one day and found that you had no voice, what else would you do?" The answer, Ms. Barton gave was "find a raison d'etre, a cause, a reason for being." Ms. Barton wears a gold necklace as a symbol of Nelson Mandela's liberation from prison. Ms. Barton is an ebullient cheerful person. She currently living in Atlanta, stays so by always finding time to savor both friends and solitude, enjoy her cat "River" and avoid the hectic voice straining sturm and drang of the computer age. Jamie Barton, like Niagara Falls is a natural wonder. Her voice pours forth with the effervescence of champagne and ambrosia from the Gods. We are transfixed by its beauty. She has found her balance and we are all richer for it!
After the Q and A, we went downstairs where Jamie Barton and Brian Zeger chatted amiably with their admirers who lined up to purchase their CD entitled "All Who Wander." This splendid sample of their great adventure in song, by two gifted and sublime artists, happily autographed the result of their collaboration.
The reception afterwards was fun with delectable finger food, wines and desserts. We chanced to chat with Murray Rosenthal, Treasurer of Opera Index, Vice President/composer Philip Hagemann ("Fruitcake") a popular whimsical choral work, Arthur and Susan Stout, she is a French diction teacher and also works with the Martina Arroyo Foundation and the industrious caterer-manager Philipp Haberbauer who is also affiliated with The Liederkranz Foundation.
It was a lovely spring like evening. In the snowstorm the very next day, it was nice to remember the songs and frolic of that magical soiree and intimate celebration of "All Who Wander" with Jamie Barton and Brian Zeger. Many thanks to The Gerda Lissner Foundation and The Kosciuszko Foundation for making it all possible!