In its brochure, The Austrian Cultural Forum New York is described as "the main cultural embassy of the Republic of Austria in New York and the United States. Christine Moser, director of the ACFNY, is dedicated to showcase Austrian art, music, film, theater and literature, presenting "as much from our cultural past as necessary and as much contemporary art as possible."
Their architectural landmark building in Midtown Manhattan is located around the corner from MoMA. The ACFNY's facilities house a multi-level gallery space, a theater and its own library. They host more than 100 free events annually and the ACFNY is one of the most important places to experience Austrian art, culture and tradition for an American audience.
On the evening of Thursday, February 16th, Elysium-between Two Continents presented Stefan Zweig and Frédéric Chopin in A Musical-Literary Collage entitled "Suffering and Longing in Exile." It was under the patronage of Dr. h. c. Charlotte Knobloch, President of the Jewish Community of Munich and Upper Bavaria. The musical selections were provided by the brilliant Chopin expert Marjan Kiepura and the literary passages were presented in German by the eloquent Gregorij H. von Leïtis with visual translations projected on screen.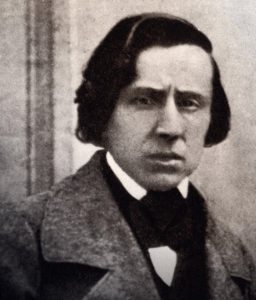 Stefan Zweig (1881-1942) and Frédéric Chopin (1810-1849) were two sublimely gifted human beings who were exiled from their birthplaces and as "wandering troubadours," desperately sought to preserve the best of what they lost through writing and composing. Chopin left Poland at age 20 with the failure of the" November uprising" and died in Paris age 39 of tuberculosis. Stefan Zweig was relatively successful and content until the age of 52 when Austrian Jews led a secure rewarding life with theatre, culture, strong family ties and bourgeoisie respectability. With the rise of Hitler and Nazian/Fascism, the veneer of contentment was shattered with hatred and anti-semitism exploding. Zweig who sought a world based on pacifism fled to London, then the United States and finally Brazil. Zweig took his own life 75 years ago in Brazil on February 22, 1942. The relative peace in Brazil could not stifle his sense of loss for the "Old Vienna" of his youth, just as Chopin never forgot his beloved Poland with an outpouring of mazurkas and polonaise peasant themed pieces, recalling golden and vibrant memories of the peaceful Poland of his youth.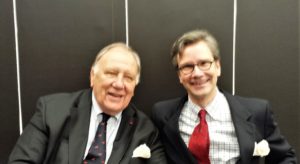 Deputy Director Christian Ebner made introductory remarks and presentation explanations were made by Michael Lahr. Mr. Lahr is the Executive Director of the Lahr von Leïtis Academy and Archive, Chairman of the Erwin Piscator Award Society and member of the Advisory Board Nietzsche Forum in Munich. Also as the Program Director of Elysium-between Two Continents, he has discovered numerous works by artists who had to flee their country under the Nazi regime. For the first time, many of these compositions were performed in concerts in the United States and Europe.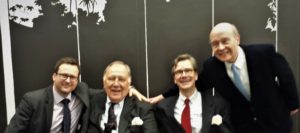 The program began with Chopin specialist and pianist Marjan Kiepura who proudly told the audience of his Polish roots from his father Jan Kiepura, the internationally acclaimed tenor from the Metropolitan Opera. Marjan Kiepura, born in Paris, lives with his wife, the vibrant Jane Knox Kiepura, who greatly assists him in his endeavors as lecturer and researcher, in New York City and Littleton, New Hampshire. Kiepura's new Chopin CD Images of a Homeland has become an Internet YouTube favorite.
The first selection was Prelude Op. 28 No. 15 in D-Flat Major, "Raindrop" which was played tenderly and nimbly, flooding the room with melody, taking us all through Chopin's music towards the light of freedom. George Sand, Chopin's lover at the time, called it "Raindrop" because it reminded her of the storms in Valdemossa in Mallorca, Spain.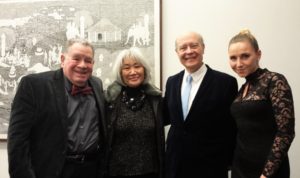 This was followed by the Mazurka in A-minor, Op. 68 No. 2. The Polish peasant dances in the 60 plus Mazurkas Chopin composed in exile, represented the idealized and free Poland he was forced to leave. Mr. Kiepura's fingers adroitly floated over the keys a combination of insouciance and Polish brio!
The Artistic Director and narrator, Gregorij H. von Leïtis recently received the Medal for Science and Art from the President of the Republic of Austria and has been acclaimed for his interpretation of Erwin Piscator's concept of socially relevant theatre that he founded in 1983. In 1995, Gregorij H. von Leïtis and Michael Lahr founded The Lahr von Leïtis Academy and Archive. In that association with Elysium-between Two Continents, their goal is "Art and Education without Borders" which "fosters artistic and academic dialogue, creative and educational exchange and mutual friendship between the United States and Europe".
Mr. von Leïtis, in a clear, resonant and impassioned voice read in German from Stefan Zweig's works which were translated on a screen on stage. Zweig's words are very relevant today and his flatly refusing to acquiesce towards the Fascist state were stated with a will of steel. I thought of the Italian film "The Garden of the Finzi-Contini's" where the Italian Jews tried to maintain their charmed and enlightened life as the dark shadows of Fascism made their world more obsolete until the death trains arrived. I also heard echoes of young Anne Frank's writing "despite everything, I still believe people are really good at heart."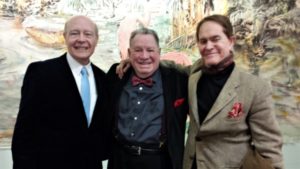 Stefan Zweig bemoans the treatment of the natives that Columbus discovered in his journeys. He felt that the "lust for gold" replaced the humanitarian treatment that should have been shown. Zweig laments "Only the misfortune of exile can provide the in depth understanding and the overview into the realities of the world."
Marjan Kiepura returned with the Waltz in A flat Major Op. 69, No. 1 "L'Adieu", played with the perfect balance of soul and sweetness. Chopin was enamored of Maria Wodzinska in Poland and later after their meeting in Dresden, his feelings were much deeper and Chopin asked for her hand in marriage. Maria's parents felt a composer's income was too uncertain. On their parting, Chopin handed her this music which Maria Wodzinska later named "L'Adieu."
As a tribute to his Hungarian born mother, the great operetta soubrette soprano Marta Eggerth (1912-2013), Kiepura played a composition by Hungarian composer Béla Bartók. Romanian Folk Dance No. 3 "Der Stampfer" with its modernistic chords, it still retained the folklore vitality of its subject and was played with charisma and aplomb by Marjan Kiepura.
The final selection was Chopin's Mazurka in A minor Op. 17 No. 4 which was like the Studebaker of its day. (A car made circa 1947 that was at least 50 years ahead of its time). According to Mr. Kiepura, this mazurka is actually written like music composed a hundred years later, dissonant and chromatic, it proved to be a revelation. Perhaps it is safe to speculate that this piece, with its clashing of chords and dissonance, was both rage against the destruction of freedom in his homeland or the birth pangs of a future "new order". Marjan described this unique piece with vivid authority mixed with wonder. Kiepura's masterful playing evoked Scriabin in its inner combustion. This piece truly represents its message of the tormented refugee!
Both Marta Eggerth and Jan Kiepura were famous film and opera/operetta stars in Europe and found a haven in the United States. Both had some Jewish ancestry. Jan Kiepura was a lead tenor at the Metropolitan Opera and Marta Eggerth was in Hollywood films and Broadway. They later toured the world in Franz Lehár's The Merry Widow.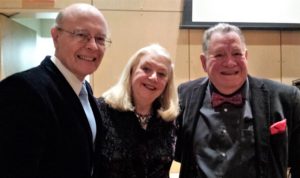 Mr. von Leïtis returned to the stage for the final reading. He captured the very essence of Stefan Zweig. The fall of Austria dismayed Zweig and even though he found relative freedom and comfort in Brazil, it was too late in his own life to change. He and his wife ended their journey that fateful day seventy-five years ago. Had they remained in exile three more years, they would have witnessed a new dawn. Mr. von Leïtis brought to life the soul of Stefan Zweig by his expressive cadences and mellifluous tones. He was the messenger of the truth and the dying of the light during those unspeakable times. Stefan Zweig describes the tensions he experienced in a letter to journalist Joseph Roth: "We must make 'in spite of' the leitmotif of our life, we must know human beings and must love them nonetheless".
With these brilliant essays on the life and death of Stefan Zweig intertwined with Chopin's music, the evening came to a close. There was long lasting applause and cheers for Marjan Kiepura and Gregorij H. von Leïtis.
In the audience and at the wine reception afterwards, we met acclaimed (Cole Porter) cabaret pianist, the effervescent and ever chic Steve Ross, cruise ship pianist Stacy Ward MacAdams looking resplendent is his Florentine cape and the vibrant Tomoko Mazur, wife of the late great New York Philharmonic conductor Kurt Mazur. It was also nice to greet rising chanteuse Anna Schumann who is preparing a show on screen legend Marlene Dietrich.
Special thanks to Christine Moser, Director of the Austrian Cultural Forum in New York, Deputy Director Christian Ebner and their entire team. We will long remember the eloquent readings by Gregorij H. von Leïtis and the pianistic brilliance of Marjan Kiepura. It was a truly splendid evening, both gratifying and moving. In a strong sense in our complex world of today, Stefan Zweig and Frédéric Chopin still live on and inspire. They make us all, with the invaluable assistance of their disciples Gregorij H. von Leïtis and Marjan Kiepura, seek out our better angels.