On the evening of Thursday, May 2nd, Gracie Square Hospital's held its 60th Anniversary Celebration at the St. Regis Hotel in New York City. The hospital is located on the Upper East Side and was founded by Cynthia, Richard and Lawrence of the Zirinsky family in 1959.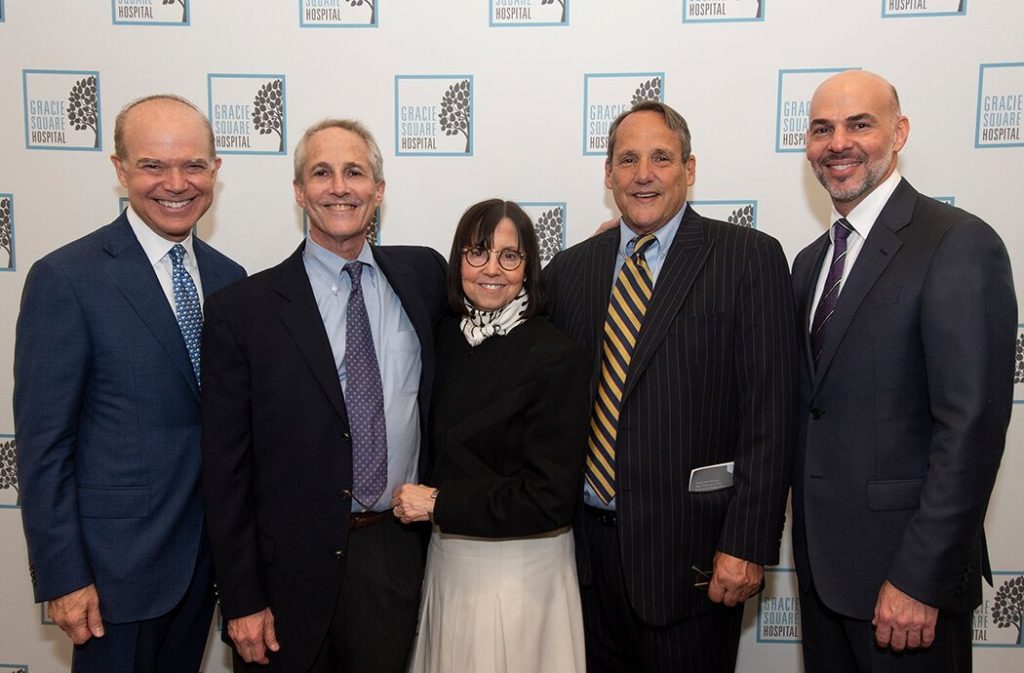 David A. Wyman, President and Chief Executive Officer of Gracie Square Hospital, spoke at the reception and he mentioned that since 1959 the Hospital's main focus is to be patient centered to alleviate behavioral health issues and give peace of mind towards recovery. That is the enduring legacy of the Zirinsky family, who made a donation of one million dollars to the institution.
Dr. Steven J. Corwin, President and Chief Executive Officer of New York-Presbyterian Hospital, lauded the great contributions of the Zirinsky family for four generations, and discussed the importance of treating mental health. One out of five Americans are touched by mental health disorders.
A video presentation showing the holistic approach of compassionate health care the patients receive and the tremendous humanitarian assistance of the Zirinsky family was well received.
Susan Zirinsky, President and Senior Executive Producer of CBS News spoke of her mother, Cynthia Zirinsky, who because of illness could not attend. She said, "she is my hero, Mother we salute you. We are in awe of you and your belief that where medical skills and warm hearted care bring peace of mind."
The closing remarks were spoken by Dr. Philip J. Wilner, Senior Vice President and Chief Operating Officer of New York-Presbyterian Hospital Westchester Division and Chairman of the Board and Gracie Square Hospital.
How mental illness and its painful interruptions to a productive life were made vivid by the reading of a letter to David Wyman. The letter described the daughter of co-founder Lawrence Zirinsky – a fun-loving girl who was lively but dealt with sporadic issues of bipolar depression. Founder Lawrence Zirinsky's sons, John Zirinsky and Bill Zirinsky were also honored for the philanthropic support and were the proud recipients of "Champions" awards.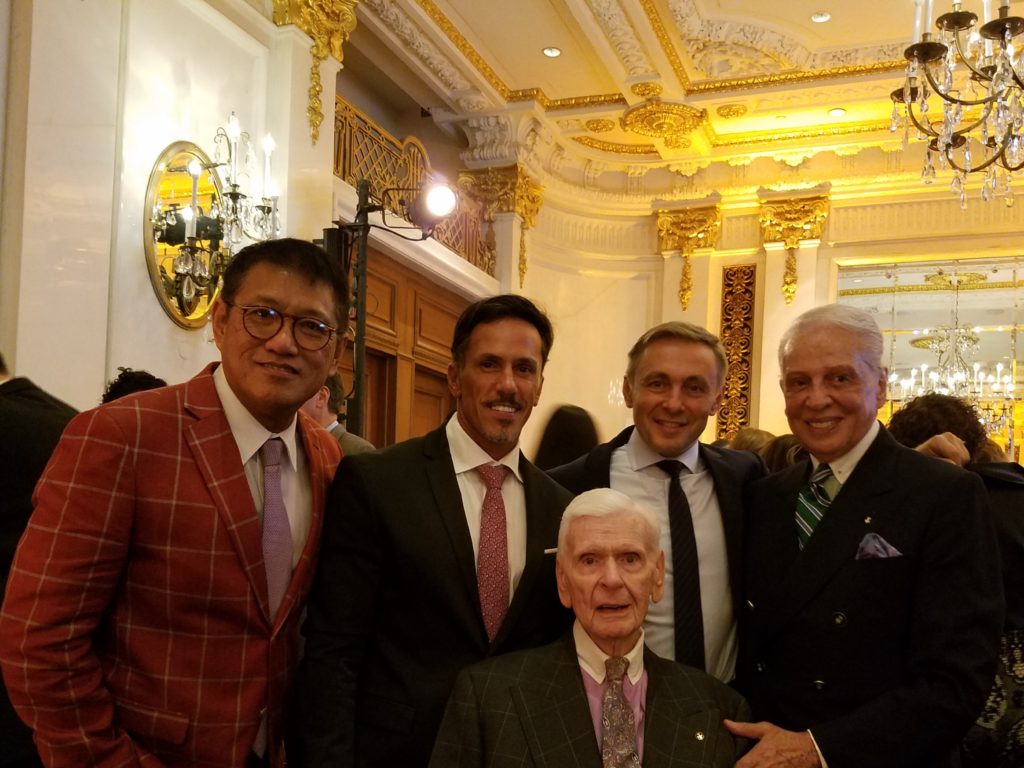 Two other awardees were present. Lorinda P. de Roulet who has been on the Board of Trustees of Gracie Square Hospital since 1992, and a former President of the New York Mets from 1975 through 1980. She was the first woman to direct the day-to-day operations of a Major League Baseball franchise. Lorinda is the catalyst for creating a culture of philanthropy. She donated towards the Gracie Hospital's Patient Rooftop Garden October 4, 2018 which opened with much fanfare and pride. Lorinda founded the Patrina Foundation, which supports education and social services for women.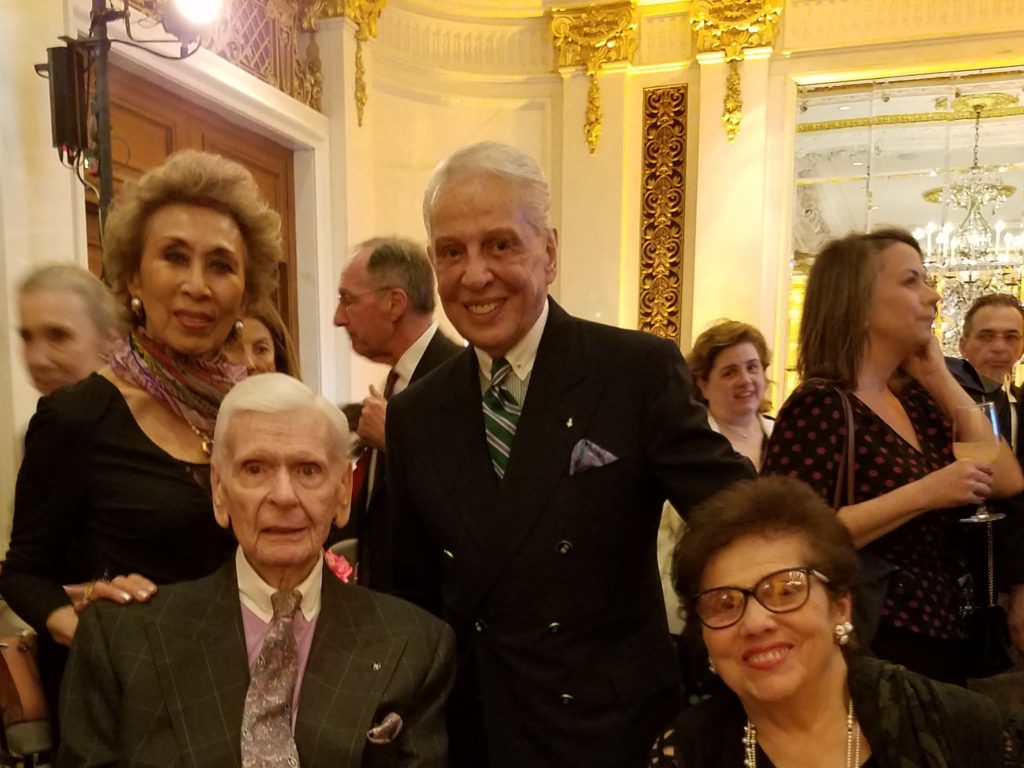 Robert Campbell M.D. KCSJ was Chief Medical Director of Gracie Square Hospital from 1977 through 2006. He is an advocate, educator, writer, spokesperson and scholar. Both he and his life partner since 1968, noted tenor and entrepreneur Sir Cesare Santeramo, were involved at Gracie Square as trusted advisers and faithful contributors, from 1953 through 2004. Dr. Campbell edited Campbell's Psychiatric Dictionary known as the "Bible" of the mental health field. Dr. Campbell is a pioneer in Psychiatry and created newfound opportunities to improve the lives of those treated. We were happy to be in his presence for this award.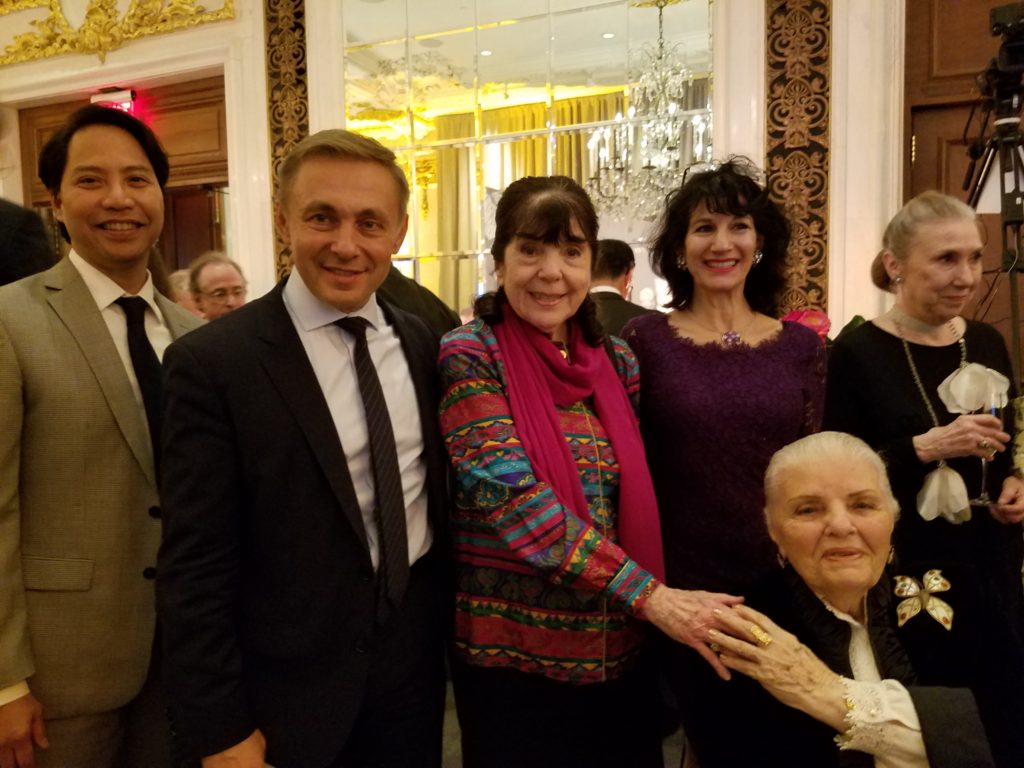 We thank Cesare Santeramo, formerly a tenor of renown, our gracious host for allowing us this inside view that's "On the side of the Angels," a number sung in the musical Fiorello. A bit of Jeopardy type trivia, Fiorello La Guardia was the first New York City Mayor to occupy Gracie Mansion. (1942)
The reception was as one would want in so splendid a setting. We were with our esteemed and dapper host tenor Cesare Santeramo and his other guests: pioneer conductor Eve Queler (Opera Orchestra of New York), Holocaust survivors Luna Kaufman, author and Jolana Blau, from Elysium-between two continents, Sachi Liebergesell, formerly President of the Licia Albanese-Puccini Foundation, noted baritone Mark Watson, fellow opera lovers Marcelo and Alexei Remizov, Dr. Jose Vito and Richard Fung. We also spotted Edna Greenwich and Dwight Owsley from OperaExposures among the revelers.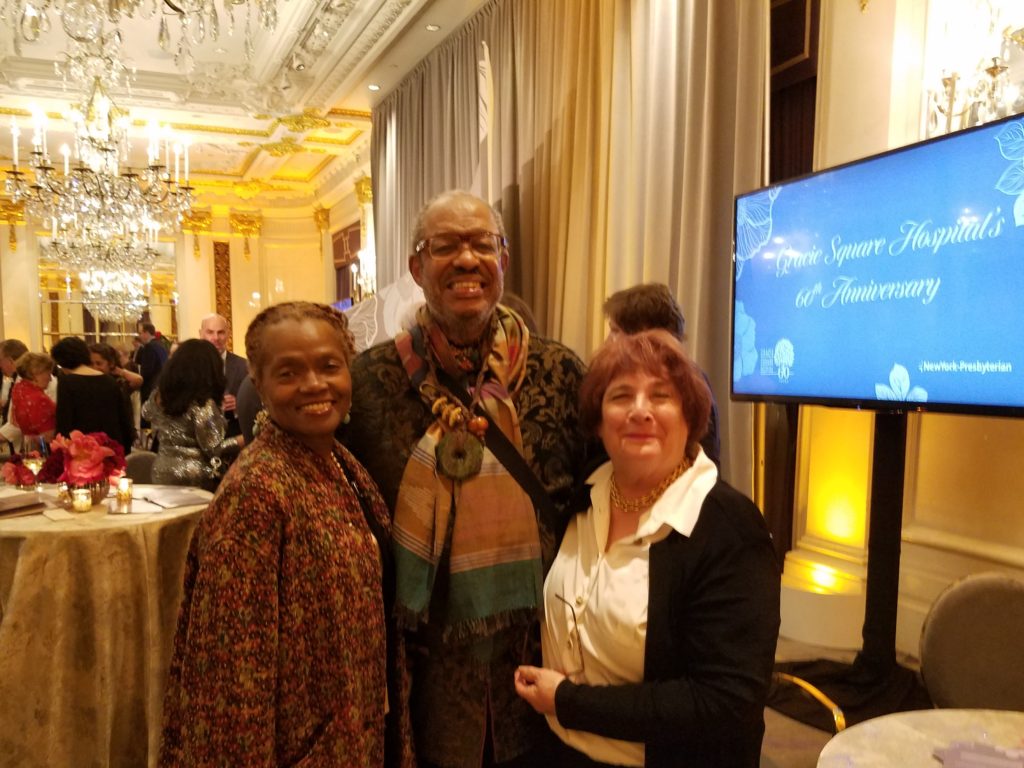 The delicious risotto with mushrooms and washed down with Italian sparkling water or Procesco added to the festive and joyful mood. It was nice to speak with so many proud Zirinsky's. My wife Judy, had a nice chat with Susan Zirinsky, daughter of founder Cynthia Zirinsky. Susan is also President and Senior Executive Producer of CBS News where Judy's father, Joseph Zigman, was Associate Producer on the CBS News with Walter Cronkrite. Susan checked it all out online and was fascinated with the history and we all took a selfie.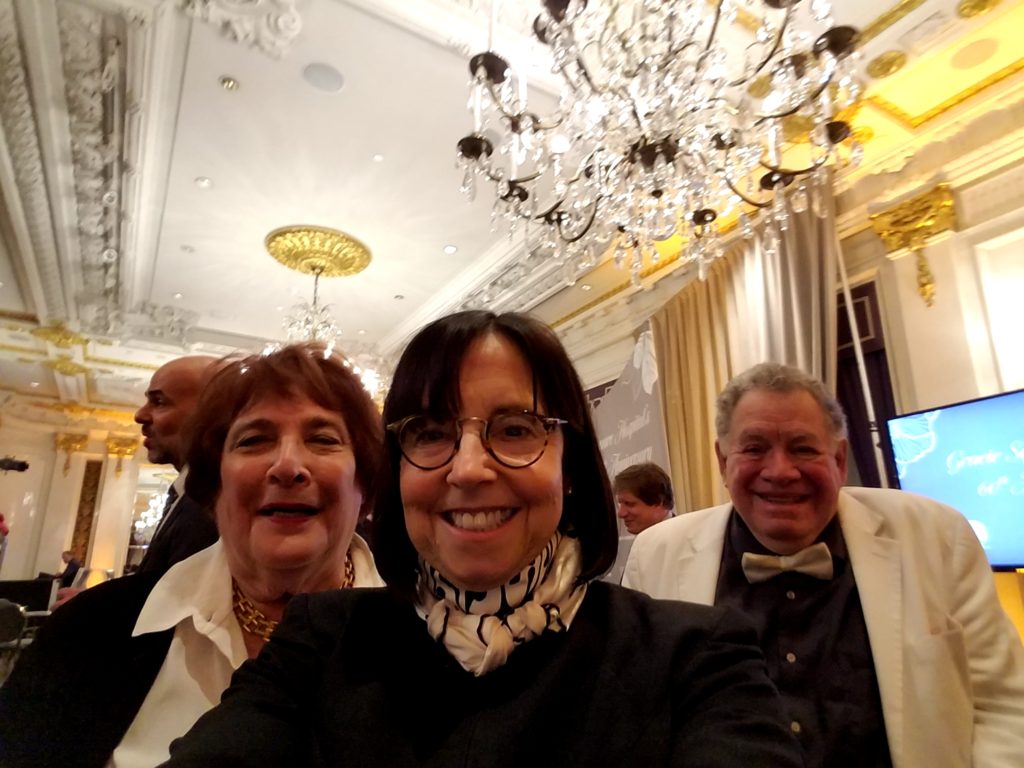 The evening ended with some rain outside. What I expected to be a golden coach was an Access-A-Ride taxi-but deep inside we felt it was a ball, with lovely people and a great four generation family of Gracie Square Hospital that gives love and care to those in need.