Tuesday, April 2nd was a sterling event at New York City's famed Lotos Club. The 32nd annual Erwin Piscator Award from Elysium – between two Continents made this recent Tuesday, a truly "Good News Day." What greater joy on an April morning is to get ready for a day that like the new month, radiates hope and the warmth of spring with Easter and Passover keeping home, hearth and hearts warm and loving.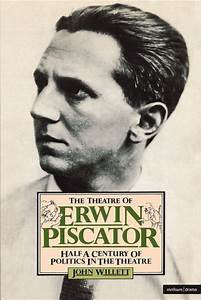 As I type this, Classic Arts Showcase is playing a video of the great and beautiful soprano Anna Moffo singing Lucia. Ms. Moffo was an honoree in 2003 and a great friend to Elysium. I recall a lovely evening honoring Ms. Moffo with Gregory H. von Leïtis and Michael Lahr. So many beautiful flowers blooming through the efforts of Elysium and the inspiration of Erwin Piscator that "Art only achieves its purpose when it contributes to the improvement of man."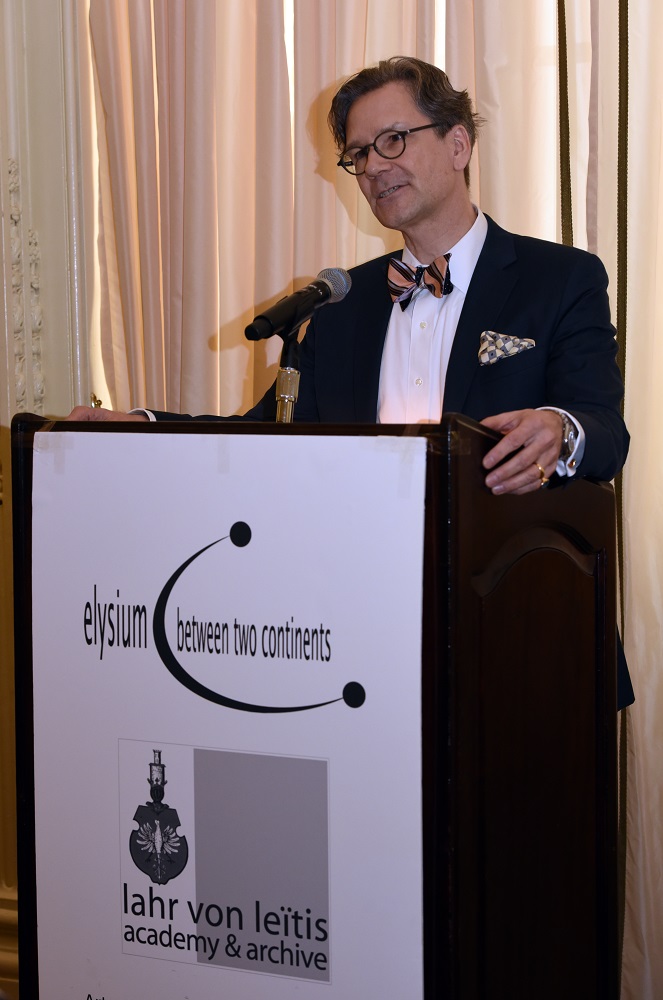 Michael Lahr, Chairman of the Erwin Piscator Awards Committee welcomed all. When we were comfortably seated for the ceremony, soprano Alexis Rodda sang the "An die Freude." ("Ode to Joy.") Her full rich and resonant soprano sang with abandon. The composer was Franz Schubert with a text by Friedrich Schiller. Her able and dedicated piano accompanist was Dan Franklin Smith. Ms. Rodda also sang "Porgi, amor," from Mozart's Le Nozze di Figaro with libretto by Lorenzo Da Ponte (1749-1838) who was a Venetian born Italian Jew, later priest, pianist in a bordello, then chief poet in Vienna, and in old age, impresario and professor of Italian culture at Columbia University and friend of Clement Clark Moore. Read his brilliant autobiography. Can you imagine Mozart's librettist organizing Mozart's Don Giovanni on Leonard Street in Manhattan? (Recently named Lorenzo Da Ponte Way)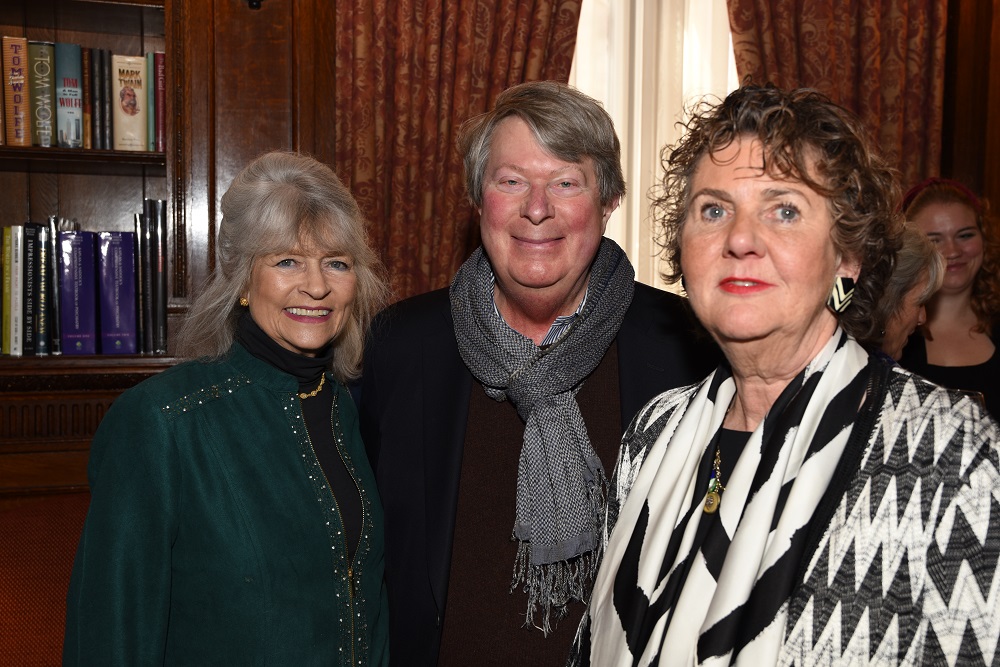 The mission of Elysium – between two continents is "to foster artistic and academic dialogue, creative and educational exchange and mutual friendship between the United States of America and Europe. By means of art, we fight against discrimination, racism, hate, anti-Semitism and forgetting or trivializing the Holocaust."

Gregorij H. von Leïtis, Founder and Artistic Director, then also welcomed all to the event assisted by the radiant Heather Randall. Her much loved husband was esteemed actor Tony Randall, who was also a great opera lover. According to author Mary Jane Phillips Matz, Randall was a great admirer of the late American Verdi baritone Leonard Warren. Warren's special sound still haunts the memory. Tony Randall's comments about Warren are on the back cover of Ms. Matz's biography of the Bronx born baritone Leonard Warren (Amadeus Press) who died tragically onstage at the Metropolitan Opera in La Forza del Destino in 1960.Tony Randall wrote the forward as well.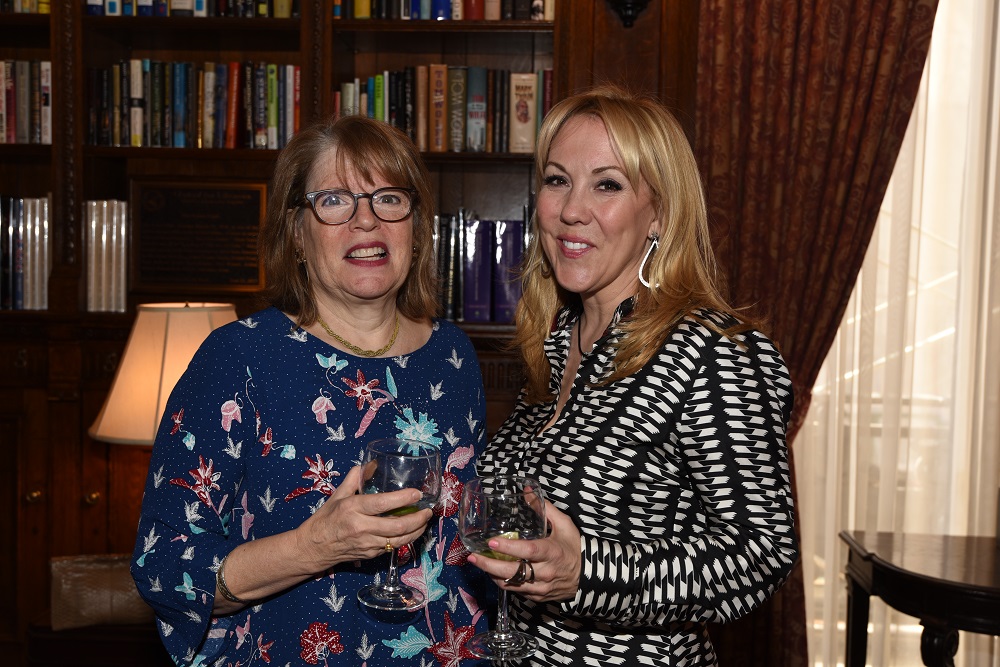 Daniel Kehlmann, known for his play The Mentor and his novel You Should Have Left, currently being adapted to a movie with Kevin Bacon and Amanda Seyfried. Mr. Kehlmann spoke of art and writing in a search for truth and how Elysium plays such an important role in its quest for a world of creativity and tranquility. Mr. Kehlmann then introduced Ayad Akhtar and Gregory H. von Leïtis presented the Erwin Piscator award to Ayad Akhtar for his highly topical and political literary oeuvre. As a playwright, novelist and screenwriter, Ayad Akhtar explores the major themes of our time: economics, immigration, identity, and in particular the American and Muslim experience. He encourages his audience and readers to tackle these big problems and the looming questions that arise from them. Mr. Akhtar accepted his award with a request for more understanding in a world that remembers past grievances but opens doors of enlightenment leading to understanding.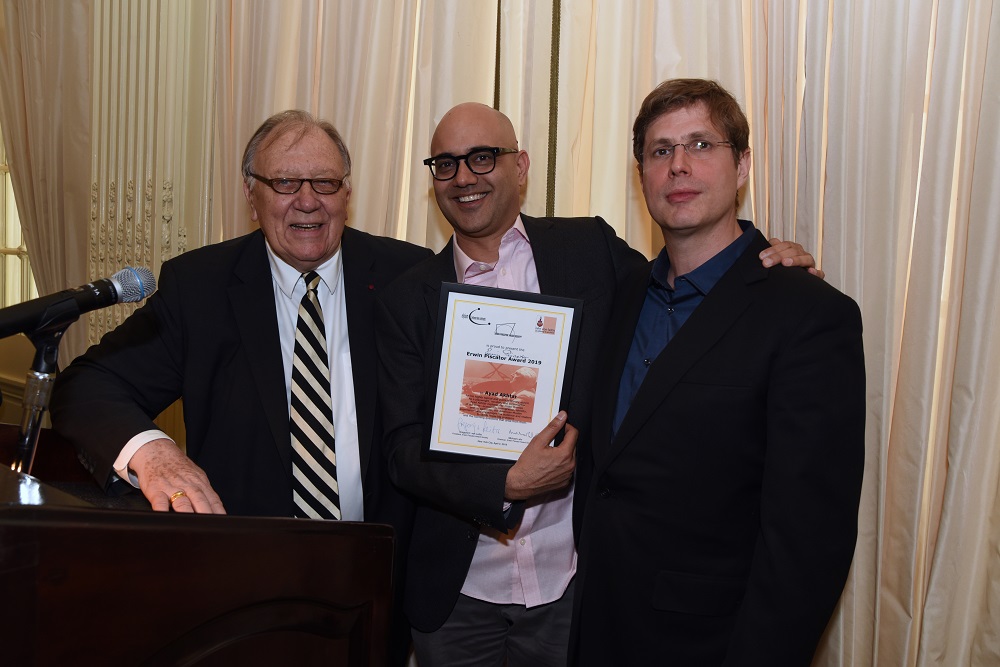 Ismar Schorsch in his remarks, made a plea for reconciliation. He is the Chancellor Emeritus of the Jewish Theological Seminary and Herman Abramovitz Distinguished Service Professor of Jewish History. Rabbi Dr. Ismar Schorsch became recognized as one of the foremost spokespersons on a range of critical issues. The presentation was then made by Gregorij H. von Leïtis to Katherine Goldsmith. Ms. Goldsmith was raised in Greenwich Village and attended New York City public schools before moving to Cambridge, Massachusetts. There she continued to paint and played the flute for a small orchestra. Her husband Clifford Goldsmith was a businessman and a devoted parent and philanthropist. He co-founded the Corinne Goldsmith Dickinson Center for Multiple Sclerosis at Mount Sinai in New York named for his daughter who died of the disease. He worked tirelessly for multiple sclerosis related diseases and served as Chairman of the National Multiple Sclerosis Society. Throughout his lifetime, he and his wife Katherine, devoted their energies to causes in the field of healthcare, education, the arts and Jewish organizations. Elysium proudly presented the Erwin Piscator Award 2019 – in memory of Maria Ley Piscator (wife of Erwin Piscator) to Katherine and the late Clifford Goldsmith.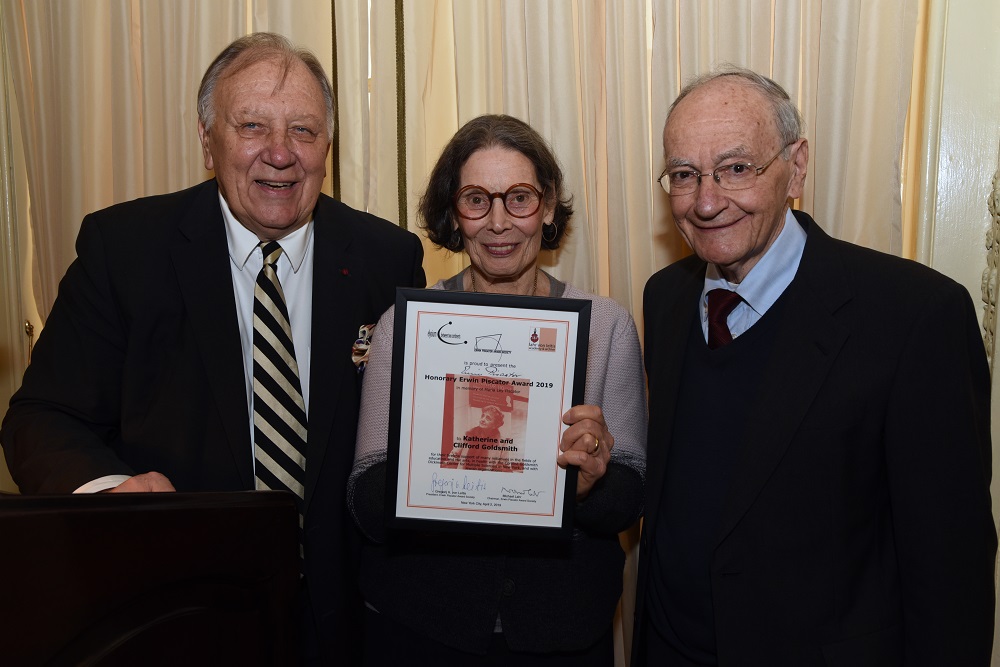 Michael Haider has a PhD in History (University of Vienna) and is now Director of the Austrian Cultural Forum in New York City and is closely associated with the Austrian theatre scene. He spoke of the strong tradition of Austrian culture and of course the festivals in Salzburg. When the great conductor Bruno Walter's doorbell rang, his maid trembled at the handsome man behind the ring, and Maestro Walter, looking at her reaction exclaimed, "I think we have found our Don Giovanni." Recordings of "live" performances with Bruno Walter and Ezio Pinza in Le Nozze di Figaro (April 19,1937) still are available and are a symbol of the glory that was. The great Danish heldentenor Lauritz Melchior refused to let the Nazi's use his estate in Germany. Hitler, furious, had Goebbels look up the Melchior family tree, which had both Jewish and Lutheran Melchiors, so he seized the property and Melchior left. Arturo Toscanini no longer went to Salzburg festivals and settled in the United States as war clouds thickened casting a dark shadow on the music world as well. Dr. Helga Rabl-Stadler received the Erwin Piscator Life Achievement Award 2019 from Elysium-between two continents for her enormous longtime commitment to foster the arts as President of the Salzburg Festival. It is known worldwide as one of the most prominent festivals for performing arts and music.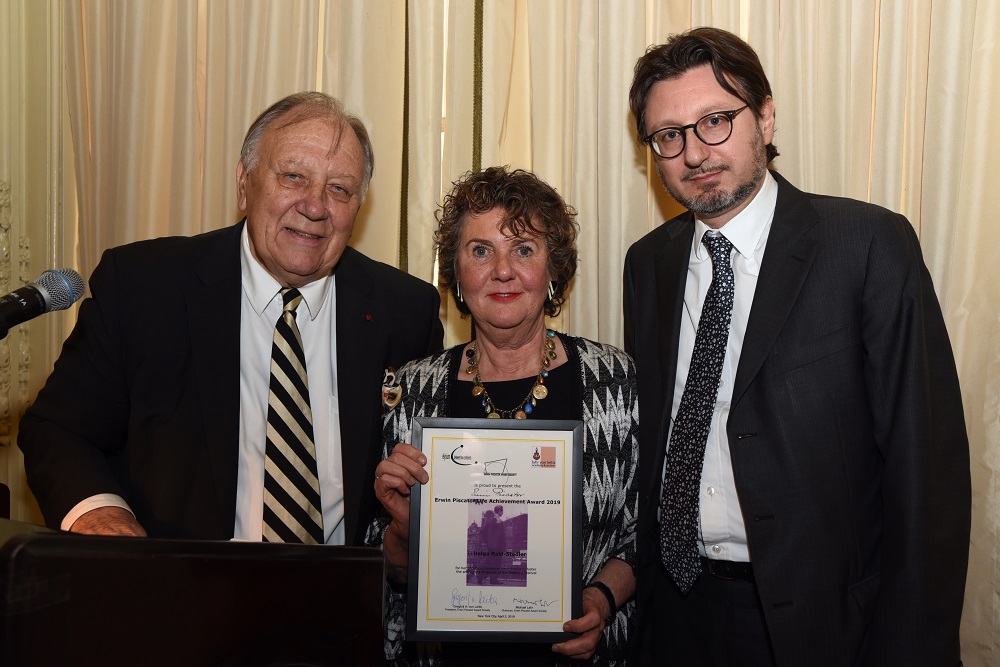 The final selection by soprano Alexis Rodda was "What Good Would the Moon Be?" from "Street Scene" by Kurt Weill with lyrics by Langston Hughes. "What good would the moon be unless the right one shared its beams. What good would dreams come true be if love wasn't in those dreams." Thank you Alexis, beautifully done and kudos to pianist Dan Franklin Smith.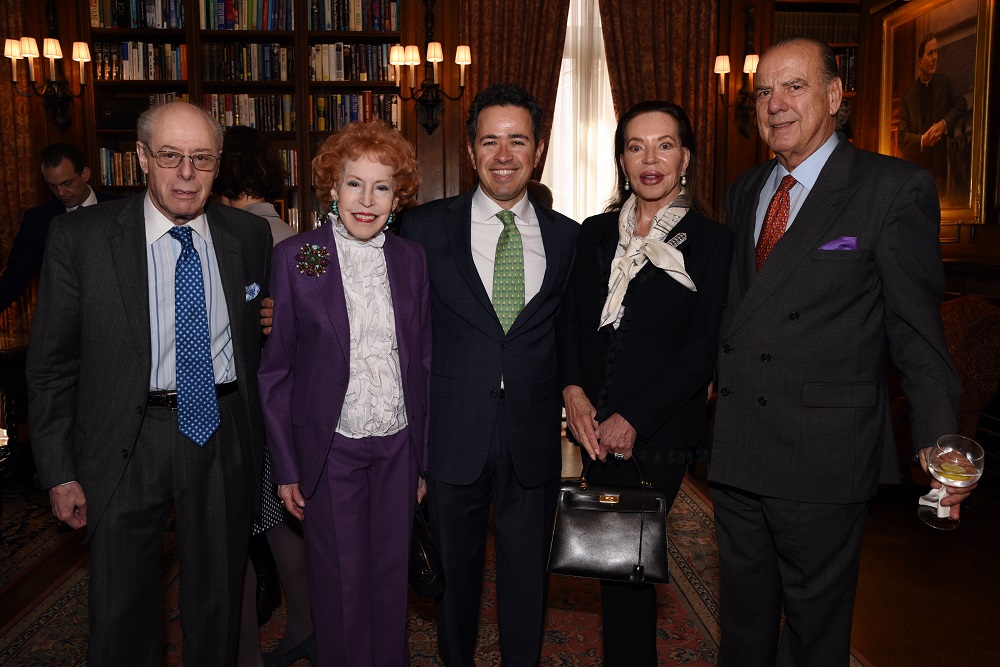 A superb luncheon followed compliments to Executive Chef Raymond Hollanda. And you guessed it – Nino loved his Branzino and vino! It was so nice to see so many Consul Generals from Austria, Czech and Vienna. (Manhattan School of Music) Special thanks to Sir Cesare Santeramo a former awardee (Honorary Award 2015) with his companion the much loved, Dr. Robert Campbell, (who regrettably, was unable to attend) for being our charming and affable host. We enjoyed meeting Betsy and David Silverman and had an interesting talk about our favorite opera, Tosca. The Luncheon Committee of Jolana Blau Chairperson, Heather Randall, Dr. Robert J. Campbell, Sir Cesare Santeramo, Lya Friedrich Pfeifer, Vice Chairpersons, Paul and Kristina Falke, Dr. Hans-Michael and Almut Giesen and Stefan and Sylveli Hemmerle deserved plaudits for their fine work.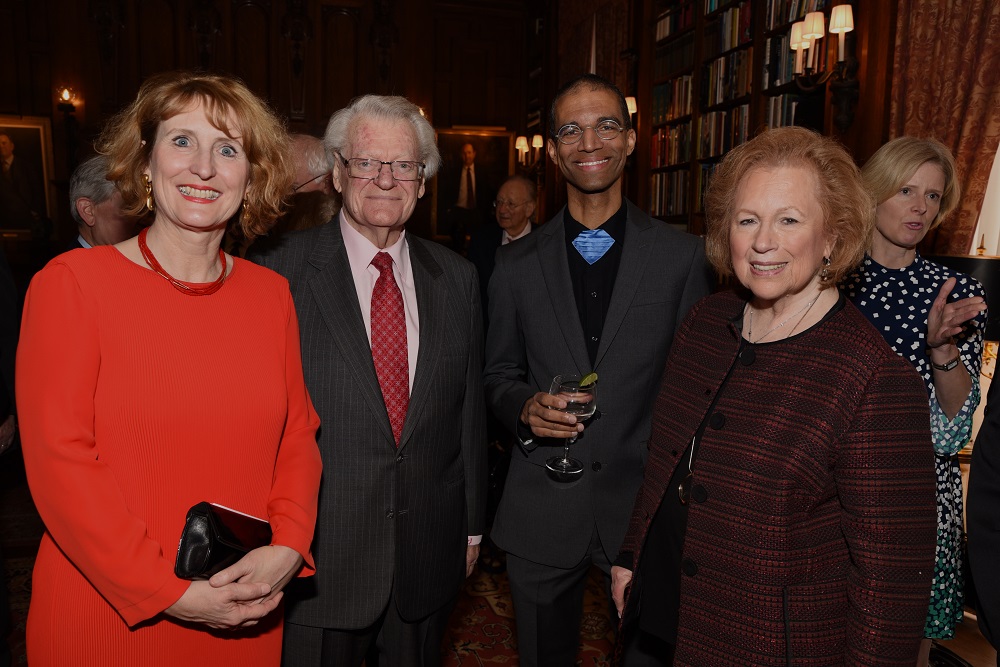 As Chairman, Michael Lahr said at the end of the booklet, "Gregorij H. von Leïtis thank each of our honorees, our guests at today's 32nd Erwin Piscator award luncheon, our many supporters, friends and colleagues who help us and are united with us in our endeavor to build bridges rather than walls, to facilitate dialogue and exchange, and create a better world, a world of friendship and respect, rather than hate and discrimination."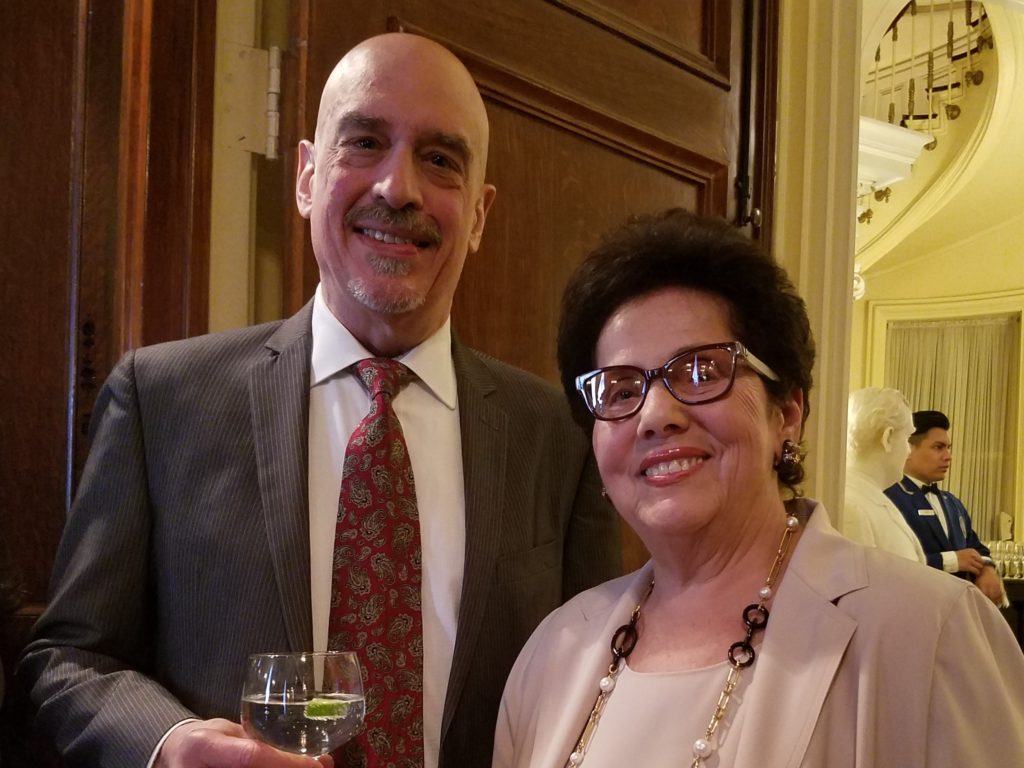 One of my favorite American poets, Robert Frost (1874-1963) wrote "Mending Wall" which is quite à propos for the current times. "Something there is that doesn't love a wall" says that all men stand united – no walls!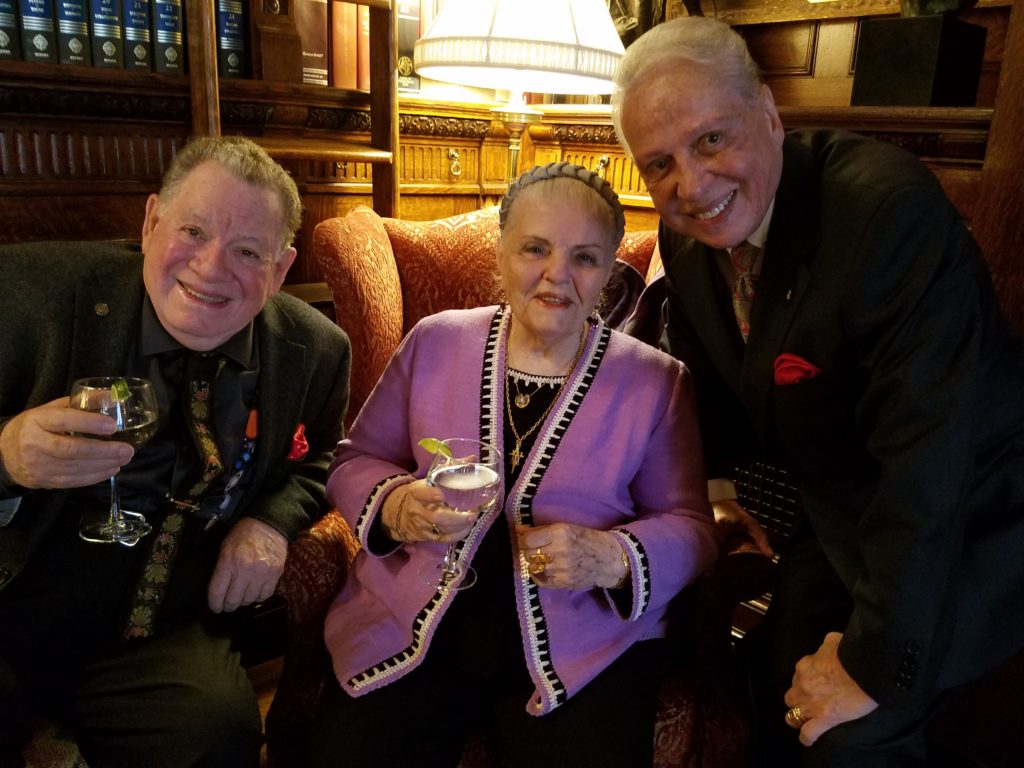 Lastly, I quote Bertolt Brecht on Erwin Piscator. "Piscator is the greatest theatre man of all time. He will leave a legacy which we should use." Bravo all at Elysium – between two continents. Compliments to Gregorij H. von Leïtis and Michael Lahr who represent humanity at its finest.