The great composer Giuseppe Verdi (1813-1901) had his first big success with his Biblical opera Nabucco. It had the rhythmical quality that we call early Verdi but it also had big arias sung by two sopranos and dominant bass and baritones that were memorable. The magic was in its choral singing of "Va Pensiero." (The chorus of the Hebrew slaves) which became the rallying cry of the Italian revolution and Verdi's name became the match that made the light and gave strength to the movement – Victorio Emannuel Re Di Italia (Verdi) the calling cry of freedom. In my oral dissertation to receive my Bachelors Degree in History from St. Francis College in Brooklyn I was asked about a subject I knew nothing about, but instead I gave the professors the story of Verdi and how Nabucco and "Va Pensiero" liberated the people of Italy and remains to this day the rallying cry for freedom everywhere. I was one of only two people who passed this oral exam and did not have to take the more elaborate written one. Coincidentally, my fellow graduate and co- winner of the St. Francis College oral exam, Michael Zufolo, was also in attendance with his sister, Sarasota transplant Rosemary. His subject was Peter Caesar Alberti, North American's first Italian American immigrant.

Nabucco was the composers third opera. His first, Oberto, Conte di San Bonifacio, was successful, his second, Un Giorno di Regno, a comedy was a failure. Verdi's wife Margherita Barezzi died age 26 in 1840 and their two children also died. The Impresario Bartolomeo Merelli pressed Verdi to compose a third opera to fulfill his contract. Verdi composed Nabucco Donosor and it was also called Nino because Biblical names were not allowed to be used. This seminal work led to the other masterpieces we associate with this immortal composer. His second wife, the beloved Giuseppina Strepponi sang in the La Scala premiere March 4, 1842. The libretto is by Temistocle Solera, the play Nabucco Donosor by Auguste Anicet Bourgeois. It came to the Metropolitan Opera in October 1960 with brilliant soprano Leonie Rysanek,esteemed baritone Cornell MacNeil and romantic basso Cesare Siepi with Thomas Schippers conducting. I was there and until the Sarasota performance, that was my standard.

On the afternoon of Sunday, March 10th, Maestro Victor DeRenzi came to the podium and the opera began.This is the 60th Anniversary season of the Sarasota Opera and is cause for a great celebration.The recently renovated William E. Schmidt Theatre is one of America's great opera spaces and seats about 1100 people.The souvenir booklet is a celebration of this special Diamond Anniversary season.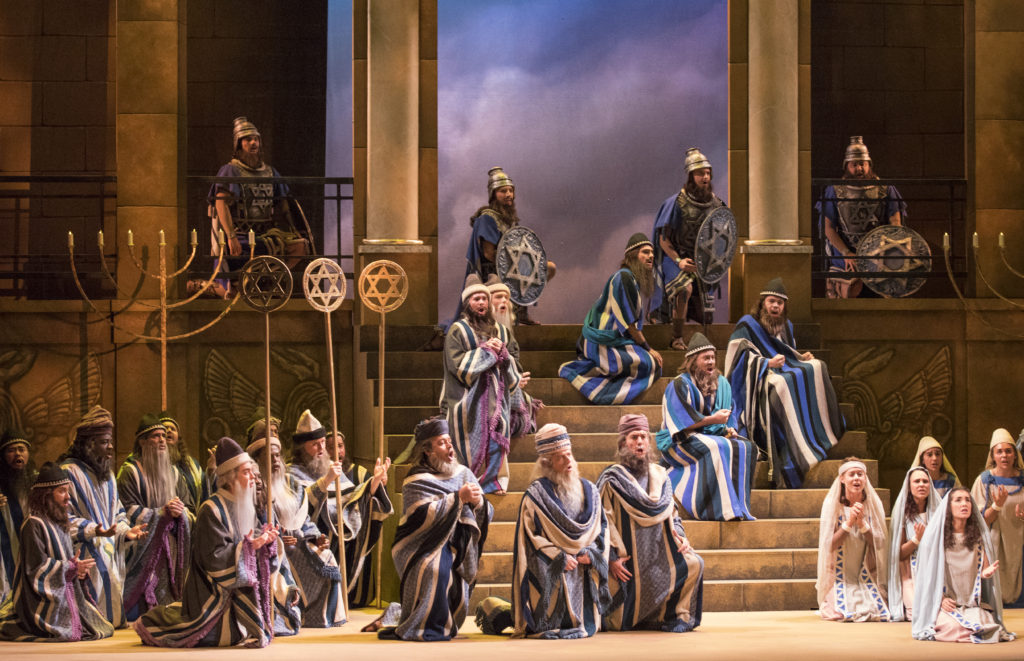 The overture is among Verdi's greatest beginning with a vigorous melodic section and transferring to the "Va Pensiero" mournful strains and ending with tympani rolling vigor. The music, under the magical baton of Maestro Victor DeRenzi and superb orchestra, received great applause and the opera began.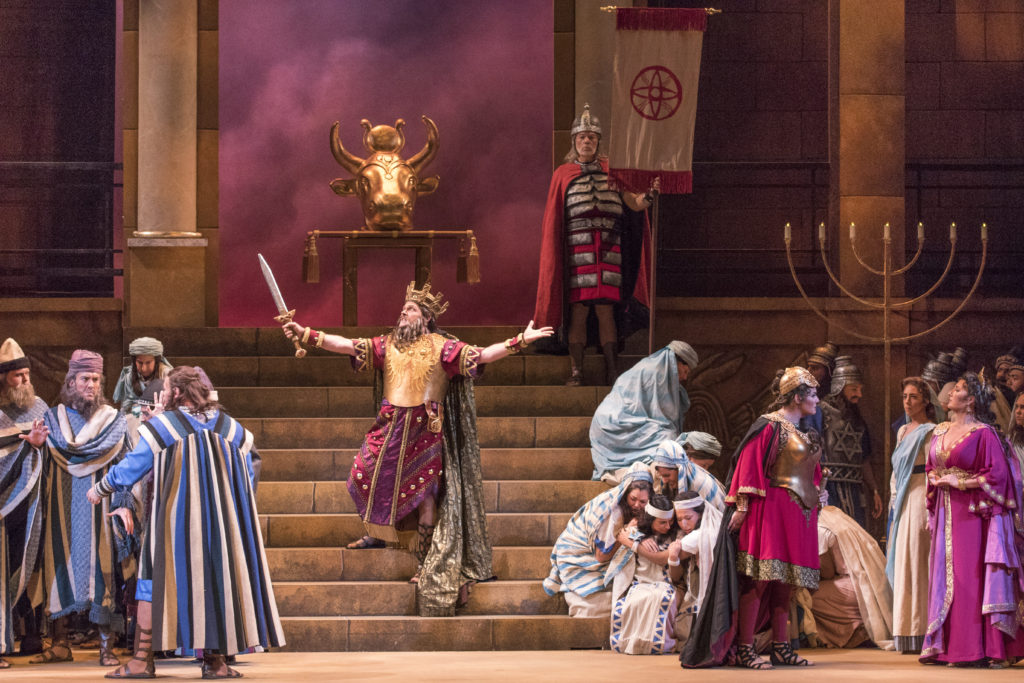 It was Jerusalem and Babylon circa 587 B.C. Jerusalem has been defeated by Nabucco, King of Babylon but his daughter Fenena, is held hostage by the Hebrews and their priest Zaccaria. Ismaele, a Hebrew with whom she is in love, allows Fenena to escape to her father and repulses the advances of her warrior sister Abigaille. The Hebrews are held captive in Babylon. Abigaille discovers that she is really the child of slaves and not Nabucco's daughter. Her rage and anger are at the breaking point.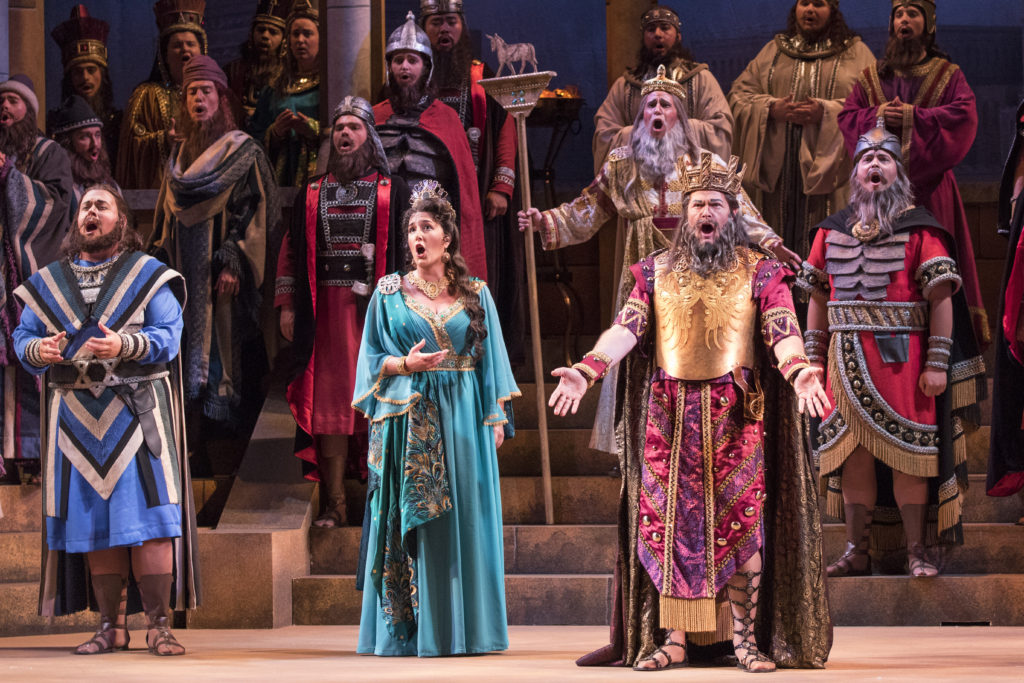 Nabucco returns and declaring himself both King and God, is struck by lightning. When his reason returns, he prays for forgiveness to Jehovah and saves the Hebrews. Abigaille poisons herself and dies repentant.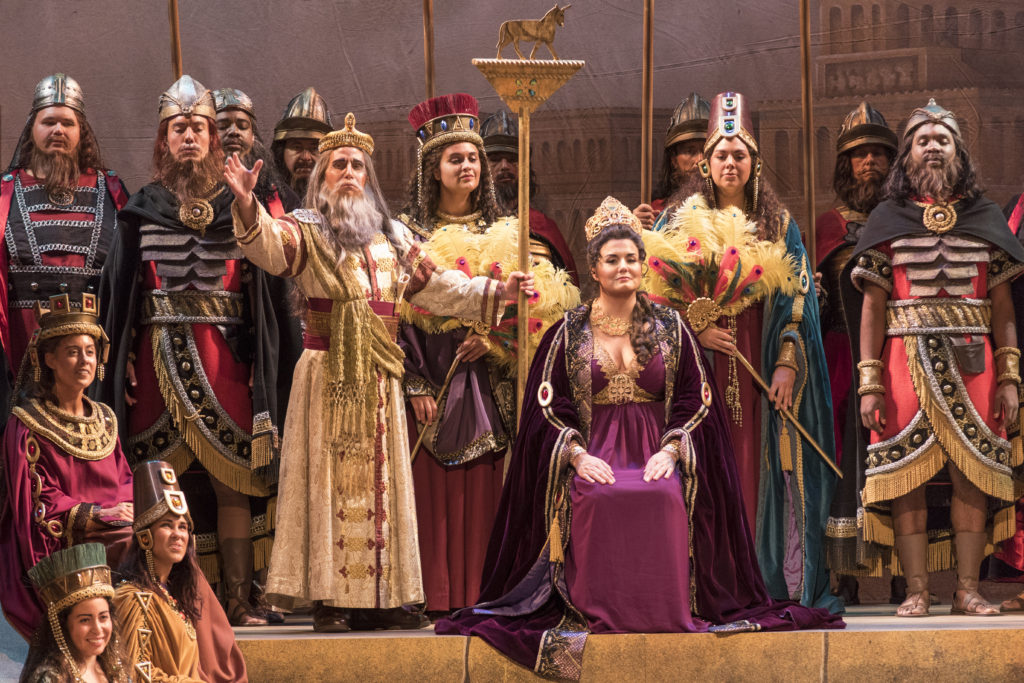 Baritone Stephen Gaertner was Nabucco. His stage demeanor was royal and rageful and his vocal status excellent. His mellow baritone has power on reserve and great flexibility. His glazed demeanor after being struck by lightning was impressive and his declamatory utterance definitive. His voice had the color and power to take the audience on his emotional irrational ride. He handled the controls very well and deserved his ovation. Nabucco's aria in Act Four with the chorus "Son pur queste mia membra! Dio di Giuda" had the richness of tone that indicated that resolution was near.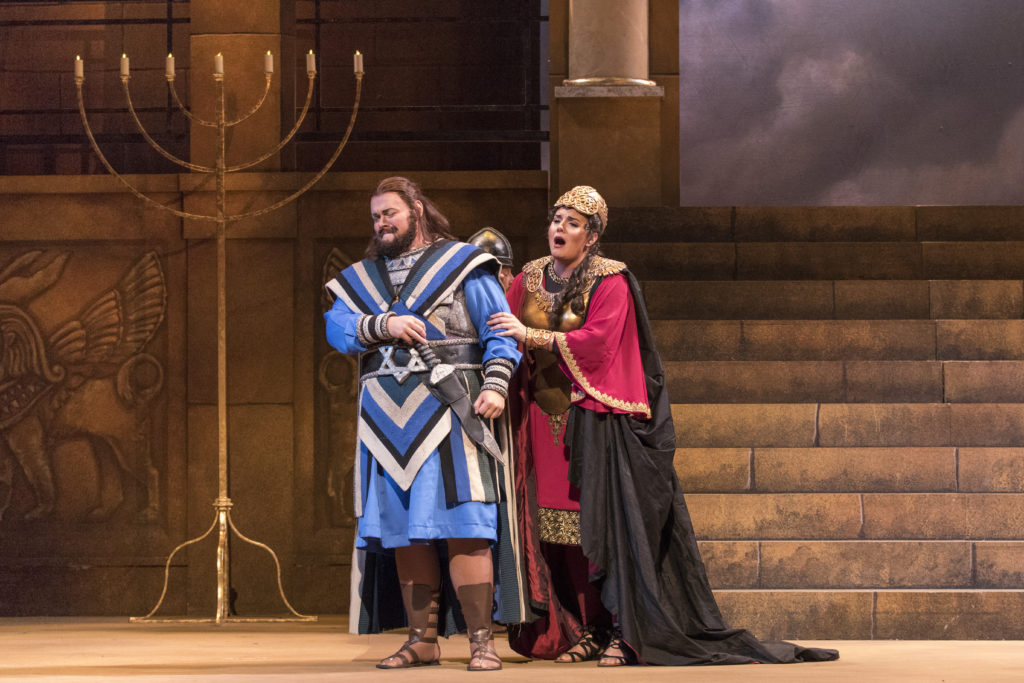 Ismaele, the King of Jerusalem, Ben Gulley, had a strong tenor which was used romantically and heroically and his refined tones made the audience warm to his character. His strong stage presence and vocal projection showed a tenor of power and promise.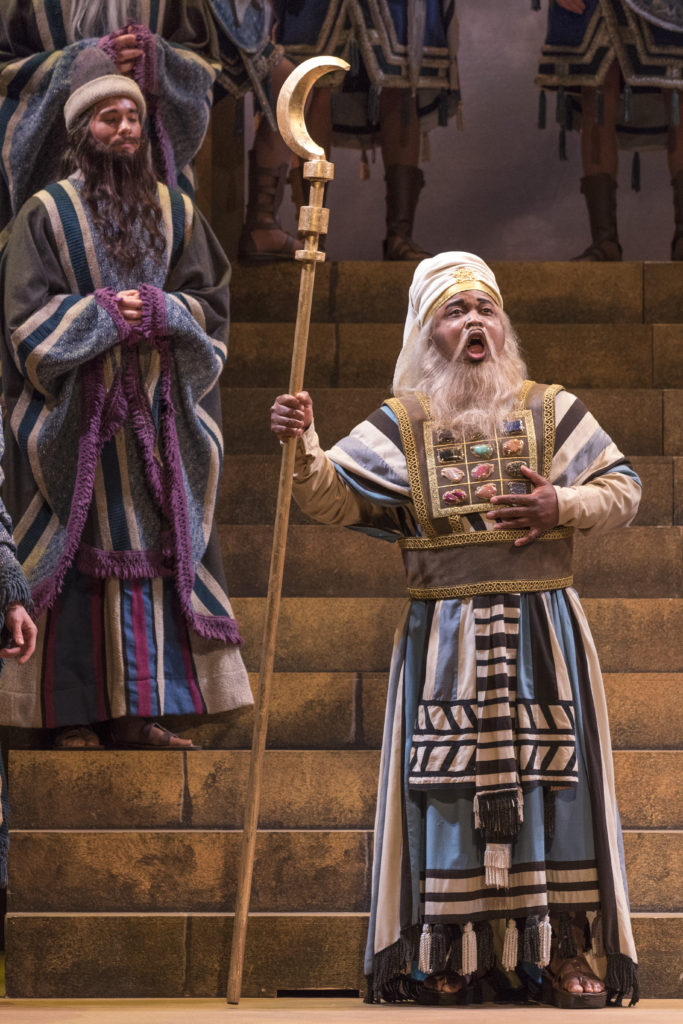 Zaccaria, the High Priest of the Hebrews, was sung by bass Kevin Short. Mr. Short sang with ardent fervor, striking lows, burnished passion and nobleness. His was a very impressive character study with every gesture capturing the eye and ear. Zaccaria's aria in Act Two "Vieni, o' Levita! Tu voi labbro" was a strong indication of his basic character and his strength as a potentially eminent singer. We need dark voices today-where are the Pinza's and Siepi's of old? At the Sarasota Opera!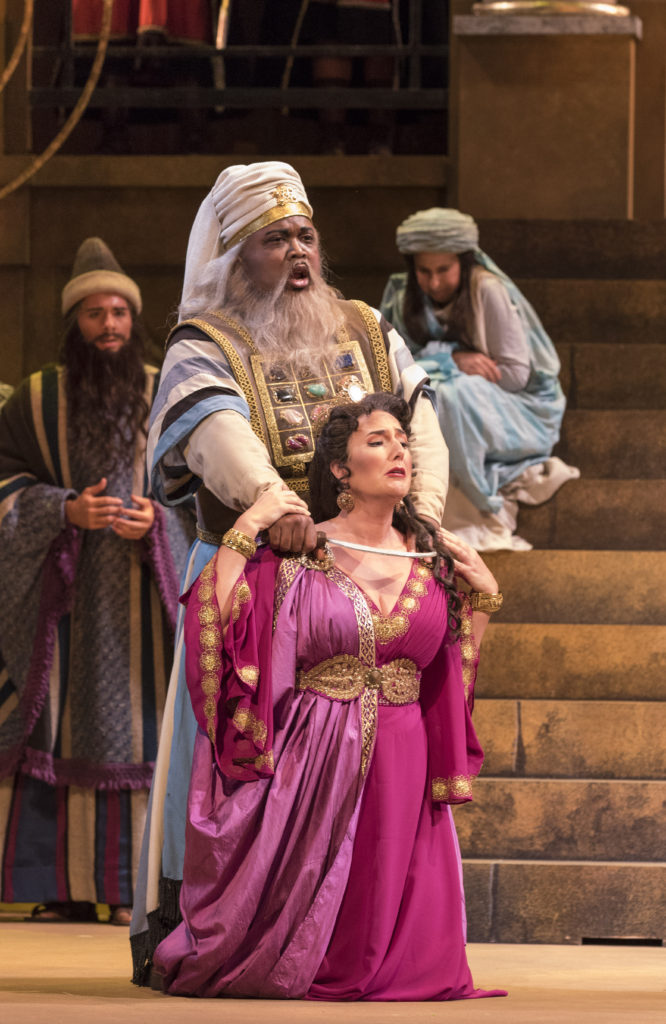 Abigaille, Nabucco's first born daughter, thought to be a slave, was Rochelle Bard. Ms. Bard's soprano was both dazzling and stunning, not like a volcanic eruption à la Mme. Rysanek, but rather a brilliant meteor that beguiles, taunts and settles things, fiercely. In Abigaille's recitative, aria and cabaletta in Act Two"Ben ioLinvenni -anchio dischiuso un giorno" one could feel her rage, her sibling rivalry imploding and exploding with the cry of vengeance. Ms. Bard has a very rare talent combined with instinct that will place her in the pantheon of the very greatest of the great. Her musical intelligence will see to that and what a dazzling display of vocal fireworks! At the finale, she forgives Fenena, professes her belief in the God of the Jews as Zaccaria gives thanks to Jehovah.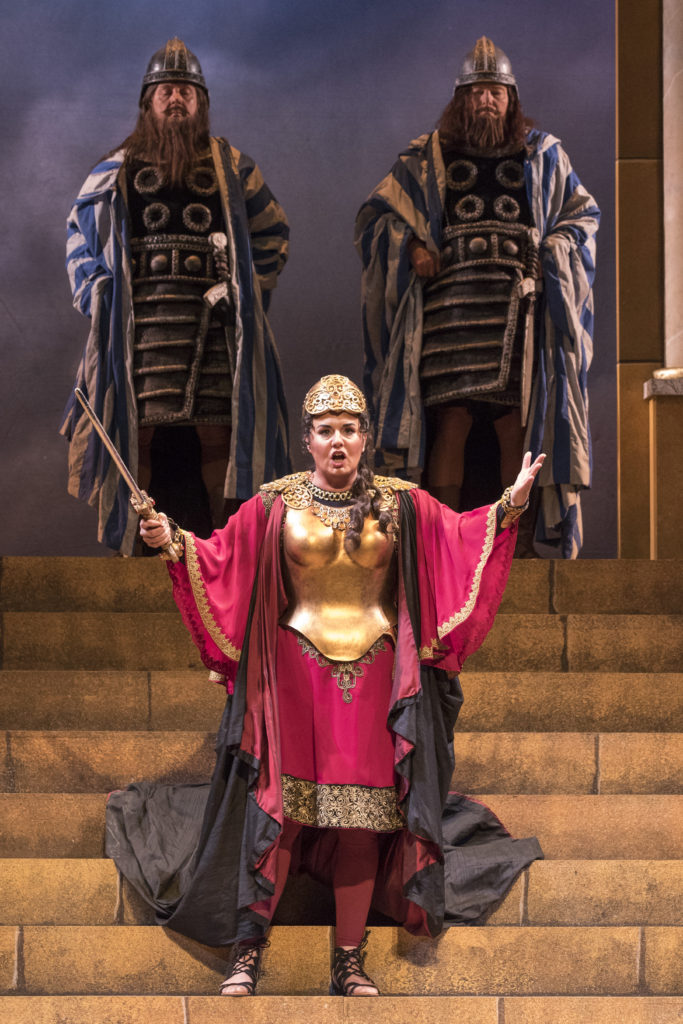 Fenena, Nabucco's daughter, was sung by Lisa Chavez. Ms. Chavez has a strong, true soprano, flexible, subtle and titillating that sticks like crazy glue. A perfect rival for her Cruella Deville bitch witch sister. Ms. Chavez sang with much lyrical passion which caught the operatic madness and kept ones ongoing interest. A very impressive vocal minestrone with many rich and enduring edibles.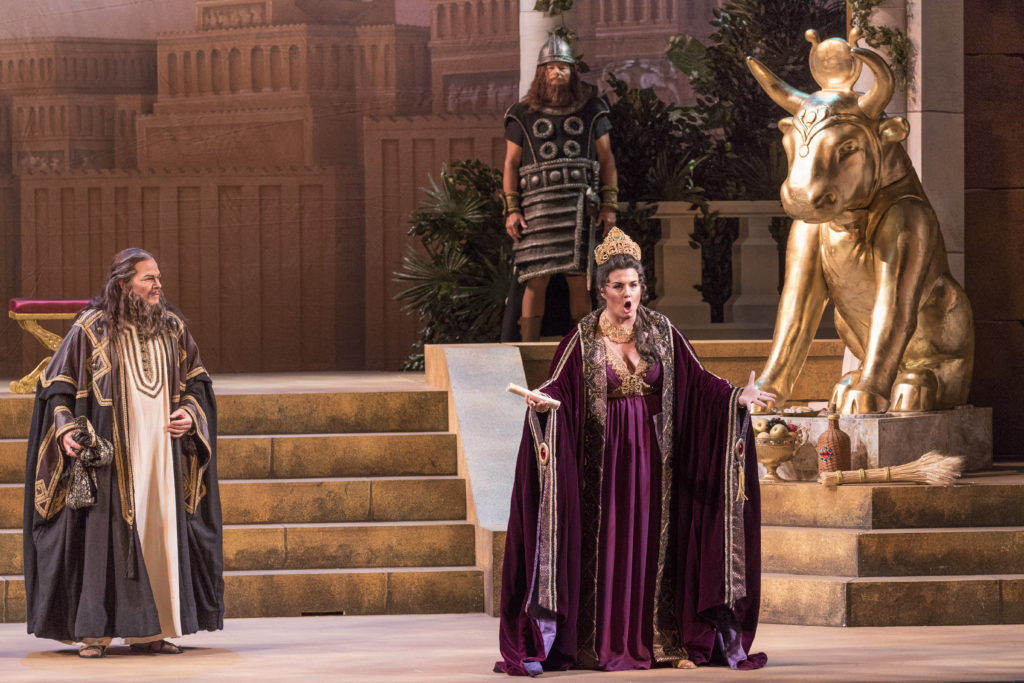 Abdallo, an old official of the King of Babylon, was sung by tenor Samuel Schlievert, studio artist who is rising like the sun to a bright future.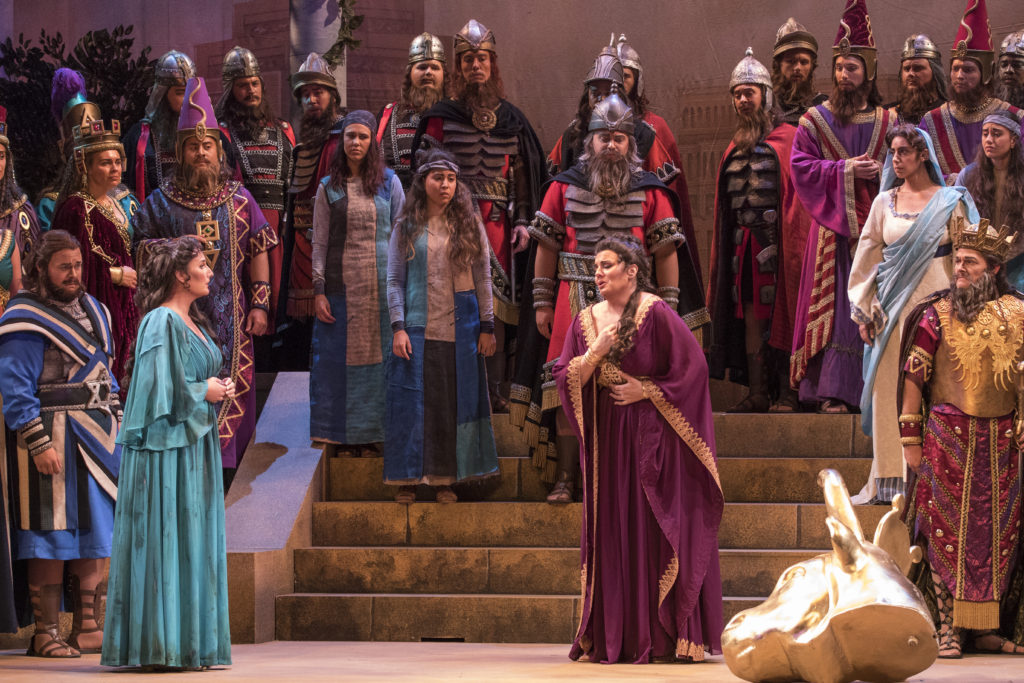 The High Priest of Baal was robust basso James Eder, studio artist and Anna, Zaccaria's sister was Yvonne Trobe, stirring soprano also studio artist. To hear fresh voices low and high fills the gap and gives hope for the glowing future.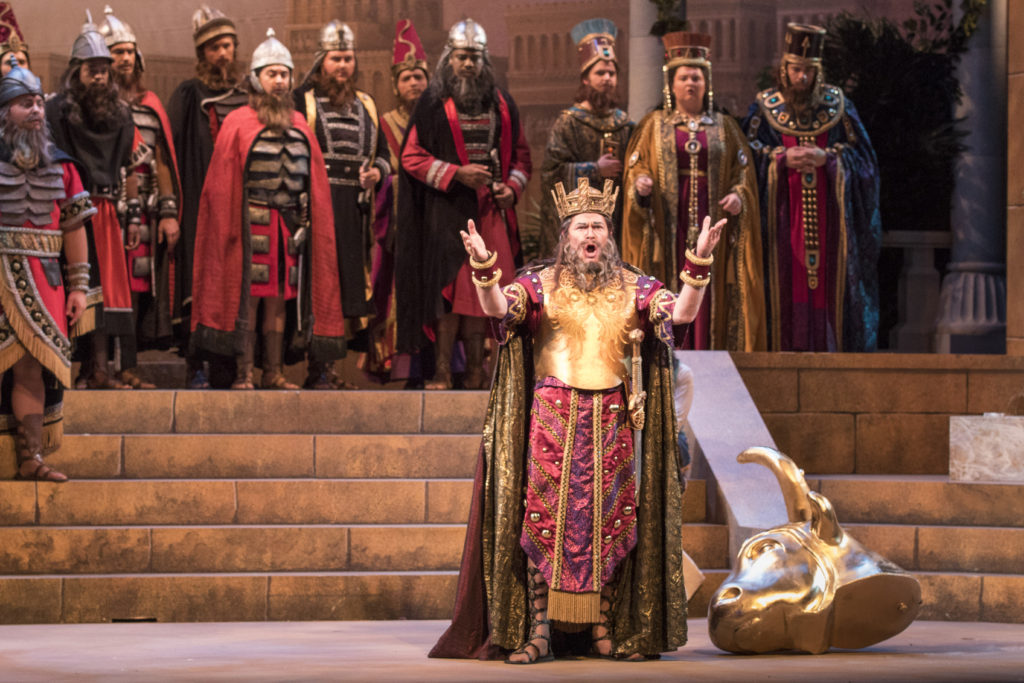 The Sarasota Opera Orchestra was brilliantly conducted by Music Director Victor DeRenzi whose past projects included all of Verdi's works, a feat never done before. The Nabucco Overture is truly a gem with both foot stomping rhythm and soaring melody. All of the opera with its awe inspiring Biblical happenings were conducted with the special genius that Maestro DeRenzi gives us. The finale was stirring and the good feelings spread through the house with loud applause and bravos of time well spent with sublime music and singing.

The chorus under Roger L. Bingaman sang with passion, elegance and heaven bound tones. The "Va Pensiero,sul al dorate"still is filling my head with great music instead of the nonsense we see on television most of the time.

Martha Collins' stage direction ensured us of a stage of great coherency no matter how crowded. Jeffrey Dean's colorful scenic design was eye catching and always held the interest.

Nicola Benois's costumes were beautiful. The various peoples were represented in a very noble and coherent manner.

Howard Tsvi Kaplan's costume design was striking. Ken Yunker lighting designer was imaginative and transfixed the various moods.

Hair and makeup design by Brittany Rappise were never garish and always accurate.

The explosion that destroyed the gold statue of Baal was wonderful. For a moment I thought I saw actor Edward G. Robinson praising Baal to Moses followers in that fabulous film, The 10 Commandments.

Kudos to the subtitles supplier "Words for Music" and the truly helpful translations by Maestro Victor DeRenzi.

It was nice to meet Communications Coordinator the ebullient and effervescent Lana Mullen and Director of Artistic Administration, Greg Trupiano our neighbor in Brooklyn who gives lectures on poet Walt Whitman (Brooklyn Eagle) and happy to hear that Richard Russell (Executive Director) is playing the Emperor in Puccini's Turandot! Bravo Richard and to all, who, under Maestro Victor DeRenzi's leadership, are making the opera world look toward beautiful Sarasota, Florida in a new light"-Sunshine and Opera" or" moonlight and excellent dining"in this truly wonderful venue.