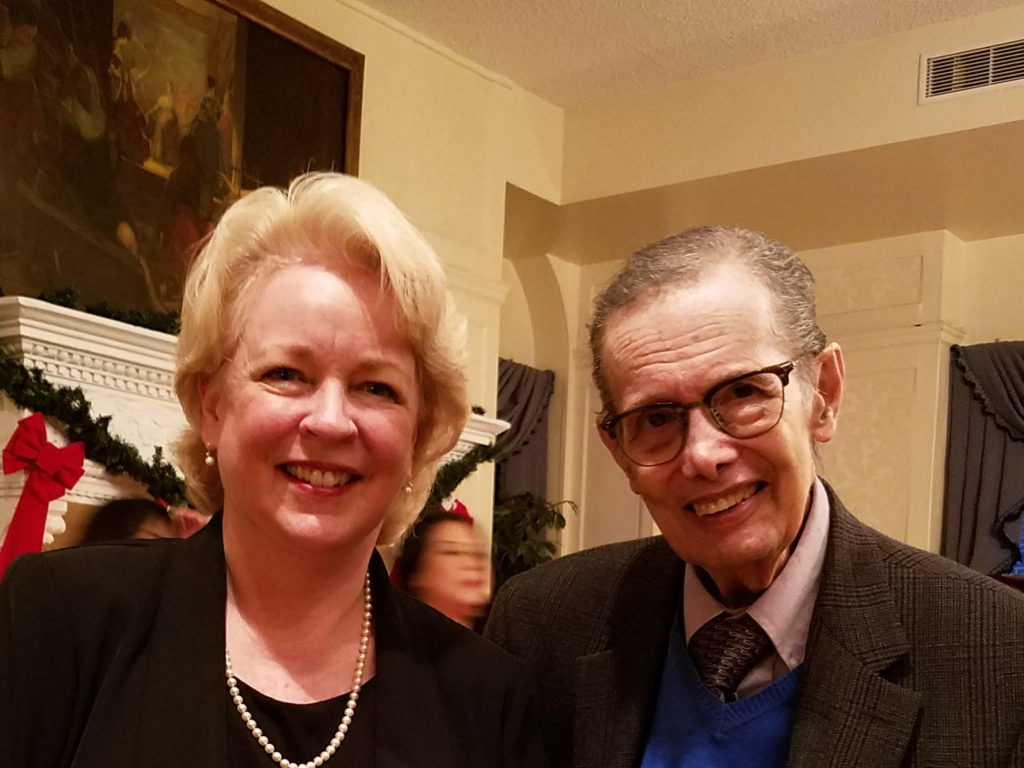 The Gerda Lissner Foundation held its Holiday Celebration at the Liederkranz Foundation in New York City on the afternoon of Sunday, December 2nd. The decorations, Christmas trees, and general decor made all feel the irresistible holiday spirit.The damp, mild rainy weather was banished by the good cheer that permeated the concert room. Gerda Lissner President, the much loved Stephen De Maio returned to the helm and spoke of guests from Sweden and China. He thanked his Board members and trustees; Michael Fornabaio, Karl Michaelis, Barbara Ann Testa, and Cornelia "Conny" Beigel.
Mr. De Maio noted the lucky presence of the accompanist from the Metropolitan Opera, Jonathan Kelly, recognized Mr. & Mrs. Joseph Pfeifer, great supporters of the Gerda Lissner Foundation and introduced our host for the concert, the affable and radiant Midge Woolsey, famous fundraiser and host of PBS. 
Ms. Woolsey spoke of the powerful words of author Rene Brown about the importance of vulnerability being the trigger of creativity. When singers put themselves "out there," they are vulnerable to the caprices of vocal sniffles and audience caprice.

During a performance of Verdi's Requiem at Carnegie Hall many years ago, I took some friends backstage and the great Pavarotti came out. He immediately saw my daughter-in-law Bernadette was not smiling. He went up to her and said, "Maybe you no like a my performance?" No? Maybe you no like-a MEEEE!?" She again shyly nodded her denial! When it was picture time he shouted, "find that girl, find that girl!" and proceeded to take a picture with her and himself together. She was then smiling broadly. My sons James and Marcello were amazed and amused! Then we all posed for a photo with the now happy Luciano Pavarotti!
That is the vulnerability of all artists. They should care about each and every member of the audience. Poor Bernadette, she was just shy! She never knew about how much they care. She does now and always smiles at the memory. 
Ms. Woolsey gave a brief analysis of the scene from La bohème and soprano Sonja Krenek sang "Si, mi chiamano Mimi" from Puccini's La bohème which premiered in 1896 with the then 28-year-old conductor, Arturo Toscanini. Ms. Krenek is the possessor of a dark impassioned soprano that was both touching and humble. She diminished some tones effectively and moved us all as Puccini would have wished. Her encore was "O Holy Night" by Adolphe Adam which is one of my favorites.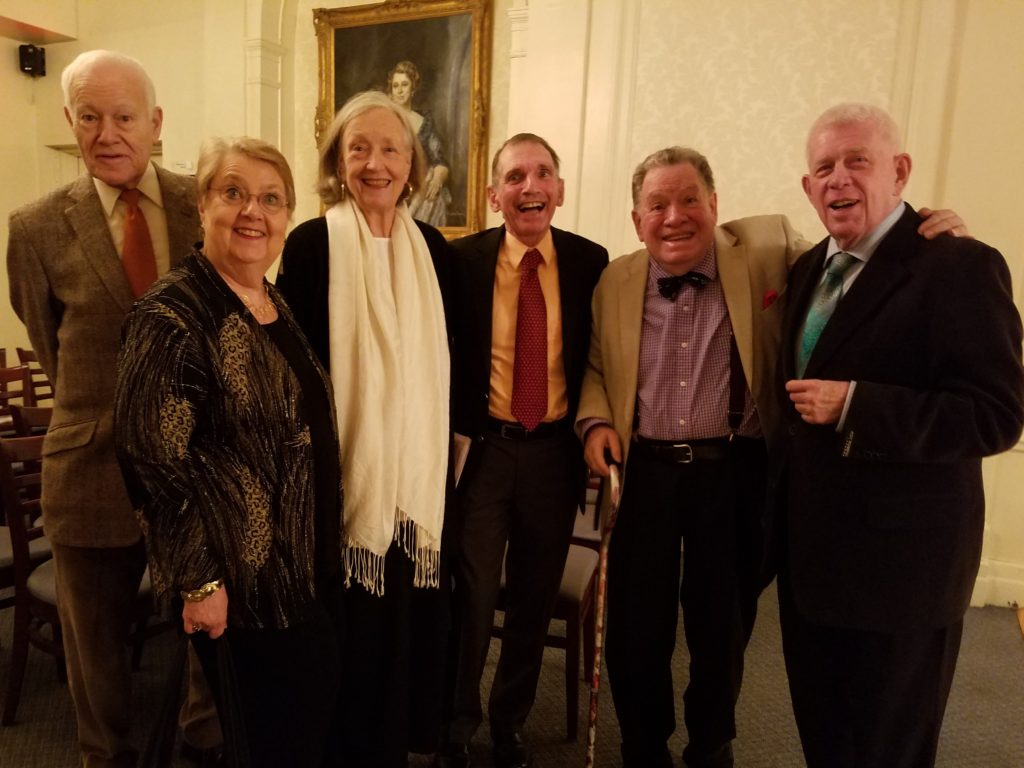 I remember tenor Frank Parker singing it on an Arthur Godfrey's Christmas Album in the 1950's. Parker, a TV favorite"Irish tenor" on the Arthur Godfrey show was Italian. It is the only Christmas song recorded by Enrico Caruso. His 1916 recording in French will give you chills. Ms. Krenek sang it with passion and soul and I have to say, like Bob Hope, "Thanks for the Memories." Her beautiful red dress made me think of my beloved Sicilian Grandmother Rosalia who always wore red for Christmas Eve.
Next Piotr Buszewski who sang "La donna e mobile" from Verdi's Rigoletto. Mr. Buszewski sang in a radiant, clear and flexible tenor with an exciting cadenza, pleasing diminuendos, and a resounding "pen sier" finale. He is a slender, youthful Duke and an irresistible tenor. His white and black jacket made him an updated 20th century Cavalier. His encore "Bóg sic Rodzi" (God is born) by Franciszek Karpinski, was a Polish Christmas offering. Pope John Paul II, I am certain, is watching from above and smiling proudly.
Soprano Meryl Dominguez sang the rhapsodic "Ch'il bel sogno di Doretta" from Puccini's La Rondine. Ms. Dominguez has a very imposing beautifully colored voice with precision and seemingly endless high notes that soared and took us to the endless corridors of romantic love that existed in Doretta's vulnerable heart. Her encore was Irving Berlin's "White Christmas" with the opening verse sung in a rich and evocative loving tone with a golden thread of longing.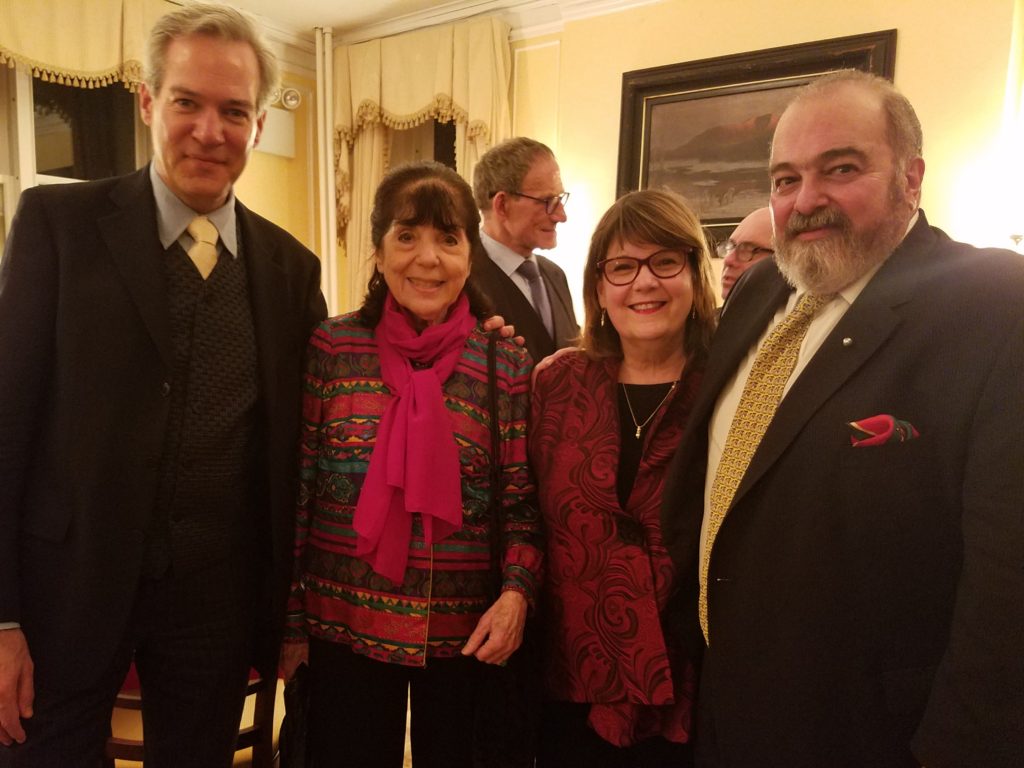 Pascal Spinney, mezzo soprano sang "La Séguedille" from Bizet's Carmen. Not since American soprano and silent film star Geraldine Farrar whose 1915 film (Cecil B. DeMille) Carmen was sensuality itself, have I seen so strong a presence of Tyrannosaurus Carmencita-a real man-eater who makes mush of poor Don Jose. Ms. Spinney who is also a dance award recipient was able to illustrate enough sex appeal and sing it with lusty luscious abandon. It's like Carmen could not help how she felt. All she needed was a pet praying mantis. Her final note strongly hit and flamboyantly tossed away was evocative of Don Jose's fate. Ms. Spinney's delightful encore was "Santa Baby" written by by Joan Javits and Philip Springer (Joan is a relative of former Senator Jacob Javits) My wife Judy and I saw Eartha Kitt singing "Santa Baby" in Tivoli Gardens in Denmark circa 1966 and this performance really brought it back in full vibrant force. Santa come down the chimney tonight! Brava!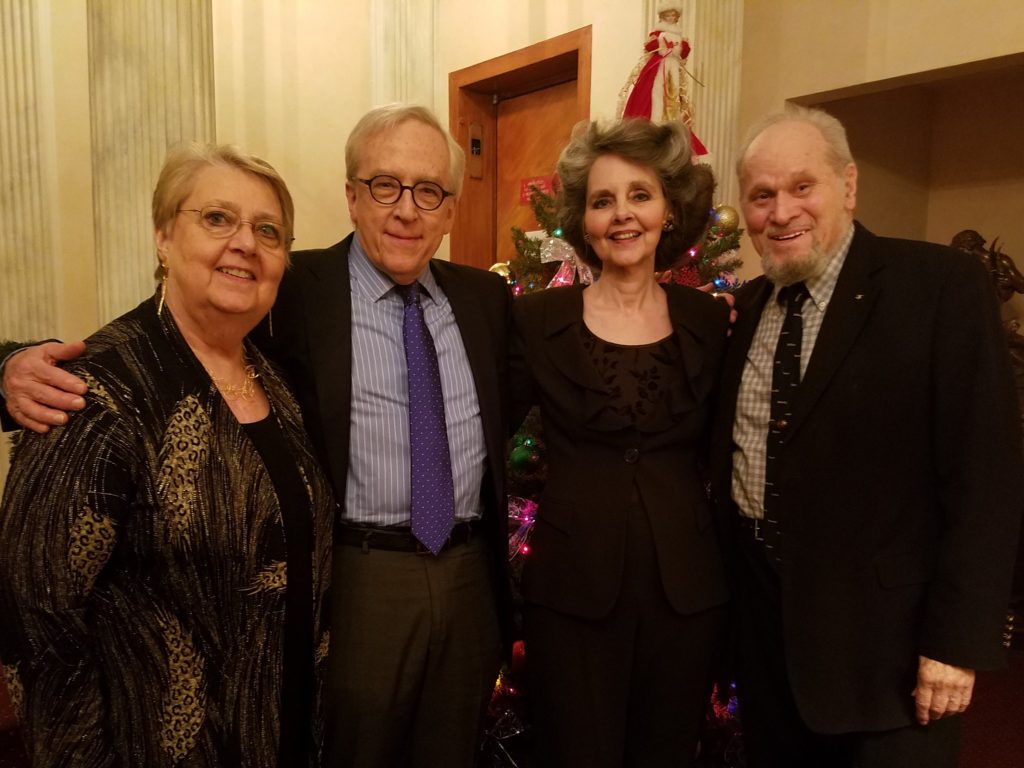 When I saw the dazzling pianist Jonathan Kelly playing this number, I felt like I was watching Cole Porter and soprano Rosa Ponselle at some fabulous 1930's Christmas gathering.
Baritone Xiaomeng Zhang, sang "Onegin's aria" from Tchaikovsky's Eugene Onegin. His large vibrant baritone and excellent Russian diction showed the palette of vocal wonders that lay ahead for this outstanding singer. The combative nature of Onegin was expressed in a reflective way that did not demonize him. Bursts of power flooded the room in this display of what should be a very strong interpreter of this role. Mr. Zhang then sang "Over the Snow for Wintersweet Flowers," a Chinese winter song by Xuean Liu that was sung with tender abandon. With the recent passing of the great Dmitri Hvorostovsky, we feel the blessings from Opera Heaven with Dmitri nudging and encouraging future singers of Eugene Onegin. I am certain he smiled and gave Xiaomeng Zhang a nod and a blessing.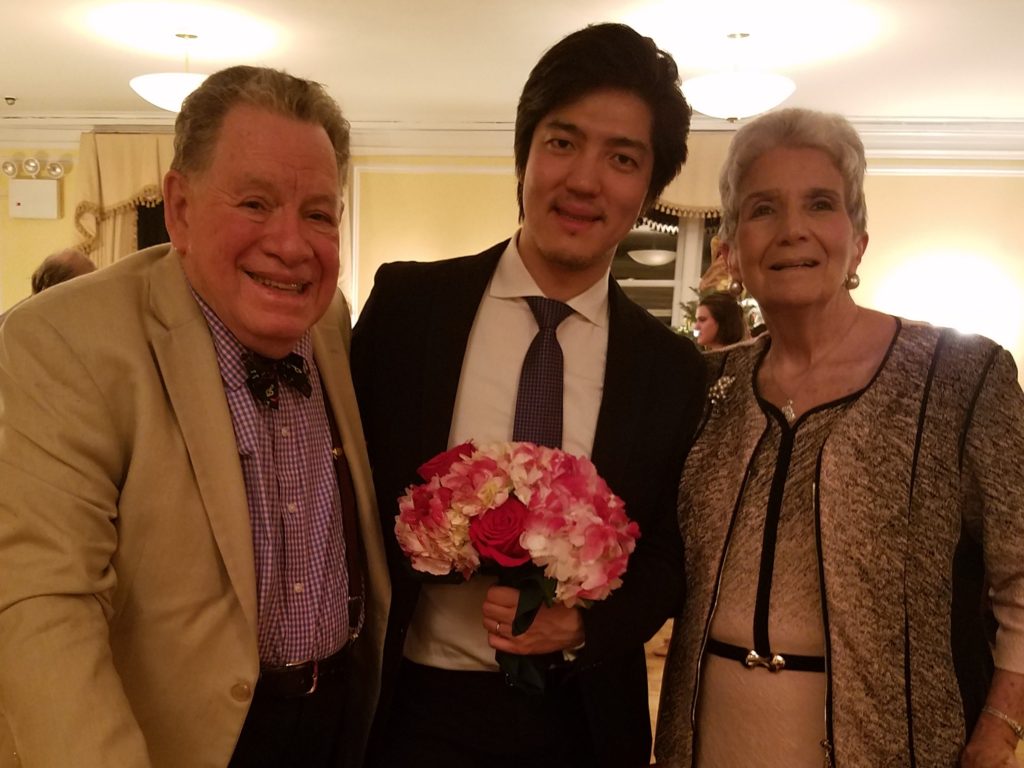 The singers received much applause and bravos and piano virtuoso accompanist Jonathan Kelly also received much applause for his pianistic accompaniment which was perfection itself! Midge Woolsey's enthusiasm and love of her subject made us all privy to something precious.
When the concert was over, we went to the dining room for a superb Filet Mignon dinner. It was nice to see so many friends and Ken Benson opera manager with baritone Takaoki Onishi who just won the Dmitri Hvorostovsky prize. "Lissnerites" enjoying this special tribute to a wonderful Yuletide, Hannukah and New Year!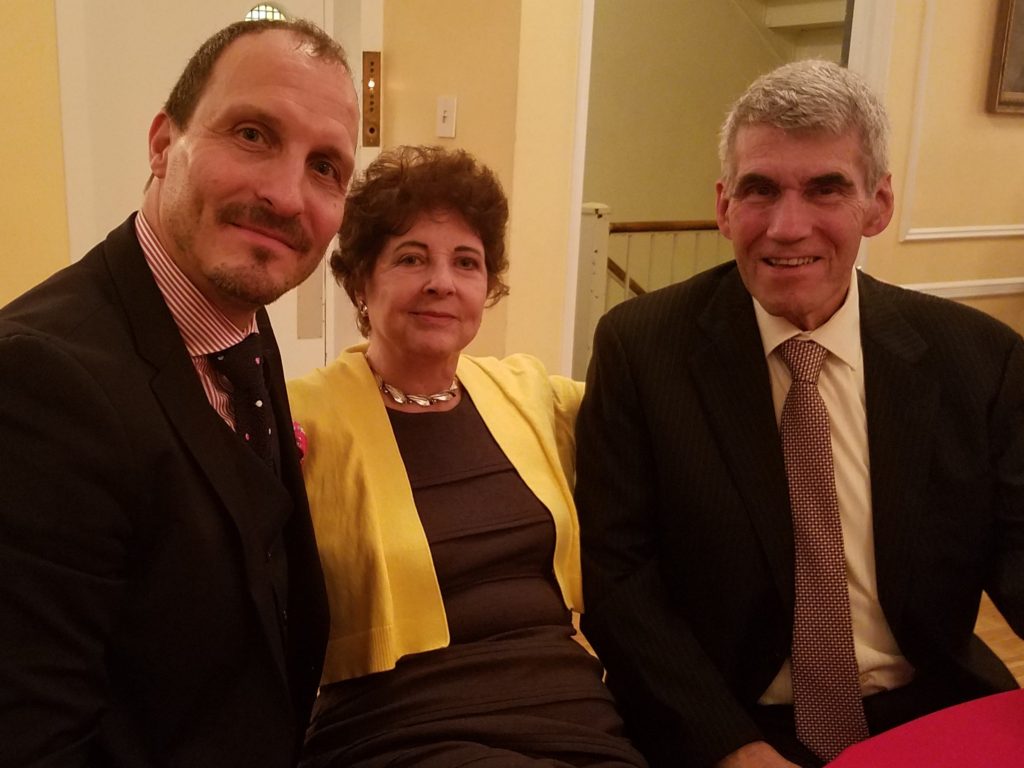 We thank Midge Woolsey, Stephen De Maio and his sister esteemed New Jersey educator Marie, Michael Fornabaio, Barbara Ann Testa, Karl Michaelis, Cornelia "Conny" Beigel. Philipp Haberbauer, the General Manager at The Liederkranz Foundation did a marvelous job of making us all feel welcome.