Hansel and Gretel has been a part of the Grimm's Brothers "Fairy Tales" and became an opera by the composer Engelbert Humperdinck. (1854-1921) near Bonn, Germany. His first stage work in 1893 was Hansel and Gretel and it was an immediate triumph. Its strong Wagnerian themes were wondrous and the folk music and melodies resounding. Hansel and Gretel was the first Metropolitan Opera broadcast on December 25, 1931. His other popular opera was Königskinder (Kings Children/with Goose Girl) which when sung by glamorous Metropolitan soprano and silent film star Geraldine Farrar at the Brooklyn Academy of Music (BAM) had mayhem when her geese ran out onto St. Felix Street and had to be retrieved, January 24th, 1911. Hansel and Gretel was given at BAM at a matinee on December 25, 1909, by the Metropolitan Opera on tour. Perfect Christmas entertainment!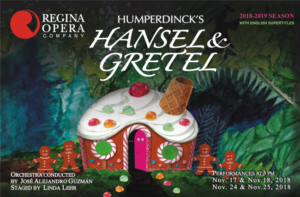 The Regina Opera had a nice size crowd at Our Lady of Perpetual Help high school auditorium to see this rarity on the afternoon of Sunday, November 18th.  When Maestro José Alejandro Guzmán came to the podium, the din of excitement lowered and the opera began. The Wagnerian and melodic overture set the mood and the evening of holiday fun began.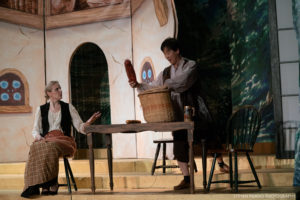 The story begins at their home on the edge of the forest. Carolyn Tye was Hansel, an amiable boob and a bit greedy. Gretel was Christa Hylton. Together they were like Stan Laurel and Oliver Hardy, silly but lovable and getting into big trouble. CarolineTye had a strong mezzo that evoked brotherly affection and Christa Hylton's flexible and sweet soprano made for a Gretel of affability and sisterly concern.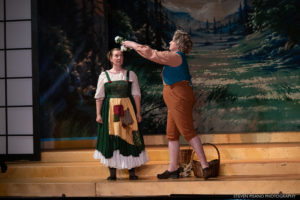 Mother was soprano Dawn Kunkel, who indicated her concern for the children living in poverty with no food. She broke the milk jug trying to hit them with her stick, for dancing and not working, and sends them to the woods to go berry picking.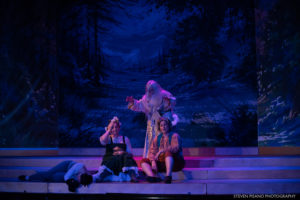 Bass-baritone GeeSeop Kim was the Father, powerful of voice and kind of laid back. His theme song "Tra-la-la" was quite irresistible. He came home drunk and happy but was very upset that his wife sent the children to the woods because a child-eating Witch lived there. He pulled out a sack full of food that he earned selling items at a festival. Then they both rush out to look for the children.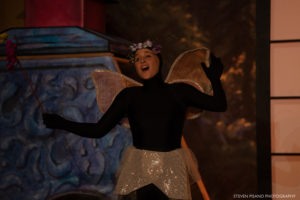 The second act is in the Forest where Hansel and Gretel are lost. The Sandman, sung by Elena Jannicelli-Sandella, appears in a magical outfit and white beard and lovely soprano.  Hansel and Gretel then are heard singing their hushed and haunting duet, "The Evening Prayer" so familiar and comforting. A beautiful vocal blend lovingly rendered. The children fall asleep as angels watch over them.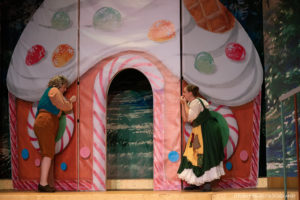 The third act is the Witch's house. The Dew Fairy (Taerra Pence) with a lovely bird like soprano, sprinkles dew on Hansel and Gretel to awaken them. Gretel greets The forest birds with a song, then she awakens Hansel who starts eating the house made of sweets, pancakes, and all kinds of goodies. The horrible Witch appears and its "Another fine mess you got me into" à la Laurel and Hardy. The Witch freezes them as they try to escape. She feeds Hansel, declaring him "too thin." The Witch was brilliantly played by Ukrainian mezzo Galina Ivannikova, who sang with dark bewitching tones and beguiled the children to listen to her commands. Her using her magic wand to "freeze" the children in place and her other magical chicanery made her a Witch to bitch about. When the Witch goes to the oven to see how the gingerbread is doing, Hansel and Gretel push her in.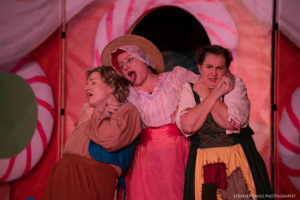 The oven explodes and the gingerbread figures become real children. Hansel grabs the magic wand to "unfreeze" all the children.   They are then freed by Hansel and Gretel who touch each and every one of them. Father and Mother arrive and Hansel and Gretel rush into their arms. The children take the witch, now a huge Gingerbread cookie, out of the oven. Everyone thanks God and dances triumphantly.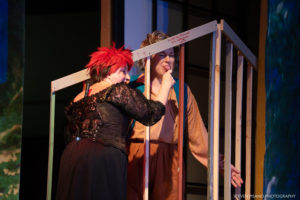 The sets of this opera were so alive, verdant and inviting. The trees and greenery were splendid and the Witch's house a cornucopia of evil transferred into pure joy. The dancers were Wendy Chu (Angel 1) Kelly Vaghenas (Angel 2) and dancing cats were Kirsten Reynolds and Claudia Maciejuk.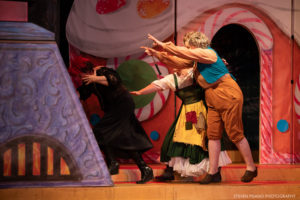 Our friend, the ever-present and joyous Cathy Greco lent her sweet smile and voice as part of the chorus and ensemble. The choreography was lithe and angelic;  the costumes by Marcia Kresge were beautiful and magical. The clever lighting designer was Stephanie Lim. The set design by Linda Lehr and Wayne Olsen was like a Wizard of Oz Hollywood set. The make-up by Saori Morris was perfect. The stage director Linda Lehr can wear another medal for the holiday joy of the colorful sets; Ms. Lehr is a well-kept secret of the Regina. The Metropolitan Opera with its grotesque and illogical sets sure could use her! Also nice to chat with Chief flutist and Set artist Richard Paratley.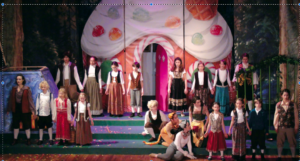 The cheers for the company included Diana Barkan violinist, husband Daniel on the English horn and enchanting daughter Nomi as a cookie-child. The conducting of this glorious score was José Alejandro Guzmán. The orchestral interludes were sophisticated, illuminating, and had real sparkle and zest. Maestro Guzmán really showed us how to enjoy the beautiful music of this talented composer and make it part of the Sunset Park scene.

Francine Garber-Cohen, President and Producer; Joe Delfausse, Treasurer;  and Linda Cantoni Vice President, Gregory Ortega Principal conductor, Linda Lehr Principal Stage Director deserve a resounding bravo for this perfect day. Marlene Ventimiglia is a volunteer usher and always offers her goodwill and assistance. It was nice to meet and greet opera critic Tom Lenihan, a true Renaissance man!

After the opera, we dined at nearby Casa Vieja (Lourdes Peña and excellent staff) for a Mexican feast (No Gingerbread). The new renaissance of Sunset Park is assured by the good restaurants and the presence of Our Lady of Perpetual Help Parish, whose red seated plush high school theatre is our operatic home in Brooklyn.