The elegant JW Marriott Essex House in New York City was the scene of the annual Opera Index Spring Lunch on Sunday, April 29th, honoring much-loved patron, humanitarian and philanthropist Karl Michaelis. After greetings and "thumbs up" to so many friends and familiar faces, the effervescent President, Jane Shaulis who is THE Jane Shaulis Metropolitan Opera mezzo soprano, sang the opening welcome. It literally "brought down the house" as voices quieted and expectations ran high. In her introductory remarks, Ms. Shaulis eagerly shared the monies collected over the years and the great help it was for so many young and gifted singers. Three talented artists provided the grand entertainment followed by a delicious lunch. All the young artists were accompanied by Michael Fennelly, whose pianistic virtuosity conjures up a full orchestra and gives both reassurance and pleasure.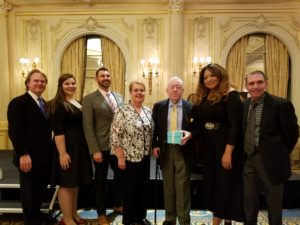 Kathryn Henry, soprano was the first, singing "Je dis que rien ne m'épouvante" from Bizet's Carmen. She sang with power and precision, good breath control, poignant French and evoked Micaela's basic goodness. Geraldine Farrar and Rosa Ponselle, great sopranos were challenged by Carmen, Farrar made Carmen a silent film hit with Cecil B. DeMille and roughed up Enrico Caruso, her Don Jose and some choristers when she returned to the Met Opera. (Hollywood influence) Ponselle, smarting from some critics' opinions, retired from opera in 1937. Ponselle was struck by the "Curse of Carmen" breaking her arm during a performance in Baltimore. Ms. Ponselle's filmed Hollywood screen test survives (1938), ironically with the great soprano doing some exciting singing and dancing. Ms. Henry need not worry, her voice rang free and clear. Her encore later on was, "It never was you" from Kurt Weil's "Knickerbocker Holiday." It was a captivating Broadway song with wistful and beguiling tone and Ms. Henry sang it beautifully. Kathleen Henry is a charming singer with a beautiful voice and a kilowatt smile. All of this was part of her satisfying presentation as a young artist as George Gershwin would say or Georges Guétary in the film An American in Paris "on her way to the stairway to paradise."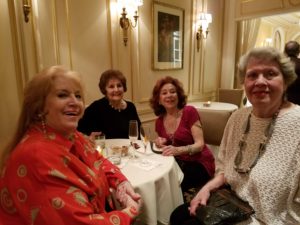 Michele Angelini has grown in name and fame but is still "a wonderful guy" in his friendliness and personal charm. He sang "Ah mes amis" from La fille du Regiment by Donizetti. This aria, with its 9 high C's, catapulted Luciano Pavarotti to fame. Michele Angelini is very secure in the upper register and each note was hit securely. He did not sound like the usual bleaty tenor giving us a lemon tart but rather like a master baker with a great pizza in fact 9 of them! His middle register has grown in size and I see a Duke and other great Verdi roles in the future. He gave us all a shot of adrenalin and we look forward to a very promising future for this outstanding tenor.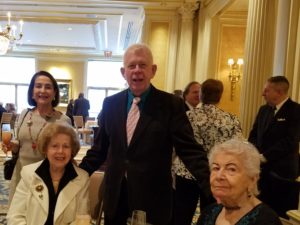 Soprano Michelle Bradley recently appeared at the Met Opera's Norma as Clotilde and will soon appear as Donna Anna in Mozart's Don Giovanni in Santiago, Chile. Ms. Bradley, a Houston native, opened with "D'amor sull ali rosee" from Verdi's Il Trovatore. Her powerful voice was lowered for some wonderful soft passages and to show what she took away some small refinement. Ponselle and Milanov had perhaps finer pianissimi but Ms. Bradley has her own way of following the operatic highway and she articulates the speed bumps full drive rather than slowing down. Her soprano is rich and opera worthy and she will be a formidable contender for "whose the best" in the not too distant future.
I heard the divine contralto Marian Anderson sing "He's Got the Whole World in his Hands" at the Brooklyn Academy of Music (BAM) circa 1966 at her "Farewell." Backstage she gave me a souvenir program signed by her to my students at P.S. 129 in Bedford-Stuyvesant in Brooklyn. I still recall the nuance and shades of tenderness with which she lovingly sang the lyrics. Michelle Bradley awakened that immortal memory for me with her passionate encore, "He's got the whole world in his hands." Her soaring soprano took us all "in her hands and heart" as she literally loved us all in this illuminated text of love. Ms. Bradley's heavenly highs and burnished lows took us on a trip to paradise. A full concert of of spirituals or a series of encores should be a part of her magical bag of gifts!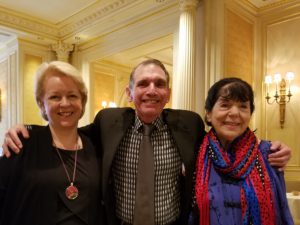 It was nice to have mezzo soprano Rihab Chaieb so brilliantly sing "The Composer's Aria" from Richard Strauss Ariadne auf Naxos. Rihab Chaieb was one of Opera Index's major award winners in the 2016 competition. She did performances in Cavalleria Rusticana, Louisa Millerand the Sandman in Hansel and Gretel at the Met this last season. She will sing Zerlina in Don Giovanni next season. She had a success at Glyndebourne last summer.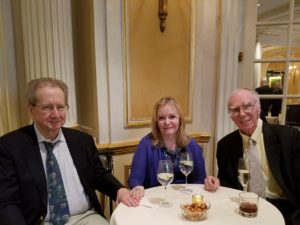 Former President and current Treasurer Murray Rosenthal, introduced Karl Michaelis whose work with the Gerda Lissner Foundation, Liederkranz Foundation and Opera Index, have made him like Charles Dickens the voice of Christmas present. He is a philanthropic, kindly, humane man with a fine manner, elegant apparel and a good sense of humor. Karl Michaelis is well deserving of this token of our great esteem. Karl said he was "happy to support the wonderful Opera Index" and stepped down to a fine Tiffany glass apple gift and much applause.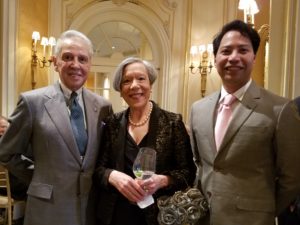 It was nice to meet and greet President Jane Shaulis and Executive Director Joe Gasperec, Vice Presidents Phillip Hagemann and Janet Stovin, Treasurer Murray Rosenthal, Opera Index board members Robert Steiner, John David Metcalfe, Midge Woolsey, Opera Index patrons Jessie Walker and Doris Keeley, the genial Michael Fornabaio and energetic Cornelia Beigel from the Gerda Lissner Foundation, Gloria Gari from the Giulio Gari Foundation, Philipp Haberbauer from the Liederkranz Foundation, Maestro Eve Queler, opera managers Ken Benson and Robert Lombardo, vocal coach Tamie Laurance, Italian teacher Corradina Caporello and husband Maurice, opera legends sopranos Lucine Amara, Elinor Ross and sparkling New York City Opera and television soprano Elaine Malbin. Other familiar faces in the crowd were virtuoso Chopin pianist Marjan Kiepura and his lovely wife Jane, conductor Stephen Phebus and actress Linda Howes, Joy Ferro from Daniel Ferro Vocal Program, the elegant patron and tenor Cesare Santeramo, David Bender from Career Bridges, Edna Greenwich Director of Operaexposures, classy Michèle Classe, export consultant and husband Anthony and innovative filmmaker Marcelo Remizov.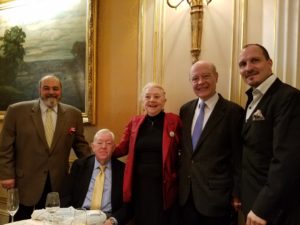 We are all friends at Opera Index and were eager and happy to "seize the moment." Thank you Jane Shaulis and Joseph Gasperec for sharing the beauty of another memorable event together.