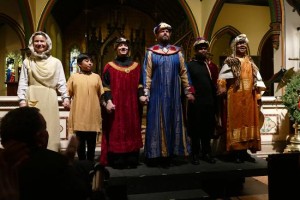 On the evening of Friday, December 18th, "The Little Church Around the Corner" founded in 1848 so named because where another local Church refused to bury an actor, his friend was told, "There is a little church around the corner that will" thus becoming a favorite of theatre folk since. The Church of the Transfiguration on East 29th Street in New York City, now a National Landmark, presented the Gian Carlo Menotti (1911-2007) classic Christmas opera of "Amahl & the Night Visitors."
We saw this wonderful hour long presentation several times at The Brooklyn Academy of Music (BAM) with our late good friend and former New York City Opera basso Don Yule as King Balthazar. We had the honor of meeting Gian Carlo Menotti, the composer who was present at that performance.
Menotti was commissioned in 1951 to write an opera for NBC TV television by its President David Sarnoff and Producer Samuel Chotzinoff. Menotti could not think of what to write but one day while visiting the Metropolitan Museum of Art in NYC he chanced to see the painting "The Adoration of the Magi" by Hieronymus Bosch with the three kings visiting the Christ child. He recalled his own childhood memories in Italy when he and his brother would wait until they fell asleep for the three kings to visit their home bearing gifts for Christmas. At that moment, Menotti knew what his opera would be. The first showing on Christmas Eve television in 1951 was viewed by an estimated 5 million people scored a tremendous hit and it was repeated for years afterwards. Now it is done in churches worldwide and audiences never fail to be touched by this musical tale of a mischievous crippled boy Amahl, his mother, their simplicity and poverty and their special royal visitors who have come for a place to stay on their journey and who witness a miracle when Amahl offers his crutch as a gift to the Child.
The program was in two parts. The first part was "A Ceremony of Carols" by British composer Benjamin Britten (1913-1976) sung by The Transfiguration Choir of Men and Boys, Girls Choir and Camerata. (A small chamber orchestra or choir- in this instance 42 choir members and 15 musicians.)
The procession down the aisle into the Church was impressive as the choristers walked to the main altar. There were ten carols sung, all brief and haunting. Britten had his own musical recipe and while not really melodic or atonal; his music is in another heavenly sphere, evoking his "A Midsummer Night's Dream." The chorus was a beautiful blend and in "That yonge child" Richard Jimenez boy-treble-soprano, was sweet and impressive. In "Balulalow" Mario Hall, boy-treble soprano was haunting and radiant. Kathryn Andrews was magical in her harp interlude. In "Freezing winter night" Lesley Zlabinger's soprano soared with Joe Redd and in "Deo Gracias" one could almost hear a similarity to Carl Orff's "Carmina Burana." "Spring Carol" offered Lauren Breen and Sole Trinidad as soloists.
All of the singers were impressive and were a heavenly blend. Multi-cultural young and older singers woven together by the genius of conductor, organist and conductor Claudia Dumschat.
After a brief intermission with one and all marveling at the beauty of this Christmas decorated church with its wooden panels, Christmas greenery and Virgin mother grotto, beloved of actors, it was time to see Amahl complete in this Church for the first time and not just excerpts as had been done in the past.
The excellent 15 piece orchestra under the skilled baton of Claudia Dumschat began with the haunting prelude.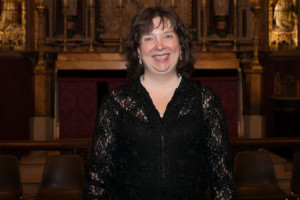 The mother was portrayed and sung by Brittany Fowler whose luscious mezzo soprano illuminated the stage with her duets with Amahl and the cherished "All that gold!" which was sung with the passion of a Puccini heroine. Ms. Fowler's diction was crisp and clear and her impact on the audience was vivid and visceral.
Amahl was in the adorable hands of boy treble – soprano Carlos Tapia a 6th grader at Mt. Carmel Holy Rosary School. His poignant "Don't cry Mother dear" and "I was a shepherd" were indelible and "Look, Mother, I can dance" was joyous, his acting exemplary. Carlos Tapia gave a strong portrayal of a crippled boy whose inherent goodness and curiosity made him a symbol of indomitable virtues worthy of a miracle. He was unforgettable.
King Melchior was in the able hands of Jake Ingbar whose robust baritone made him part of the trio blend including the rich sonorous basso of Charles Samuel Brown as King Balthazar and the flexible tenor of Daniel Neer as King Kaspar whose comic singing of "This is my box" captivated all. "Have you seen a child?" is the trio blend that enters one's soul and just won't go away. They scored a triune triumph! The Shepherd's Song, "Emily, Michael, Bartholomew" was sung at the side aisle of the church with the shepherds, and Amahl's mother with the Three Kings was another highlight.
Alexis Cordero as the Page who discovers Amahl's mother's attempt to take a piece of gold "For my child" is 16 years old and in the 11th grade at Norman Thomas High School. He sang in a robust bass and took Amahl's blows well for "Please don't hurt my Mother."
The marvelous dancers, summoned to Amahl's house were Ambar and Charles Rosario. They danced at the side of the interior of the church as did the peasant dancers Olivia Brett, Adriana Hall and Bianca Hall. The finale with the now cured Amahl, walking normally, leaving with the wise men and Page on their journey is as delicate as a Christmas ornament and we thank all responsible for giving us this Menotti moment of magic!
Special kudos to costume designer Terri Bush whose varied creations from the majestic colorful robes of the kings to the simple peasant attire was perfection.
Choreographer Robert Hampton did a wonderful job in utilizing this space making the dancers up front and closer to the audience.
Betty Howe, Stage Manager who knows how to balance both space and place so that one can properly face the action and be part of it.
Richard Olson, Director who had the Herculean task of making the boundaries of the Church wider and using the aisles to allow the principals to move and dance freely. The simple bench at the altar where the wise men sat and Kaspar's bird cage and a blanket were all one needed to create the world of both majesty and poverty.
This Arnold Schwartz Candlelight Memorial Concert would have surely not been possible without the special genius of Claudia Dumschat and additional thanks to the Right Reverend Andrew R. St. John, Rector who greeted the standing room only audience warmly.
The reception following for one and all was in the common room where we had a chance to eat and drink, meet and greet friends and performers one of whom, pianist Michael Pilafian, we recognized from Maestro Vincent La Selva's New York Grand Opera. What a beautiful way for my wife Judy and I and family to celebrate the Christmas season. We look forward to next year's performance!